I'm a little behind on blogging my barns, so as I type this (at the end of April!) March is a little bit of a blur. I'm sure, as I organize the photos below and start to copy and paste the captions, the month's events will come back to me! 🙂 I love reliving these daily adventures, when I scroll through the photos. Sometimes snapping a barn shot is more involved, sometimes it's literally seconds of my day – no matter what, they're a highlight and make me happy. That was one of the main reasons for starting this project and I can't believe all the wonderful things it's done for me, it's definitely one of the best ideas I've ever had. 🙂
_________________________________________________________________________________________________________________________________________________________________
Original Post:
I started thinking about this recently when I asked myself the question: what do I love about this area that I now call home?  In other words, I was trying to find new ways to be positive and look for the good in my new location. I have been living here for almost two years but sometimes I still miss "home". Even though I chose to move here for the right reasons, and I'm not that far away from where I came, I still struggle with these thoughts off and on. So, instead of dwelling in the past, I decided to appreciate the present. To find the good and appreciate what I have, here and now and to build a connection to this new place.
One of the coolest, and most unique things about Calvert County (and Southern Maryland) are all the barns that stem from it's rural history. I love the country roads and all the farms or pieces of what are left over, from old farms. I had a lot of that on the Eastern Shore, as well, but there were never this many barns and they're different. Since a lot of the ones found here are tobacco barns, there are just SO many more, because they needed more of them to dry the tobacco in.  I'm also tying this project in with my background in geography and environmental/land use planning interests. I see the urban sprawl and trees and fields being chopped down, daily, so this landscape is changing rapidly. By taking these photos, I want to be a part of documenting how looks now. I have a feeling it will change quite a bit in my lifetime.
So, with all these things in mind, on July 1st, 2015, I decided to start this year-long endeavor! Here are my rules/goals:
photograph a different barn each day from July 1, 2015 – June 30, 2016.
if I am out of town or something prevents me from shooting, I will shoot multiple barns for each day that I am gone, as close to the dates missed as possible.
any type of camera goes – iPhone, point and shoot, DSLR etc
barns must be located within Calvert County, MD limits
_________________________________________________________________________________________________________________________________________
245/366: 3.1.16/4:43 pm/Huntingtown/Emmanuel Church Rd/Canon 5D Mark II//70-200mm 2.8L
Stillwater Farm Barn
I was rewarded this afternoon with this scene. I didn't feel like going out to shoot but I did it anyway and when I saw this cutie, dining at Stillwater Farm, I couldn't resist… I waited to make eye contact and snapped away. I've already photographed the old barn on the right, which is really cool but not the newer one in the background. Starting March and month NINE with a good one!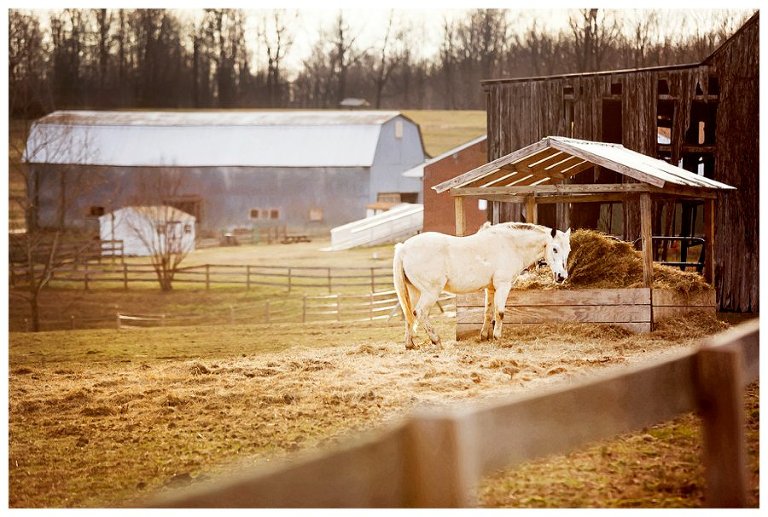 246/366: 3.2.16/4:40pm/Dunkirk/SOMD Blvd/Canon 5D Mark III/24-70mm 2.8L
Sunset Backyard Barn
My friend's backyard view = jealous

247/366: 3.3.16/2:41pm/Prince Frederick/Dan Bowen Rd/Canon 5D Mark II/70-200mm 2.8L
Cattle Barn
So many were hanging out here but this shot of just one, walking towards me down the hill, slightly edged out another one with the rest of his friends.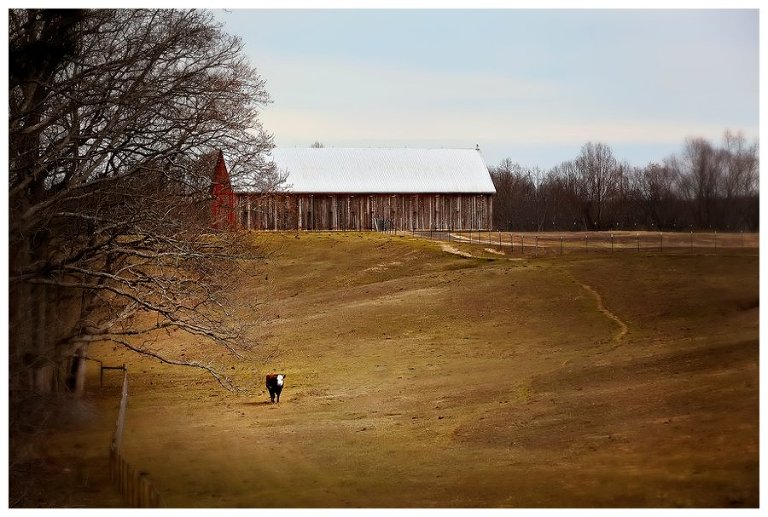 248/366: 3.4.16/9:52am/Huntingtown/MF Bowen Rd/Canon 5D Mark III/16-35mm 2.8L II
Red Barn in the Snow
This winter has been perfect for snowy barn scenes and I couldn't wait to get out and shoot a couple red ones, this morning. I used some editing magic and took out the street signs and road on this one, I had to, it makes it so much better – maybe like it was a long time ago?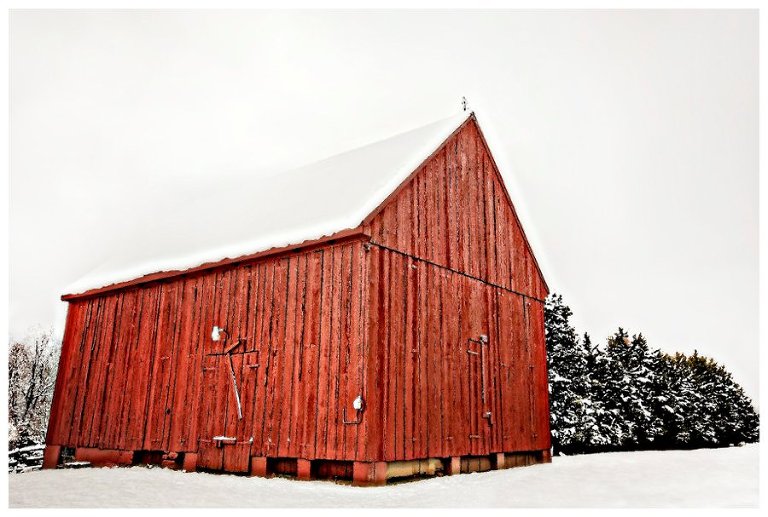 and this is an extra one from March 4th, that I've already photographed before! I HAD to include it because it's just so peaceful and beautiful, in the fresh snow: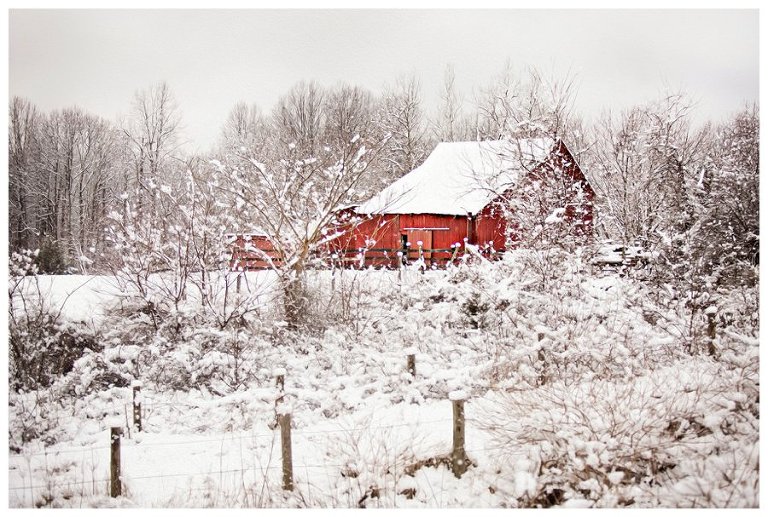 249/366: 3.5.16/11:53am/Huntingtown/Ponds Wood Rd/Canon 5D Mark III/70-200mm 2.8L
Ponds Wood Barn
There are only a few left on this road for me to shoot – this backyard barn is one of them.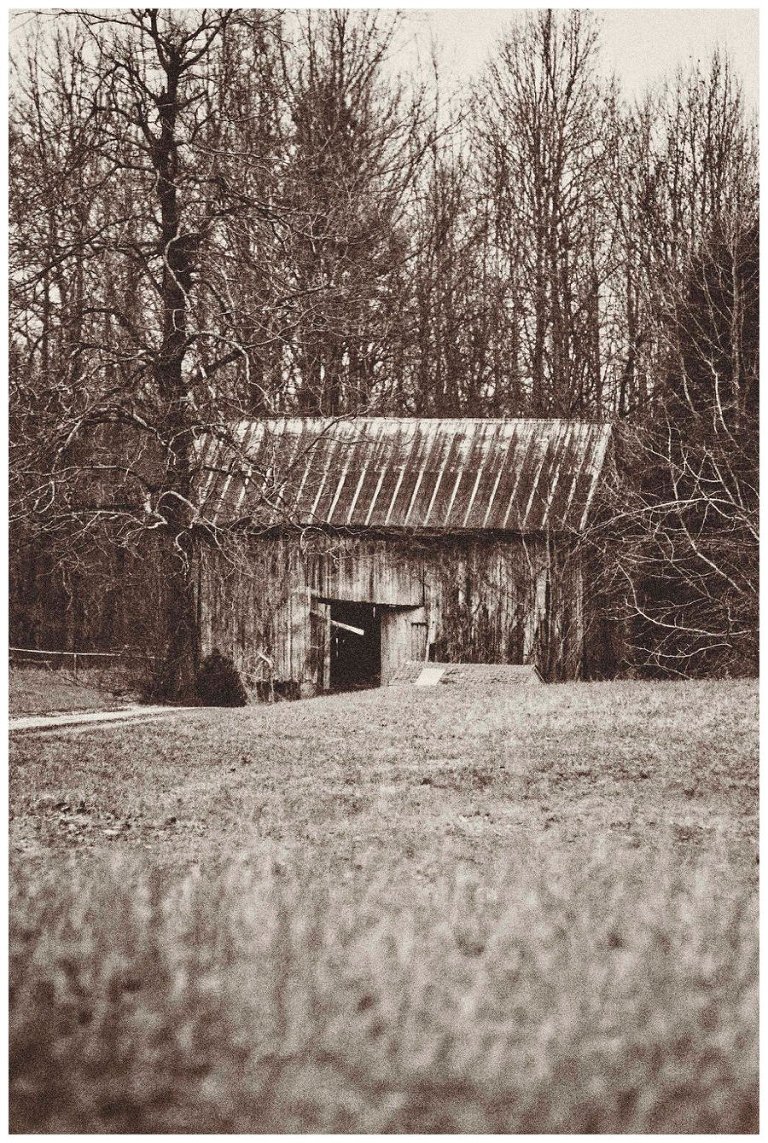 250/366: 3.6.16/5:00pm/Huntingtown/Bowie Shop Rd/Canon 5D Mark III/24-70mm 2.8L
Trucker Barn
Pretty cool barns here. I loved the sun rays shining through the clouds, in the back, also.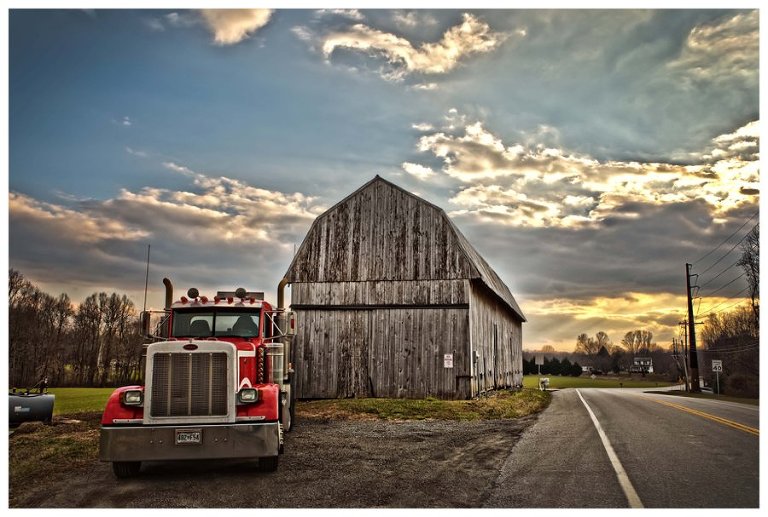 251/366: 3.7.16/3:27pm/Barstow/German Chapel Rd/Canon 5D Mark III/35mm 1.4L
Reflections Barn
There is no water here, just an empty field. I made three barns into six by using a prism to distort the image, it's magic!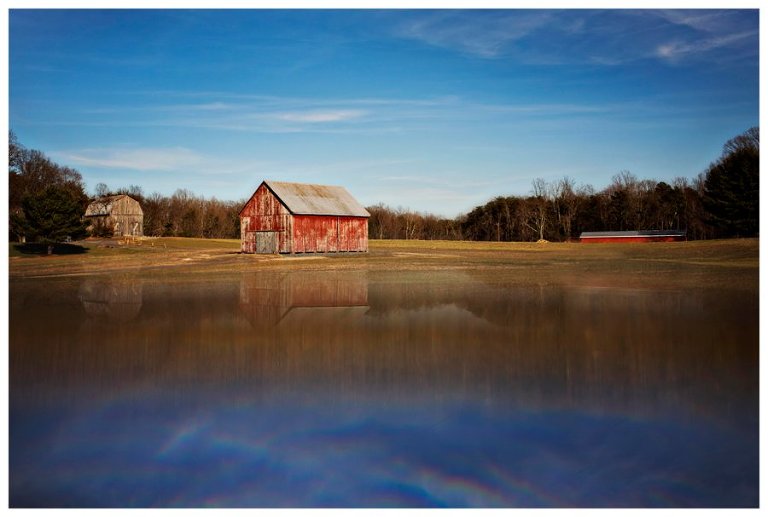 252/366: 3.8.16/6:04pm/Huntingtown/Emmanuel Church Rd/Canon 5D Mark III/70-200mm 2.8L
Old Barn and a Truck
Procrastination paid off with this cool scene and beautiful skies. I especially love the old fence, truck and all the character of this barn.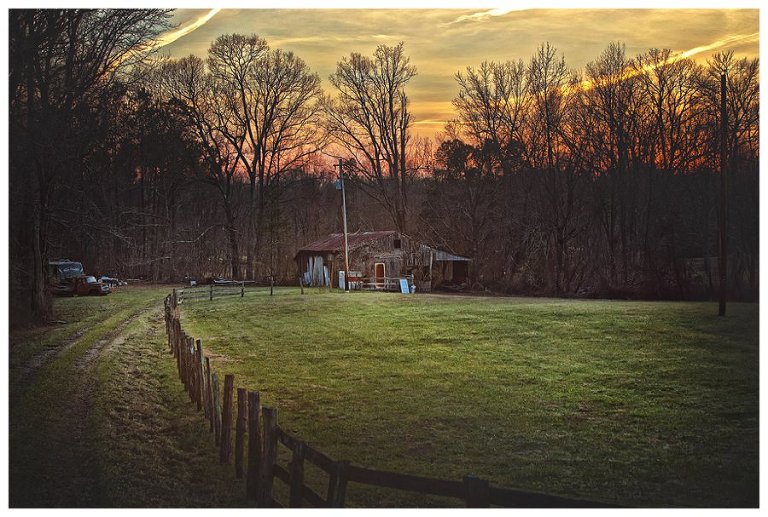 253/366: 3.9.16/6:18pm/Owings/Mt. Harmony Rd/Canon 5D Mark III/70-200mm 2.8L
Tobacco Barn at Dusk
Made it just in time to an area with quite a few barns, off in the distance. I wanted to get the sunset into this shot but it was just a little out of the frame, but I am just grateful that I got my shot in, before I couldn't see anything!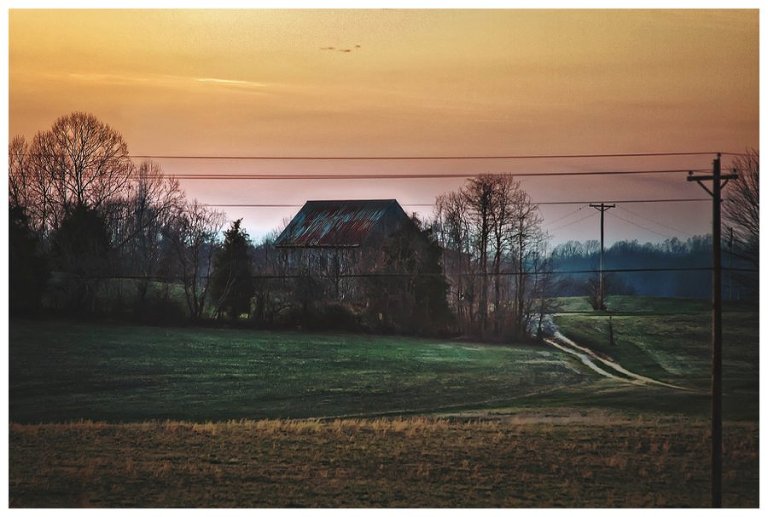 254/366: 3.10.16/5:40pm/Prince Frederick/German Chapel Rd/Canon 5D Mark II/70-200mm 2.8L
Red Barn through the Trees
I keep shooting wide because the skies have been so pretty, lately. Nathan and I found at least four "new" barns right here, I love when that happens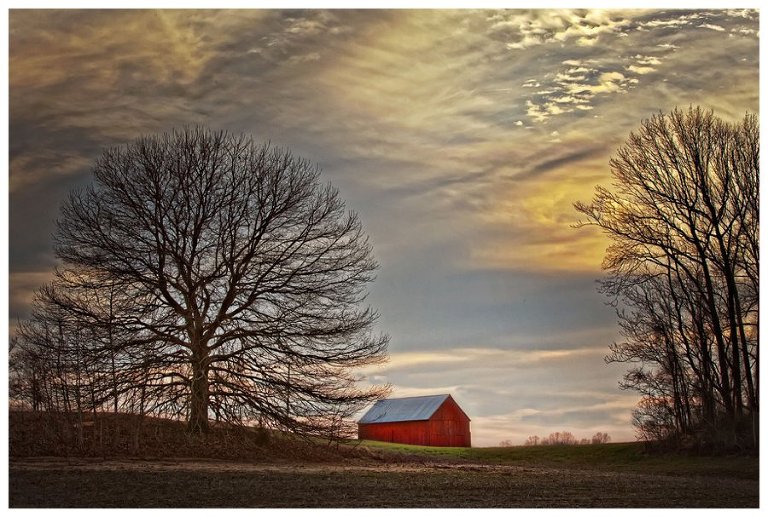 255/366: 3.11.16/5:45pm/Owings/Horace Ward Rd/iPhone
Tobacco Barn through the Trees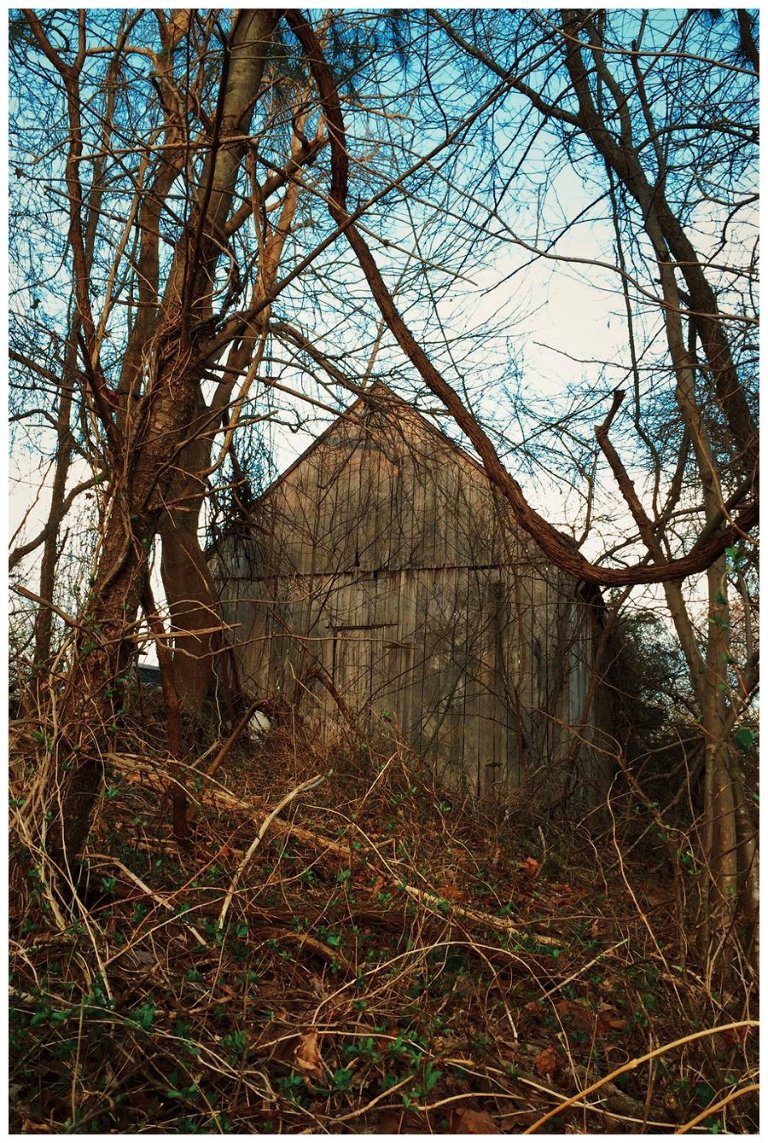 256/366: 3.12/5:17pm/Huntingtown/Stinnett Rd/5D Mark III/35mm 1.4L
Red Barn Prismed
So many red barns right around here, I believe I've gotten almost all of them, for this project. Today, I was feeling more on the experimental side and messed around with the prism, again, makes this one a bit different and more interesting, IMO. You can see one of the other barns reflected in the corner.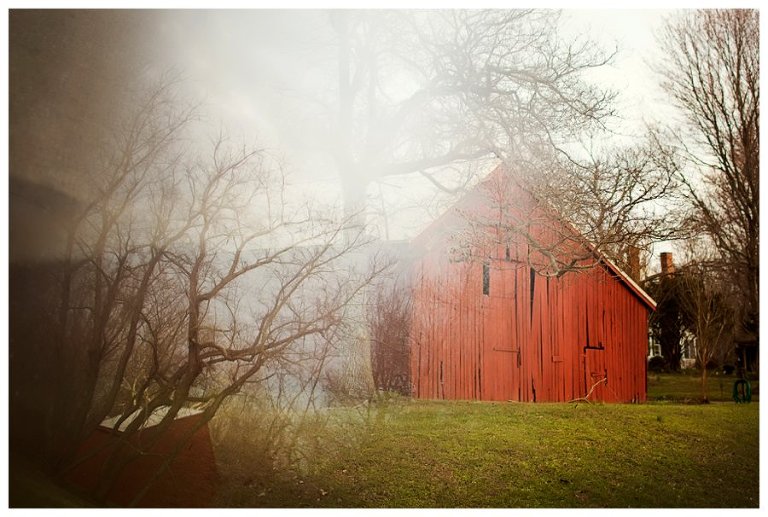 257/366: 3.13.16/6:57pm/Prince Frederick/Goldstien Rd/5D Mark III/70-200mm 2.8L
Tobacco Barn on a Hill
The only way you can tell that this is a Daylights Savings Time barn is because it was shot at almost 7:00pm! Otherwise, it was gray and gloomy all day and you can't tell what time of day it is, at all. Good black and white day.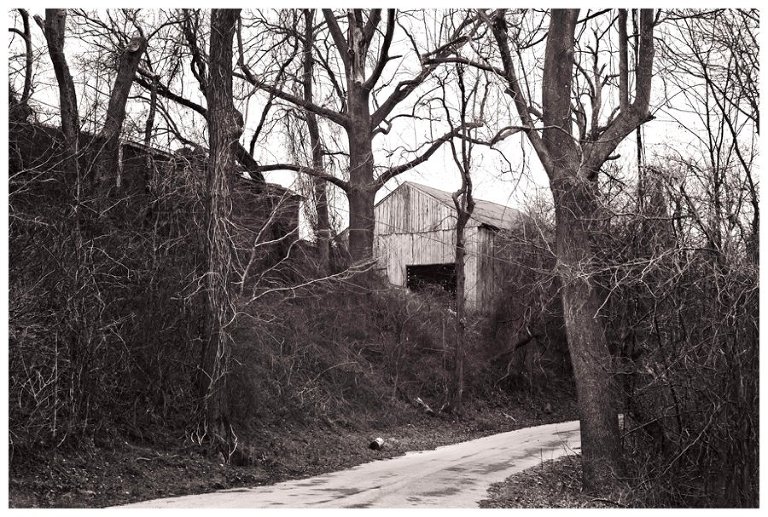 258/366: 3.14.16/12:44pm/Lusby/Sollers Wharf Rd/5D Mark III/70-200mm 2.8L
Horse and a Red Barn
Life brought me to Lusby, today, so I was happy to go out of my typical barn-hunting locations! Loved this horse w/the red barn, in the background and the fog…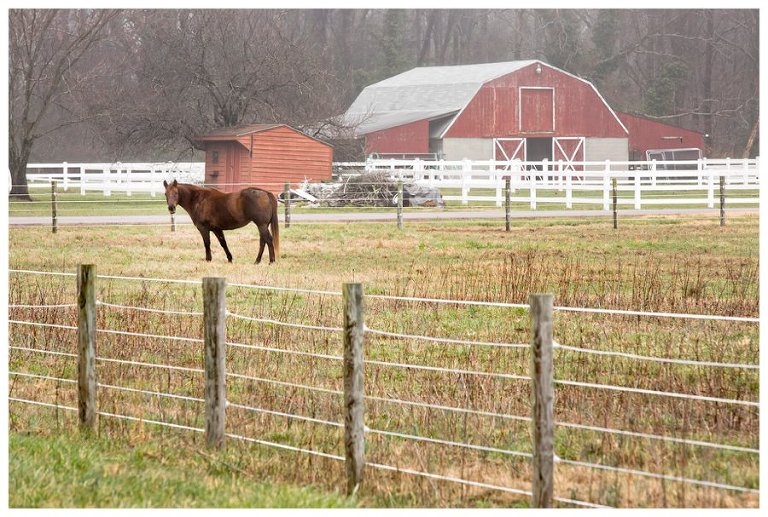 259/366: 3.15.16/6:17pm/Barstow/ Barstow Rd/5D Mark III/16-35mm 2.8L II
Unpainted Barn in the Sun
I love this scene every time I pass it.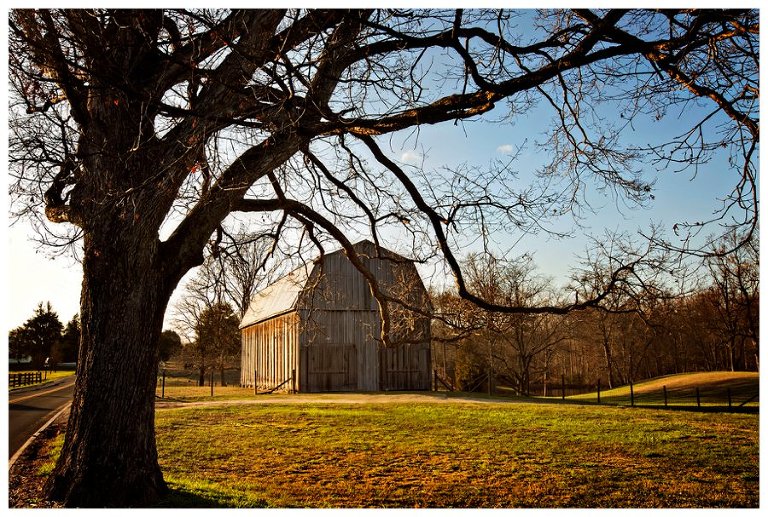 260/366: 3.16.16/7:07pm/Owings/ Boyds Turn Rd/iPhone
Pink Sunset Barn
Second barn I shot today but I couldn't pass up this sunset, at Windy Hill Middle School. Beautiful.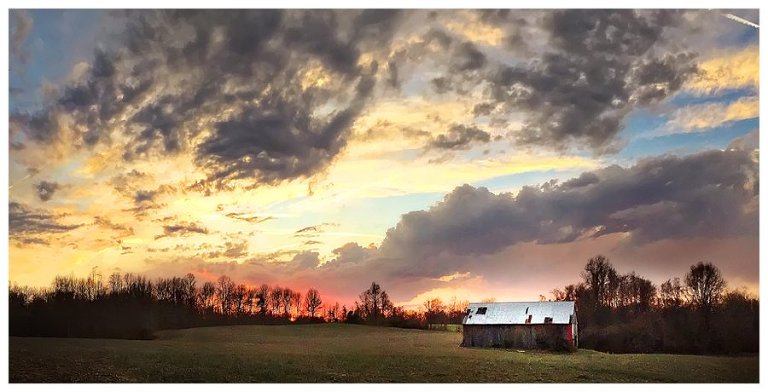 261/366: 3.17.16/11:35am/Huntingtown/ Smoky Rd/iPhone
Spring Red Barns
I have loved these two along my running route for years. Got low to show the little bit of spring in this shot, maybe there's a four-leaf clover in there somewhere, too.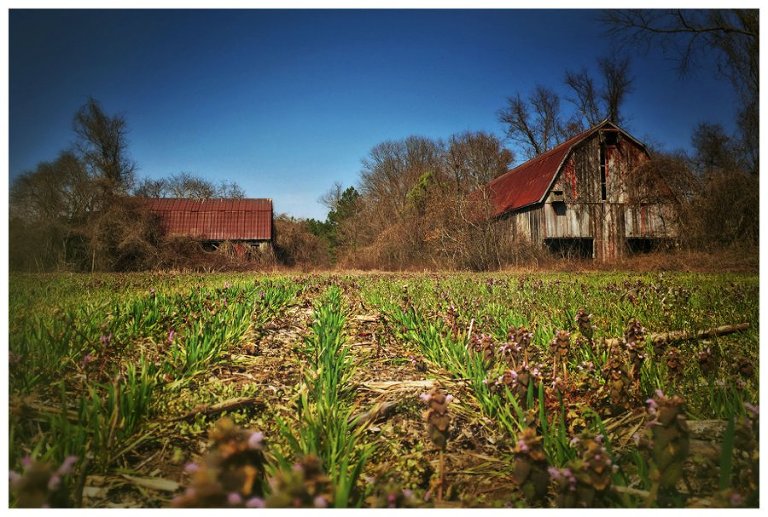 262/366: 3.18.16/5:13pm/Sunderland/ Solomons Island Rd/iPhone
Barn and a Tractor
Such a cute barn with this old tractor, that sits next to it all the time. Beautiful skies, too.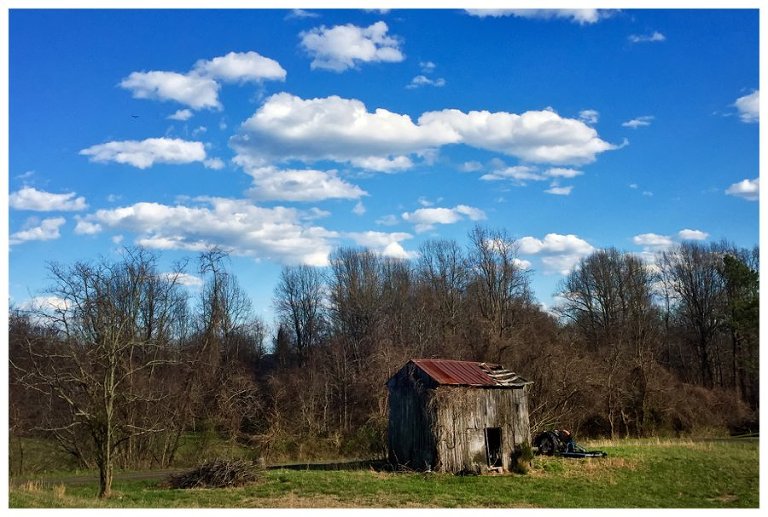 263/366: 3.19.16/1:50pm/Sunderland/ SOMD Blvd/Canon 5D Mark III/50mm 1.4
Pink Flowers Barn
Finally, a shot that incorporates all the beautiful spring flowers and trees that are blooming.
264/366: 3.20.16/3:44pm/Huntingtown/Matthew Dr/Canon 5D Mark III/16-35mm 2.8L II
Ireland Barn
I don't know, maybe it's all the green, the misty rain & the grey skies but this scene with three horses and their barn makes me think of Ireland. Not that I've actually been, to have a comparison. ☘☘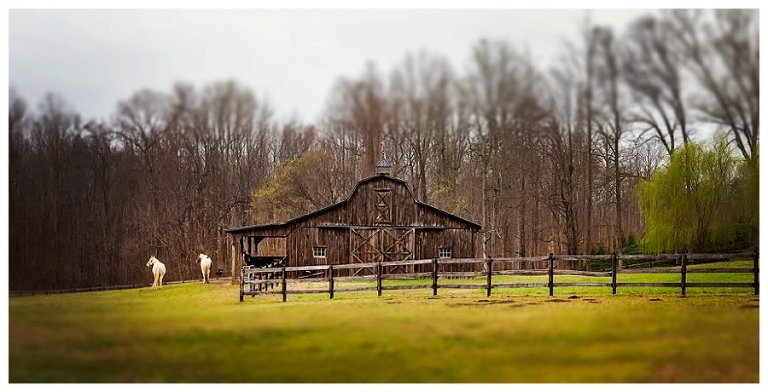 265/366: 3.21.16/3:56pm/Huntingtown/Hardesty Rd/Canon 5D Mark III/16-35mm 2.8L II
Blue Sky Barn in the Woods
Love this hard to see but easy to photograph barn, right along the road. The blue skies make it pop a little more.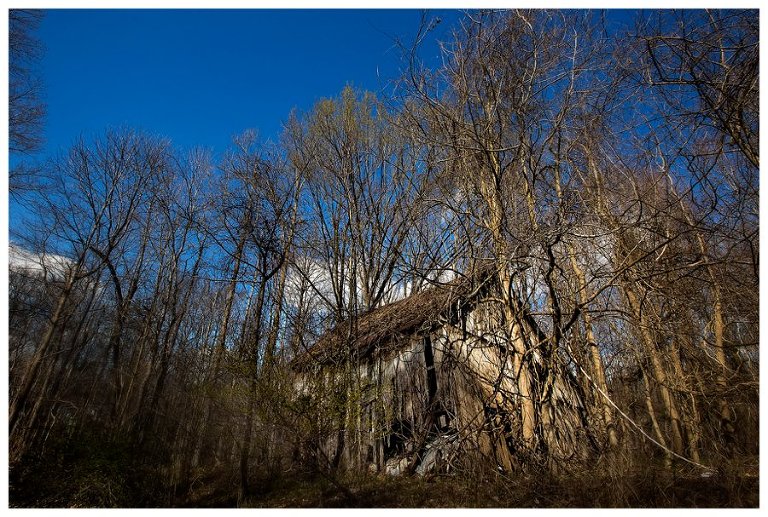 266/366: 3.22.16/5:25pm/Owings /Boyd's Turn Rd/Canon 5D/70-200mm 2.8L
Spring Barn
Out of several views out the passenger window, this one showing the spring buds was my favorite. You really have no idea how difficult it is to find new barns with spring flowers!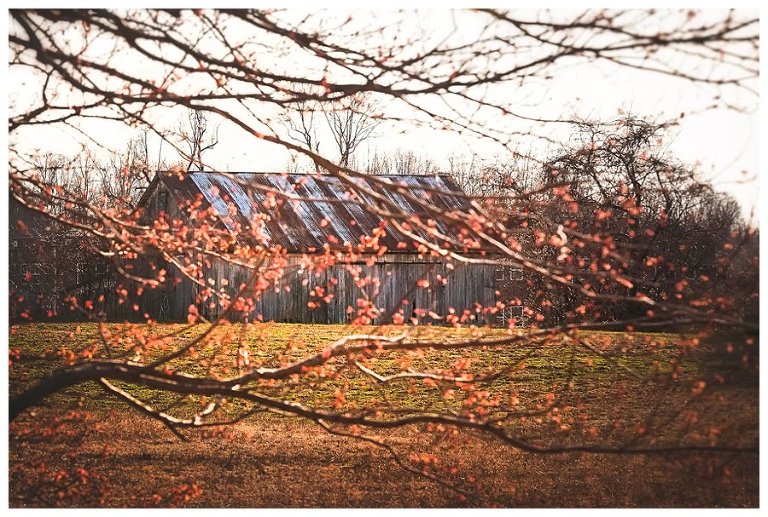 267/366: 3.23.16/1:39pm/Owings/Chaneyville Rd/Canon 5D Mark III/85mm 1.2L II
Green Grass Barn
This spring barn was made a bit better by getting low into the grass. It wasn't that high so I definitely did get low. Get low…..get low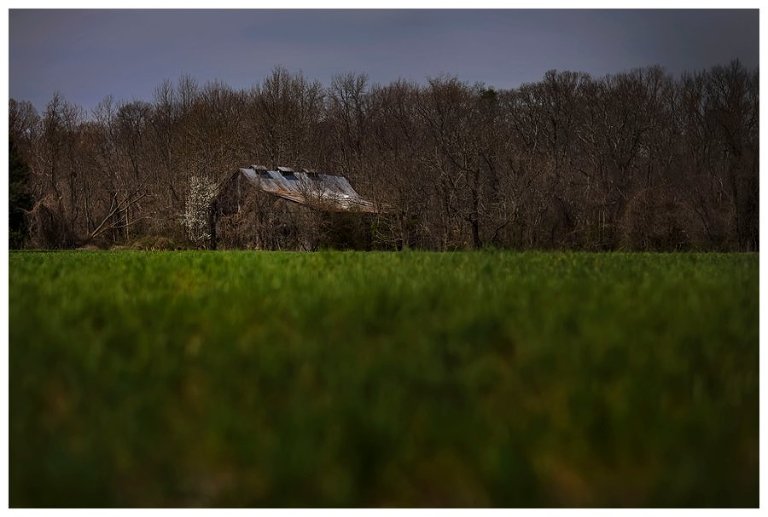 268/366: 3.24.16/6:51pm/Huntingtown/Emmanuel Church Rd/Canon 5D/24-70mm 2.8L
Red Barn in the Sun-Shade
Partly lit by the warm sunshine, partly covered in shade, the view framed by trees. Pretty no matter what.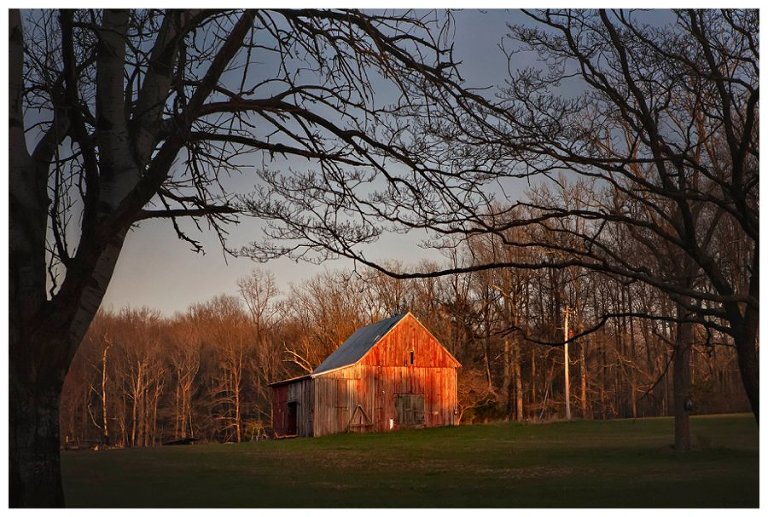 269/366: 3.25.16/5:11pm/Dunkirk/SOMD Blvd/Canon 5D Mark III/70-200mm 2.8L
Yellow Flowers Barn
Ahhh, I had to get these yellow bushes with a barn, before they turned over to green. Mission accomplished. I was granted closeup access to this one, which has also been converted to an indoor batting cage. Barns can have many uses!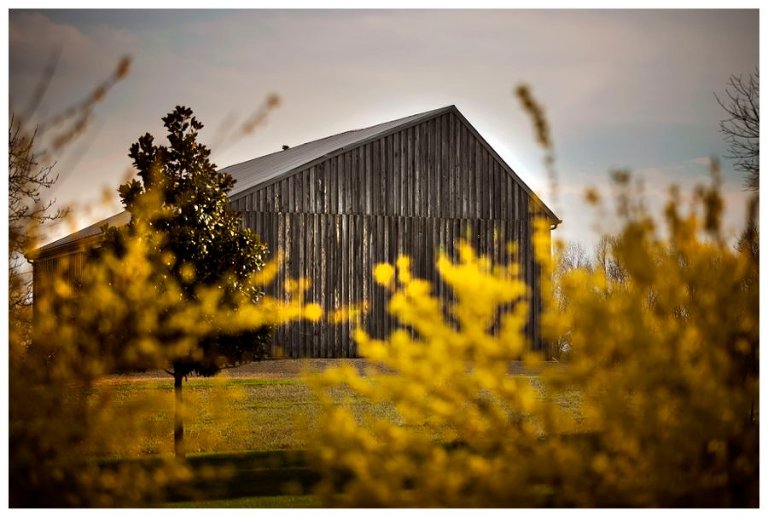 270/366: 3.26.16/6:01pm/Prince Frederick/Solomons Island Rd/Canon 5D Mark II/24-70mm 2.8L
Vines Barn
Just a typical barn you'd find behind a car dealership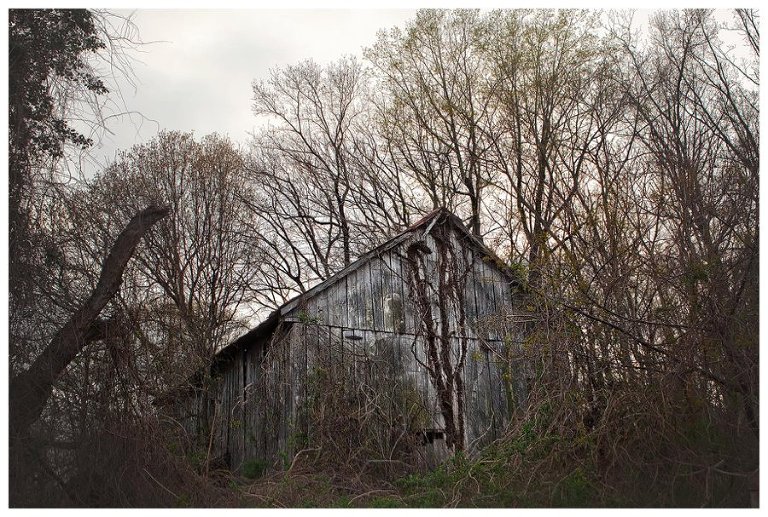 271/366: 3.27.16/6:07pm/Huntingtown/ Llewelyn Rd/Canon 5D Mark III/16-35mm 2.8L II
Easter Barn
"Easter spells out beauty, the rare beauty of new life" – S.D. Gordon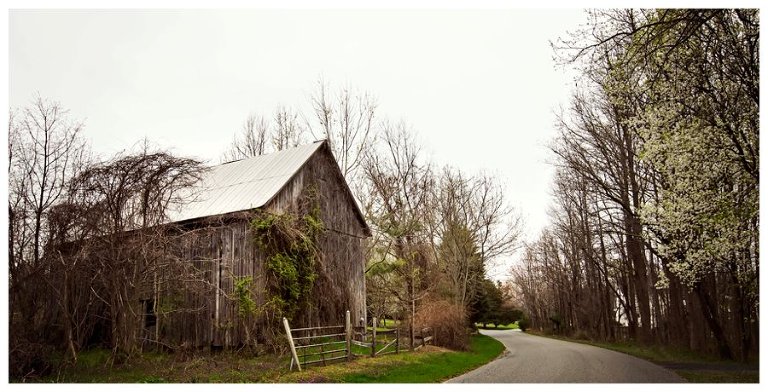 272/366: 3.28.16/5:43pm/Owings/Honeysuckle Ln/Canon 5D Mark II/70-200mm 2.8L
Pastel Colors Barns
Spring goals slowly being achieved: knocking out yellow and pink flowers with this one! I'm hoping to photograph as many spring colors as I can, while they last.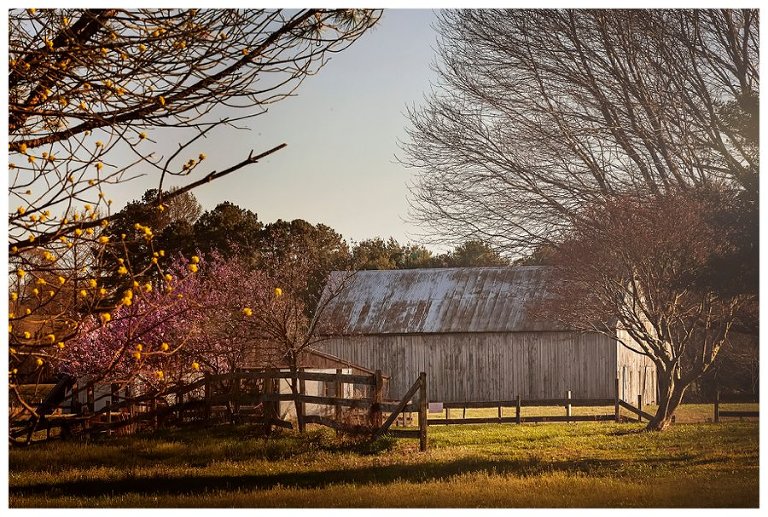 273/366: 3.29.16/5:22pm/Owings/Plane Tree Dr/Canon 5D Mark III/16-35mm 2.8L II
Tobacco Barn + Culti Planter
I am not exactly sure what the Culti Planter does but it does look like it's ready to do some work.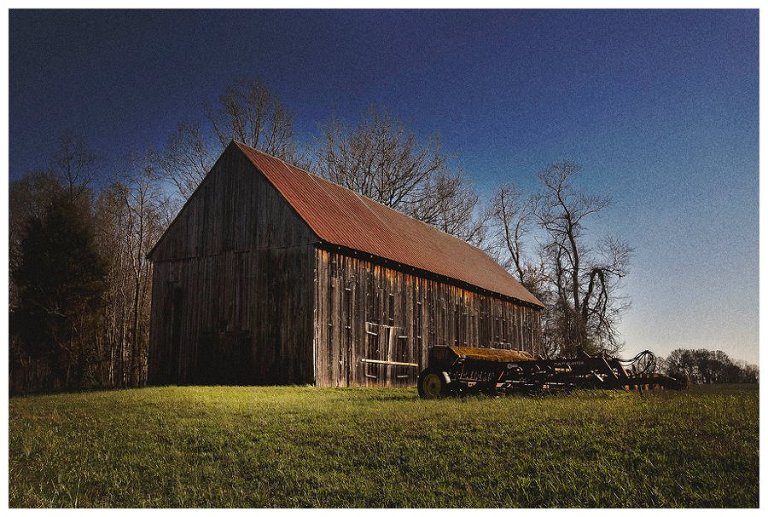 274/366: 3.30.16/5:05pm/Dunkirk/SOMD Blvd/Canon 5D Mark III/70-1200mm 2.8L
Corn Crib
This is part of a set of barns, right off the highway. I don't think there's corn in there, anymore, my guess is that it is used for storage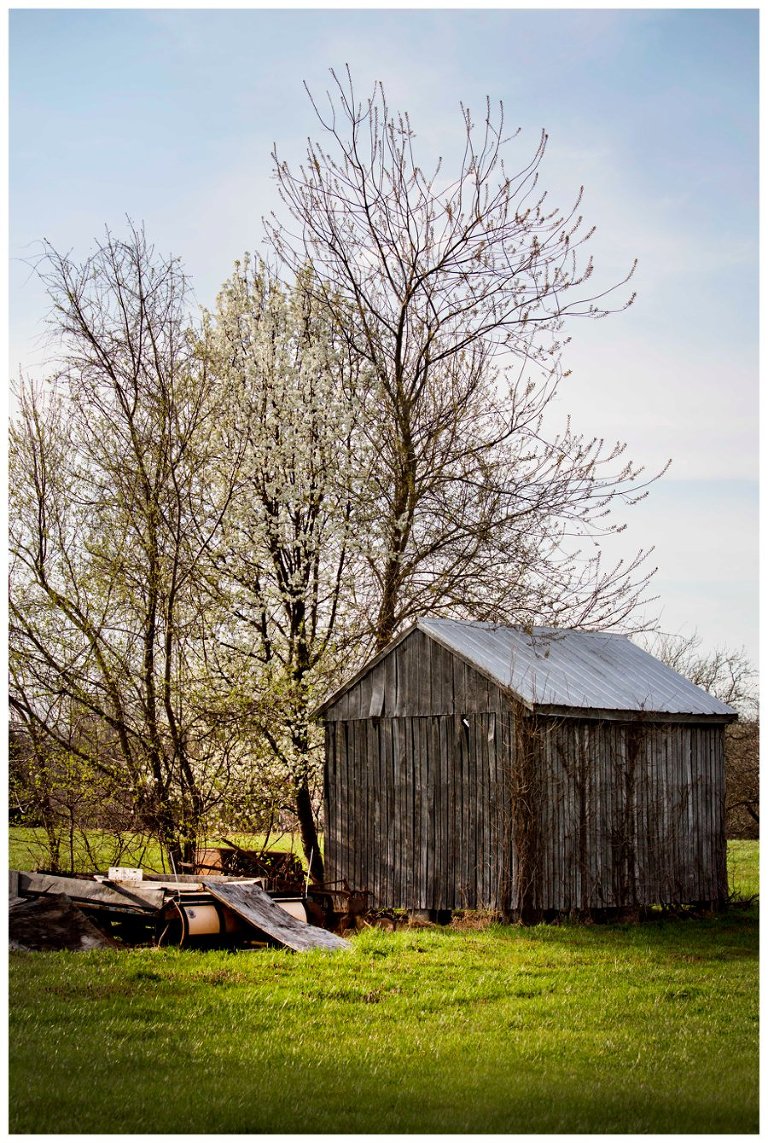 275/366: 3.31.16/10:32am/Huntingtown/Jupiter Ln/Canon 5D/24-70mm 2.8L
Barn in the Woods
This little one down a hill, was not the first one I photographed, this morning. I had to stop when I drove by and saw the subtle hints of yellow and green and the little bridge. I knew this was the one for today!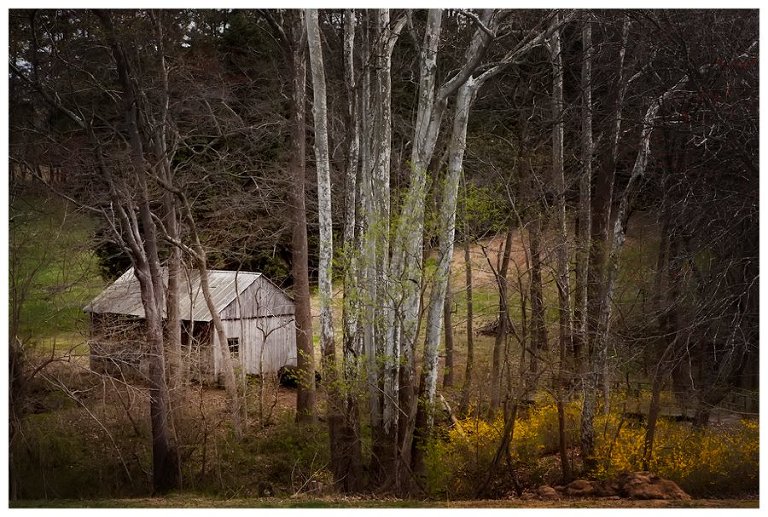 Calvert County Barns, Barns of Calvert County, Calvert County Photographer, Southern Maryland Barns, Southern Maryland Photos, Southern MD Photography, Chesapeake Beach Photographer, Dunkirk Photographer, Prince Frederick MD, Tobacco Barns, Barns of Maryland, Maryland Photographer, Maryland Barns, Southern Maryland Photographers, Annapolis Photographer