Original Post:
I started thinking about this recently when I asked myself the question: what do I love about this area that I now call home? In other words, I was trying to find new ways to be positive and look for the good in my new location. I have been living here for almost two years but sometimes I still miss "home". Even though I chose to move here for the right reasons, and I'm not that far away from where I came, I still struggle with these thoughts off and on. So, instead of dwelling in the past, I decided to appreciate the present. To find the good and appreciate what I have, here and now and to build a connection to this new place.
One of the coolest, and most unique things about Calvert County (and Southern Maryland) are all the barns that stem from it's rural history. I love the country roads and all the farms or pieces of what are left over, from old farms. I had a lot of that on the Eastern Shore, as well, but there were never this many barns and they're different. Since a lot of the ones found here are tobacco barns, there are just SO many more, because they needed more of them to dry the tobacco in. I'm also tying this project in with my background in geography and environmental/land use planning interests. I see the urban sprawl and trees and fields being chopped down, daily, so this landscape is changing rapidly. By taking these photos, I want to be a part of documenting how looks now. I have a feeling it will change quite a bit in my lifetime.
So, with all these things in mind, on July 1st, 2015, I decided to start this year-long endeavor! Here are my rules/goals:
photograph a different barn each day from July 1, 2015 – June 30, 2016.
if I am out of town or something prevents me from shooting, I will shoot multiple barns for each day that I am gone, as close to the dates missed as possible.
any type of camera goes – iPhone, point and shoot, DSLR etc
barns must be located within Calvert County, MD limits
_________________________________________________________________________________________________________________________________________
276/366: 4.1.16/1:12pm/Prince Frederick/Grays Rd/Canon 5D/16-35mm 2.8L
Cypress Stables Barn
This scene with horses and big sky at Cypress Stables is so peaceful and beautiful, I almost forgot that I was there to take photos of the white barns in the background. I like how this one looked up at me, when I was walking up the road towards them. What a beautiful little piece of the earth.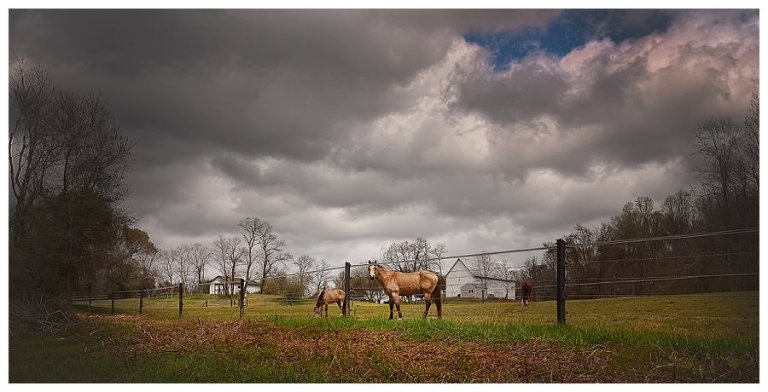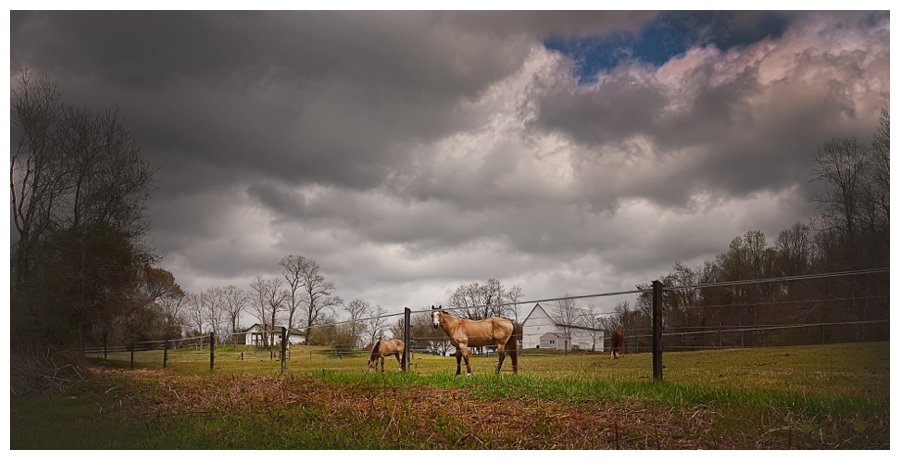 277/366: 4.2.16/6:42pm/Broomes Island/Broomes Island Rd/iPhone
Little Broomes Island Barn
A beautiful evening view of this little red barn on the way to Broomes Island. Had to turn around to snap this one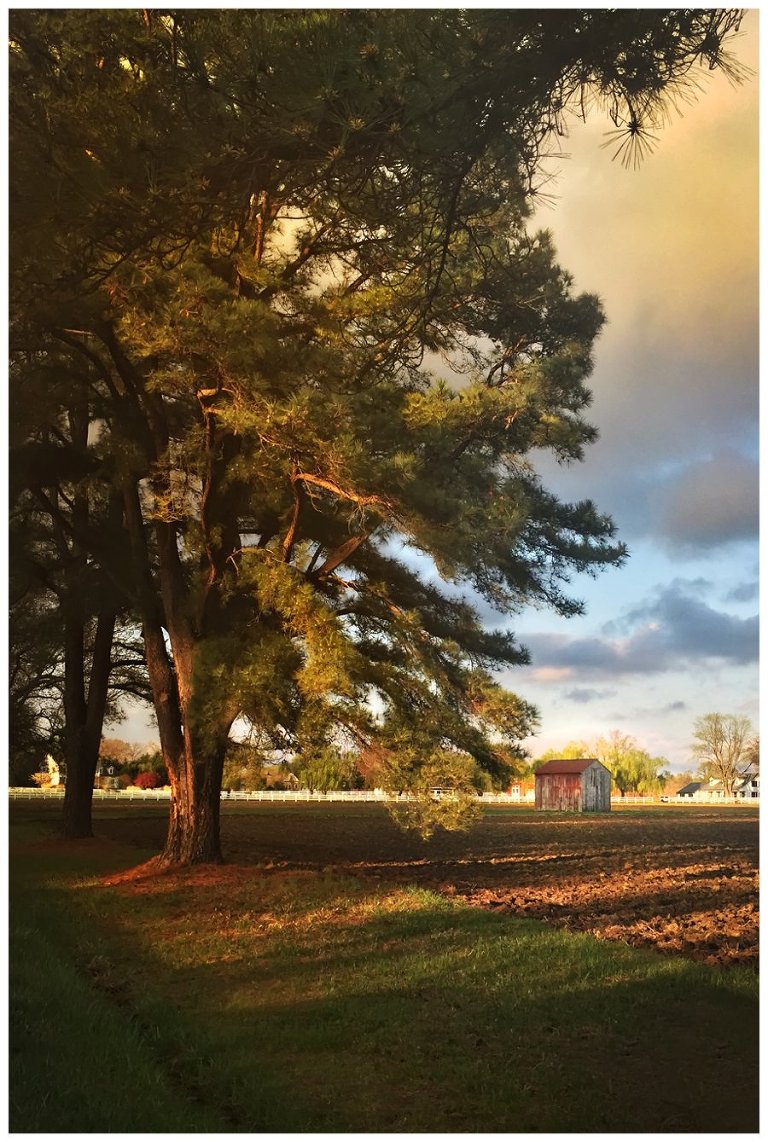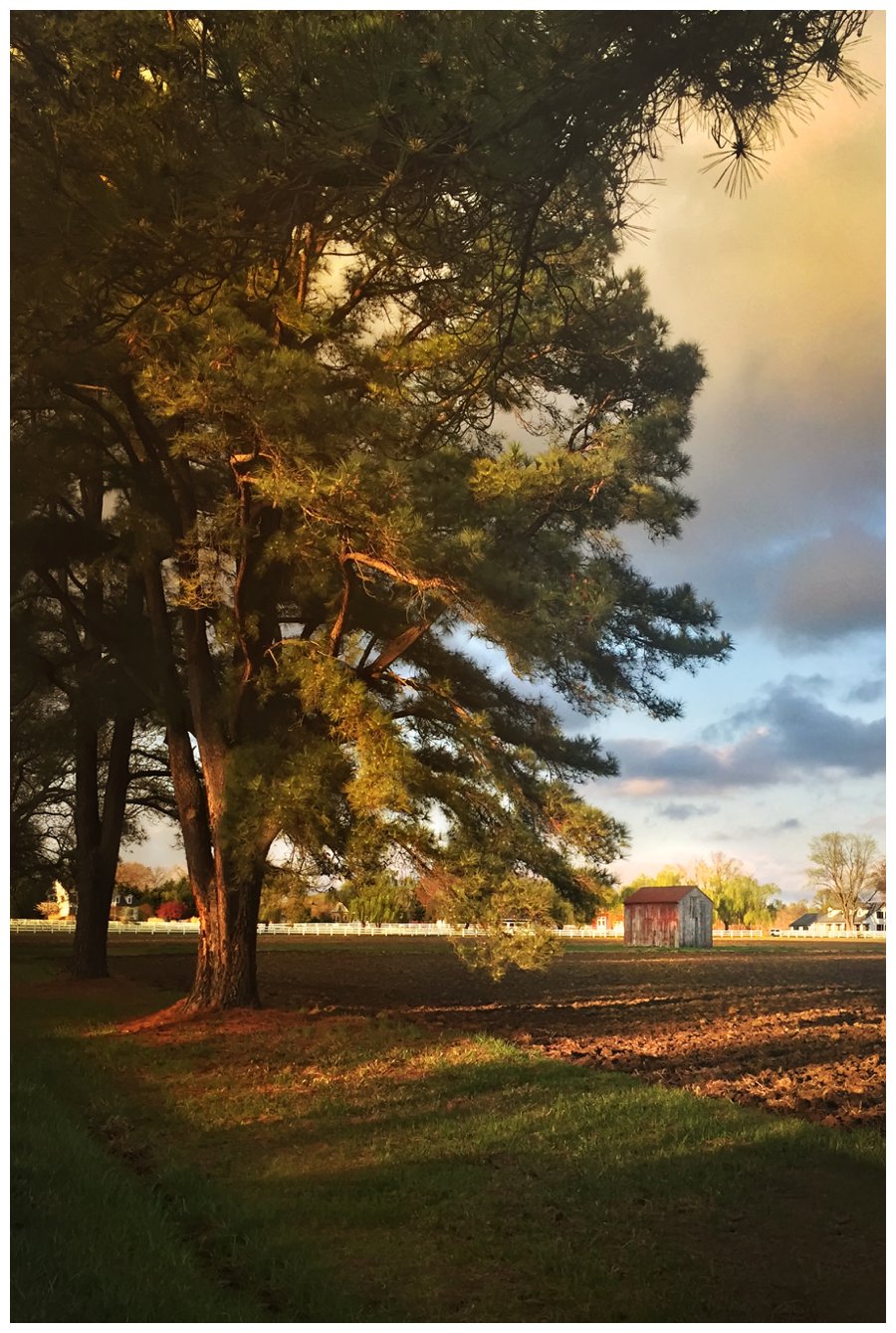 278/366: 4.3.16/7:12pm/Owings/SOMD Blvd/5D Mark III/70-200mm 2.8L
Chaneyville Barn
This old barn is hard to access, so my easiest option was to shoot it from the window when we drove by. I'm looking forward to learning more about it, it's part of several old barns along Chaneyville & Rt 4 and I believe on the historic sites registry.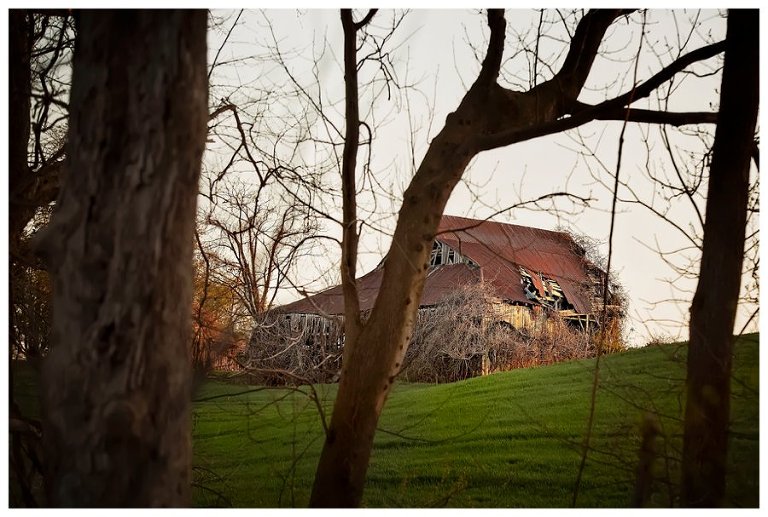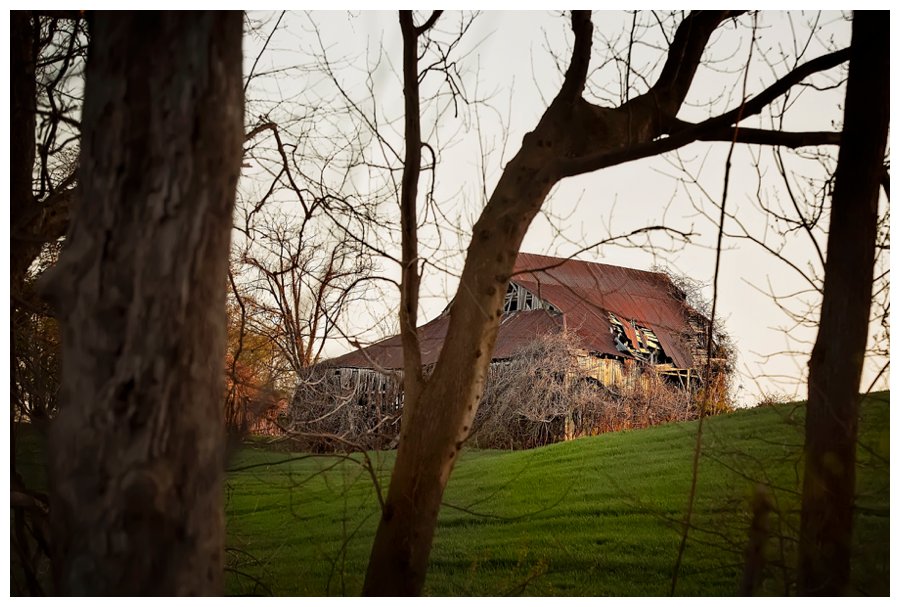 279/366: 4.4.16/3:05pm/Owings/5th St/5D Mark III/16-35mm 2.8L II
White Barns
I'd love to know more about this spot, some day soon. There are several that sit right near here, along this busy street, I'm sure there's a good story!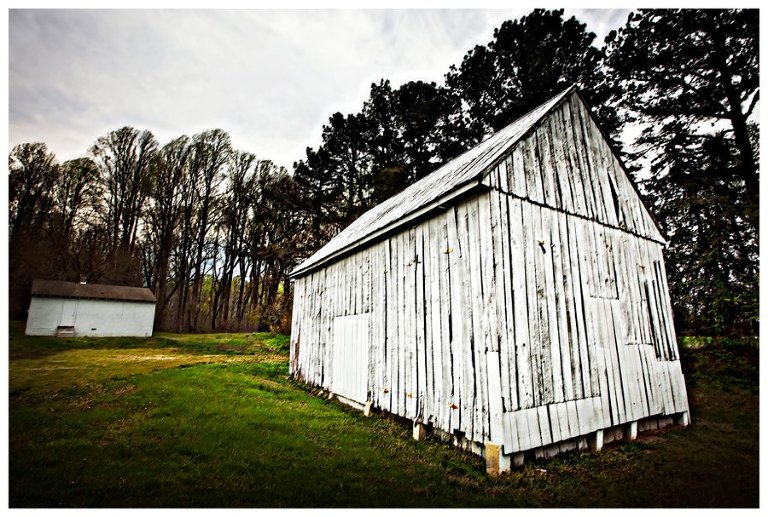 280/366: 4.5.16/7:59am/Saint Leonard/Mackall Rd/5D Mark III/24-70mm 2.8L
Sunrays Barns
I chased these beautiful morning skies and sun rays all the way down to this spot, which ended up being better than I expected. It is such a gorgeous view!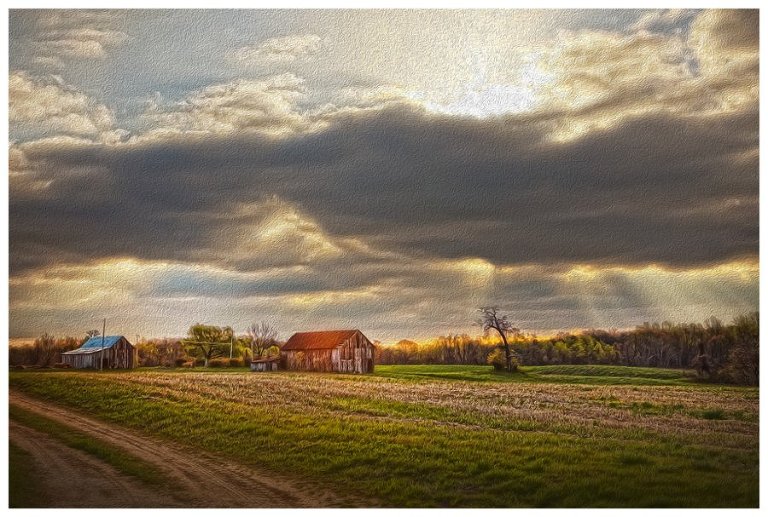 281/366: 4.6.16/1:53pm/Huntingtown/M F Bowen Rd/iPhone
Old Barn and a Bird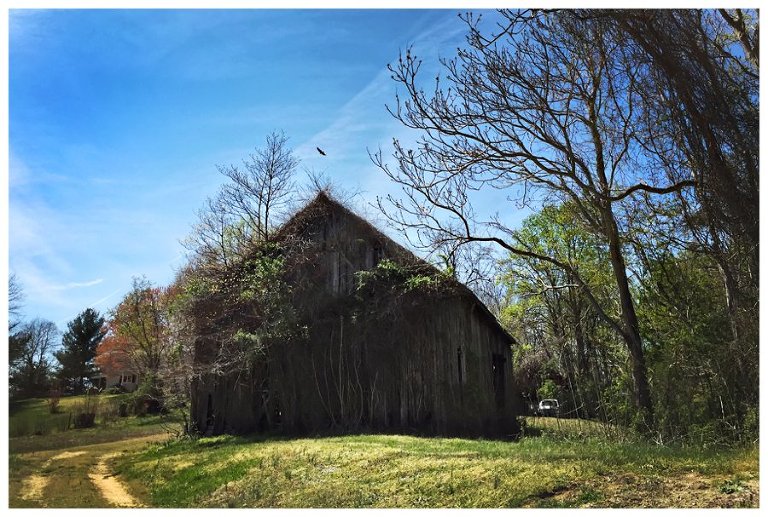 282/366: 4.7.16/2:25pm/Huntingtown/Emmanuel Church Rd/5D/70-200mm 2.8L
Donkey and a Barn in the Rain
Yesterday's social media photos were dominated by rainbows and crazy skies, which I wasn't able to go out to shoot…I didn't see a single donkey in those photos, though! I'll take the donkey!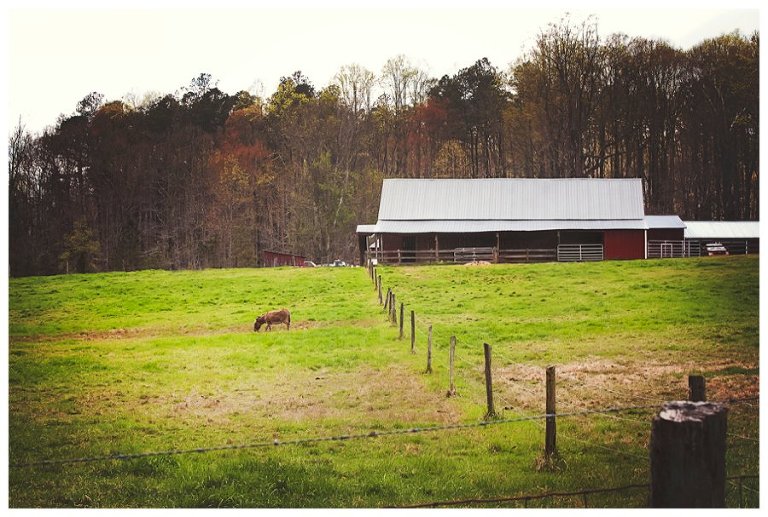 283/366: 4.8.16/4:45pm/Owings/Honeysuckle Dr/5D/70-200mm 2.8L
Blue Skies Tobacco Barn
Beautiful skies and endless tobacco barns… That's what my commute was like, this afternoon. I saw at least five – ten that I've yet to shoot, just on my route home. It's so easy and yet not so easy to keep up, somehow I still am. Happy Friday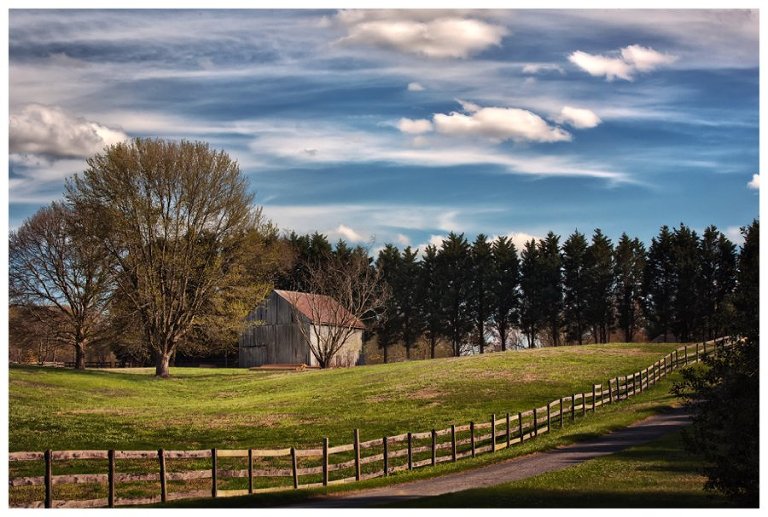 284/366: 4.9.16/11:15am/Huntingtown/Sunrise Dr/5D Mark III/85mm 1.2L II
April Snow Barn
A random snow shower in April, that's all I'm going to say about this one!!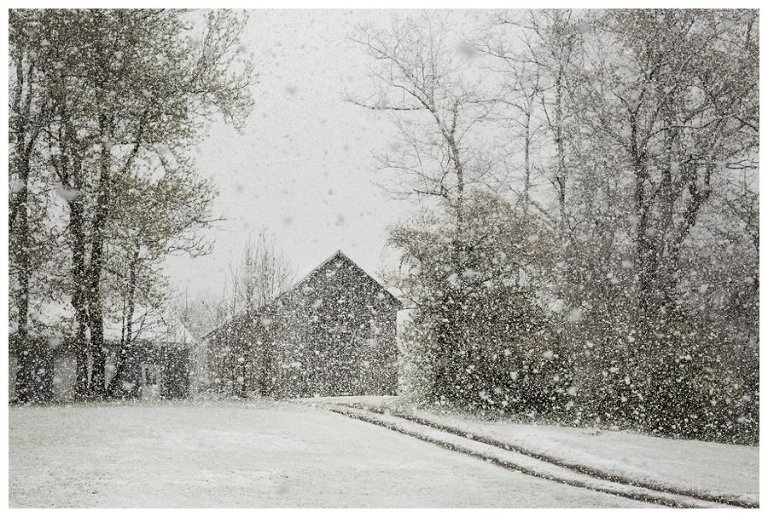 285/366: 4.10.16/12:15pm/Owings/Chaneyville Rd/iPhone
Red Barn with a Tractor
Bright blue skies, a red barn and tractor, not a bad way to start Sunday's adventures.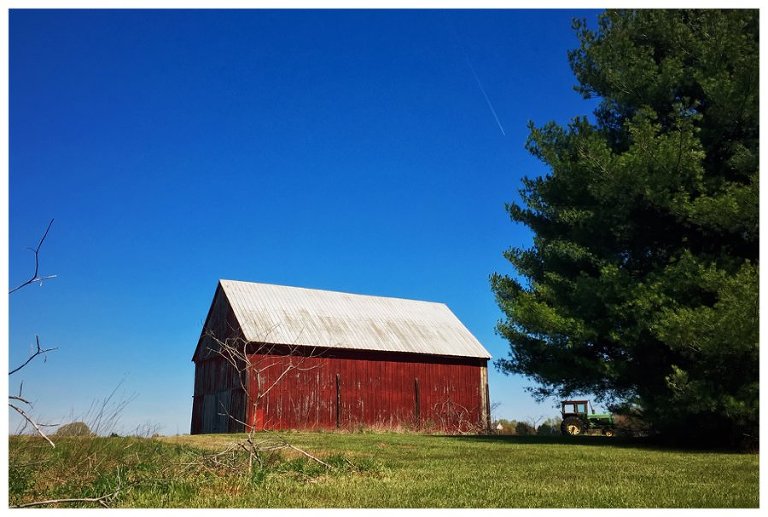 286/366: 4.11.16/5:59pm/Owings/Mt. Harmony Ln/Canon 5D/70-200mm 2.8L
Buzzard and a Barn
I've always liked looking over at this one when the evening sun hits it. The buzzard on top was an extra bonus, I suppose!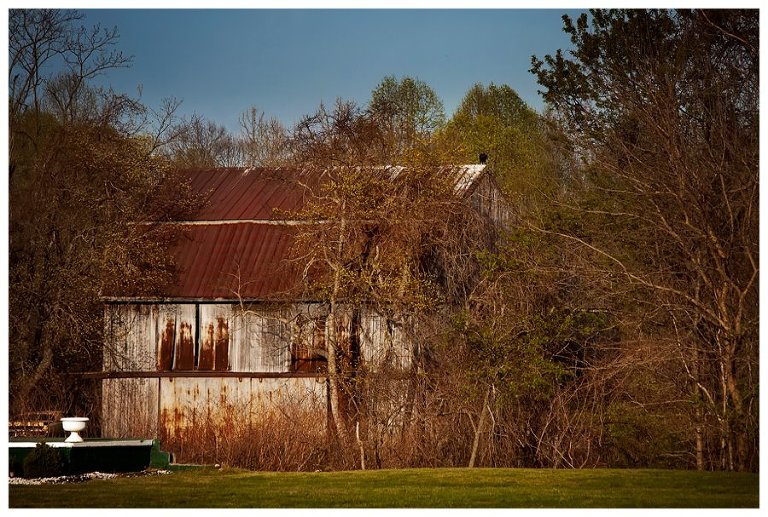 287/366: 4.12.16/2:52pm/Barstow/ Calvert Co. Fairgrounds/Canon 5D/24-70mm 2.8L
Fairgrounds Barn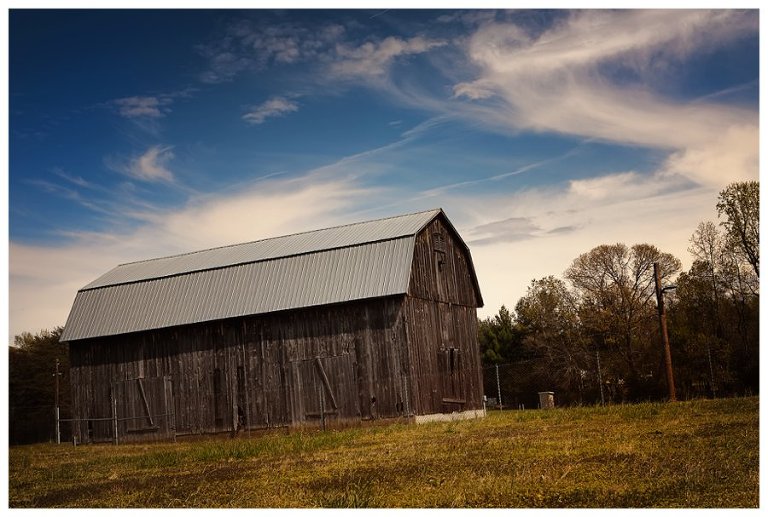 288/366: 4.13.16/7:54pm/Dunkirk/ Jewell Rd/Canon 5D Mark II/70-200mm 2.8L
Nighttime Barn
I was cutting it very close to darkness, last night but we got this beautiful one in, just in time!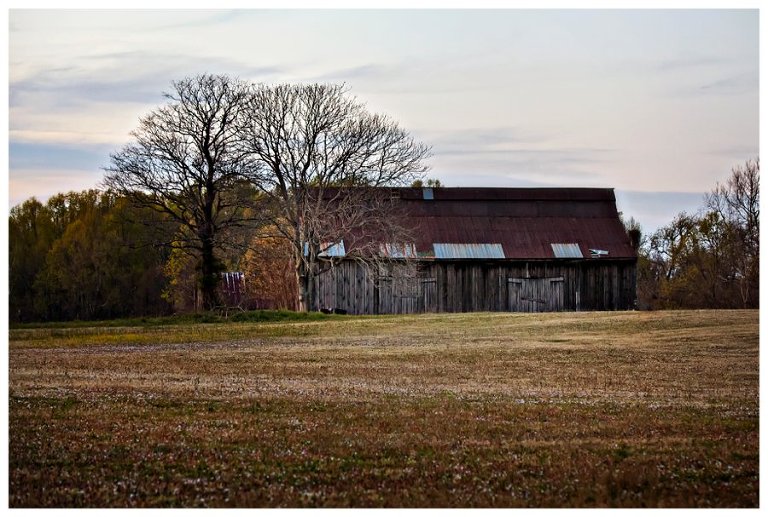 289/366: 4.14.16/12:20pm/Huntingtown/Stinnett Rd/iPhone
Halfway Barn
I used this barn as a running goal, I wanted to reach it to take a photo and then go back home. It ended up being my halfway point and a pretty pit stop. Barns can be used for all types of things. 🙂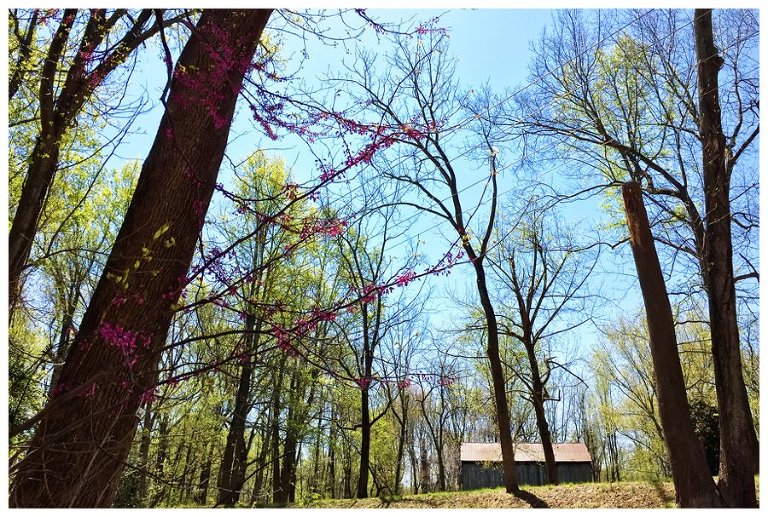 290/366: 4.15.16/5:39pm/Prince Frederick/Dan Bowen Rd/5D Mark III/85mm 1.2L II
Tax Day Red Barn
I love this set of well-maintained red barns that sit here. I'll feature the others on a different day.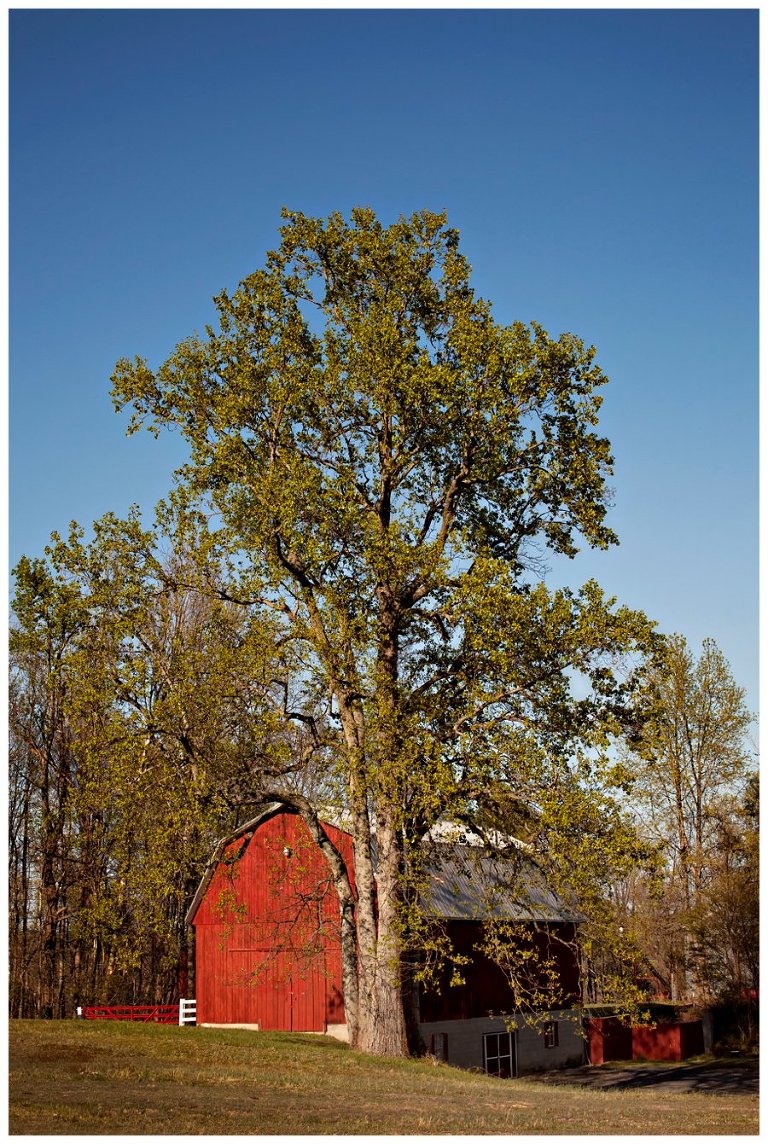 291/366: 4.16.16/4:29pm/Owings/Sam Hill Rd/iPhone
Pink Spring Barn
I'm still finding new barns in northern Calvert. Sometimes I feel like I've seen them all but found at least four right here. Saving the others for a better camera and skies. 🙂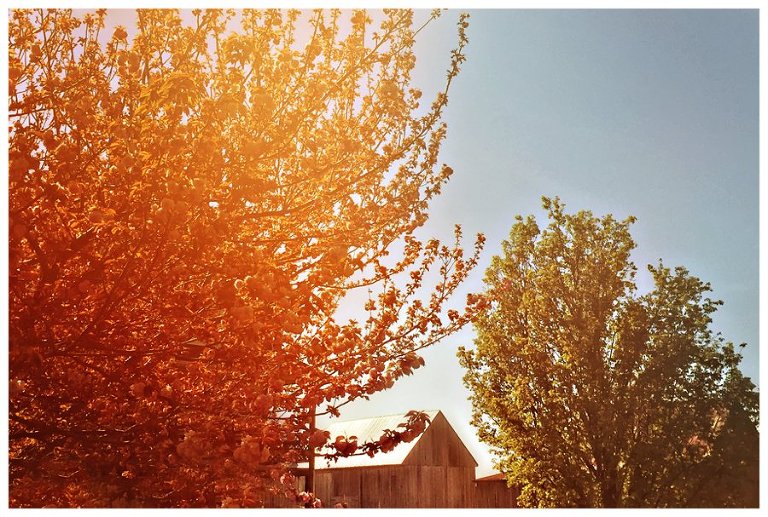 292/366: 4.17.16/9:49am/Port Republic/Broomes Island Rd/5D/70-200mm 2.8L
Green Tobacco Barn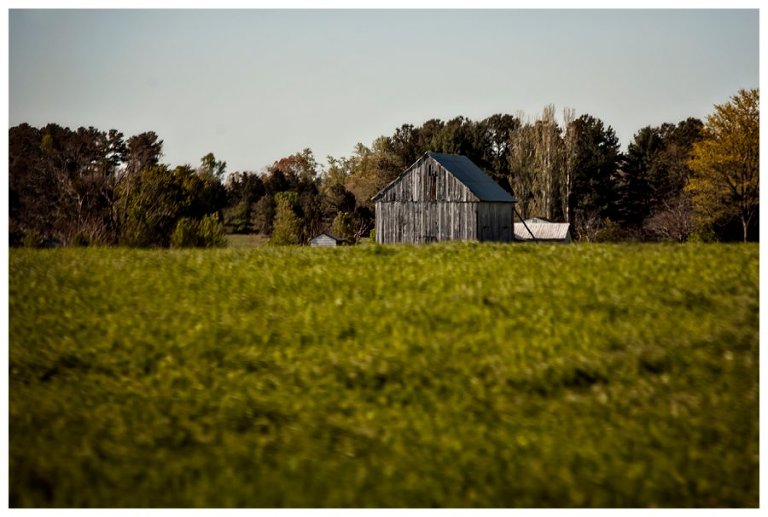 293/366: 4.18.16/7:56pm/Dunkirk/Brickhouse Rd/5D/70-200mm 2.8L
Evening Tobacco Barn
Sometimes you just take what you can get…. But this shot from my car after sunset ended up working just fine…for a busy Monday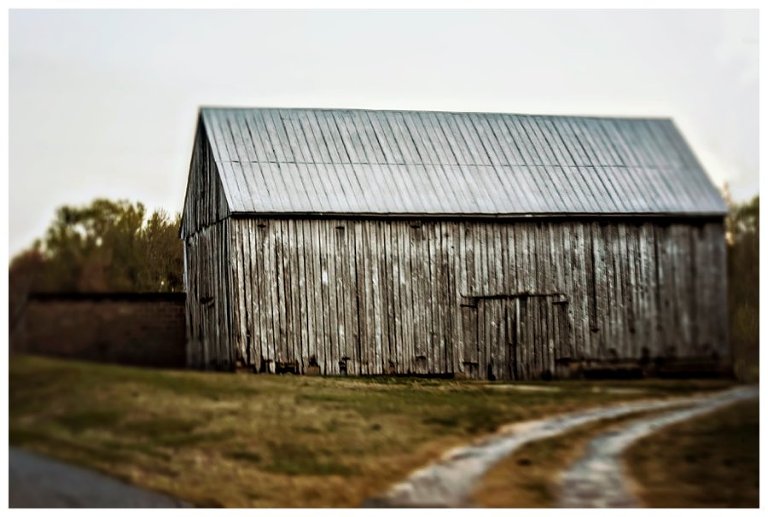 294/366: 4.19.16/12:53pm/Prince Frederick/Dares Beach Rd/5D Mark II/24-70mm 2.8L
PF Kennels Barn
For so long I've passed by this one and finally decided to call Prince Frederick Kennels to ask if I could stop by to photograph it, only for them to tell me it was their neighbor's barn. I'm still going to consider it the PF Kennels barn!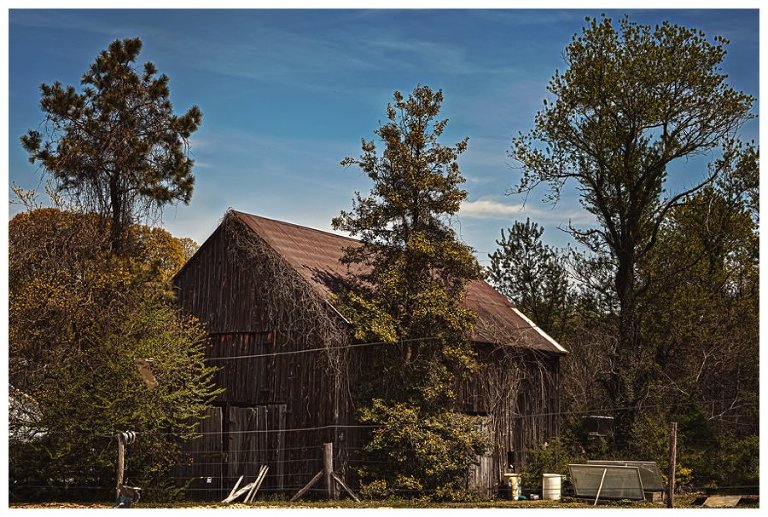 295/366: 4.20.16/4:39pm/Chesapeake Beach/Bristol Dr/5D Mark II/70-200mm 2.8L
Mini Backyard Barn
So, maybe this is a type of shed but it's got barn wood and it's the shape of a barn, so it counts! That and it's just cute.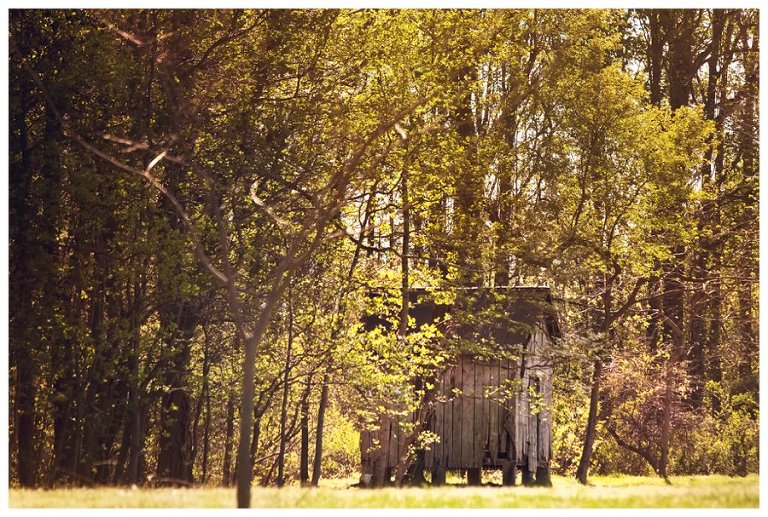 296/366: 4.21.16/12:34pm/Prince Frederick/Church St/5D Mark II/24-70mm 2.8L
Linden Barn
Today, I made another small step towards my goals and dreams by visiting the Calvert County Historical Society to do some barn research. I am in the downtown Prince Frederick area often but never knew exactly where they were located, and I did not know that several barns sit right here next to the Linden Building. It was a pleasant surprise! After all the research I did, I never took a photo of the plaque – so I'm still not sure of the story for this one but I really liked the purple (weeds?) flowers growing on the side and the unique cuts of the wood on the side. The history will have to wait for another day.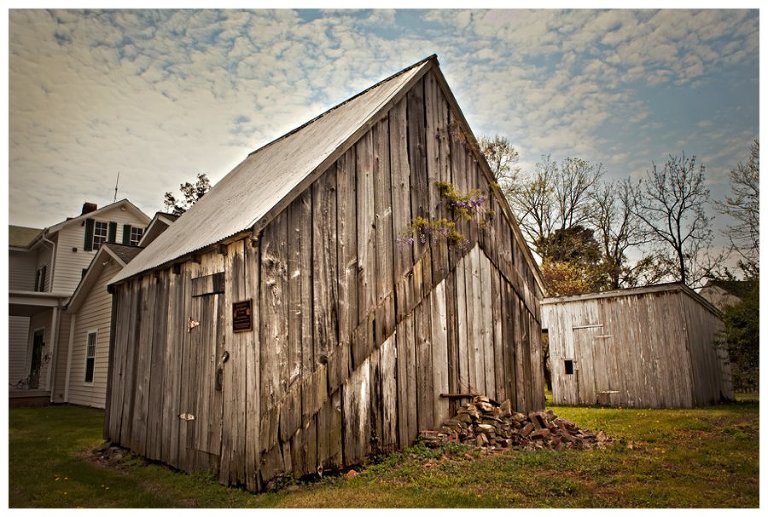 297/366: 4.22.16/2:44pm/Huntingtown/Lexa Dr/5D Mark III/70-200mm 2.8L
Earth Day Barn
All that green on Earth Day, love it.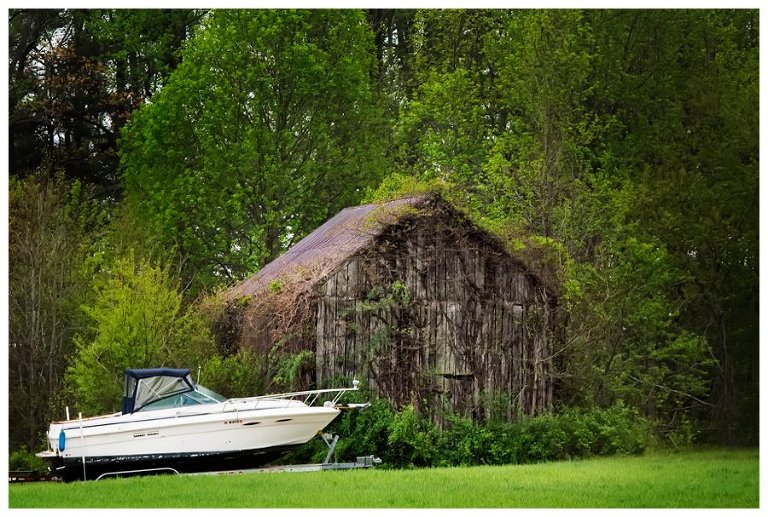 298/366: 4.23.16/11:47am/Prince Frederick/Hallowing Point Park/5D Mark II/16-35mm 2.8L II
Hallowing Point Park Barn
One of several right in the middle of this park which was BUSY on a Saturday. I may have edited some cars out of this one, since I really wanted to show the pulled back view with stormy skies.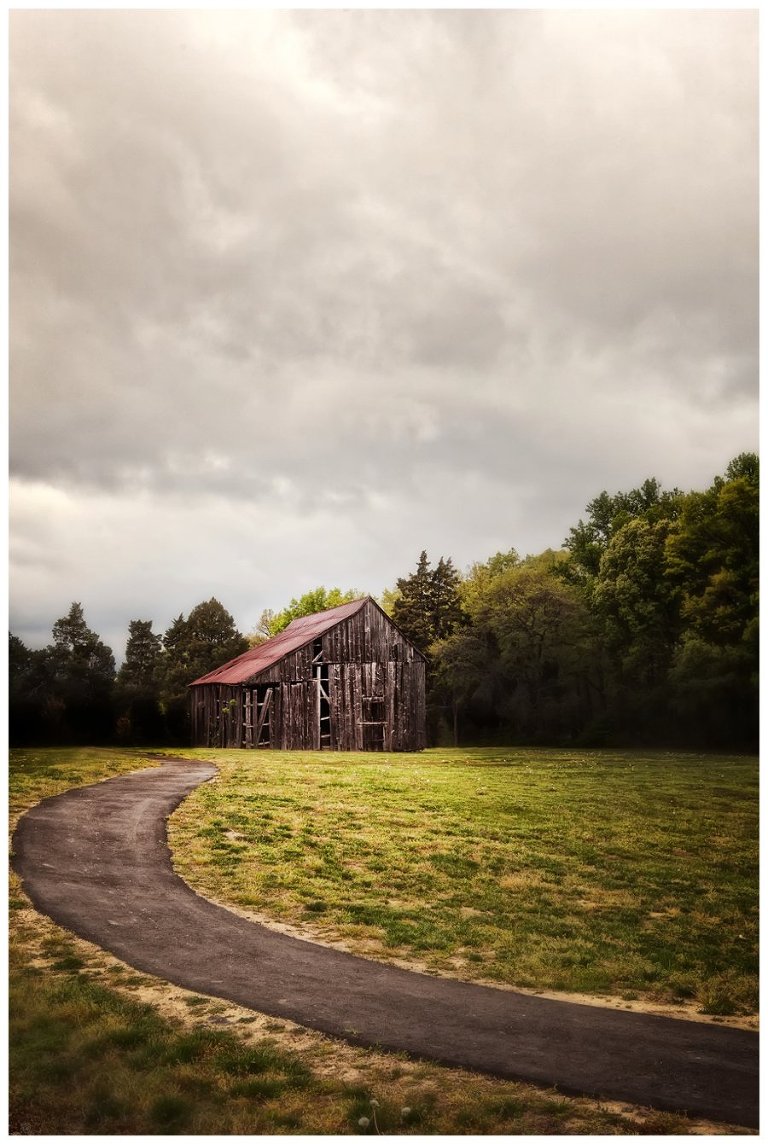 299/366: 4.24.16/6:25pm/Prince Frederick/Dares Beach Rd/5D Mark III/70-200mm 2.8L
Red Barn and White Tree
I've waited patiently for many months, knowing this one would be prettiest whenever that tree was in bloom. (If it bloomed, I wasn't sure if it was even alive for awhile). I'm glad it finally did, just in time for this evening's shot. So pretty and peaceful, right along the busy road.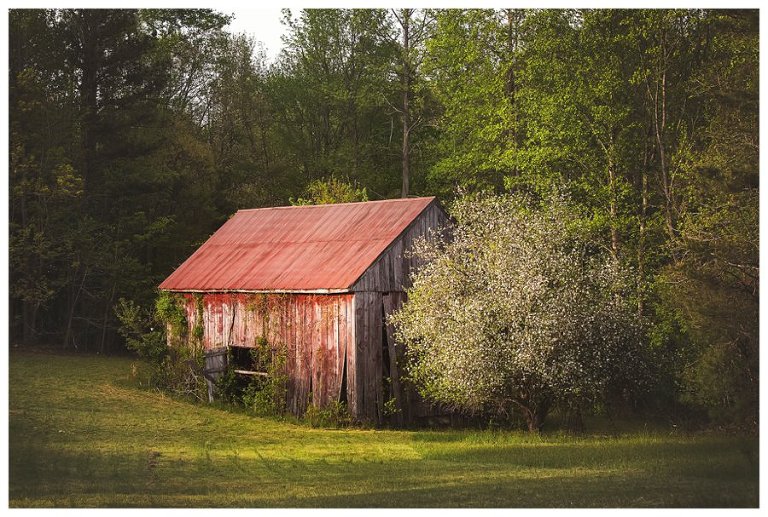 300/366: 4.25.16/6:12pm/Owings/Old Solomons Island Rd/5D Mark III/24-70mm 2.8L
Buttercup Red Barn
Wow, it's my 300th barn, I can't believe it. It's now turning into buttercup season. They're everywhere and I'm so grateful for my every day stalking of these barns and landscapes, grateful I get to notice these little things and subtle changes.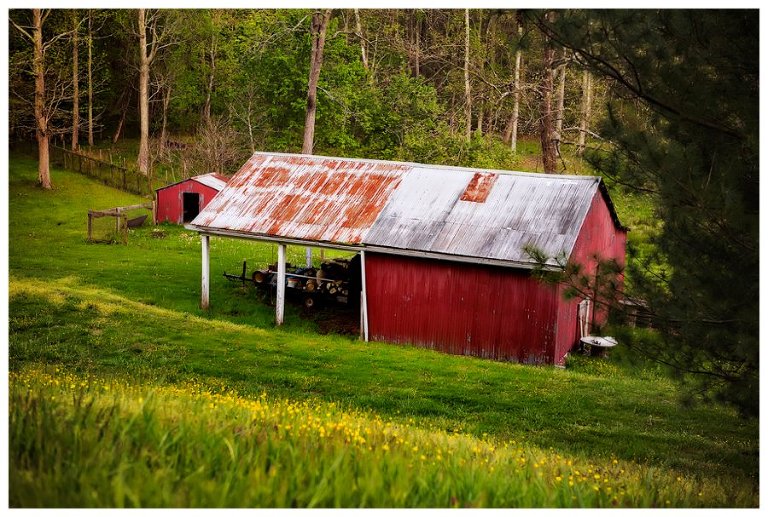 301/366: 4.26.16/9:59am/Owings/Swan Ln/5D Mark III/24-70mm 2.8L
Swann Farms Strawberry Barn
It only took 300 barn shots, for these three to finally make an appearance! What a beautiful morning to hang out at the strawberry patch of Swann Farms…and for barn-stalking!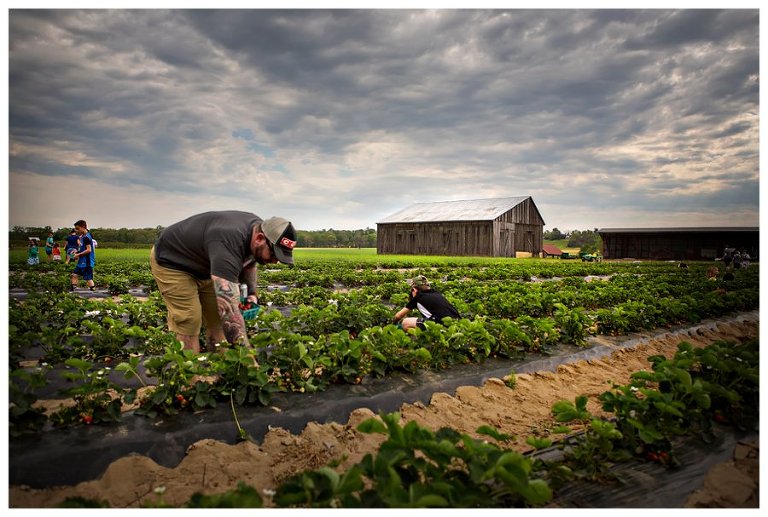 302/366: 4.27.16/6:04pm/Owings/Solomons Island Rd/5D Mark III/24-70mm 2.8L
Sandy's Grandfather's Barn
A long post but sometimes they should be long: If you had to pick beautiful scenes in Calvert County, this one may not have been in the top 366 however, it is one that a good amount of its residents pass on a regular basis. It sits at the bottom of the intersection of Rt 2 and Mt. Harmony Rd but it was not always in this location. Sandy, a woman following my project, and I have been emailing about it and I promised her I would get a shot of it. It's not so easy to reach because the whole area has been under construction for this entire project, so my best option was to stand out of my husband's sunroof again, while we waited at the light. 🙂
She told me a story about the barn: it used to be part of her grandfather, Melvin Phipps, farm that was relocated by the State to build Rt 2, since it was not in its current location, it used to follow Mt. Harmony Ln. They moved their house and the family chose to move this barn themselves, to where it sits now. In her words: "It used to be beautiful, but it doesn't look like that now. After my grandparents died the land was sold, and houses were built near my grandparent's home where we raised tobacco and had a meadow for the sheep and my pony. But it was beautiful when they were there, and it was a wonderful place to grow up. I used to play in the barn. I remember my grandfather and other men in the family hanging tobacco in that barn, and I used to help my grandfather strip tobacco in the attached "stripping cellar" at the far end of the barn (cinder block addition). Sorry, I'm rambling. Wonderful memories, but sadly, nothing on earth lasts forever."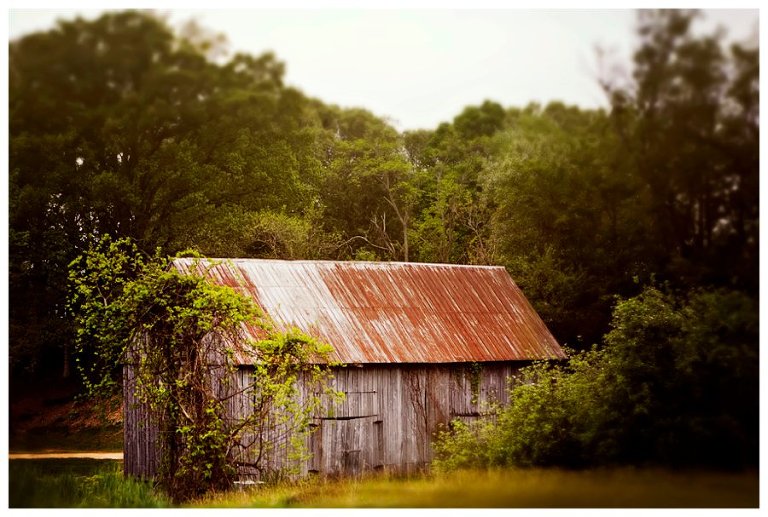 303/366: 4.28.16/3:13pm/Prince Frederick/Mallard Point Rd/5D Mark III/24-70mm 2.8L
Make A Wish Barn
It is so hard to not straighten out these crooked barns, when I'm editing them! Both the dandelions and this barn are still hanging on in the dreary rain. A bunch of wishes lie right beside this one, I know what some of my wishes are, they may or may not involve barns.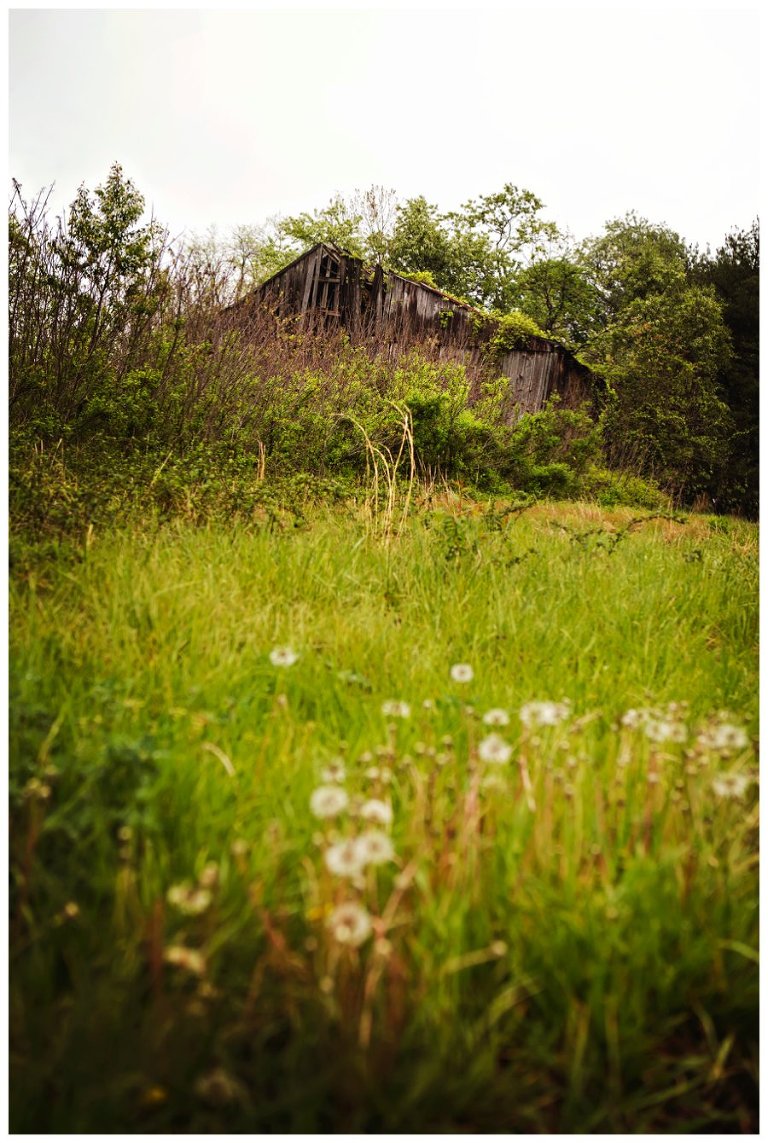 304/366: 4.29.16/4:45pm/Chesapeake Beach/Tobacco Rd/5D Mark III/70-200mm 2.8L
Tobacco Road Barn
Ahh, it's taken 10 months but I finally decided that I had to shoot this one today, with all those hills of buttercups, purple flowers and vines growing on it. I don't think I've seen it look prettier. (Bigger scale it looks so much better!) This one is on my road, I pass it several times a day. It always looks beautiful when the morning sun hits it and also when the sun sets, behind it. I've shot it in the snow and with my cell phone but I just really loved it right now, even with the dreary weather, just like I always see it – from the road.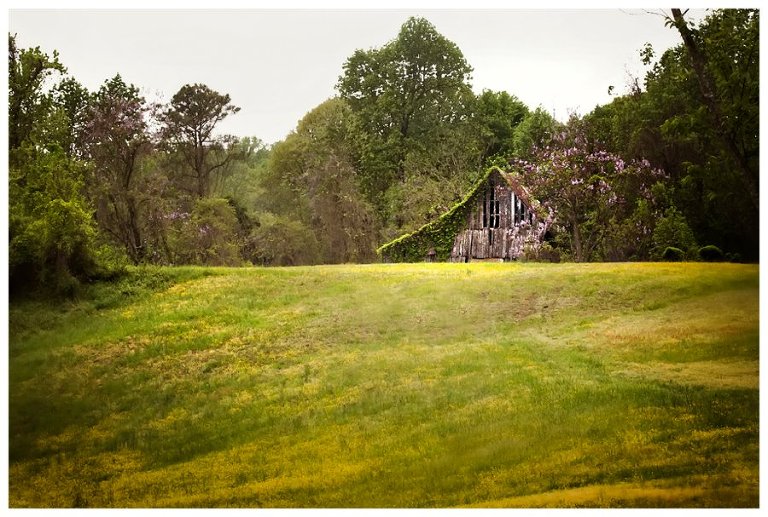 305/366: 4.30.16/10:34am/Prince Frederick/Sixes Rd/5D Mark III/24-70mm 2.8L
Tractor Sign Red Barn
I love the tractor street signs, that I see from time to time. You can but them online! I like this pop of red on yet another dreary day.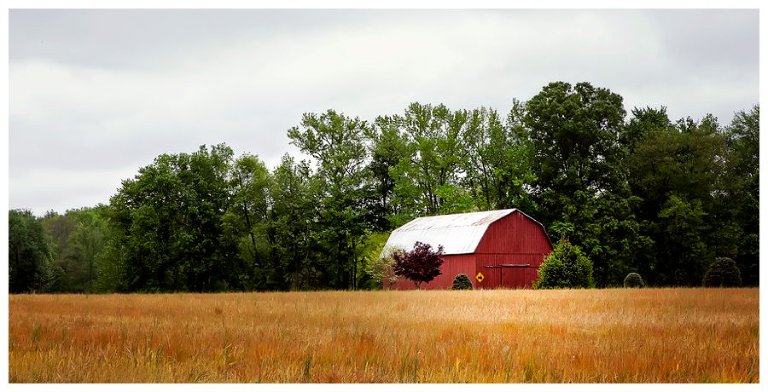 Calvert County Photographers, Calvert County Barn Photos, Chesapeake Beach Photographer, Southern Maryland Photographers, Annapolis Wedding Photographers, Eastern Shore Photographer