Completion of February means I've shot eight full months of Barns of Calvert County, kinda amazing that I've made this work for so long. It definitely makes me realize some things about my life and that we (I) are really capable of doing anything we want to do, if we want to do it badly enough and have the willingness to stick with it. 🙂
_________________________________________________________________________________________________________________________________________________________________
Original Post:
I started thinking about this recently when I asked myself the question: what do I love about this area that I now call home?  In other words, I was trying to find new ways to be positive and look for the good in my new location. I have been living here for almost two years but sometimes I still miss "home". Even though I chose to move here for the right reasons, and I'm not that far away from where I came, I still struggle with these thoughts off and on. So, instead of dwelling in the past, I decided to appreciate the present. To find the good and appreciate what I have, here and now and to build a connection to this new place.
One of the coolest, and most unique things about Calvert County (and Southern Maryland) are all the barns that stem from it's rural history. I love the country roads and all the farms or pieces of what are left over, from old farms. I had a lot of that on the Eastern Shore, as well, but there were never this many barns and they're different. Since a lot of the ones found here are tobacco barns, there are just SO many more, because they needed more of them to dry the tobacco in.  I'm also tying this project in with my background in geography and environmental/land use planning interests. I see the urban sprawl and trees and fields being chopped down, daily, so this landscape is changing rapidly. By taking these photos, I want to be a part of documenting how looks now. I have a feeling it will change quite a bit in my lifetime.
So, with all these things in mind, on July 1st, 2015, I decided to start this year-long endeavor! Here are my rules/goals:
photograph a different barn each day from July 1, 2015 – June 30, 2016.
if I am out of town or something prevents me from shooting, I will shoot multiple barns for each day that I am gone, as close to the dates missed as possible.
any type of camera goes – iPhone, point and shoot, DSLR etc
barns must be located within Calvert County, MD limits
__________________________________________________________________________________________________________________________________________________________________
216/365: 2.1.16/10:02 am/Huntingtown/Calverton School Rd/Canon 5D Mark III/16-35mm 2.8L II
Jet Ski Barn
Sometimes you just need a place to store your jet ski for the winter. 🙂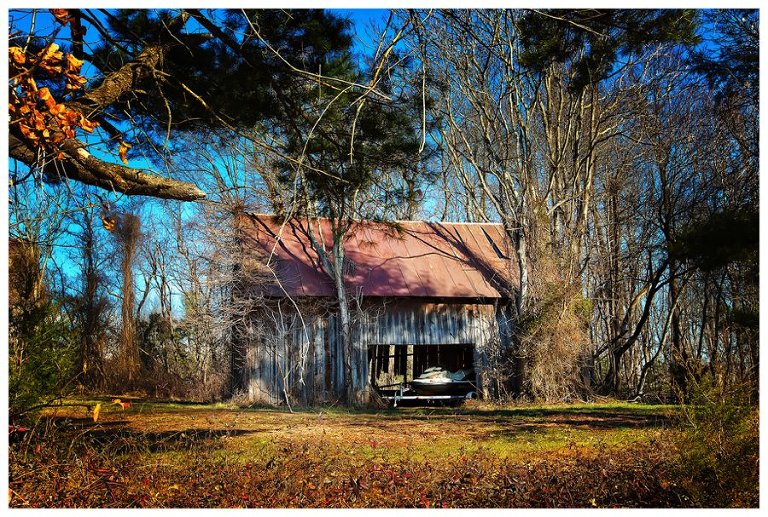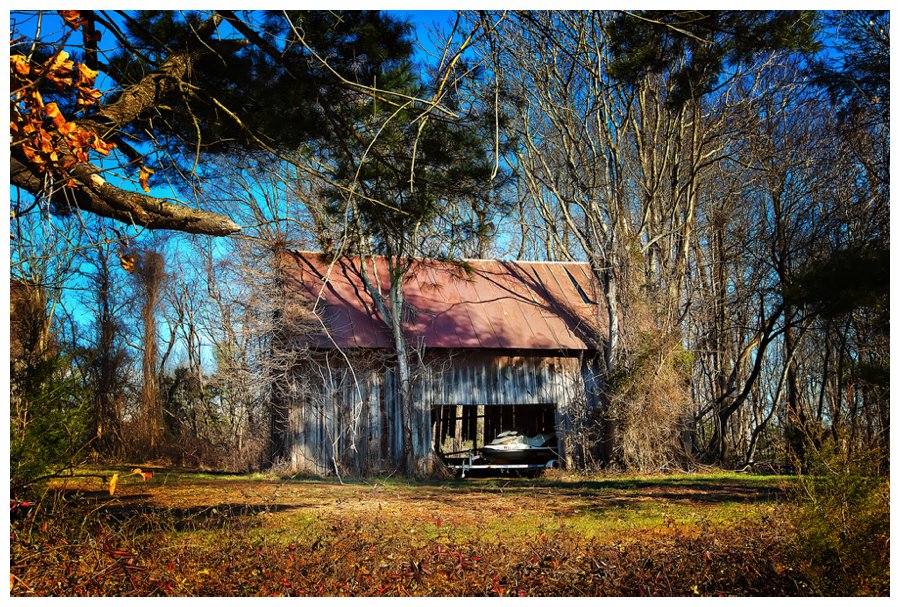 217/365: 2.2.16/2:38pm/Port Republic/Scientist Cliffs Rd/Canon 5D Mark II/24-70mm 2.8L
Groundhog Day Barn
Happy Groundhog Day! Let's celebrate with this cute barn at the American Chestnut Land Trust and a Christmas wreath…
218/365: 2.3.16/9:16am/Huntingtown/Lower Marlboro Rd/Canon 5D Mark II/24-70mm 2.8L
Red Barn in Weeds
I love the colors in this one. Winter can be very simple and beautiful!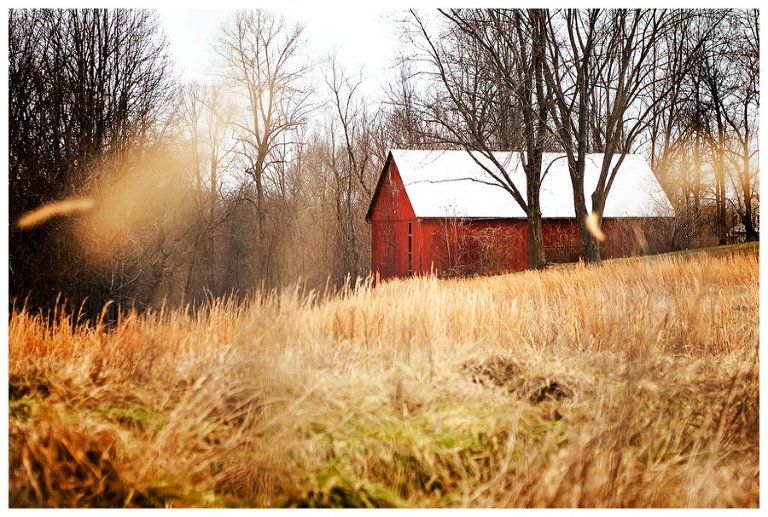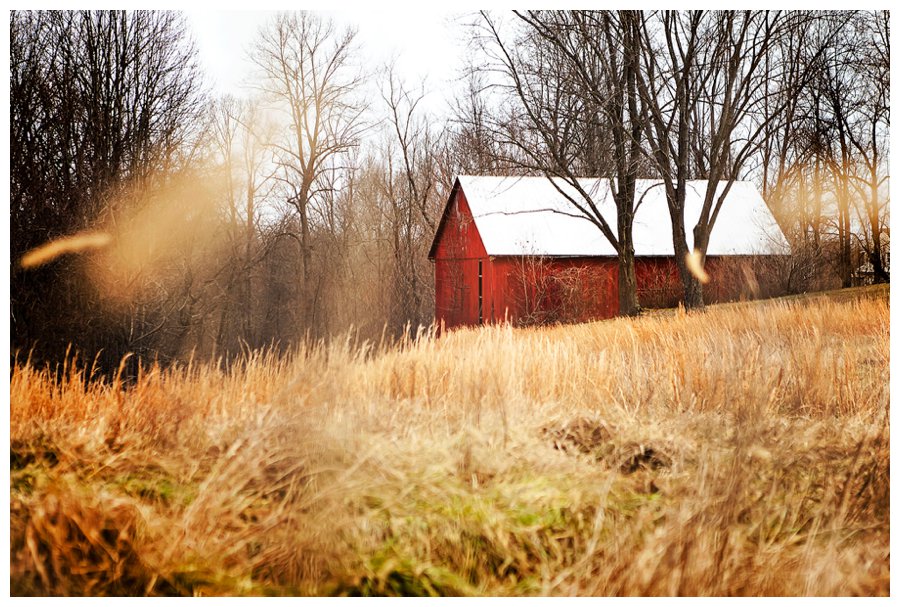 219/365: 2.4.16/9:42am/Huntingtown/Plum Point Rd/Canon 5D Mark III/16-35mm 2.8L II
Blue and his Barn
I had a great time with Selena the owner of Canaan Farms, Inc. in Huntingtown, this morning. I took several shots of her 80 +/- year old tobacco barn, which has been renovated to fit her horse and dog boarding, horseback riding and art camp business. Her office is in there, too. (I'm so jealous, all I've ever wanted is an office in a barn!) We tied Blue up here, to get some glamour shots. He lives here along with several other horses. I debated on photoshopping out the doggie, but decided to keep him in the photo, he was very cute just sitting there watching our photo shoot. 🙂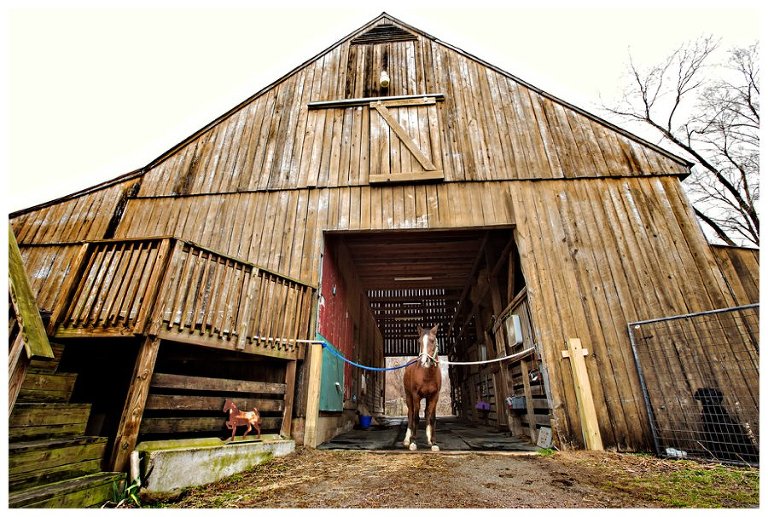 220/366: 2.5.16/8:04am/Huntingtown/Oxford Way/Canon 5D Mark III/70-200mm 2.8L
Backyard Red Tobacco Barn
Back at the barn shooting after being away for three days. Sometime over the weekend I put it together that it's Leap Year, so I now only have to go back and change my numbers on 219 other posts! 🙂 And because of this, I get to shoot one extra barn for this project! I started the day off with this one which is in the backyard of someone's subdivision home. I love the morning light hitting the trees from behind the barn.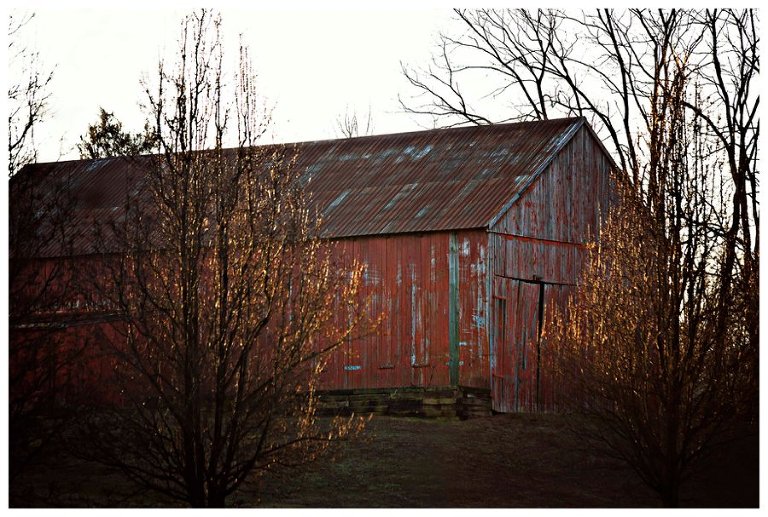 221/366: 2.6.16/10:32am/Huntingtown/Cox Rd/Canon 5D Mark III/70-200mm 2.8L
Broken Doors Tobacco Barn
A very common-looking sight but each barn is a little different!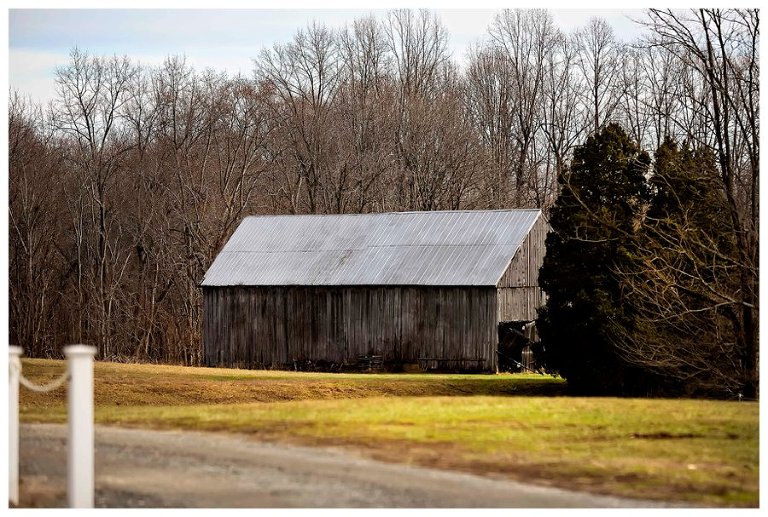 223/366: 2.8.16/1:53 pm/Huntingtown/Walton Rd/Canon 5D Mark III/70-200mm 2.8L
Horse Crossing Barn
I love all the old farm equipment and horse crossing sign on this one!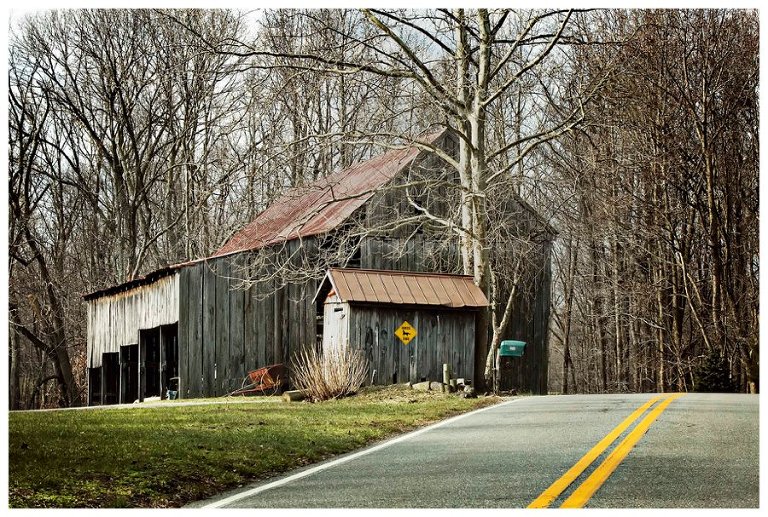 223/366: 2.8.16/1:55 pm/Huntingtown/Walton Rd/Canon 5D Mark III/24-70mm 2.8L II
Dirt Bike Barn
I don't know about you but I'd be scared to trespass on this one, there are at least three signs… 🙂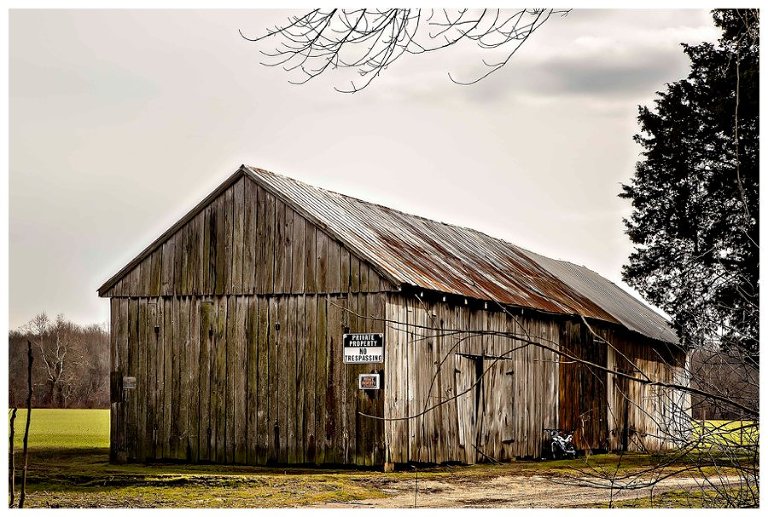 224/366: 2.9.16/4:40 pm/Huntingtown/Stinnett Rd/Canon 5D Mark III/24-70mm 2.8L
Red Barn in the Woods
The lines from all of the bare trees in winter are the best!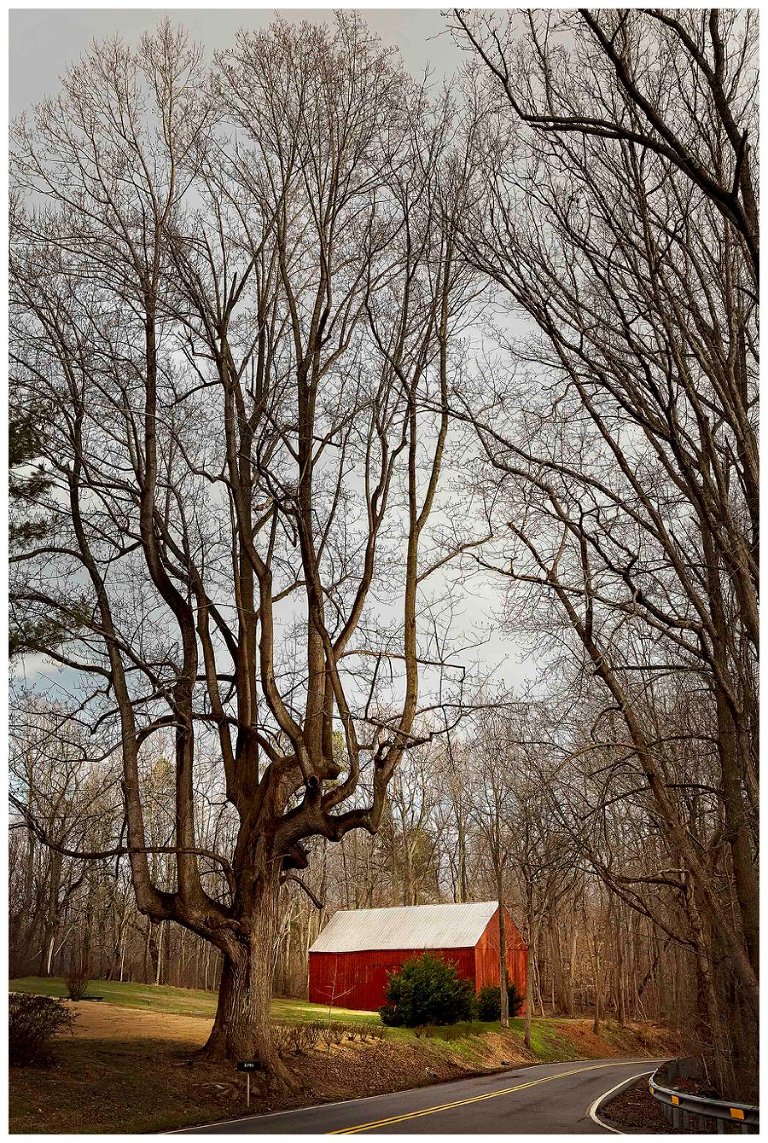 225/366: 2.10.16/5:09pm/Prince Frederick/Radio Rd/Canon 5D Mark III/70-200mm 2.8L
Urban Red Barn
This little plot of land is currently for sale and it's just a little bit of what's left of a farm, now surrounded by suburban sprawl. I've only ever seen it during the winter since it's so hidden by these cool trees. It's a good one!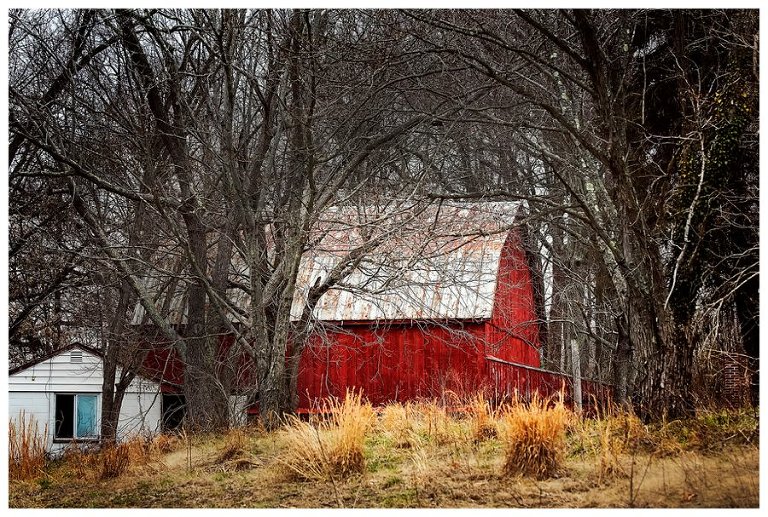 226/366: 2.11.16/2:52pm/Prince Frederick/Adelina Rd/Canon 5D Mark III/24-70mm 2.8L
Black and White Red Barn
I broke one of my rules with this one! I have always said if I shoot a red barn, I will keep the image in color but I think this one has much more impact as a black and white. That horse was there the whole time that I drove by, down the road and back… he only started to move when I got out to photograph him.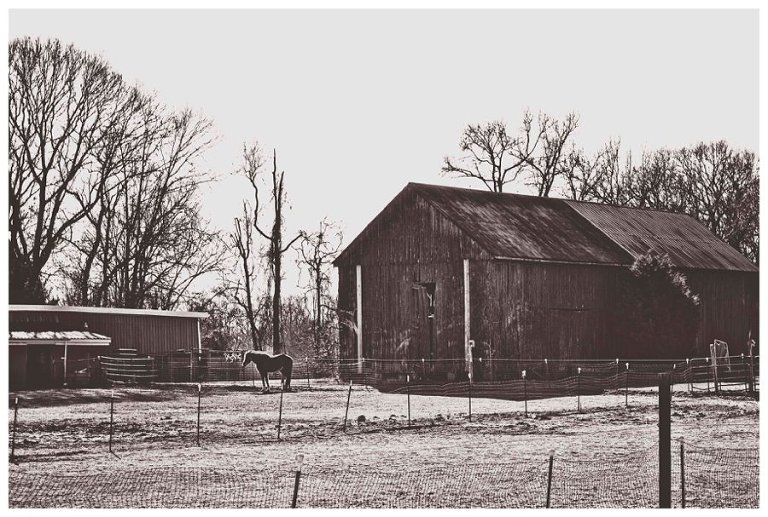 227/366: 2.12.16/5:00pm/Huntingtown/Armiger Rd/Canon 5D Mark III/70-200mm 2.8L
Broken Barn
I love, love, love this barn and I am happy to say that I have found quite a few new ones on this road. As this project has gone on, the excitement of finding new barns has become less frequent, since I've been down so many roads in the past seven + months. In some ways the beat up ones make me happy because they're more interesting but also sad, since some of them are in bad shape and may fall soon.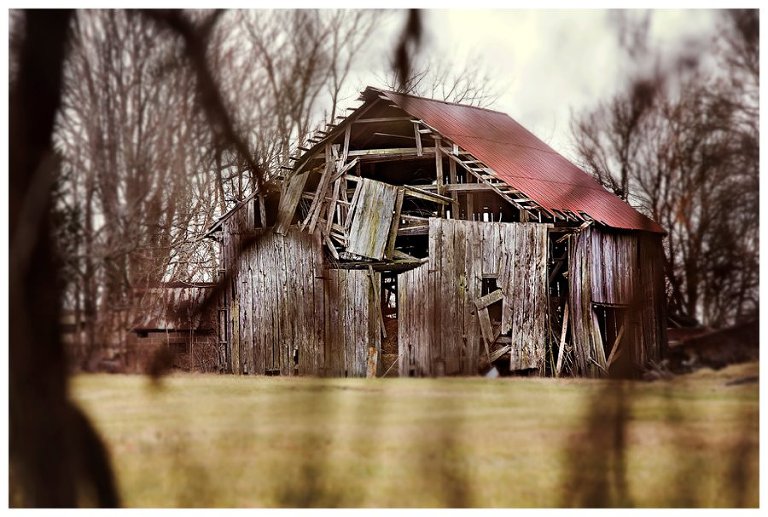 228/366: 2.13.16/1:53pm/Prince Frederick/Hallowing Point Rd/Canon 5D Mark III/70-200mm 2.8L
White Barns
A little bit of blue, green and white – reminds me of the earth and slightly of spring!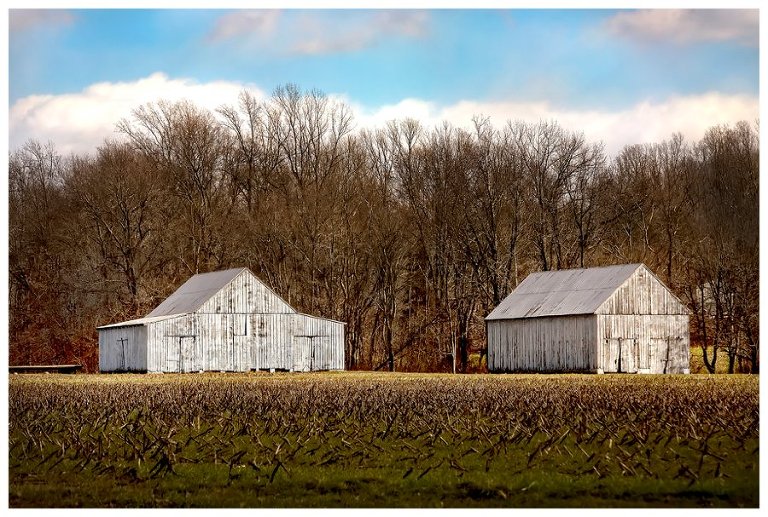 229/366: 2.14.16/4:52pm/Huntingtown/Armiger Rd/Canon 5D Mark III/16-35mm 2.8L II
Valentine Barn
I couldn't resist a red barn on this silly and sweet holiday.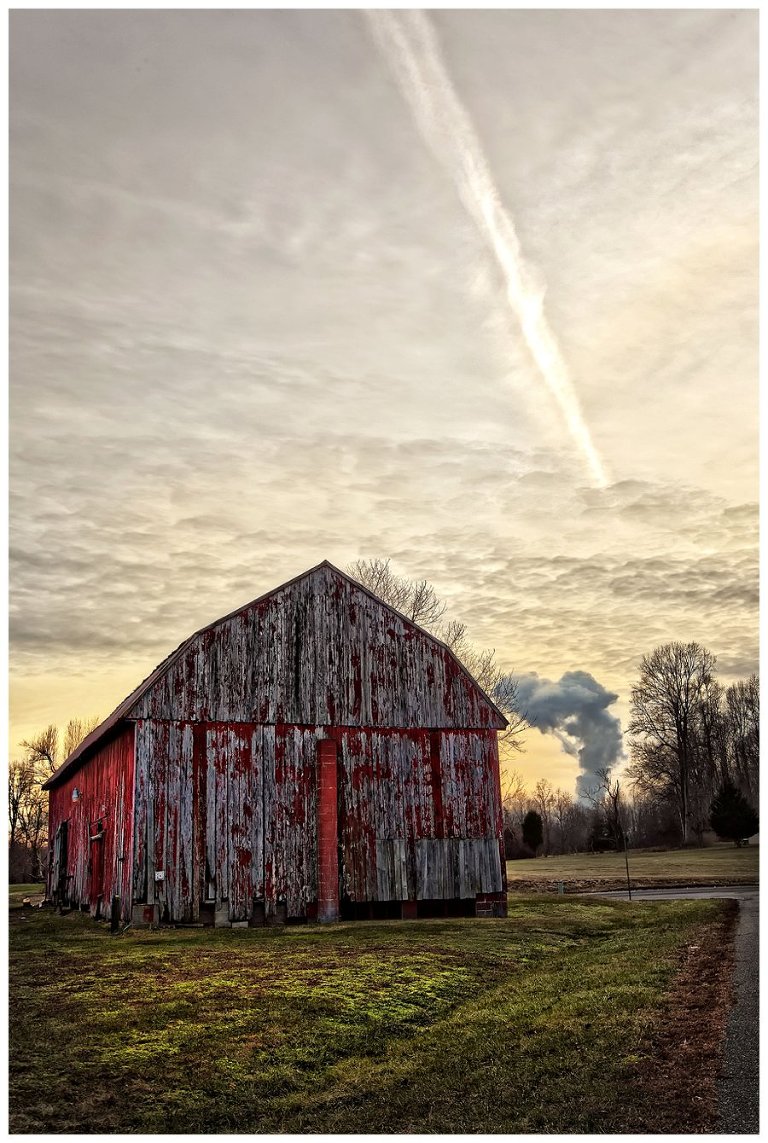 230/366: 2.15.16/11:46am/Prince Frederick/Solomons Island Rd/Canon 5D Mark III/70-200mm 2.8L
Snowin' Bowen Barn
Ahhh, so grateful for this snow and that we had to go out, while it was still coming down. I've been waiting to shoot this one near Bowen's Florist for a long time…. it looks so peaceful sitting here, right along the highway.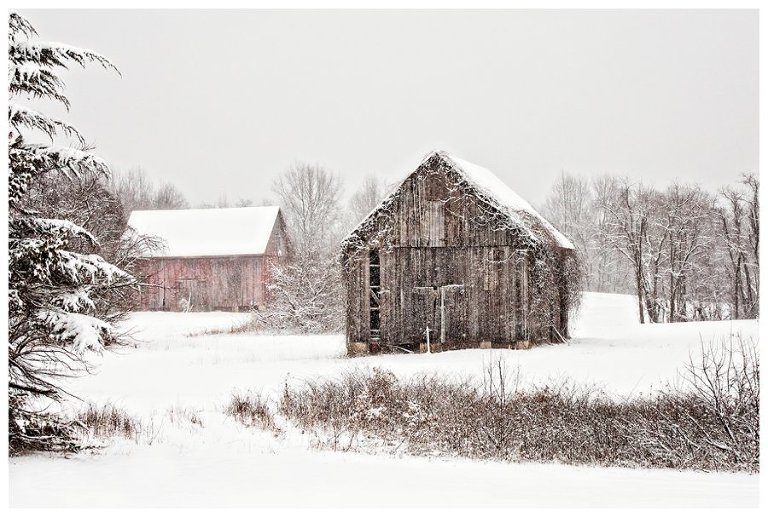 231/366: 2.16.16/5:09 pm/Huntingtown/Emmanuel Church Rd/Canon 5D Mark III/24-70mm 2.8L
Trees and Power Lines Barn
This one sits so close to the huge power lines that run through the county, that Nathan and I could hear and almost feel the electricity running through the air. It was a quick snap and get back in the car quick job. No trespassing, as usual but we were pretty close to a place maybe we should not have been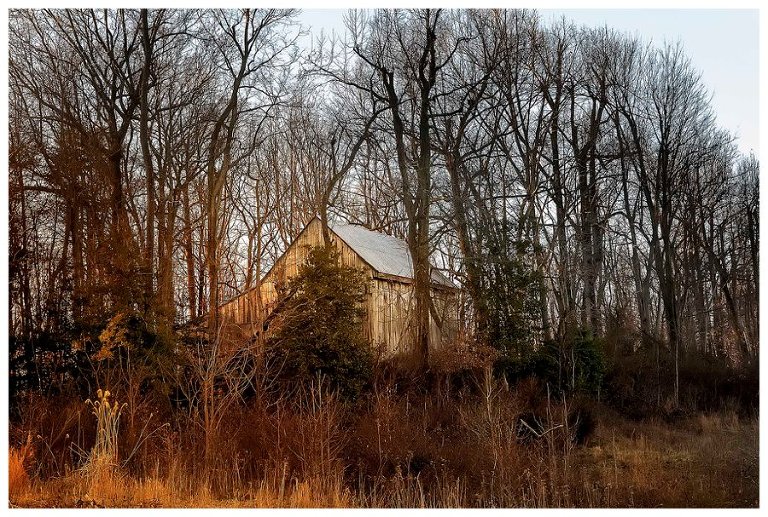 232/366: 2.17.16/5:29 pm/Sunderland/Wayside Dr/Canon 5D Mark II/70-200mm 2.8L
Sunset Tobacco Barn
Just another beautiful sunset and a barn, love when those two come together.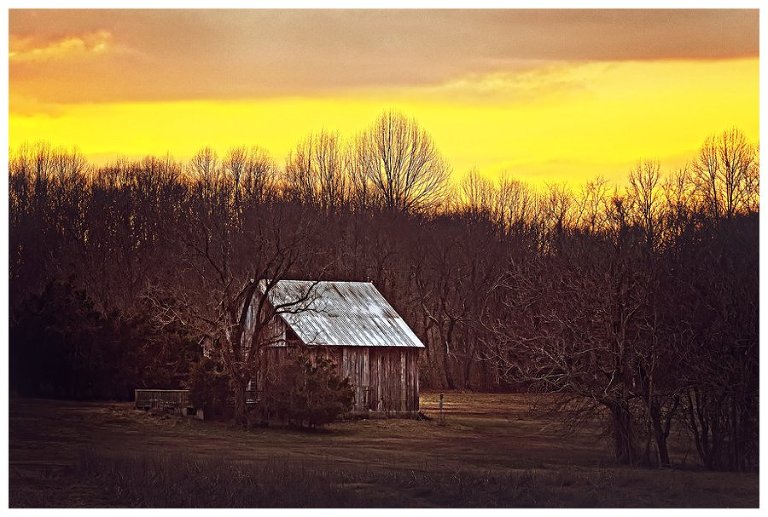 233/366: 2.18.16/4:44 pm/Owings/Danbridge Ln/Canon PowerShot S95
Evergreens Barn
Another backyard barn.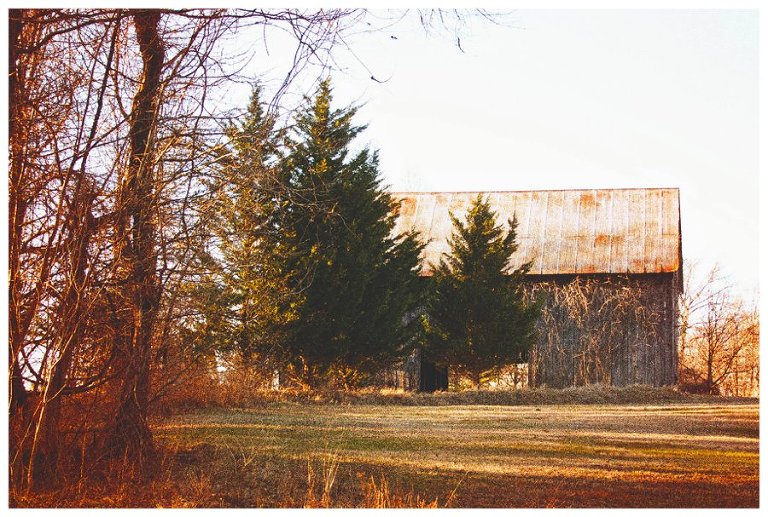 234/366: 2.19.16/5:34 pm/Prince Frederick/Mallard Point Rd/Canon 5D Mark II/24-70mm 2.8L
Mallard Point Barns
So many barns to choose from on this road, I have to start keeping notes of the ones I have shot vs. yet to shoot. Here are a couple and a whole bunch of farm stuff.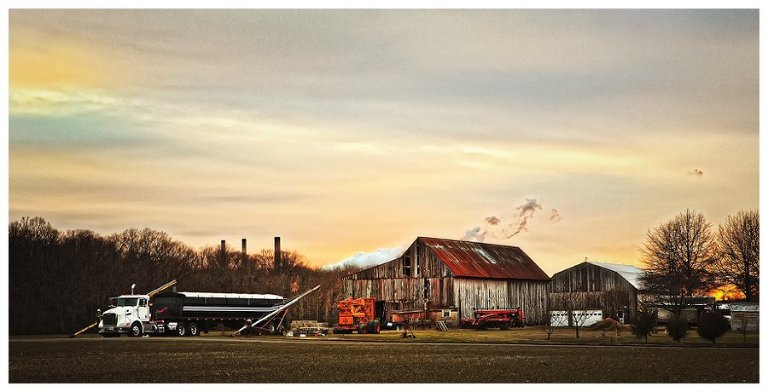 235/366: 2.20.16/11:25 am/Owings/Boyds Turn Rd/Canon 5D Mark III/70-200mm 2.8L
Aunt Bunny Barn
This one is creatively named for the person who told me about this hidden old barn in the woods. Maybe I would have found it anyway but I wouldn't have known there used to be an old VW bus inside. I didn't see it in there, today!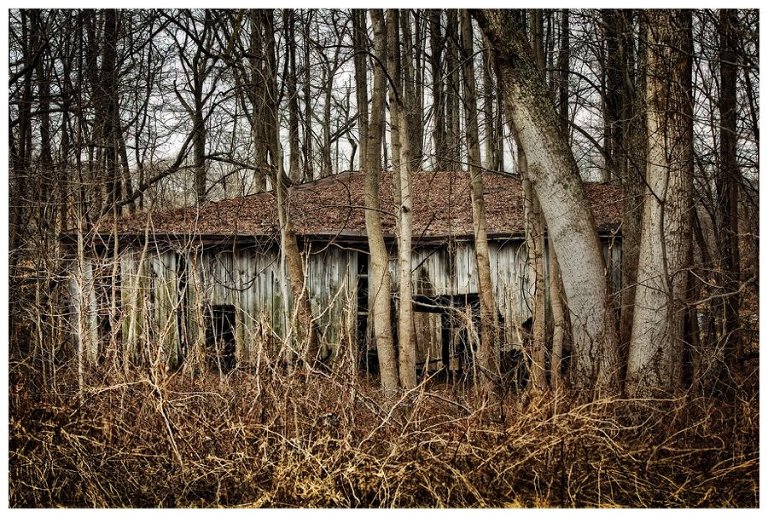 236/366: 2.21.16/1:34 pm/Dunkirk/SOMD Blvd/Canon 5D Mark III/70-200mm 2.8L
Finally Got this Barn Barn
This one is so easy to see from Route 4, not so easy to shoot but with the help of my husband's truck, I shot this one while we were driving. I'm glad I could still lock focus on it, we were moving pretty quickly!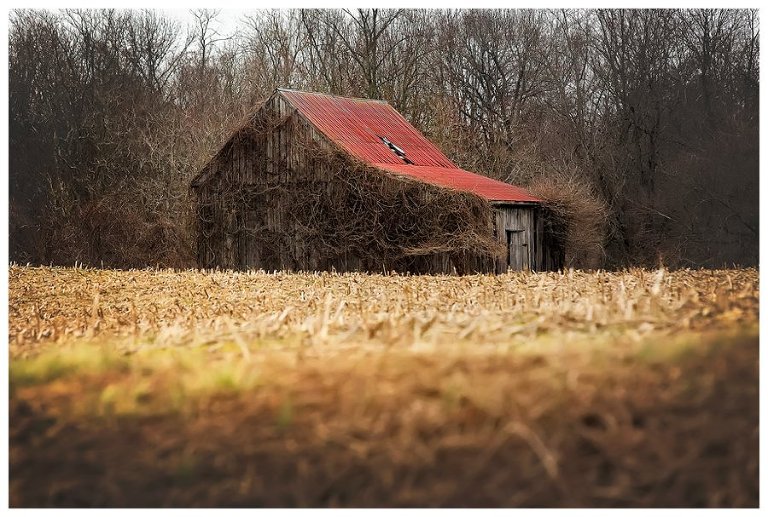 237/366: 2.22.16/4:32 pm/Owings/Emerson Rd/Canon PowerShot S95
Sunny Old Barn
Love the beat up boards on this little one.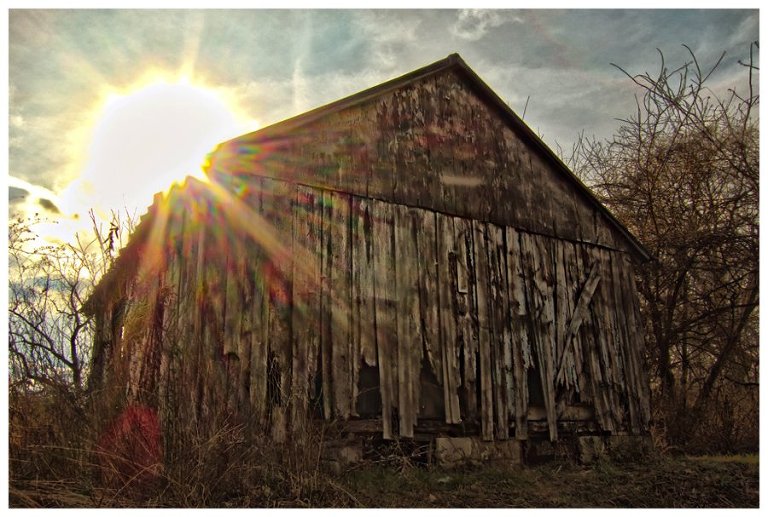 238/366: 2.23.16/4:38 pm/Dunkirk/Ashwood Dr/Canon 5D Mark III/70-200mm 2.8L
Rainy Day Barn
I shot this one very quickly in the pouring down rain just to prove that I'm committed to this project and that I'm also a little bit insane! 🙂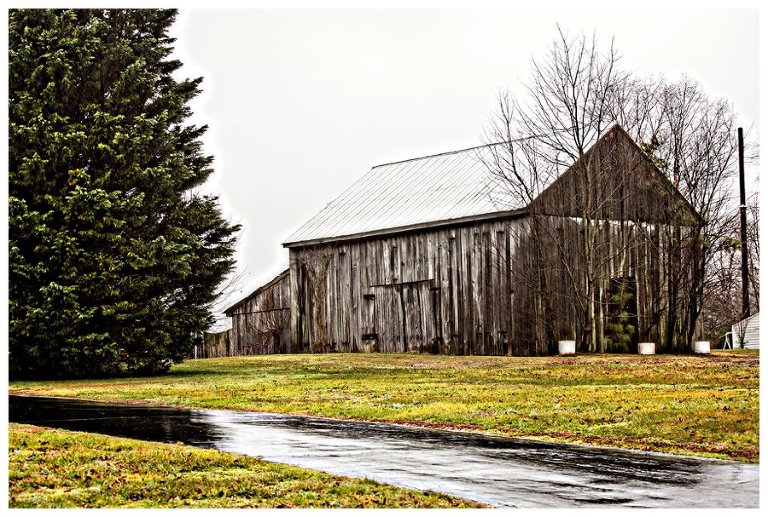 239/366: 2.24.16/1:33 pm/Huntingtown/MF Bowen Rd/Canon 5D Mark III/24-70mm 2.8L
Calm Before the Storm Barn
The skies had been changing all afternoon, before I shot this one. I love when a storm starts to roll in…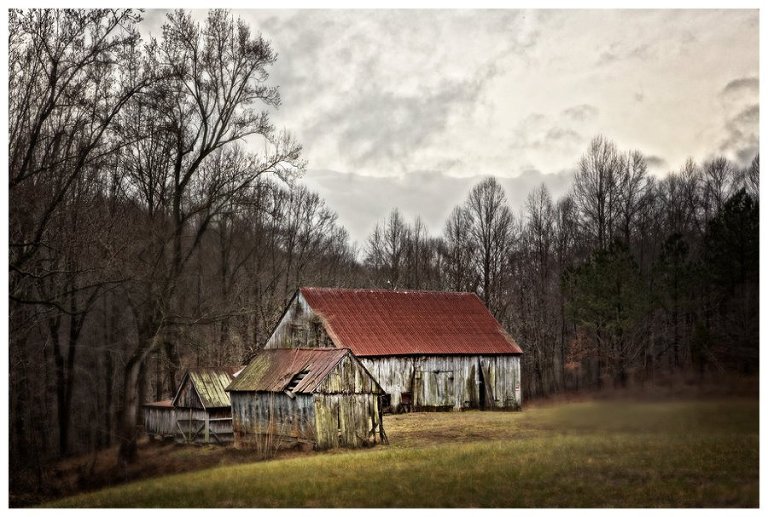 240/366: 2.25.16/7:41 am/Prince Frederick/Leitches Wharf Rd/Canon 5D Mark III/24-70mm 2.8L
Chasing the Skies Barn
The skies are always amazing after a storm and this morning did not disappoint! I sometimes find myself chasing the skies. Getting my shot in, the way I picture it, is probably similar to the excitement that a storm-chaser feels… just a little more subtle. By the time I got back home, the clouds really rolled in…I love this oil painting effect I put on this one, going to do more painting edits, soon!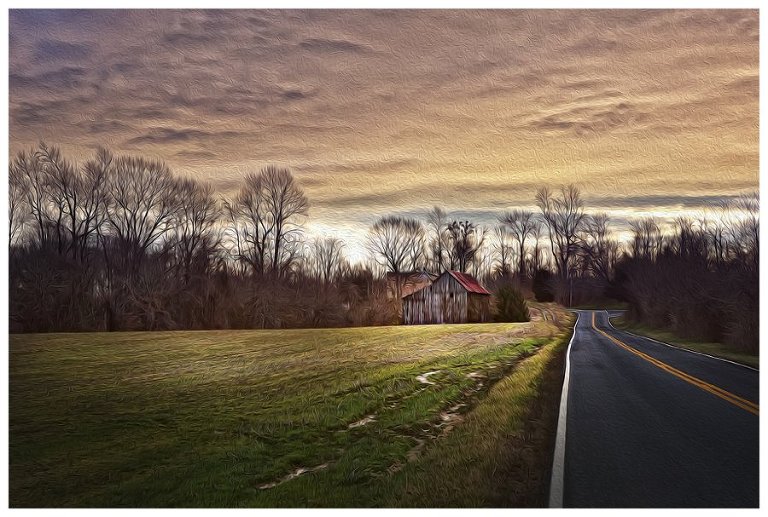 241/366: 2.26.16/4:06 pm/Prince Frederick/Solomons Island Rd/Canon 5D Mark III//70-200mm 2.8L
Highway Barn
A couple of cute barns sit next to each other on the highway, right outside of PF. I've started to utilize my husband's driving as a barn-hunting tactic. We shoot the dangerous ones from his moving vehicle.
242/366: 2.27.16/2:56 pm/Owings/Old Solomons Island Rd/Canon 5D Mark III//70-200mm 2.8L
Autism Project Barn
This property is home to this cool barn and the Autism Project, Inc. a non-profit serving students on the Autism Spectrum in Southern MD.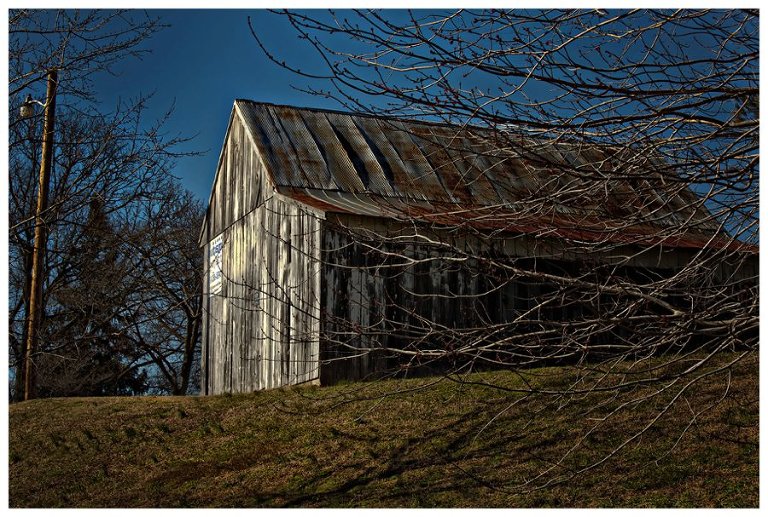 243/366: 2.28.16/12:30 pm/Sunderland/Dalrymple Rd/Canon 5D Mark III/24-70mm 2.8L
Hidden Red Barn
Quick and easy shot, knocking off some of these hidden ones in the woods before they're overtaken by green!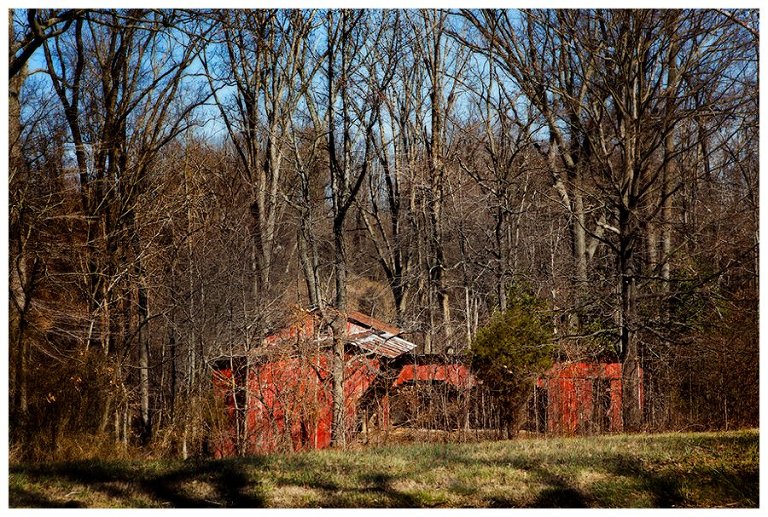 244/366: 2.29.16/3:51 pm/Owings/Skinners Turn Rd/Canon 5D Mark II//70-200mm 2.8L
Fortuitous Farm Barn
Happy to see two cows on my commute home and that this one is part of the Calvert County Ag Preservation District 🙂 There are more here, saving them for another day…