January has come and gone, I'm well into February and a bit behind on blogging but not on shooting! So many ideas for these images but I'm going to not get too ahead of myself and just focus on what I can! Winter is never my favorite but shooting these everyday and some beautiful scenes, made me appreciate it in a new way! Got some Christmas-themed shots and snowy barns, which I was praying for. Winter has it's own beauty and I am happy I was able to capture it!
_________________________________________________________________________________________
Original Post:
I started thinking about this recently when I asked myself the question: what do I love about this area that I now call home?  In other words, I was trying to find new ways to be positive and look for the good in my new location. I have been living here for almost two years but sometimes I still miss "home". Even though I chose to move here for the right reasons, and I'm not that far away from where I came, I still struggle with these thoughts off and on. So, instead of dwelling in the past, I decided to appreciate the present. To find the good and appreciate what I have, here and now and to build a connection to this new place.
One of the coolest, and most unique things about Calvert County (and Southern Maryland) are all the barns that stem from it's rural history. I love the country roads and all the farms or pieces of what are left over, from old farms. I had a lot of that on the Eastern Shore, as well, but there were never this many barns and they're different. Since a lot of the ones found here are tobacco barns, there are just SO many more, because they needed more of them to dry the tobacco in.  I'm also tying this project in with my background in geography and environmental/land use planning interests. I see the urban sprawl and trees and fields being chopped down, daily, so this landscape is changing rapidly. By taking these photos, I want to be a part of documenting how looks now. I have a feeling it will change quite a bit in my lifetime.
So, with all these things in mind, on July 1st, 2015, I decided to start this year-long endeavor! Here are my rules/goals:
photograph a different barn each day from July 1, 2015 – June 30, 2016.
if I am out of town or something prevents me from shooting, I will shoot multiple barns for each day that I am gone, as close to the dates missed as possible.
any type of camera goes – iPhone, point and shoot, DSLR etc
barns must be located within Calvert County, MD limits
185/366: 1.1.16/4:48pm/Prince Frederick/Barstow Rd/Canon 5D Mark II/24-70mm 2.8L
A New Year Barn
A new year is here and DO YOU SEE THAT? yes, it is the sun which came out just in time for this shot of a tobacco barn with an open view. I missed it so much. I'm glad I am kicking off the new year with a great shot…And if anyone is interested, the sign says this farm is for sale. Maybe I should buy it.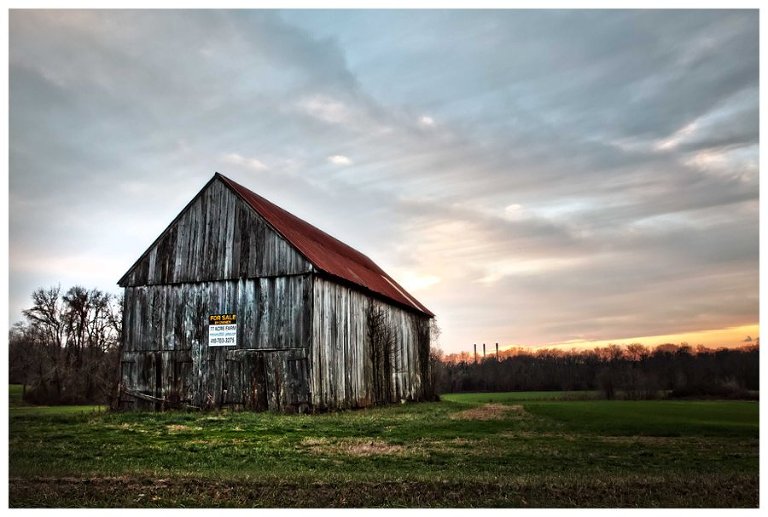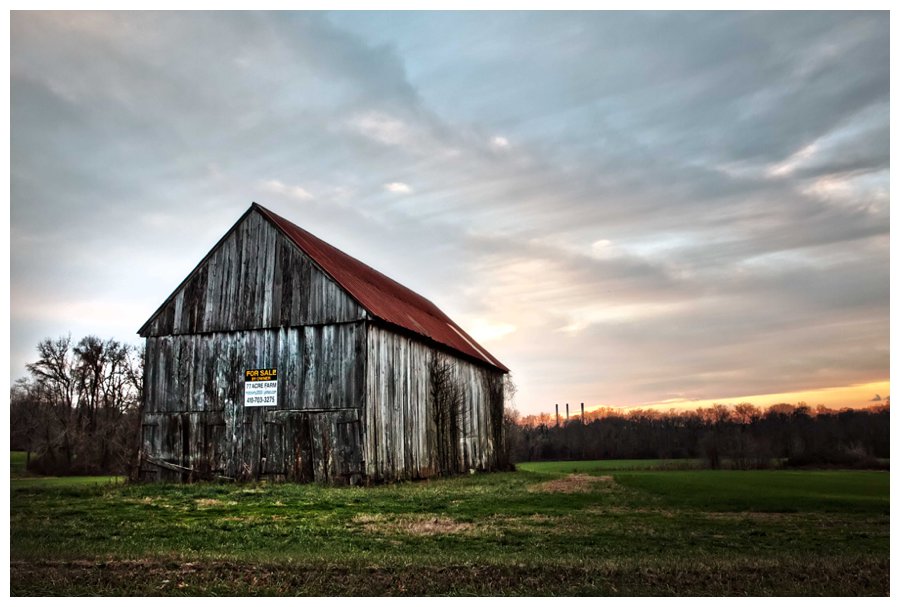 186/365: 1.2.16/3:49 pm/Prince Frederick/Hallowing Point Rd/Canon PowerShot S95
Blue Sky White Barn
Clear blue skies and a white barn – something different from the norm, these days!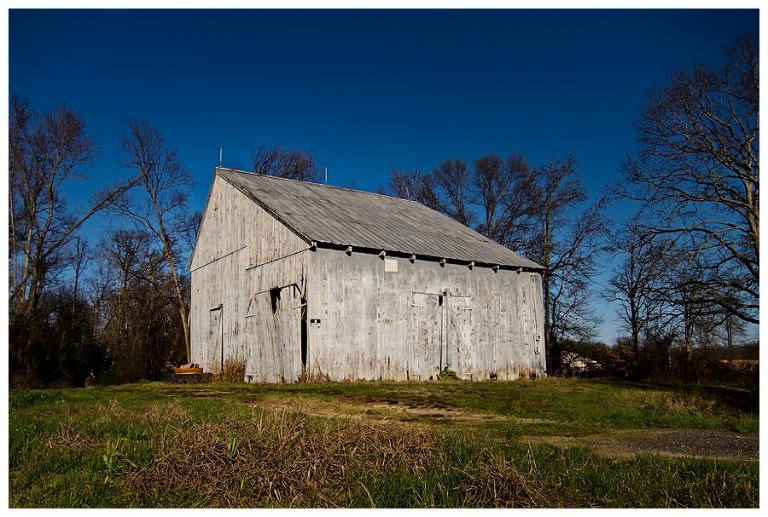 187/365: 1.3.16/12:32pm/Huntingtown/Smoky Rd/iPhone
Muddy Barn
Nathan and I were on a run + barn adventure and we definitely had very muddy shoes after we hiked up to this one, which is part of the Patuxent River Natural Resource Management area. I'm glad that most of the corn is gone, we were able to see a full view of the barn.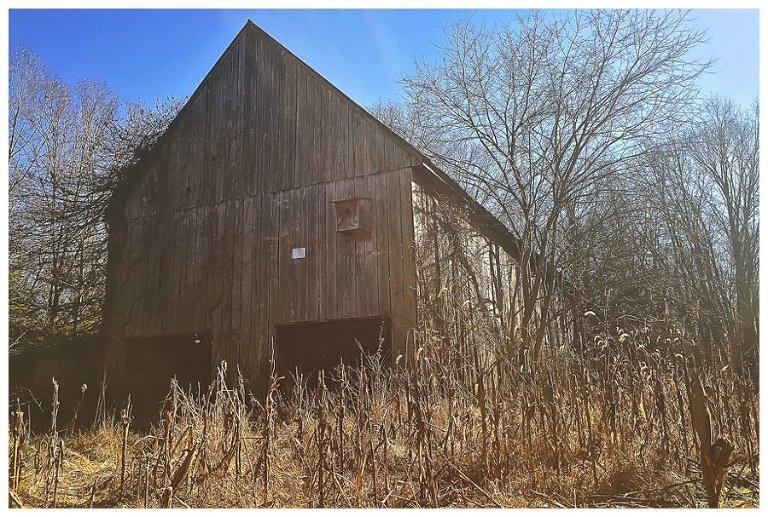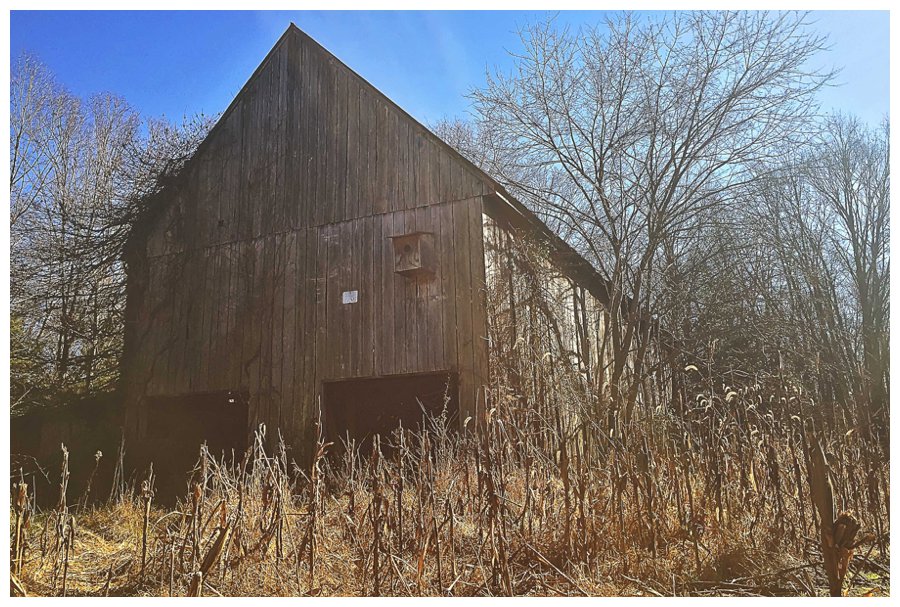 188/366: 1.4.16/11:3am/Owings/Mt. Harmony Ln/Canon PowerShot S95
Half of a Barn
I've spotted this one before, which looks deceiving. If you glance at it, it looks like a normal barn possibly down on a hill but it has collapsed but it did so in a way that still shows the top part, perfectly in tact. I thought it was still interesting to shoot even though it's only half standing.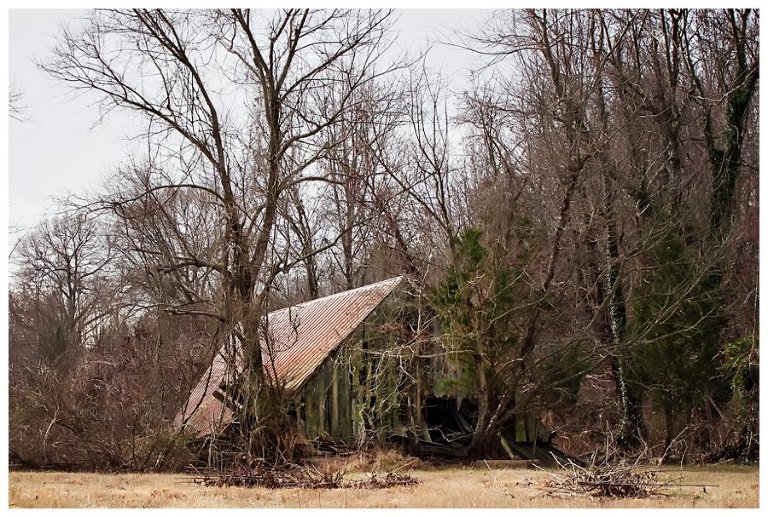 189/366: 1.5.16/3:24am/Prince Frederick/Leitches Wharf Rd/iPhone
Backyard Barn
This is a little bit of a hybrid of materials, which is what I liked the most about this one – the variation of colors and textures. And it was along my sunny and cold running route, so that made it even better. It doesn't stand out as much as others closeby but it's one of my favorites.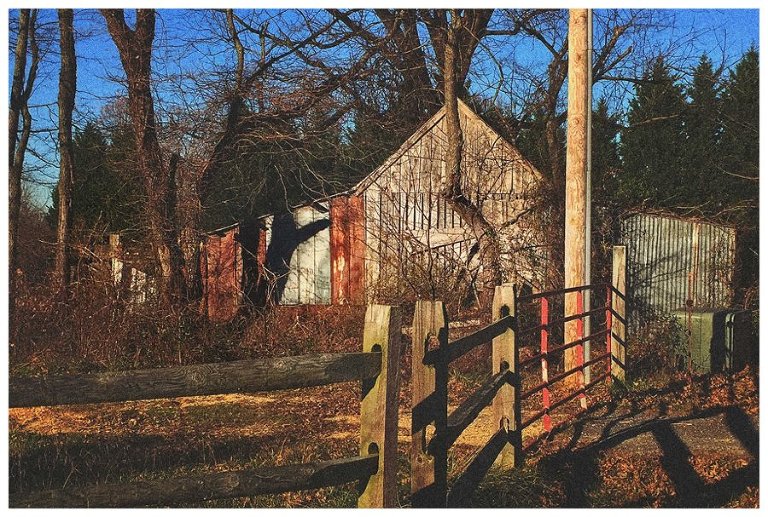 190/366: 1.6.16/11:55am/Huntingtown/Huntingtown Rd/Canon 5D Mark III/16-35mm 2.8L II
January Christmas Barn
The holidays are not over yet! At least not for the beautiful barns on the property of the now closed Open Gates Farm B&B. They were so kind to let me come by to shoot, I had not driven by them in December so I had no idea they were decorated but I still wanted to include them in this project! The white ones were my favorite, there are many to choose from, I had a hard time deciding… Merry New Year!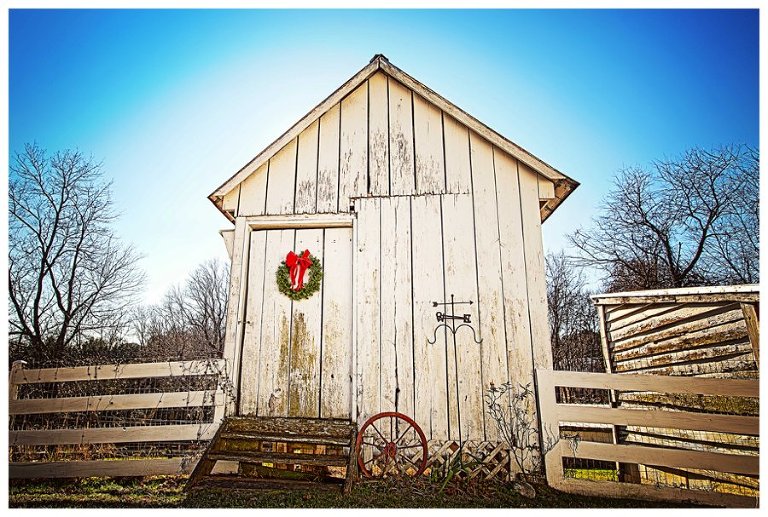 191/366: 1.7.16/2:34pm/Prince Frederick/Lottie Fowler Rd/Canon 5D Mark II/70-200mm 2.8L
Red and White Barn
New find, new find! Sometimes I really don't know where I'm going but I'm always confident a barn will show up, eventually. This afternoon, it did not take long to find this one.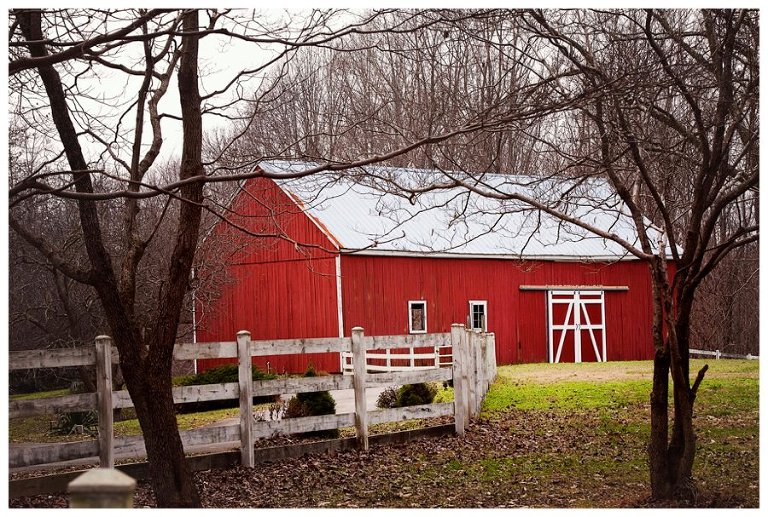 192/366: 1.8.16/10:24am/Owings/Clyde Jones Rd/iPhone
Clyde Jones Barn
So many roads are named after people, there are definitely a lot of repeat names that I see on these country roads. Like this one, which also still has a mailbox by the same name.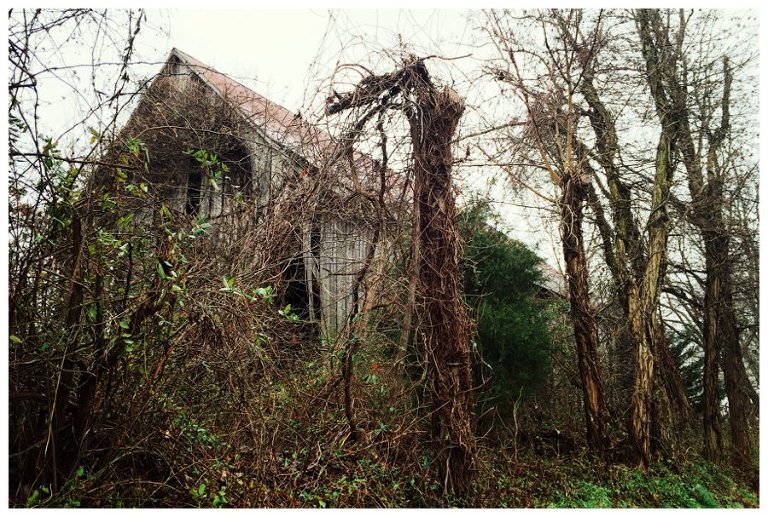 193/366: 1.9.16/11:45am/Prince Frederick/Grays Rd/Canon 5D Mark II/70-200mm 2.8L
Gray Grays Barn
This is a shot from another dreary winter day back in December, when I visited the Biscoe Gray Heritage Farm.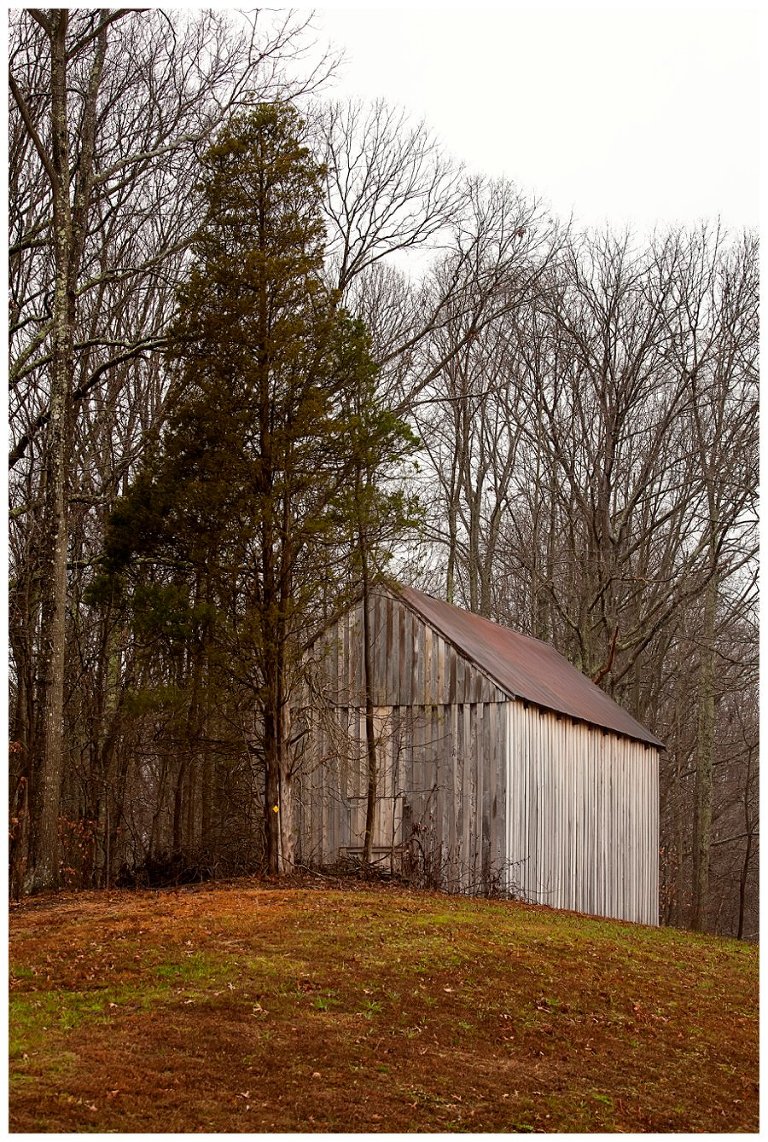 194/366:1.10.16/4:51pm/Prince Frederick/Barstow Rd/Canon 5D Mark II/24-70mm 2.8L
Country Road Barn
Another backup barn shot from last week – I love when I can get up close to these barns. I love the feel of this one and the country road leading you through the photo.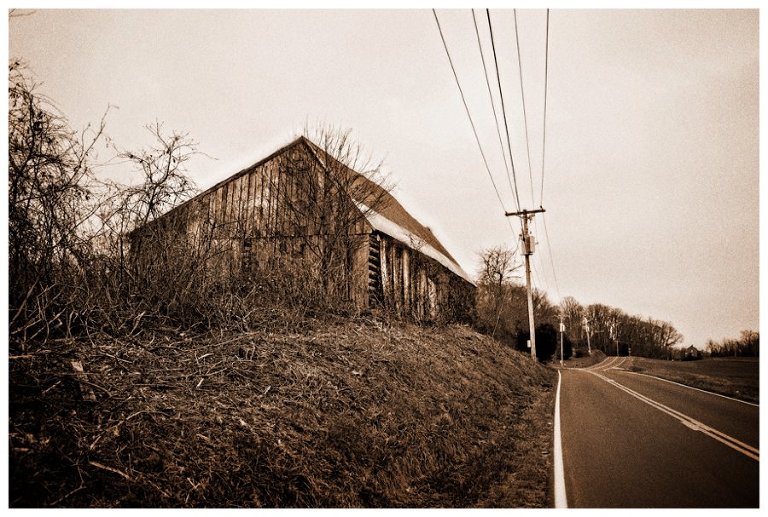 195/366: 1.11.16/3:01pm/Huntingtown/Breezy Knoll Ln/Canon 5D Mark II/70-200mm 2.8L
Sunny Haze Barn
Back to real-time shooting with this quick shot into the sun. I love the vines growing all over it.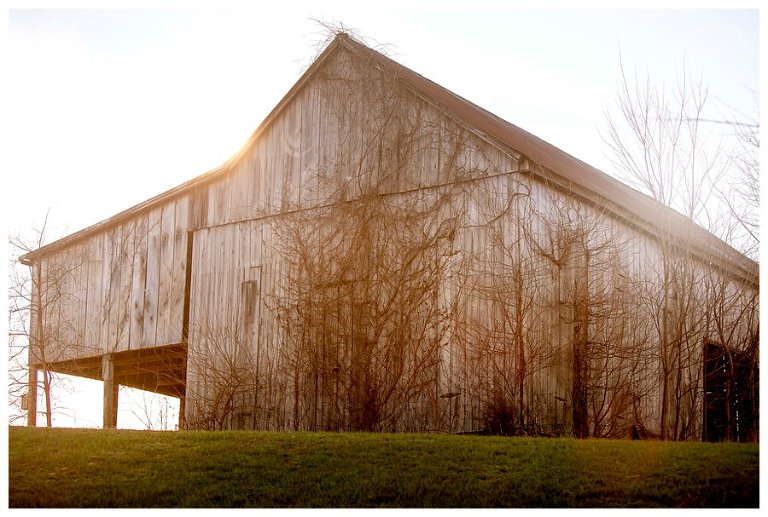 196/366: 1.12.16/8:25 am/Dunkirk/Brickhouse Rd/Canon 5D Mark III/85mm 1.2 L II
Good Morning Tobacco Barn
Sometimes, you just have to stop and take a barn photo. Which is exactly what I did from the side of the road, yesterday morning, without even leaving my car! I was going to be out of the area all day but I could not pass up on the beautiful sky we had. Glad I made it happen!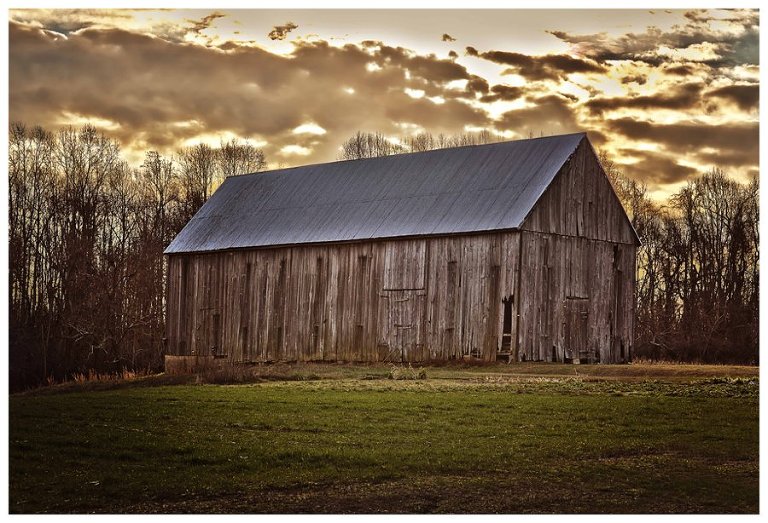 197/366: 1.13.16/2:22 pm/Huntingtown/Smoky Rd/Canon 5D/50mm 1.4
Prism Star Barn
Not surprisingly, I took the prism that I got at the workshop I attended yesterday and used it on one of my favorite subjects. I love that they still have this star up, I'm pretty sure it is only up during this time of year.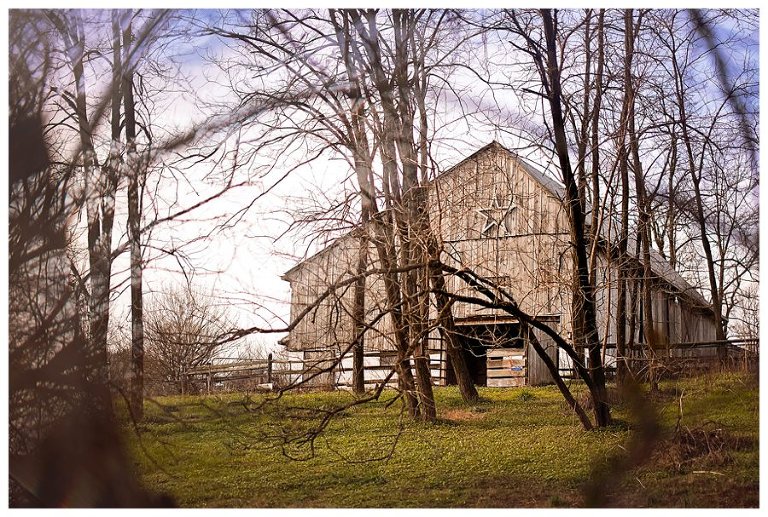 198/366: 1.14.16/3:27 pm/Prince Frederick/Sixes Rd/Canon 5D Mark III/70-200mm 2.8L
White Barns with Horses
It doesn't get much more country picturesque than this scene. I love this set of barns and horse farm. There are others, here for the future but I needed a good barn, today, so this fit perfectly.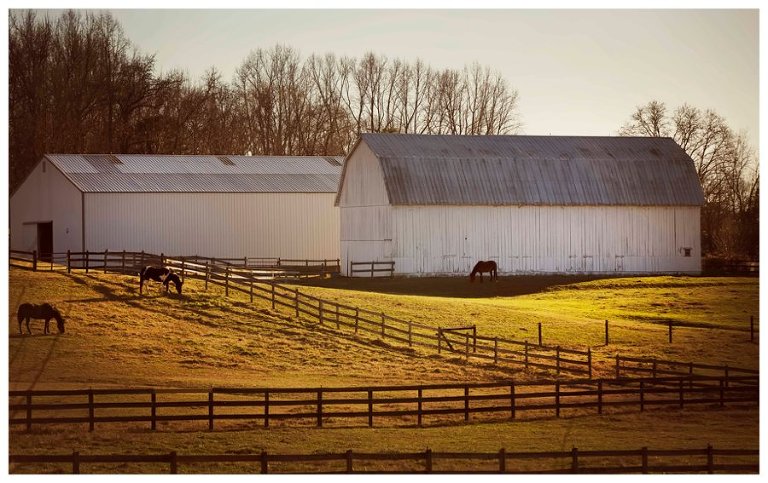 199/366: 1.15.16/7:45 am/Huntingtown/Walton Rd/Canon 5D Mark III/50mm 1.4
Sunrise Pine Trees Barn
I couldn't pass on the beautiful skies I saw this morning at the bus stop. The sunrise started off with shades of pastels but by the time I reached my destination, it had shifted to much bolder colors. I love the pine trees with this one, I didn't really want another angle – I liked it right through them.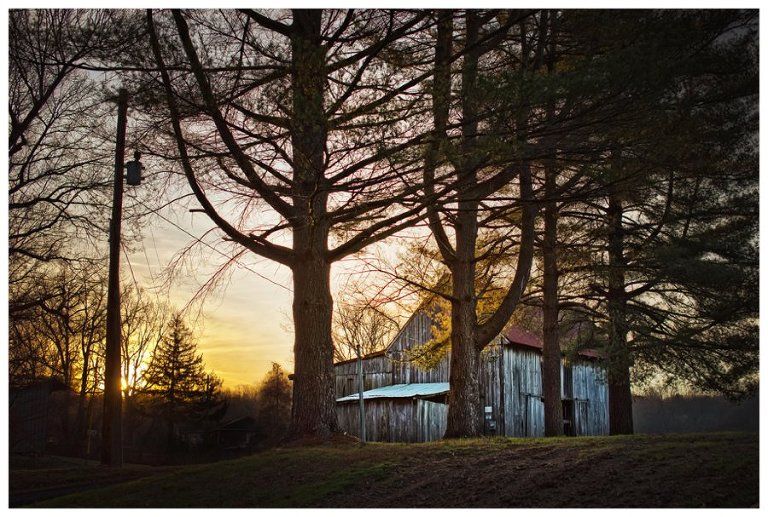 200/366: 1.16.16/12:22 pm/Sunderland/Dalrymple Rd/Canon Powershot S95
Shadows Tobacco Barn
The 200th barn I've officially photographed for this project! There was no seeking out of any specific scene, this was the first one that presented itself, and it was a drive-by barning, from the passenger window – it's always easy when it's a team effort.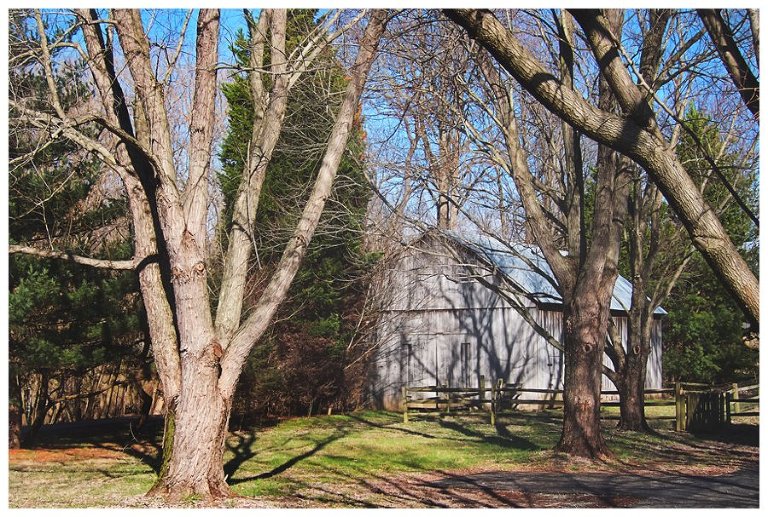 201/366: 1.17.16/3:04pm/Huntingtown/Lower Marlboro Rd/iPhone
Snowflakes Barn
Baby snowflakes are flying in front of this one. Hopefully we are getting closer to a snowy barn scene!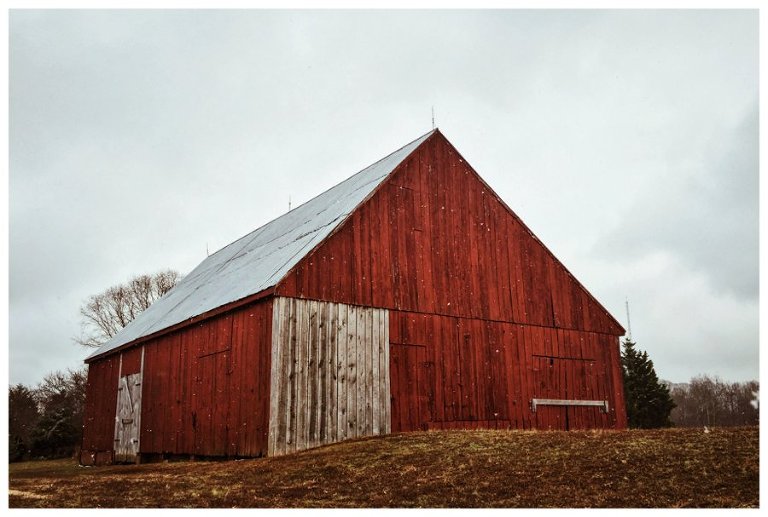 202/366: 1.18.16/2:35 pm/Dunkirk/Howes Rd/Canon 5D Mark II/70-200mm 2.8L
Farm Barn
Today's barn name is not unique but in some ways it is, because the overall vibe of this property is that this is a place to work. So many barns are just memories of the past and not actively being used. This one is not just a barn that sits in someone's backyard yard….like so many I see.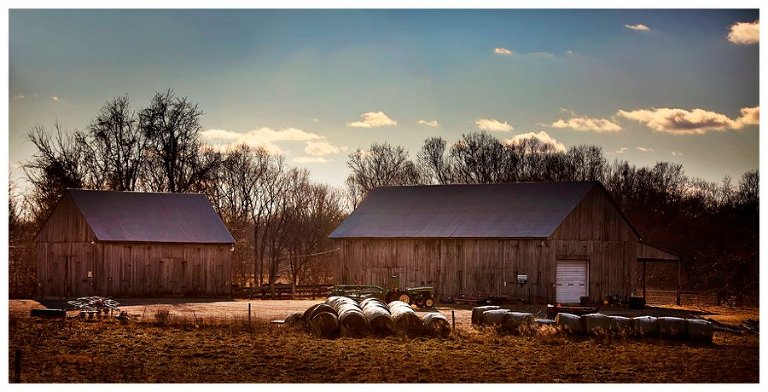 203/366: 1.19.16/2:49 pm/Prince Frederick/Mallard Point Rd/Canon 5D Mark II/70-200mm 2.8L
Red Dairy Barn
Not the norm, as far as barn styles go in Calvert – many of them are traditional tobacco barn shape. I love the light on this road, in the afternoon, it always hits all the barns in the right spots.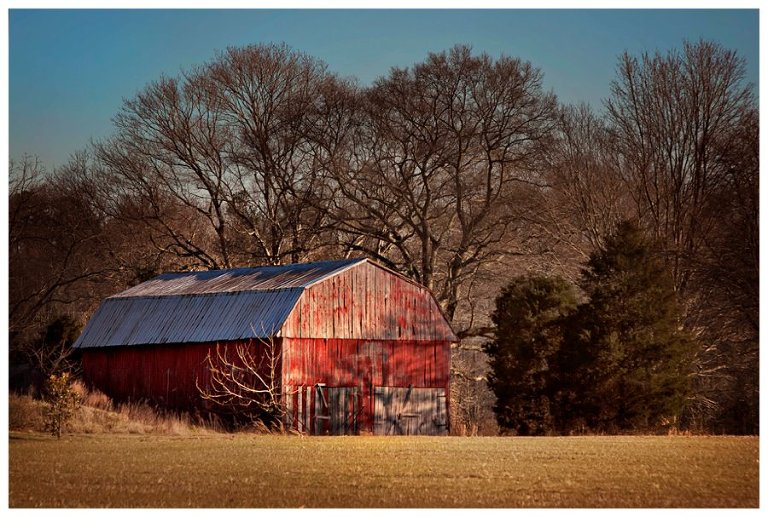 204/366: 1.20.16/1:29 pm/Dunkirk/Ferry Landing Rd/Canon 5D Mark II/70-200mm 2.8L
Canadian Geese Barn
There are a lot of directions I could go with today's barn caption but I think I'll stick with this one: I didn't feel like shooting, I had things to do, it was cold but I did it anyway and I sorta knew where I was going but otherwise, didn't know what I would find. As soon as I saw a couple of barns with fields of geese out in front, I knew that was what I wanted to shoot. I always do a "safe shot" just to capture the scene quickly in case anything weird happens but then I got creative and I took a little extra time with angles and shooting through things. I was happy with what I had but I waited a little more and that's when four geese flew right in front of the barn and I knew I had the shot I wanted. On a small scale, it doesn't have as much impact but it was so peaceful and they were beautiful to see. Every barn I shoot and every day I'm out there, there is a lesson. Some are small and some are bigger. Today's lesson was about patience, about taking your time and not rushing through things. If you are patient, eventually good things will happen. That is what I got out of today. That little change and chance made my day a little better. Thank you, geese!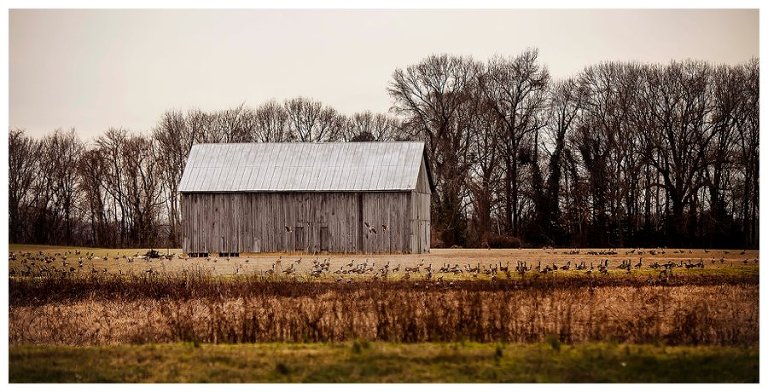 205/366: 1.21.16/10:39 pm/Huntingtown/Lower Marlboro Rd/Canon 5D Mark III/70-200mm 2.8L
Snowy Red Barn
Just a little tease of snow on the ground for this one. I am hoping that the blizzard will eventually allow for some amazing shots, if I can get out of the house!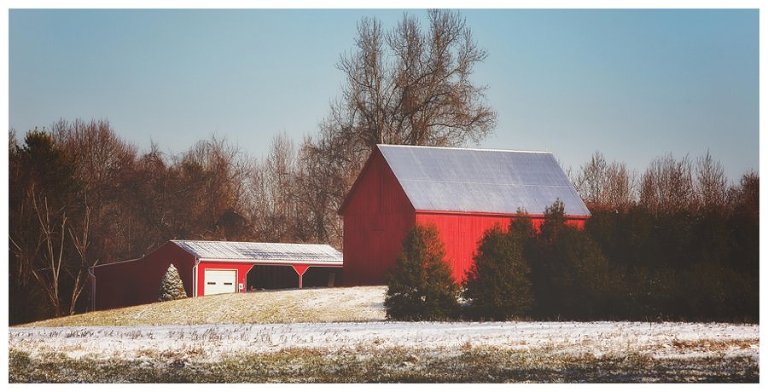 206/366: 1.22.16/12:45 pm/Huntingtown/MF Bowen Rd/Canon 5D Mark III/70-200mm 2.8L
Icicles Red Barn
I guess I could have waited until a bit later, to get more snow with this one but… I also wanted to run, blizzard prep and not risk my life. Something I noticed while editing, that I did not in person are the little icicles forming along the roof. This is also a new one to me, so it's always a good day when I find a new treasure!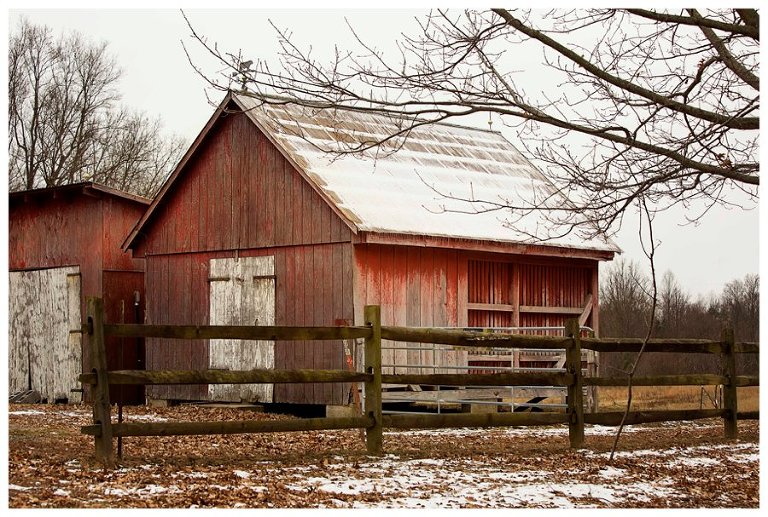 207/366: 1.23.16/10:36 am/Huntingtown/Ponds Wood Rd/Canon 5D Mark III/70-200mm 2.8L
Hidden Barn in the Snow
Technically shot on 1/24 due to the blizzard, yesterday was a no go for barn-hunting. I remember when this one first appeared as we were driving. I gasped like we were getting ready to hit something… but no, it was just out of excitement of finding it. That was back in the fall. It's not the easiest to access and I was waiting for prime conditions. I think the snow fits this one, it's very old and cool.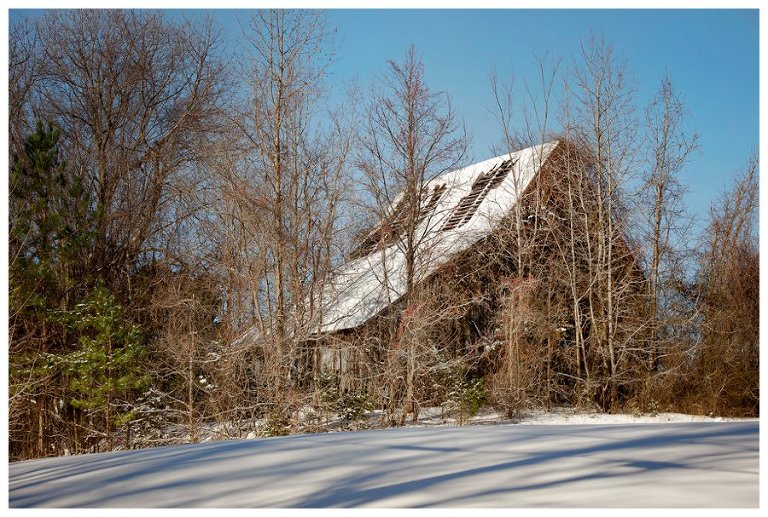 208/366: 1.24.16/10:31 am/Huntingtown/Ponds Wood Rd/Canon 5D Mark III/70-200mm 2.8L
Black Bird Tobacco Barn
Another hard to get one on top of a hill, on my main commute… glad we were going slow. I did several drive-by barn shootings this morning!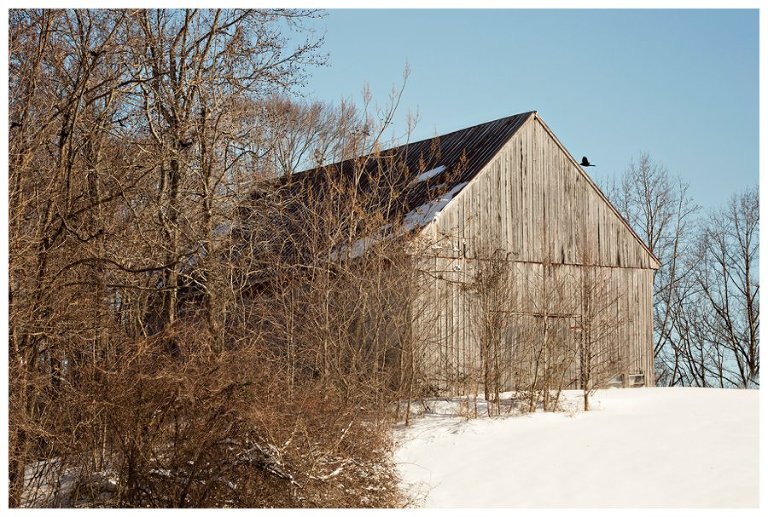 209/366: 1.25.16/4:20 pm/Prince Frederick/Solomons Island Rd/Canon 5D Mark III/70-200mm 2.8L
Mulberry Hill Barn
Drive by family barn shooting on the highway. We all take shots, it's fun 🙂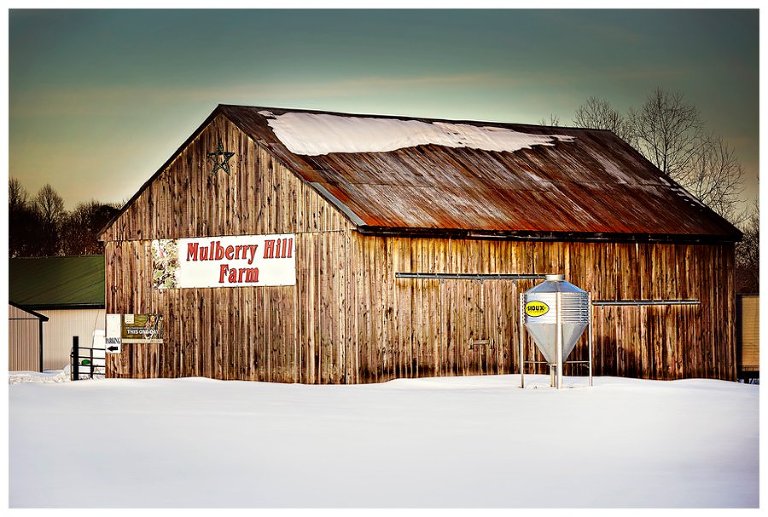 210/366: 1.26.16/3:47 pm/Owings/Chaneyville Rd/Canon 5D/70-200mm 2.8L
Snowy Horses Barn
What a beautiful scene we pulled up on, yesterday afternoon. The horses were even looking at the camera. So grateful for all this snow!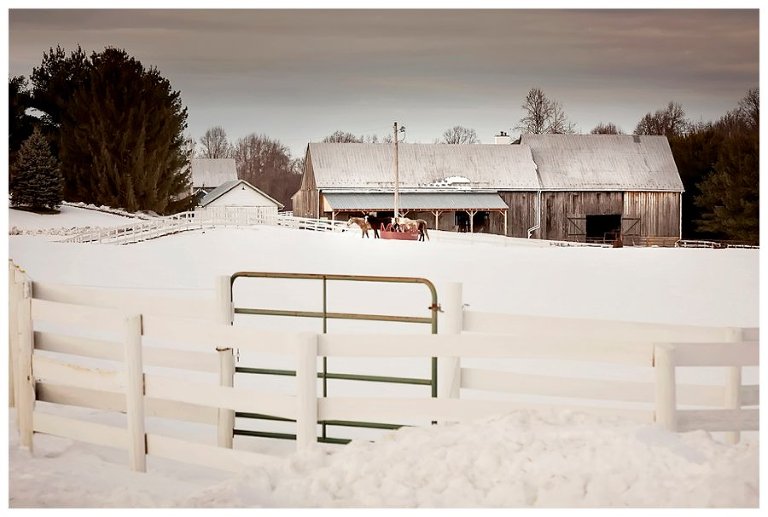 211/366: 1.27.16/5:12 pm/Saint Leonard/Mackall Rd/Canon 5D /70-200mm 2.8L
Sunset Snow Barn
My eyes were blessed with this beautiful view, tonight! Winter sunsets can be some of the best, add a barn into it and I'm extra happy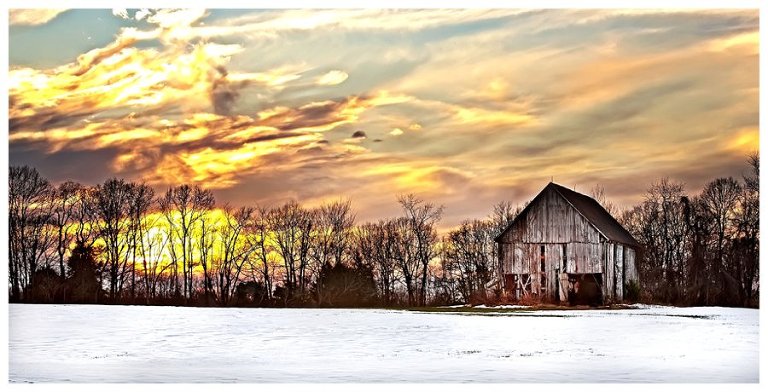 212/366: 1.28.16/3:47 pm/Owings/SOMD Blvd/Canon 5D /70-200mm 2.8L
Two Tobacco Barns
These are so hard to shoot because they're along the highway…so it's taken a while to get them into the collection! They're simple but I like them high up on this hill, especially in the snow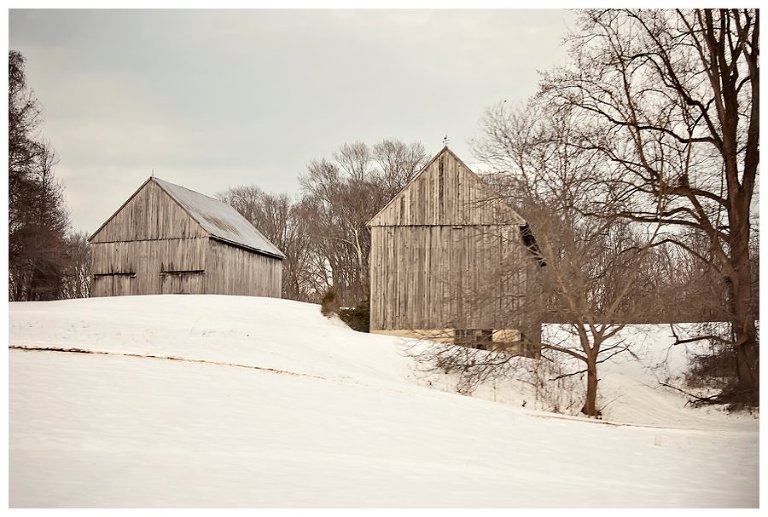 213/366: 1.29.16/4:42 pm/Hunting Creek Rd/Huntingtown Rd/Canon 5D Mark III/50mm 1.4
Horses in the Snow Barn
Ahh, is this real life? I have been waiting to shoot this one for so long and I did not even plan on it for today. I drove by it a total of three times, the third time because I decided I had to shoot it with these two black horses but I had nowhere to stop, so I shot it blindly out the window, while driving slowly. (I do not recommend this but I was watching the road the whole time) They just happened to be galloping across, right then…. I feel lucky. Ahhh, so pretty!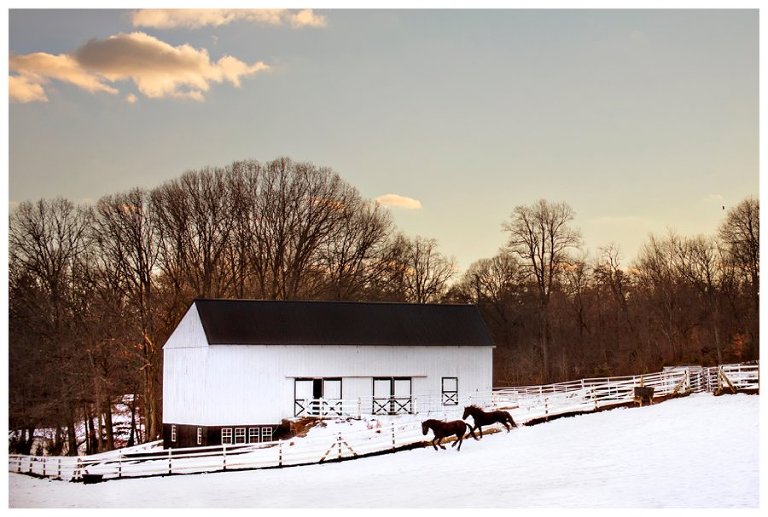 214/366: 1.30.16/12:09 pm/Owings/SOMD Blvd/Canon 5D Mark III/70-200mm 2.8L
White Snow Barn
I see this one SO much but I don't think I've liked it as much as I do in the snow. And that truck has been in the same spot ever since I've been watching it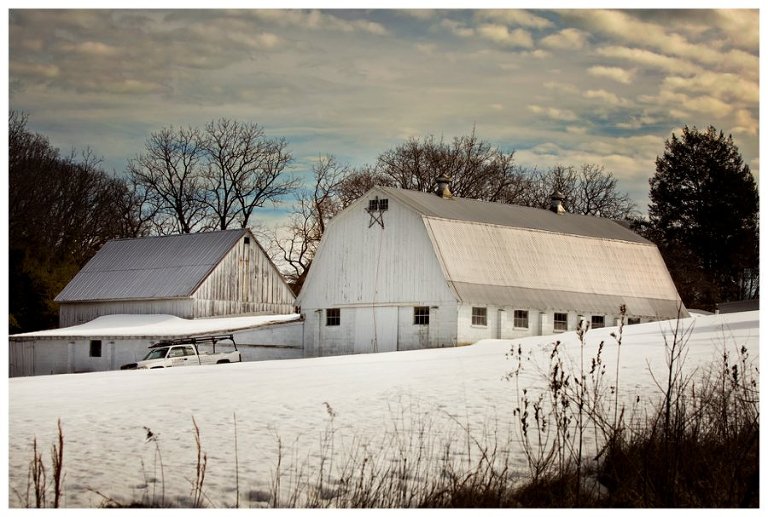 215/366: 1.31.16/4:42 pm/Huntingtown/Twin Oak Ln/Canon 5D Mark III/16-35mm 2.8L II
Leaning Red Barn
I love this one! I've been waiting to shoot it while being hopeful it would weather the storms and still be standing, until I was ready. It is still standing! Who knows for how long…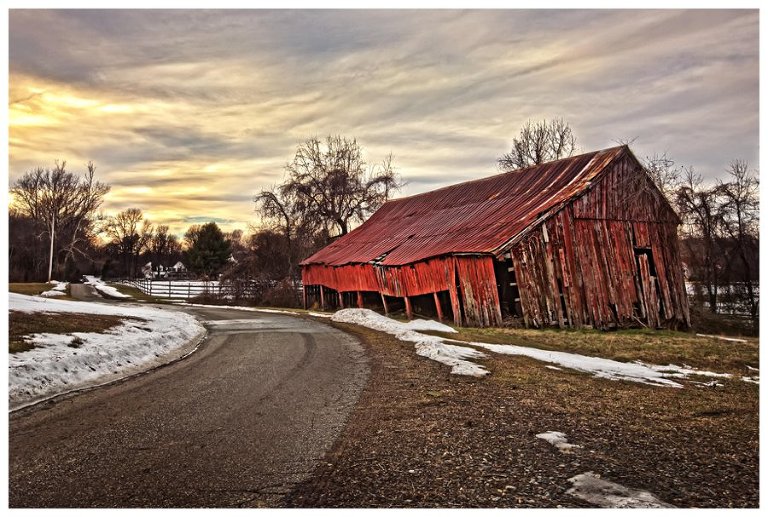 Southern Maryland Barns, Barns of Calvert County, Calvert County Maryland, Calvert County Photographer, Rural Photos, Southern Maryland Photos, Chesapeake Beach Photographer, SOMD, Southern Maryland Photographers