On Halloween I took the final photo of my fourth month of this project, I can hardly believe that it has already been that long! I'm 1/3 of the way there and man, have I seen some beautiful sites. I still find new barns on a regular basis, whether it's driving down new roads or just because more are appearing to me, since the leaves are starting to rapidly fall, exposing new ones that have been hidden. I always look forward to starting a new month of barn-hunting, I can't wait to see what November and the colder months, will bring! Sometimes you have to look a little harder in the winter months, it's a different kind of beauty but there is always something beautiful to be seen.
__________________________________________________________________________________________________________________________________________________
Original Post:
I started thinking about this recently, when I asked myself the question: what do I love about this area that I now call home?  In other words, I was trying to find new ways to be positive and look for the good in my new location. I have been living here for almost two years but sometimes I still miss "home". Even though I chose to move here for the right reasons, and I'm not that far away from where I came, I still struggle with these thoughts off and on. So, instead of dwelling in the past, I decided to appreciate the present. To find the good and appreciate what I have, here and now and to build a connection to this new place.
One of the coolest, and most unique things about Calvert County (and Southern Maryland) are all the barns that stem from it's rural history. I love the country roads and all the farms or pieces of what are left over, from old farms. I had a lot of that on the Eastern Shore, as well, but there were never this many barns and they're different. Since a lot of the ones found here are tobacco barns, there are just SO many more, because they needed more of them to dry the tobacco in.  I'm also tying this project in with my background in geography and environmental/land use planning interests. I see the urban sprawl and trees and fields being chopped down, daily, so this landscape is changing rapidly. By taking these photos, I want to be a part of documenting how looks now. I have a feeling it will change quite a bit in my lifetime.
So, with all these things in mind, on July 1st, 2015, I decided to start this year-long endeavor! Here are my rules/goals:
photograph a different barn each day from July 1, 2015 – June 30, 2016.
if I am out of town or something prevents me from shooting, I will shoot multiple barns for each day that I am gone, as close to the dates missed as possible.
any type of camera goes – iPhone, point and shoot, DSLR etc
barns must be located within Calvert County, MD limits
___________________________________________________________________________________________________________________________________________________
124/365: 11.1.15/4:07 pm/Prince Frederick/Mallard Point Rd/Canon 5D Mark III/70-200mm 2.8L
New Beginning Barn
The first day of the month, I always feel like it's a new start and I'm ready for a another set of barns. I'm curious as to what this new month will bring, I've already seen so much change since I started this project on July 1st. I've passed this road before, in an area full of barns and beautiful views but I never turned down it… it may now become one of my favorite barn roads, there are a TON of great ones! It's always exciting to see them for the first time. The sun shining directly on this field came and went in the short time I was there, the colors and sky were like a painting.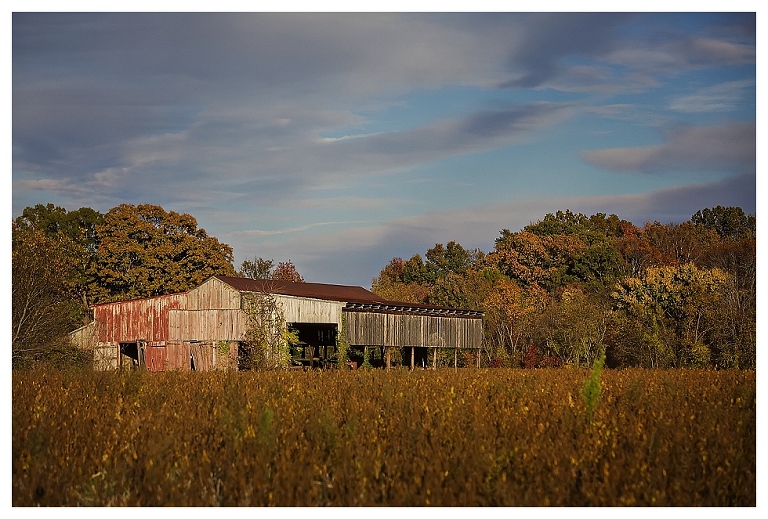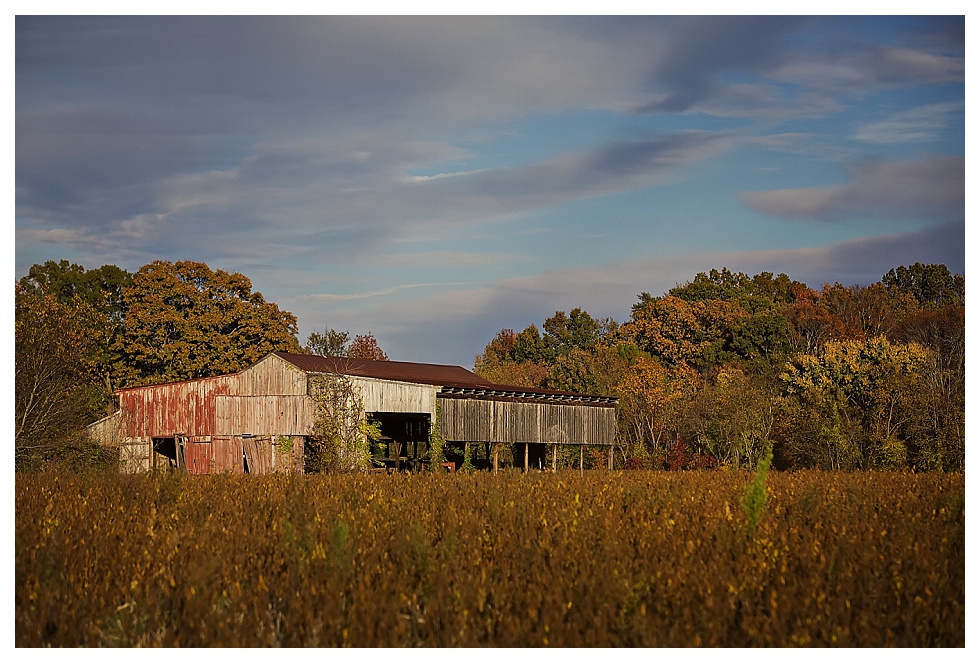 125/365: 11.2.15/3:35 pm/Prince Frederick/Tobacco Ridge Rd/Canon 5D Mark III/70-200mm 2.8L
Trail Barn
I found two great ones, today, which are right along this road and next to some of the #ACLT trails. I was not actually running there but was on my way to run in another section, that connects to this area.
I love the textures and colors on this one, both sides were awesome, it was hard to choose which way to shoot from. so pretty.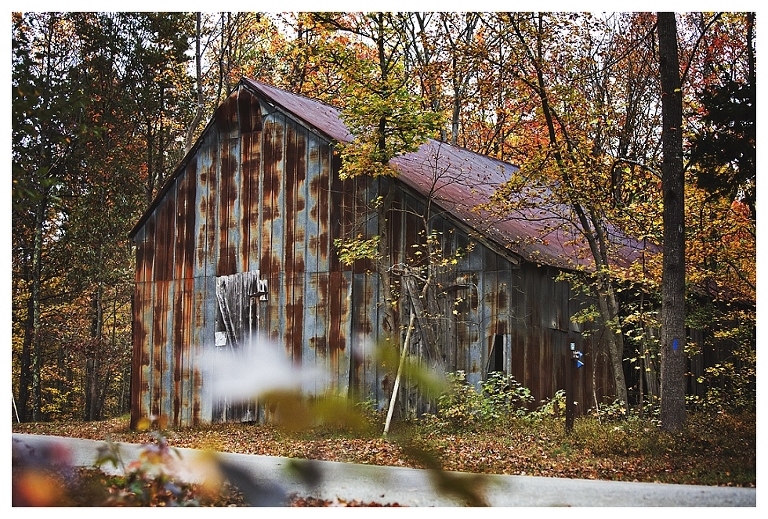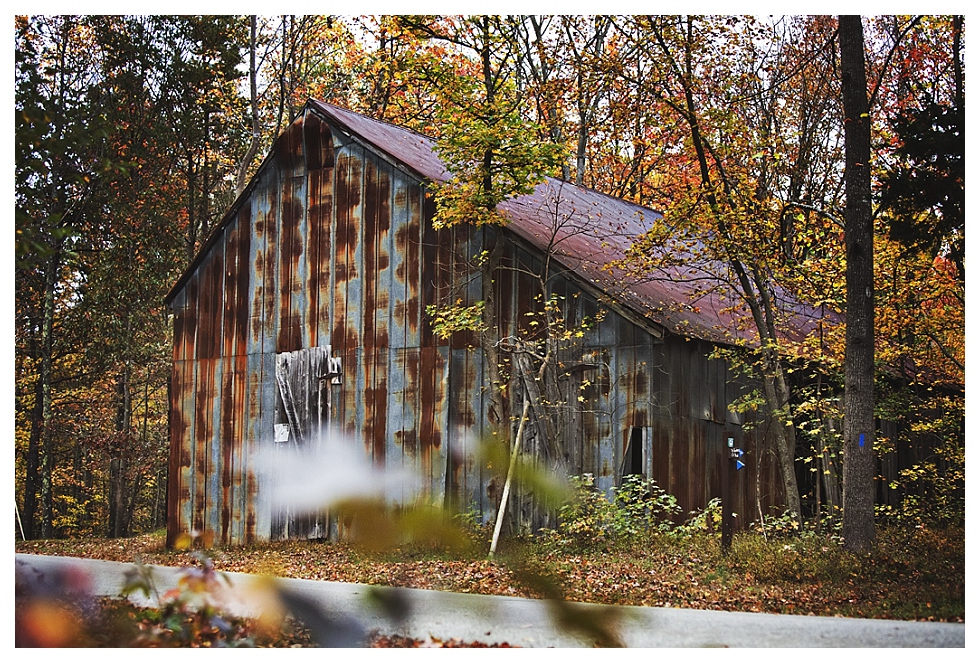 126/365: 11.3.15/7:42am/Huntingtown/Old Plum Point Rd/Canon 5D/24-70mm 2.8L
Foggy Barn
This one has been on my barn to-do list but the fog this morning made an otherwise normal scene, look so much better. I decided to go running and barn-photo-ing, at the last minute, this morning. I'm so glad that I did – it was a beautiful start to the day!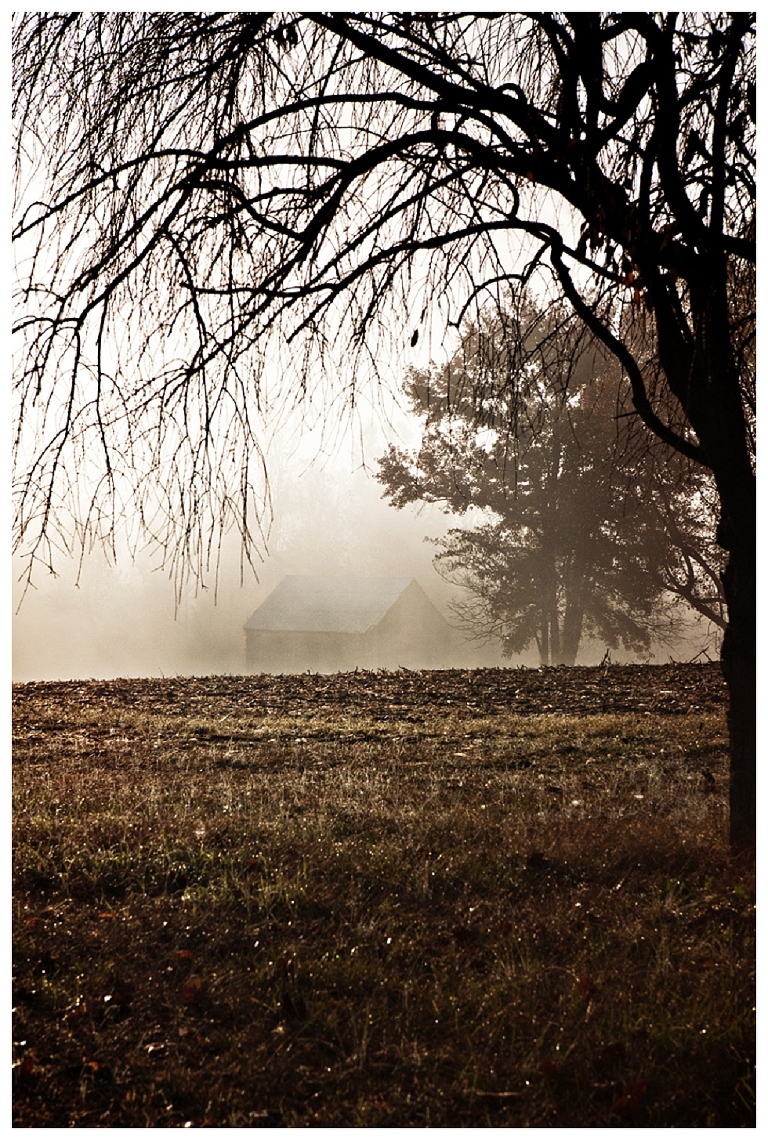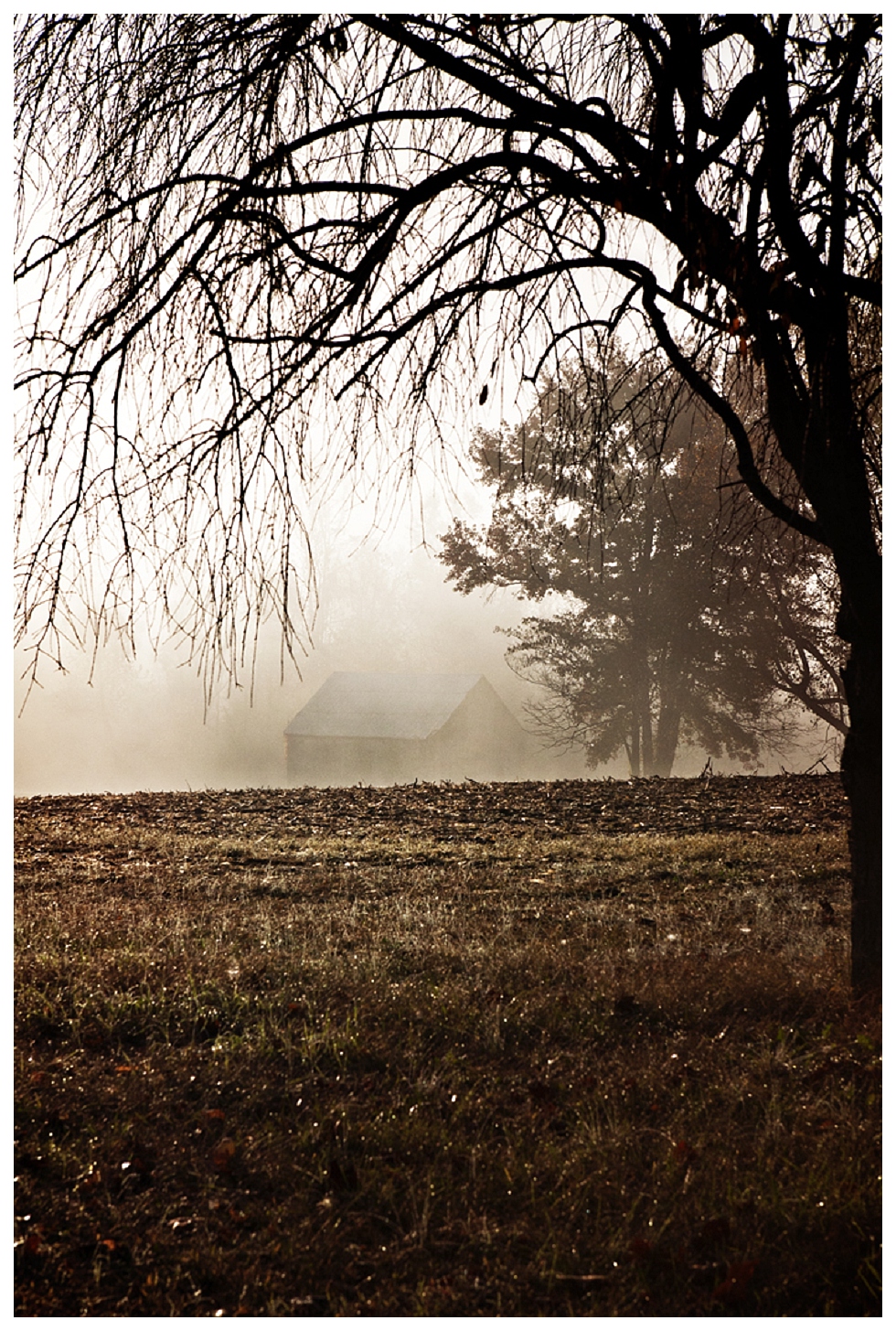 127/365: 11.4.15/3:54pm/Huntingtown/Hunt Ct/Canon 5D Mark II/16-35mm 2.8L II
Fall Colors Barn
There are so many barns on this court. This is the third one I've shot and all of them are unique. I was saving this one for fall because I like it against all the trees, and that's the story for today.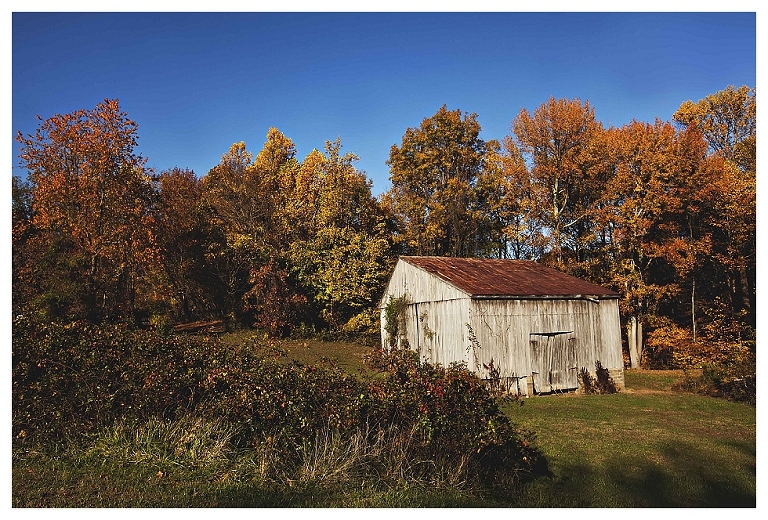 128/365: 11.5.15/2:47pm/Huntingtown/Mill Branch Rd/iPhone
Blue Sky Barn
The weather today was so wacky and all over the place: rain, fog, heat and bright sun and then fog, again. This was the sunshine and warm part of the day. Crazy that the leaves are pretty much gone on the tree next to this one. Winter is on it's way, even if it doesn't feel like it.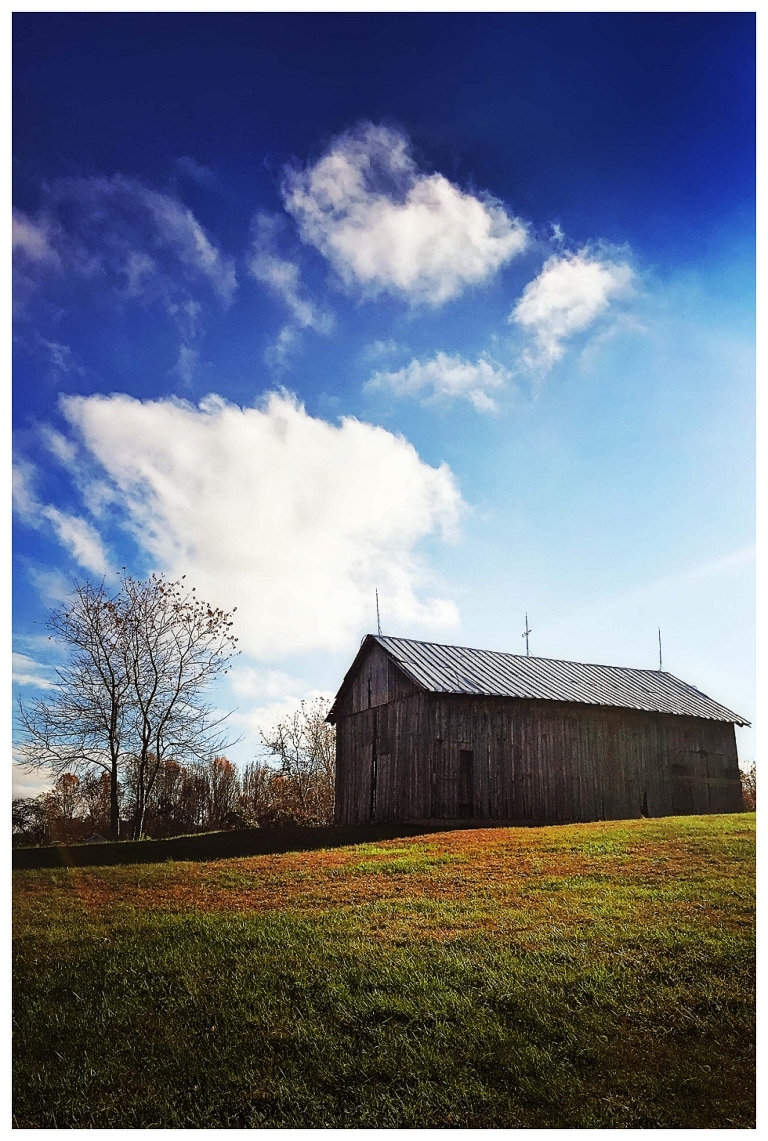 129/365: 11.6.15/4:50pm/Huntingtown/Holbrook Ln/Canon 5D Mark II/24-70mm 2.8L
Hidden Fall Barn
I turned down a new road leading into a subdivision and of course, immediately saw a barn 🙂 I got out and a car pulled up (which always has me a bit nervous even though I'm never doing anything wrong) but it was just a lady telling me how she loves this one and always takes photos of it. She also let me know there is a more hidden one behind it, on the hill. Good to know!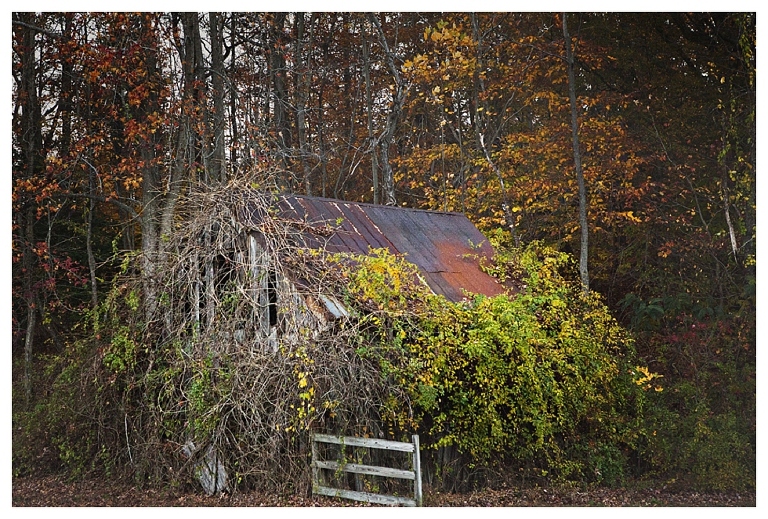 130/365: 11.7.15/1:29 pm/Dunkirk/Ward Rd/Canon 5D Mark II/24-70mm 2.8L
Rainy Barn
All the barns are looking pretty dreary, today, so I went with this one because I liked that the corn was still up, well into November. It looks like there are some picnic tables to dine here, as well. Maybe they'll invite me for lunch, sometime?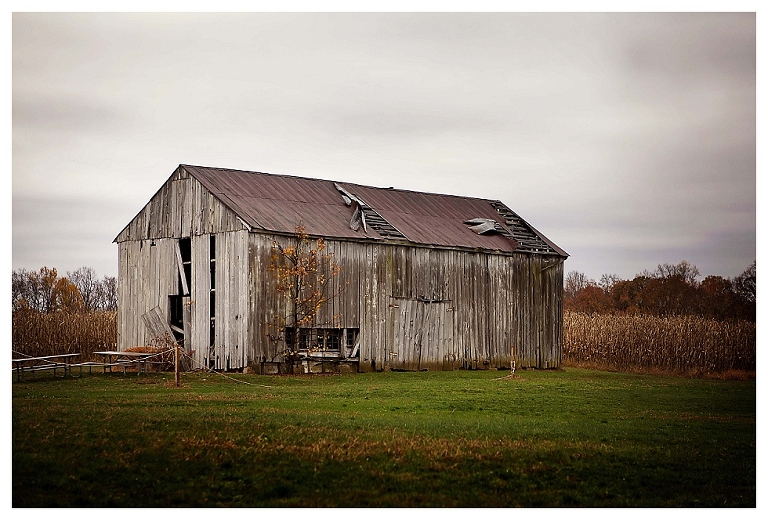 131/365: 11.8.15/1:15 pm/Huntingtown/Miss Sams Way/Canon 5D Mark III/85mm 1.2L II
Weeds Barn
I've always liked this one from the highway, I had to dodge a few suburban obstacles to get the best shot of it, which also involved me ducking down into the weeds. I think they made this look a lot better – I've learned that the weeds are different throughout the seasons and they can be beautiful!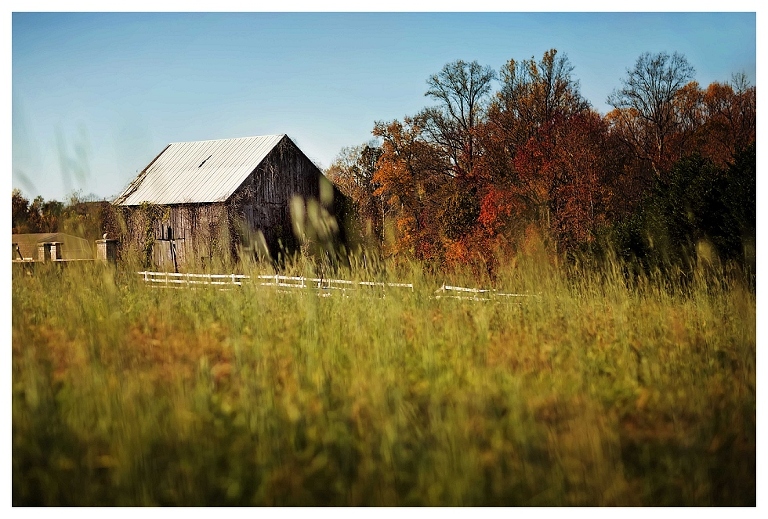 132/365: 11.9.15/2:41 pm/Huntingtown/Hope Ln/Canon 5D Mark II/24-70mm 2.8L
Mix Match Barn
I was in a huge hurry but that wasn't going to stop me from shooting my barn for the day! I've only really noticed this one, which sits behind the Discount Liquor store, since the summertime but it was so overgrown then, I didn't think much of it.
Now, I can see so much more and it has so much character. It looks like part of it has been built with bricks, cinder blocks and it is still has some of its red paint, where the leaves would normally hide most of it. I'm liking this one, the old clothesline adds a nice touch!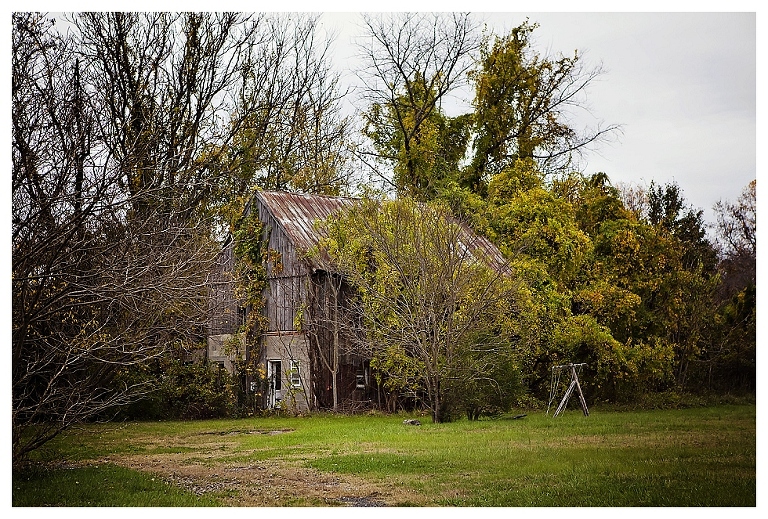 133/365: 11.10.15/3:21 pm/Huntingtown/Old Town Rd/Canon 5D Mark II/70-200mm 2.8L
New Dreary Barns
I HAD to go to the post office and I HAD to shoot a barn, ideally, close together. I have seen some hidden ones behind development along this road but I never knew how to access them. Thanks TO Google Maps, once again, for finding new ones for me to shoot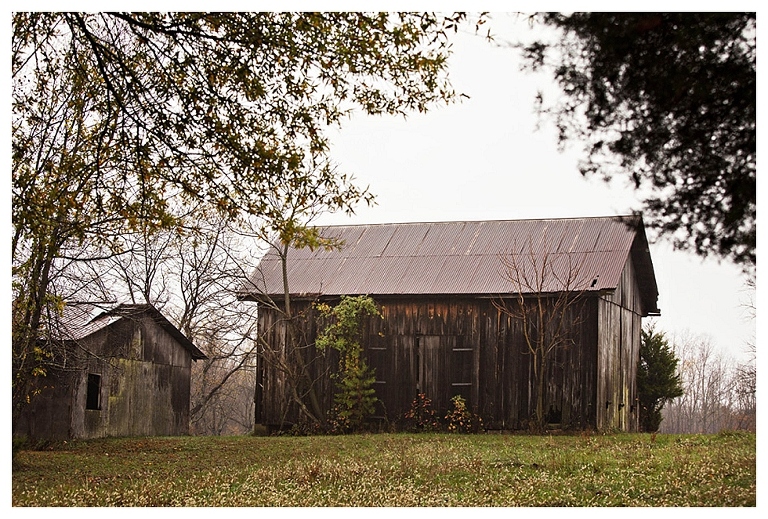 134/365: 11.11.15/1:51 pm/Huntingtown/Plum Point Rd/Canon 5D Mark II/24-70mm 2.8L
Red, White and Blue Barn
Happy Veteran's Day! I've already photographed two barns with flags on them, so I asked around for others. A woman in a group I'm in mentioned this one. I like how the whole scene is also red, white and blue – the barn, clouds and sky.
This barn also has at least one horse, that sticks it's head out from inside all the time. I've always wanted to shoot it with the horse but the flag on Veteran's Day was more important! I decided to not edit out all the power lines, since this is how it really looks in 2015, still beautiful.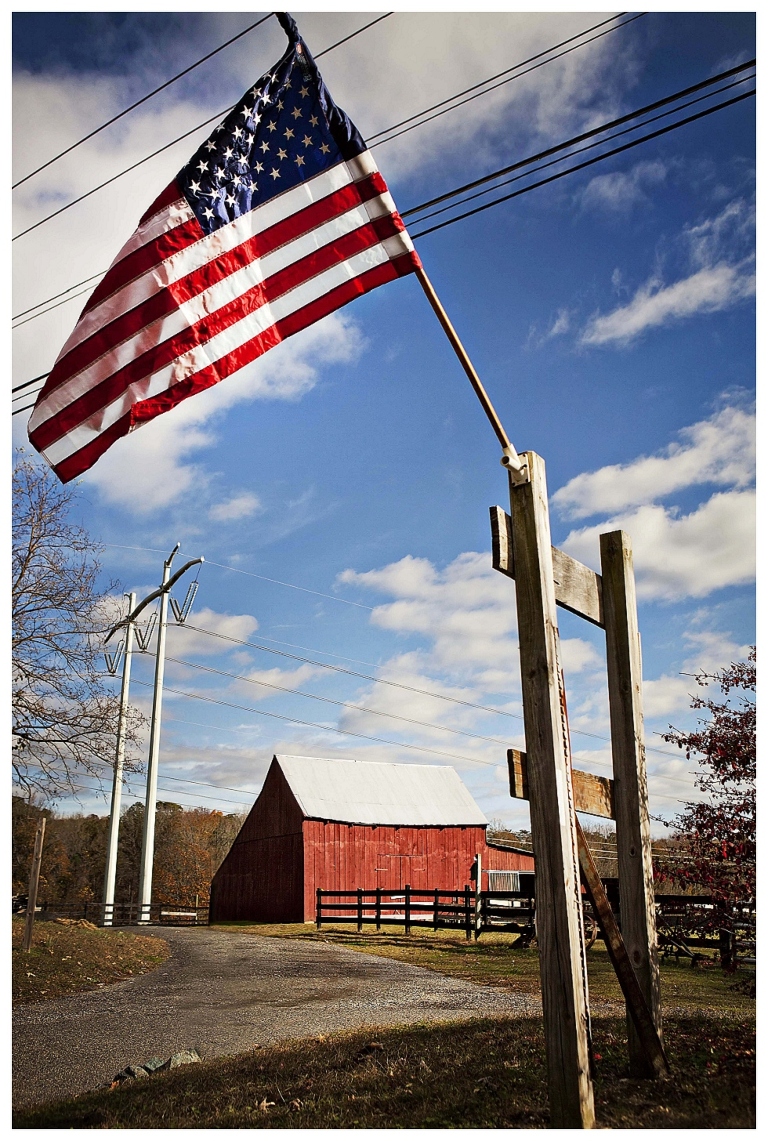 135/365: 11.12.15/2:14 pm/Prince Frederick/Mallard Point Rd/Canon 5D Mark III/70-200mm 2.8L
Newspaper Barn
Today, I had my interview with the local paper, the Calvert Recorder/SOMD News, about my project. I took Sarah down to one of my new and favorite "barn roads" and we chatted about the when, where and why's of the project. She was just as surprised as I was, the first time I saw this road, as to how many awesome barns there are in such close proximity.  There are a lot of great ones to choose from but I really wanted to show the cool sky and soybeans, in this shot. I'm looking forward to reading her story about this!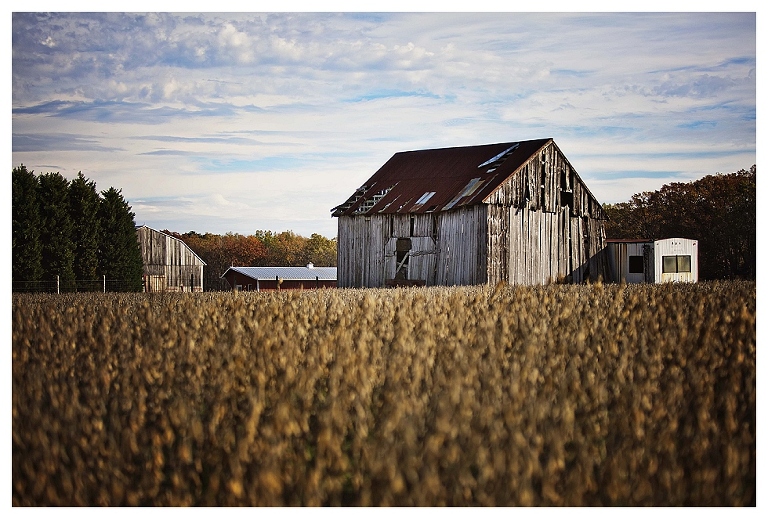 136/365: 11.13.15/12:22 pm/Owings/Chaneyville Rd/Canon 5D Mark III/85mm 1.2L II
Apple Orchard Barn (They're Peaches!)
So, I'm not a farmer (even though at times I think I could have been, in a past life…) but I do believe these are apple trees. Correct me, if I'm wrong! (I was wrong, they're peaches!) I've passed these farms on foot, several times, they grow a lot of crops and this area is very beautiful, sitting along the Patuxent River. I almost moved down the street from here, I wouldn't have minded passing this scene, every day but I'm doing just fine where we are.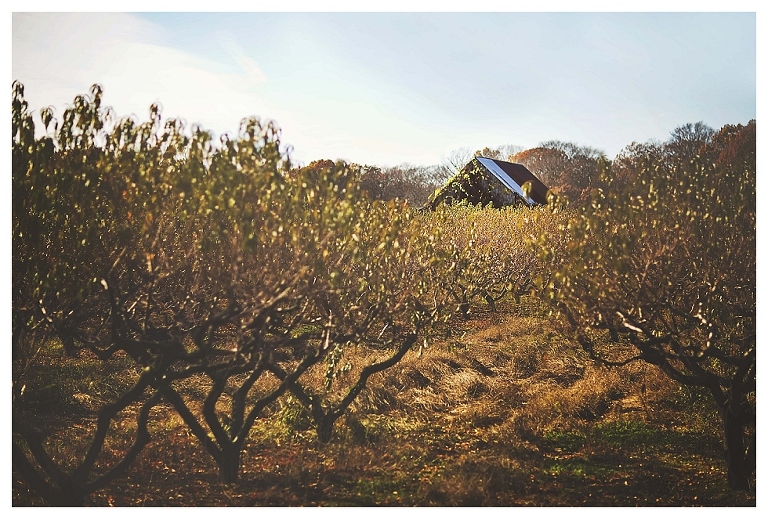 137/365: 11.14.15/5:12 pm/Dunkirk/Yellow Bank Rd/Canon 5D Mark III/85mm 1.2LII
Last Light Barn
This is actually the last bit of light for the day, I barely made it back into Calvert County in time to shoot these.  There are several here, on this AG Preservation land that ends at the Patuxent River. So many that I want to save a few for another day, so I didn't include them here.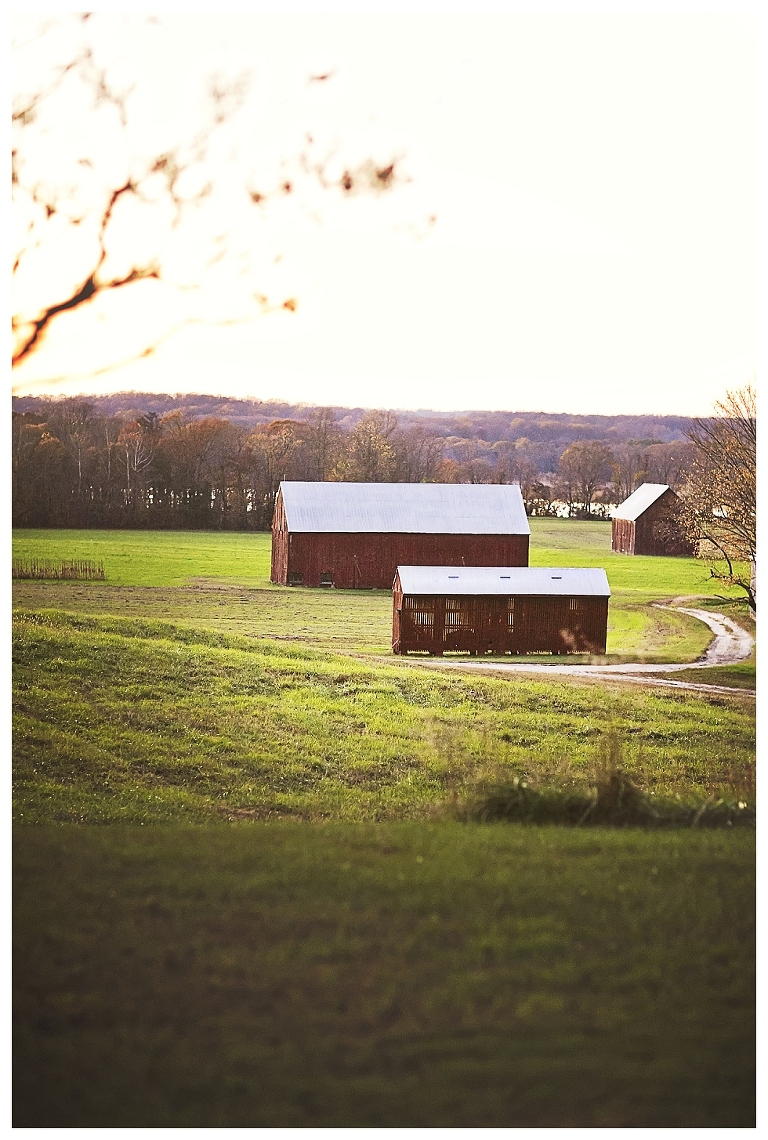 138/365: 11.15.15/4:49 pm/Huntingtown/Ponds Wood Rd/Canon 5D Mark III/70-200mm 2.8L
Almost Winter Barn
All the leaves are almost gone near this one. It's hard to reach, so this was a drive by shooting with the help of my barn-hunting assistants. 🙂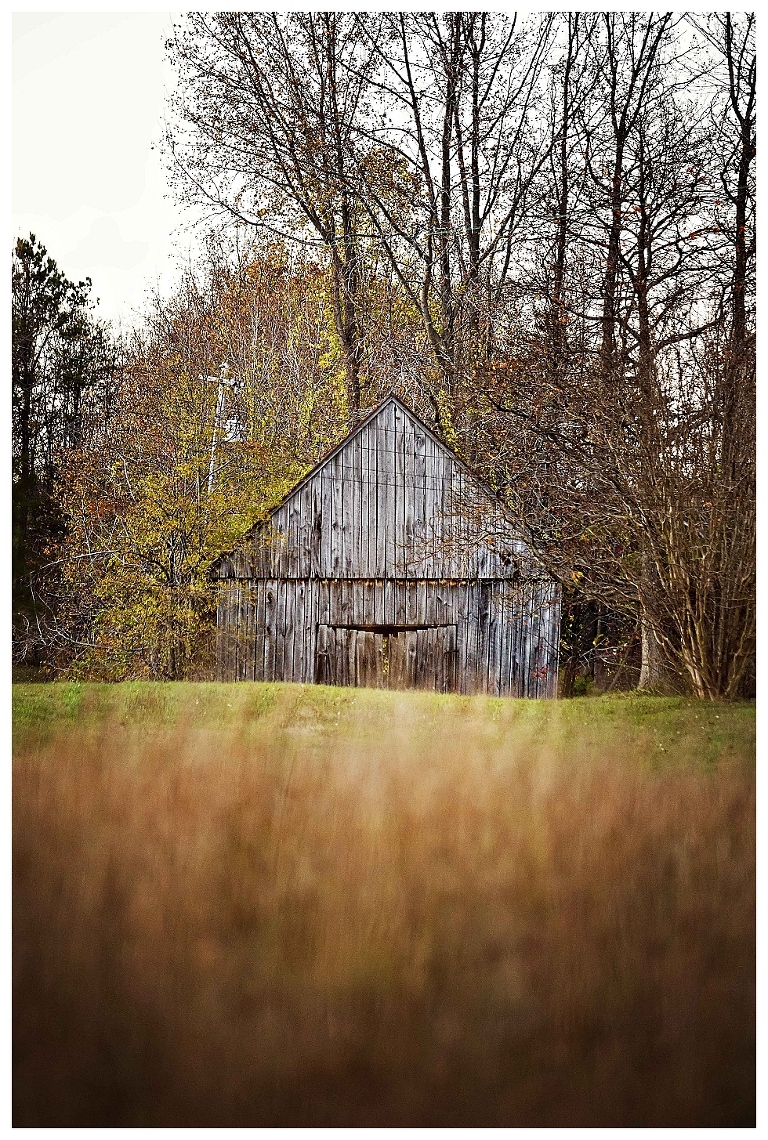 139/365: 11.16.15/12:29 pm/Huntingtown/Cox Rd/Canon 5D/70-200mm 2.8L
Noon Barn
Normally, the noon time frame on a bright sunny day is not ideal for a photo shoot, even a barn. So, I was fortunate to know of this one by the tree line, that was mostly spared from the sun. I liked it best framed it with these tree branches, across the field.
There are some cool ones on this road, I'll probably get all of them by the time this project ends… that day is not anytime soon!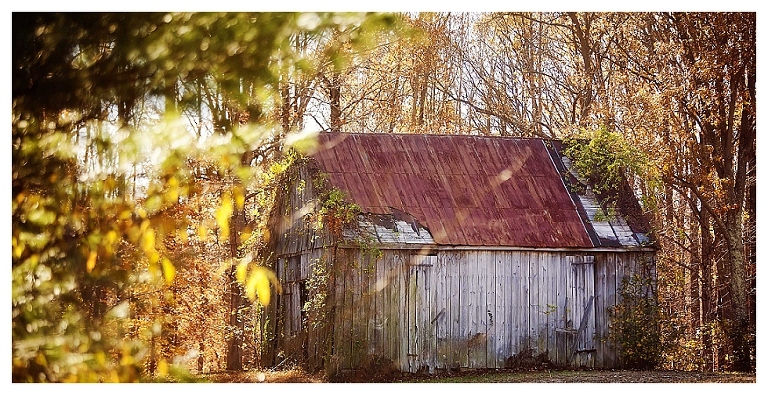 140/365: 11.17.15/12:24 pm/Prince Frederick/Sixes Rd/Canon 5D Mark III/85mm 1.2L II
Sixes Barns
I've been told about the barns on this road a couple times before, so I decided to drive all of it this time, on my way home from work. There are a lot of cool ones, I really like this open view across this field of a few clustered together, I'll eventually be back for more!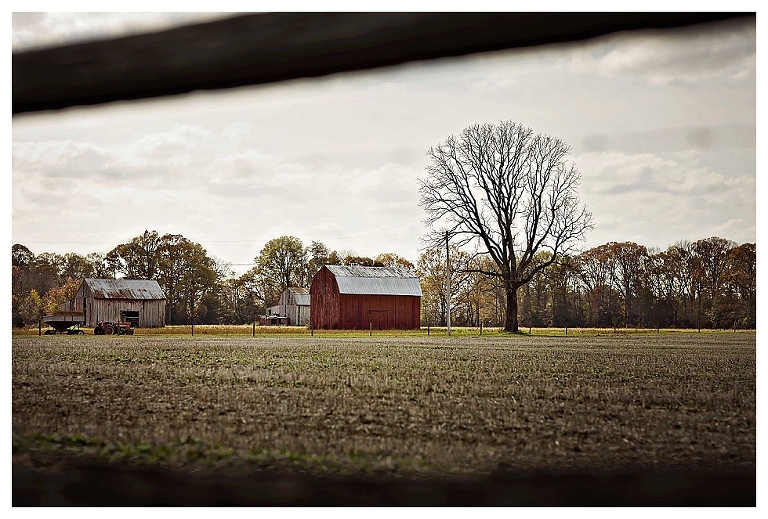 141/365: 11.18.15/10:58 pm/Dunkirk/Ferry Landing Rd/Canon 5D Mark III/24-70mm 2.8L
Exposed Roof Barn
I haven't come across this one since the summer time, and now that the leaves are gone I see much more. My favorite part about it is the exposed, thatched roof. And there always seems to be a piece of each barn missing, just enough to make you wonder what is inside, without actually being able to see. Love all these old barns <3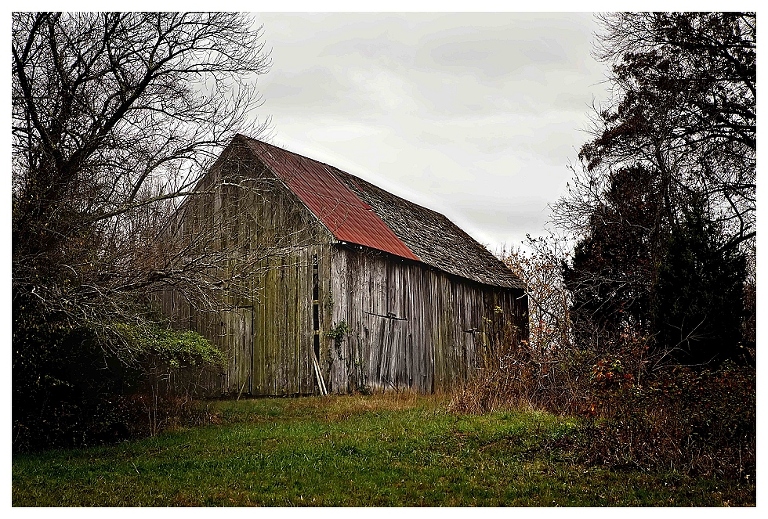 42/365: 11.19.15/4:35 pm/Prince Frederick/Dares Beach Rd/Canon 5D/70-200mm 2.8L
Rain or Shine Red Barn
The only way I was not going to have a dreary-looking barn photo, was to find one with a lot of color, which I accomplished pretty easily! I didn't know which one I was going to shoot, when I headed out but I pass this one all the time and it seemed to fit for today. It's right next to Sewell's Funeral home and out of curiousity, they came out to ask me what I was doing. They were very friendly, and when I told them I go out shooting barns, rain or shine, they laughed… 🙂 Looking forward to more shine, soon!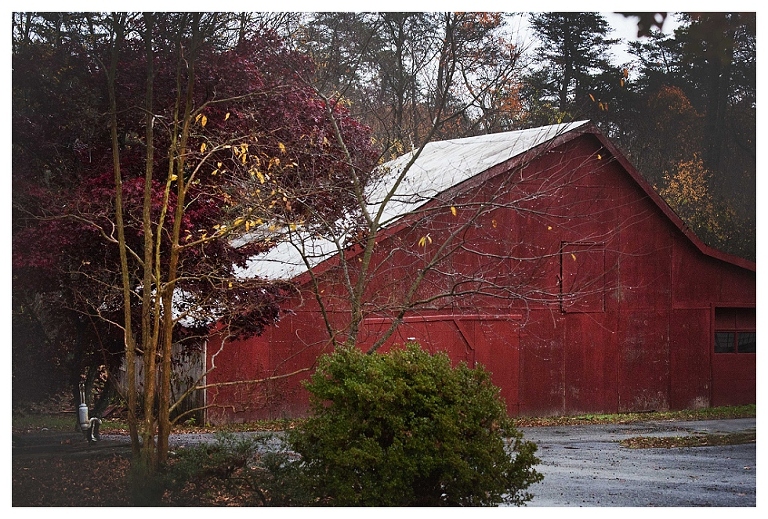 143/365: 11.20.15/12:52 pm/Dunkirk/Ward Rd/Canon 5D Mark III/85mm 1.2L II
Rolling Hills Barn
I feel like there should be a creek running underneath or a horse and buggy, nearby, seems like that would fit well with this scene. It almost looks like a covered bridge but the closest bridge is likely the Rt. 4 overpass, not nearly as pretty as this. smile emoticon If you look hard enough, there are a bunch of goats in the lower right corner. I think they like their home.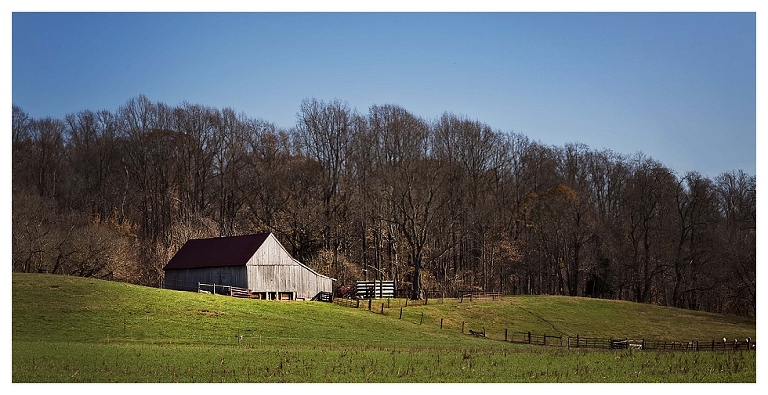 144/365: 11.21.15/3:47pm/Huntingtown/Plum Point Rd/Canon 5D Mark III/24-70mm 2.8L
Running Barn Take II
This is one of two barns, right next to each other, that I pass all the time on my neighborhood running route. The one right next to it, I shot earlier in the fall but I did not do it justice because I used my iPhone and it didn't show all of its charm.  So, I'll make up for it with this HDR image, which combines six shots into one.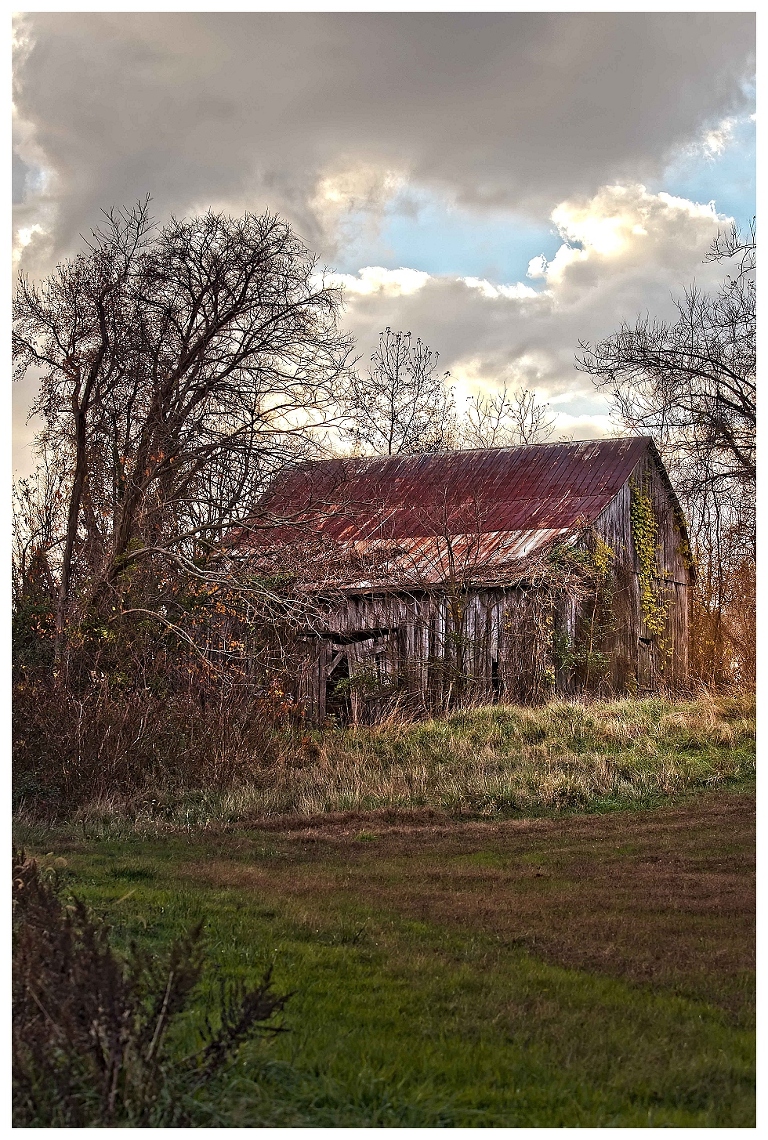 145/365: 11.22.15/2:29 pm/Dunkirk/Drury Ln/Canon 5D Mark II/24-70mm 2.8L
White Wash Barns
I love the look of these and their variation of color on the barn wood. I may have to come back to shoot the other one, as my focus, in a different season.  They're both so cool on their own.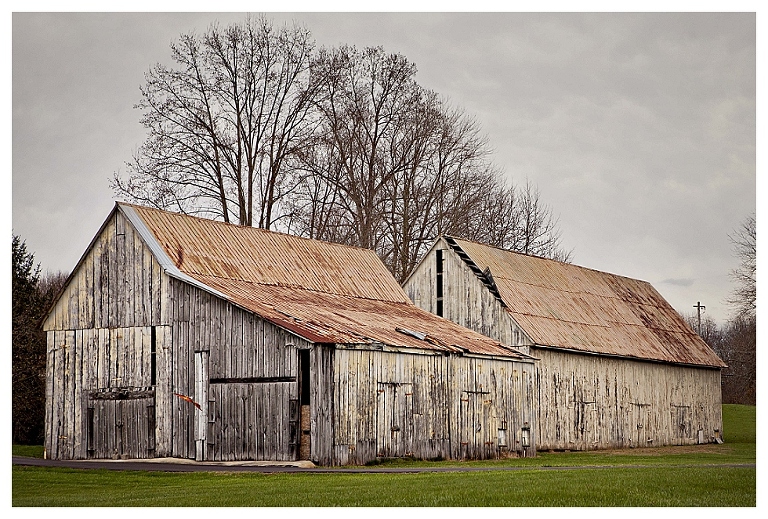 146/365: 11.23.15/4:32 pm/Owings/Mt. Harmony Ln/Canon 5D/70-200mm 2.8L
Hutchins Pond Barn
I love when I find a new barn, it's like traveling to a new place – the first time is always the best. An extra bonus was finding a large pond and land, right next to it, that was donated to the citizens of Calvert County. I'll have to come back again, it's a very peaceful place.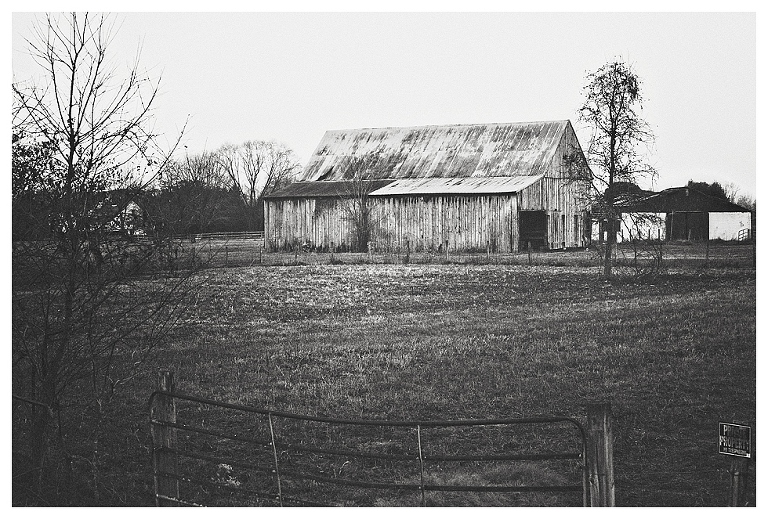 147/365: 11.24.15/4:02 pm/Huntingtown/Patience Place/Canon 5D/70-200mm 2.8L
Patience Place Barn
I finally got up the nerve to drive down this lane, with Nathan, since it technically has a street sign and multiple houses, so it IS is a public road. I think. There are a few back here, one of which is hanging on by a few boards but I already shot it from a distance, this summer. There is another one that I think fell down but it's hard to access.  These are all clustered together and this is the best view we could get. I figured since I had a kid with me, nobody would try to shoot at us or yell at us to leave. Sometimes it's good to have a co-barnstalker.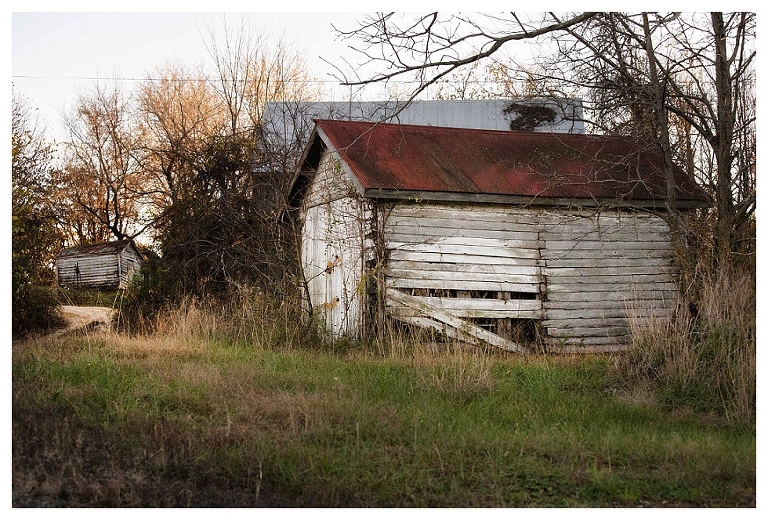 148/365: 11.25.15/4:08 pm/Huntingtown/Evans Rd/iPhone
Winter Sun Barn
It does not feel like winter at all, today, but the look of this shot makes it clear that it will be here very soon. Love the sun peaking through the trees.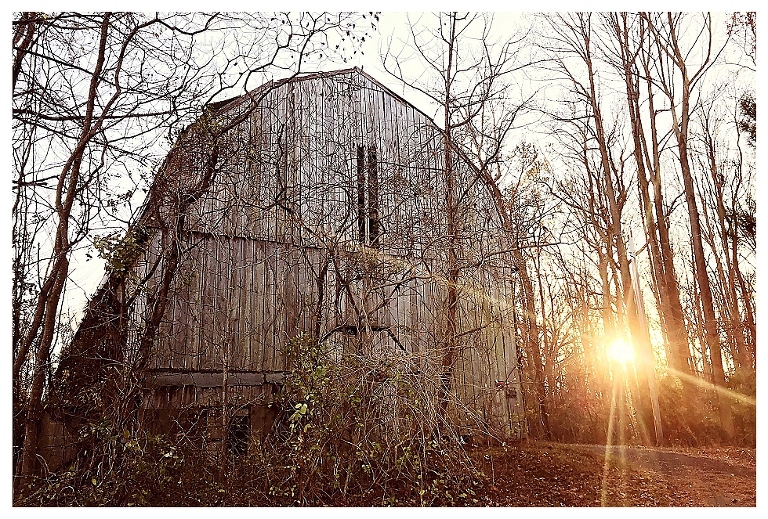 149/365: 11.26.15/4:26pm/Huntingtown/Hunt Ct/5D Mark III/70-200mmm 2.8L
Red Barns in the Trees
Today, we found the newspaper article featuring my little barn story. I still needed to take a barn photo, so I took my husband to this set because I knew we could get out and shoot in front of the barns, as well as get photos of new ones. Technically, I've shot the one on the left before, from a different angle but I really liked this combo of the two, through the trees.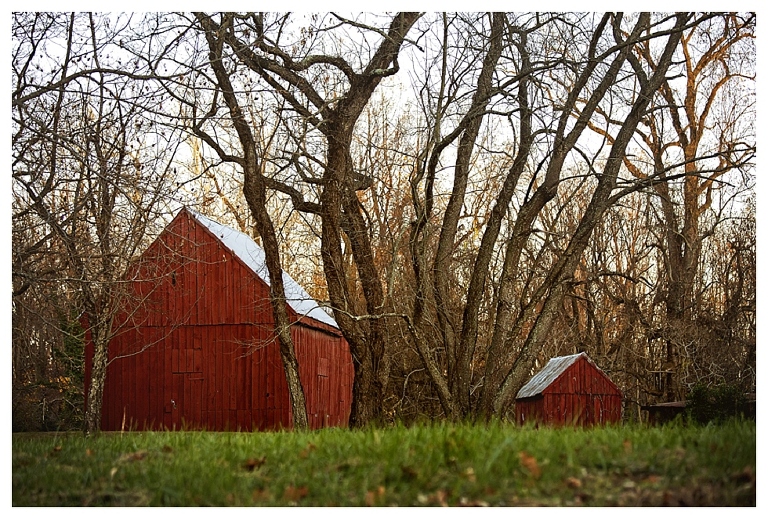 150/365: 11.27.15/4:30 pm/Huntingtown/Wilson Rd/5D/16-35mm 2.8L II
Storage Barn
I've eyed this one up for a long time, it's part of a business but nobody was working when we pulled up. Glad I got it with a bit of sunset behind it, that was always the view I pictured.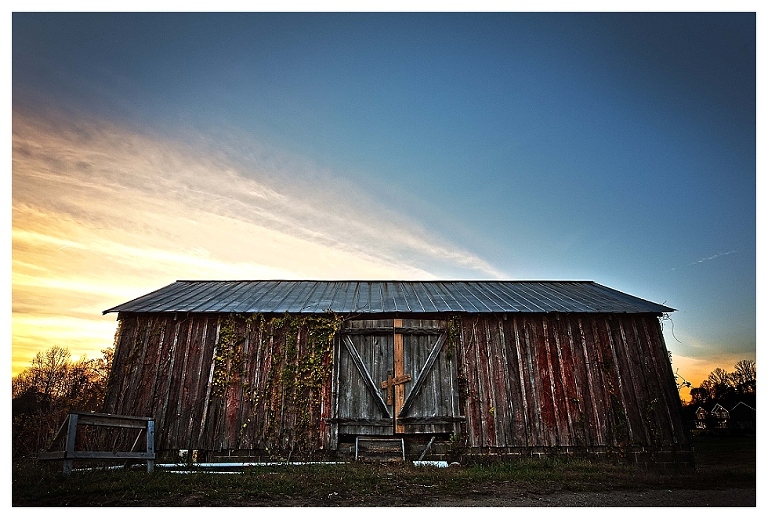 151/365: 11.28.15/2:35 pm/Prince Frederick/Buena Vista Rd/5D/70-200mm 2.8L
Silo Barn
This is scene is new to me, although definitely not new. I love the old silo and water towers.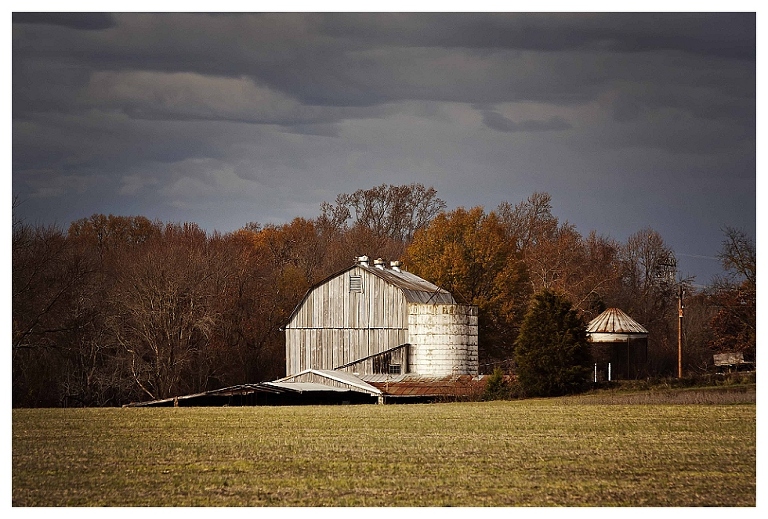 152/365: 11.29.15/4:48 pm/Huntingtown/Plum Point Rd/5D Mark III/70-200mm 2.8L
Dark and Misty Barn
I almost missed my chance to fit a barn in, before it got really dark on me. After a couple failed Google Map searched barns, that turned out to not be what I expected, I went to this one. I actually ended up liking the effect of the misty rain and the dark mood.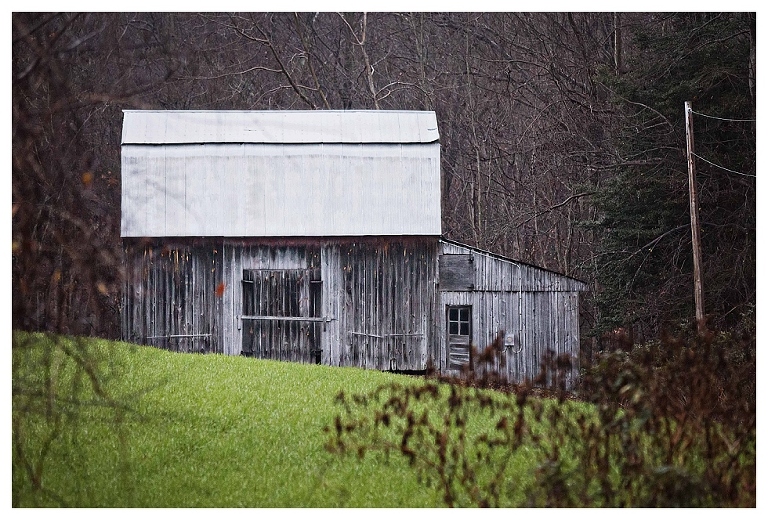 153/365: 11.30.15/4:39 pm/Huntingtown/Ridge Rd /5D Mark III/70-200mm 2.8L
November Barn
These days keep slipping away from me and once again, I barely made it out to shoot before it got too dark, this afternoon. This is the last barn of November, a month I thought would end up being kind of boring but proved to be one of my favorites. Really, they're all my favorites and I love scrolling through the months and seeing how different things look, throughout the seasons.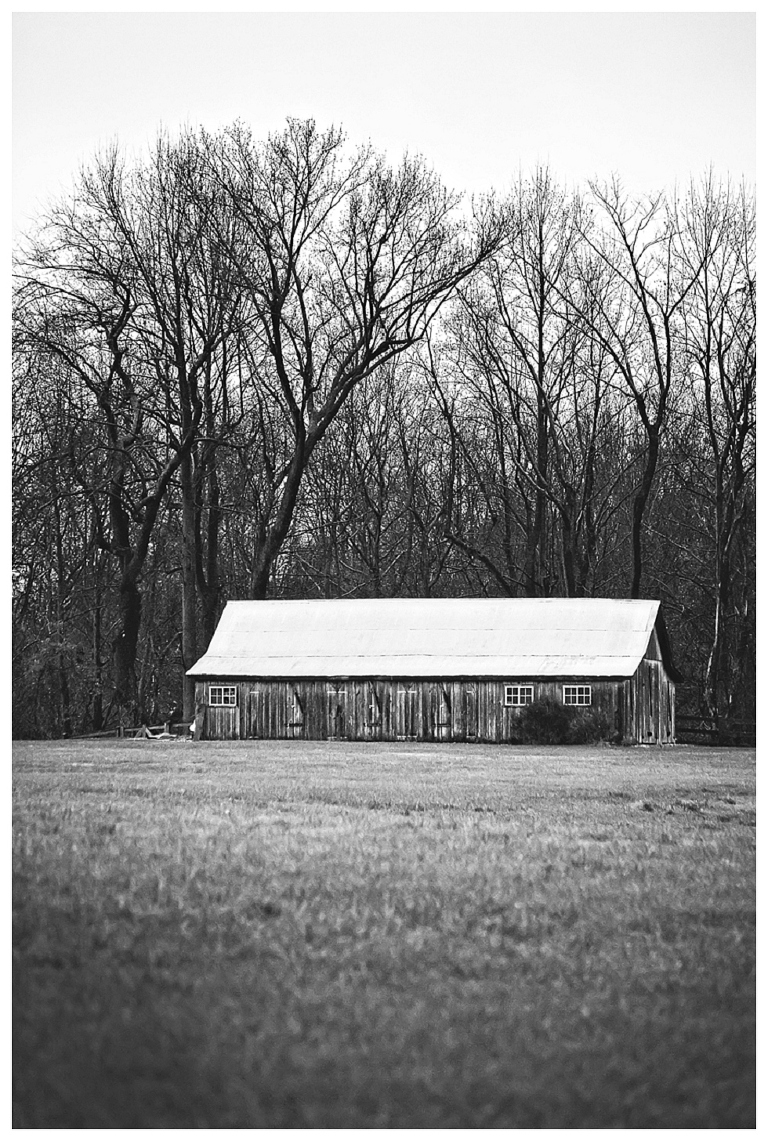 Annapolis Wedding Photographer, Eastern Shore Photographer, Calvert County Photographer, Southern Maryland Photographer, Calvert County Barns, Southern Maryland Barns, Chesapeake Beach Photographer, Calvert County Photos, Barns of Calvert County, Calvert County Barns, Calvert County History, Southern Maryland Barns, Chesapeake Beach Photographers, Southern MD Wedding Photographer