October is month FOUR of my project. I will have to admit that when I first started this on July 1st, I was not sure if I would stick with it. I'm so glad that I have completed three months of shooting. It has led me down some amazing country roads, where I found some hidden and not-so-hidden gems. Last month, I think things took a turn for the better – I started caring more about the quality of the shots and almost always bring my good cameras out with me, unless I'm in a hurry, then the iPhone does just fine! 🙂 September is always one of my favorite months for weather but I can't wait for October's fall leaves and autumn skies. This month should be a goood one! 🙂
________________________________________________________________________________________________________________________
Original Post:
I started thinking about this recently, when I asked myself the question: what do I love about this area that I now call home?  In other words, I was trying to find new ways to be positive and look for the good in my new location. I have been living here for almost two years but sometimes I still miss "home". Even though I chose to move here for the right reasons, and I'm not that far away from where I came, I still struggle with these thoughts off and on. So, instead of dwelling in the past, I decided to appreciate the present. To find the good and appreciate what I have, here and now and to build a connection to this new place.
One of the coolest, and most unique things about Calvert County (and Southern Maryland) are all the barns that stem from it's rural history. I love the country roads and all the farms or pieces of what are left over, from old farms. I had a lot of that on the Eastern Shore, as well, but there were never this many barns and they're different. Since a lot of the ones found here are tobacco barns, there are just SO many more, because they needed more of them to dry the tobacco in.  I'm also tying this project in with my background in geography and environmental/land use planning interests. I see the urban sprawl and trees and fields being chopped down, daily, so this landscape is changing rapidly. By taking these photos, I want to be a part of documenting how looks now. I have a feeling it will change quite a bit in my lifetime.
So, with all these things in mind, on July 1st, 2015, I decided to start this year-long endeavor! Here are my rules/goals:
photograph a different barn each day from July 1, 2015 – June 30, 2016.
if I am out of town or something prevents me from shooting, I will shoot multiple barns for each day that I am gone, as close to the dates missed as possible.
any type of camera goes – iPhone, point and shoot, DSLR etc
barns must be located within Calvert County, MD limits
________________________________________________________________________________________________________________________
93/365: 10.1.15/1:22pm/Prince Frederick/M I Bowen Rd/Canon 5D/70-200 2.8L
Christmas Tree Barn
A little green scenery to brighten this first dreary day of October. I think it's a tree farm in the back and there is a small vineyard on the other side 🌲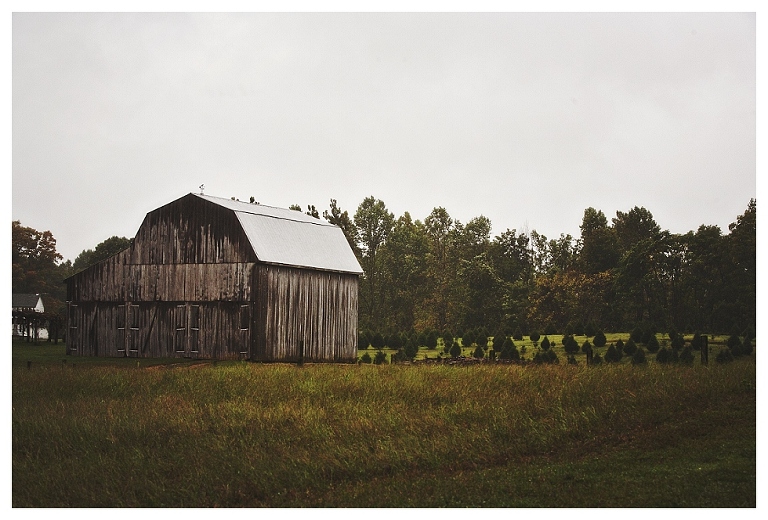 94/365: 10.2.15/6:32pm/Owings/Horace Ward Rd/Canon 5D Mark II/70-200mm 2.8L
Crazy Weather Barn
It's hard to tell how windy, rainy and basically miserable the weather is in this one because the barn is just too cool, to worry about all of that. This was a new and random find, on our way out to dinner. All it usually takes is turning down a side country road or even into a subdivision, they're everywhere and one will appear pretty quickly. Barns for days.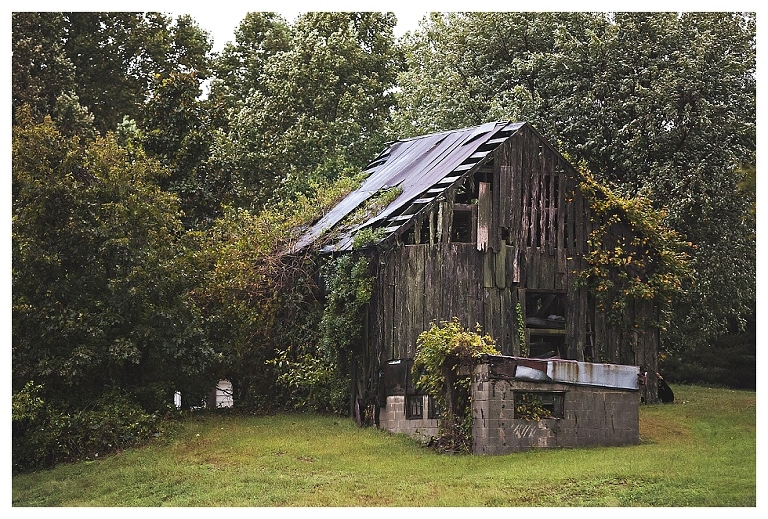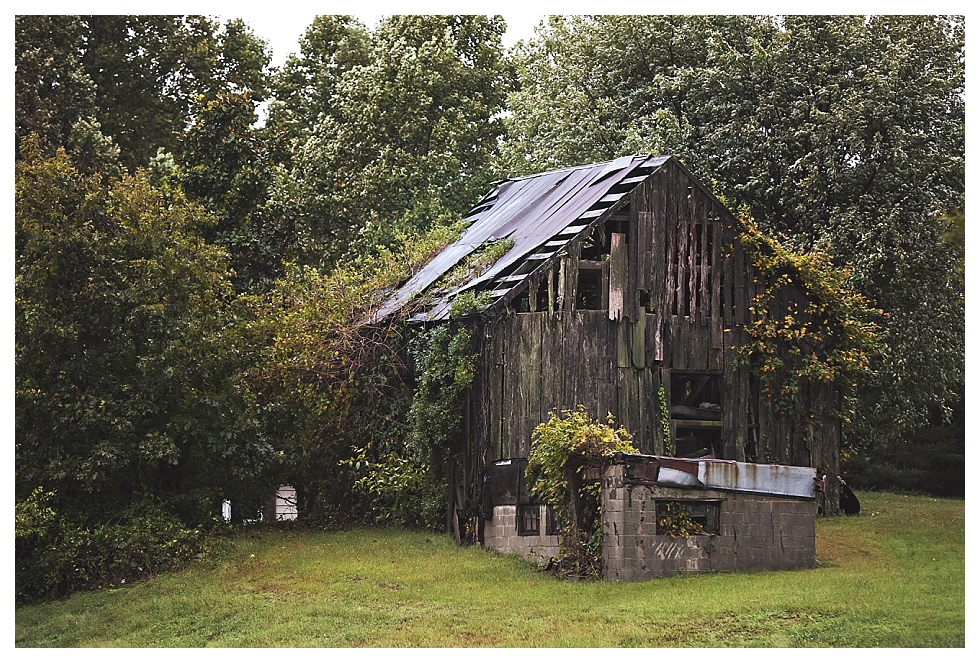 95/365: 10.3.15/11:43am/Owings/Chaneyville Rd/Canon 5D Mark III/85mm 1.2L II
Berries and a Barn
This was a quick stop in the drizzling rain. These weed trees with berries growing on them, made this otherwise dull shot much more interesting. It's like they were just waiting there for someone to frame this barn in the distance 😉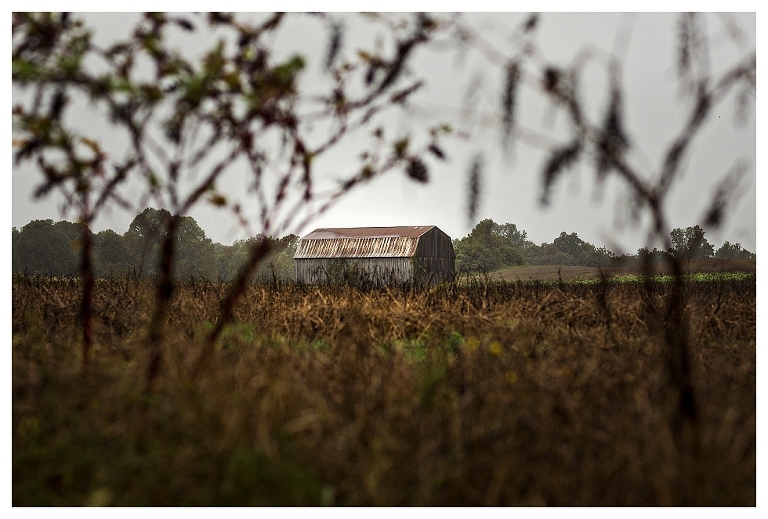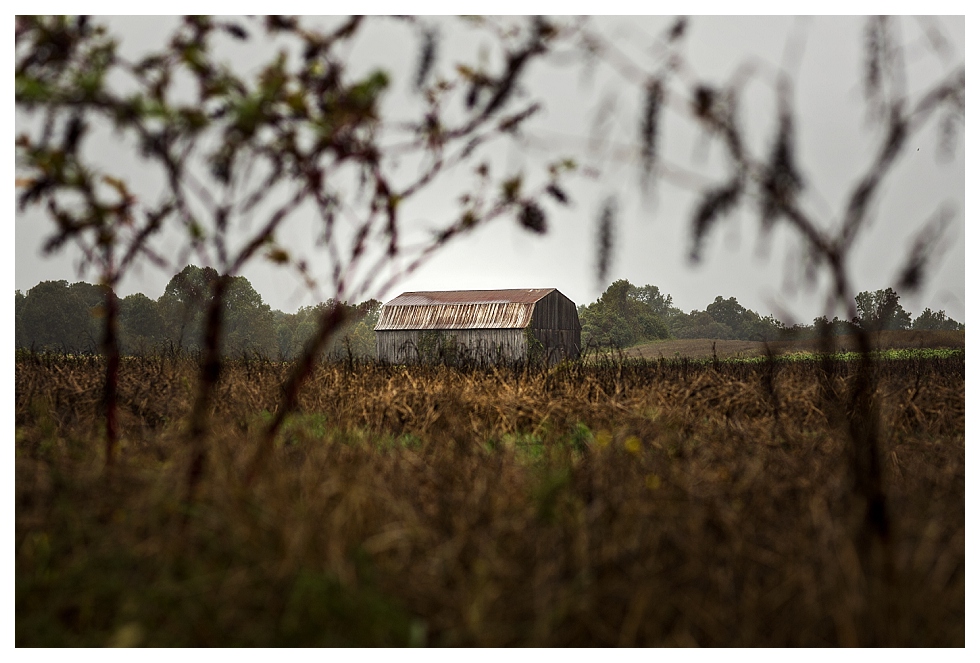 96/365: 10.4.15/12:04pm/Port Republic/Broomes Island Rd/Canon 5D Mark II/70-200mm 2.8L
Fire Engine Barn
After scoping out some spots and hanging with some longhorn cattle, we decided this was a good setup. All the shots are looking very dreary, lately, so this pop of color from the old fire truck appealed to me. Hoping the sun will shine soon! 🚒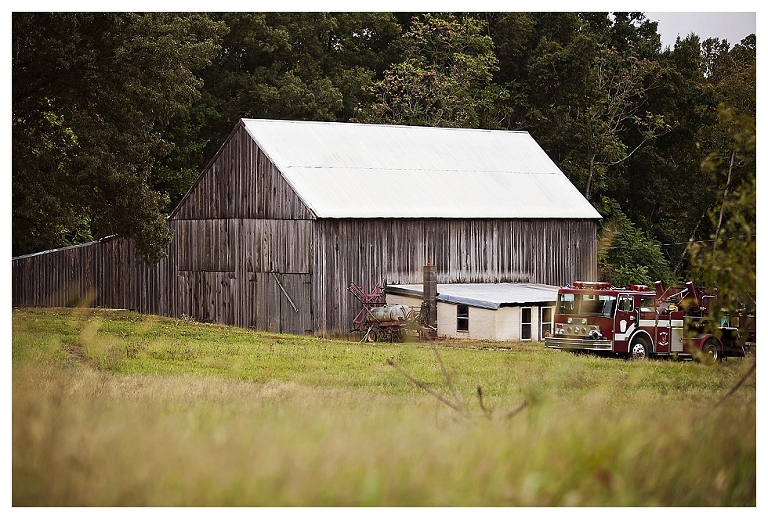 97/365: 10.5.15/4:17pm/Prince Frederick/Hallowing Point Rd/Canon 5D Mark III/95mm 1.2L II
Simpsons Clouds Barn
The sun came out and I saw some blue skies with puffy clouds, behind this pretty white barn. That's all I got for today! 🙂
98/365: 10.6.15/6:20pm/Huntingtown/Hunt Ct at Stinnett Rd/Canon 5D Mark III/24-70mm 2.8L
That Sky Barn
Ahh, I love this time of year and time of day – my stepson agreed to go barn-hunting with me, at just the right time. I knew I wanted to show the sky but we also had to be quick and safe, so I picked this one. He offered me some advice on which angle I should shoot from but I liked this one with the sky behind it. This is just a neighborhood barn, right next to someone's house and about four other barns.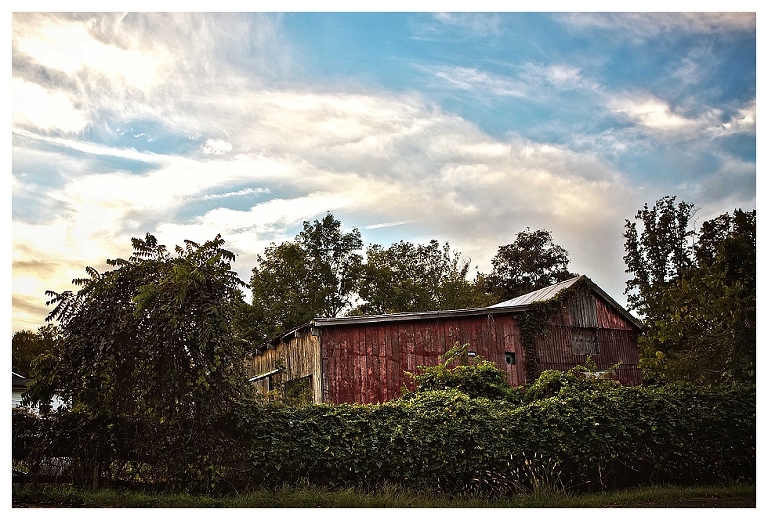 99/365: 10.7.15/5:53pm/Prince Frederick/MF Bowen Rd/Canon 5D Mark II/70-200mm 2.8L
The Sun is Back Barn
So happy to have some color back in my shots! I liked the sun hitting the overgrown grass, in front of this old barn.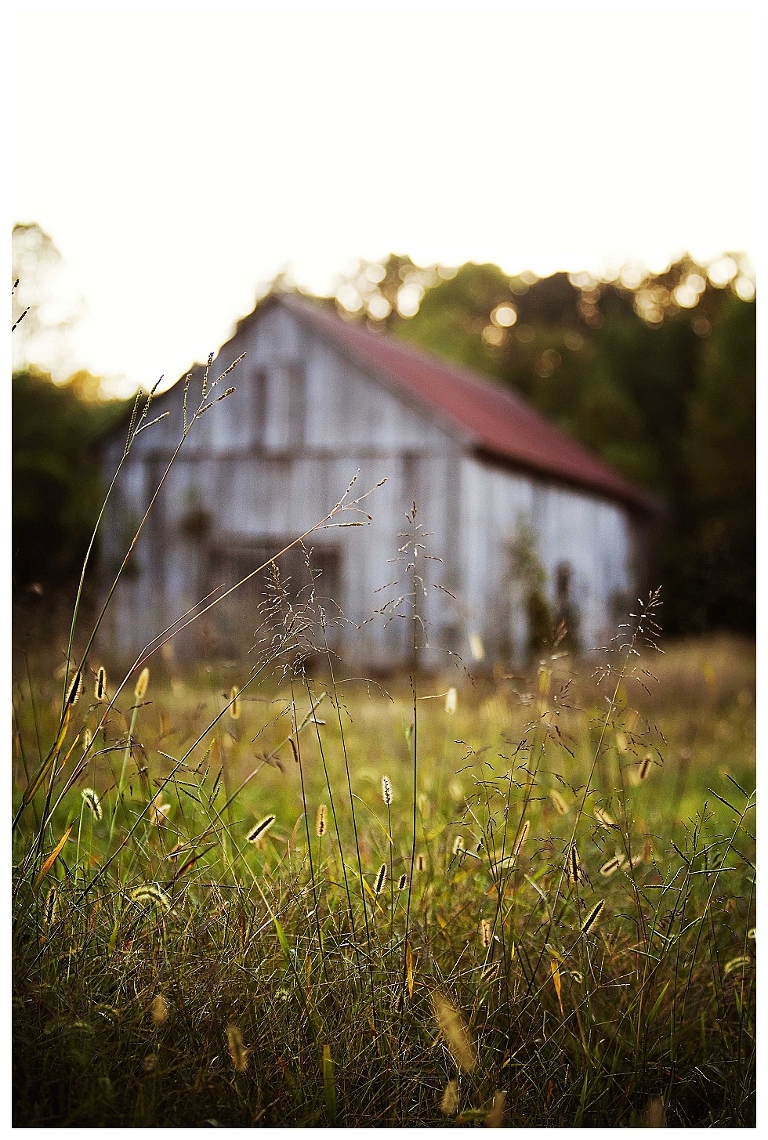 100/365: 10.8.15/3:40pm/Huntingtown/Cox Rd/Canon 5D Mark II/70-200mm 2.8L
100th Barn
It's my 100th barn day, time to celebrate with this beautiful one! And in case you are wondering if there are enough barns to complete my project, the answer is yes! There are apparently over 2,000 barns within the county limits. Calvert County is also the smallest county, in the state. I told you there were barns for days…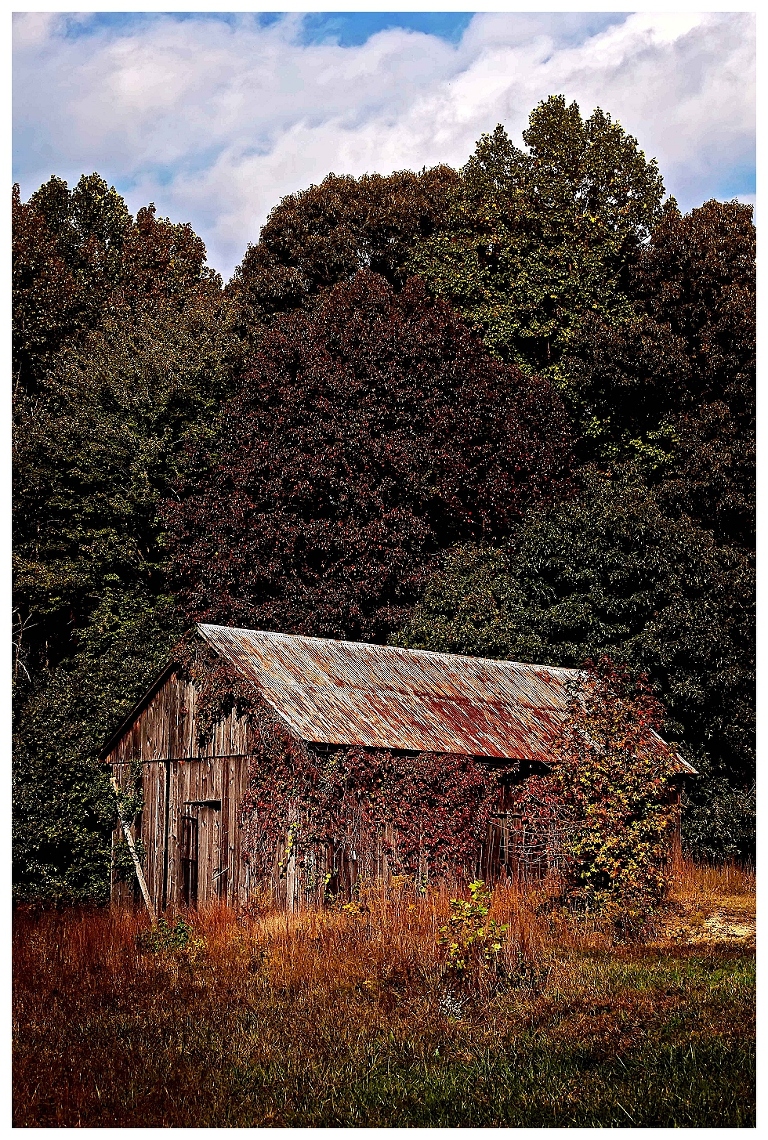 101/365: 10.9.15/4:24pm/Huntingtown/Lowery Rd/Canon 5D Mark II/70-200mm 2.8L
De-stressed Barn
There are actually two barns here but the highlight of today's shot is this really rundown one, it has so much character in one spot. Never underestimate the de-stressing power of staring at an amazing barn, on a country road, even if only for a couple minutes. It works every time!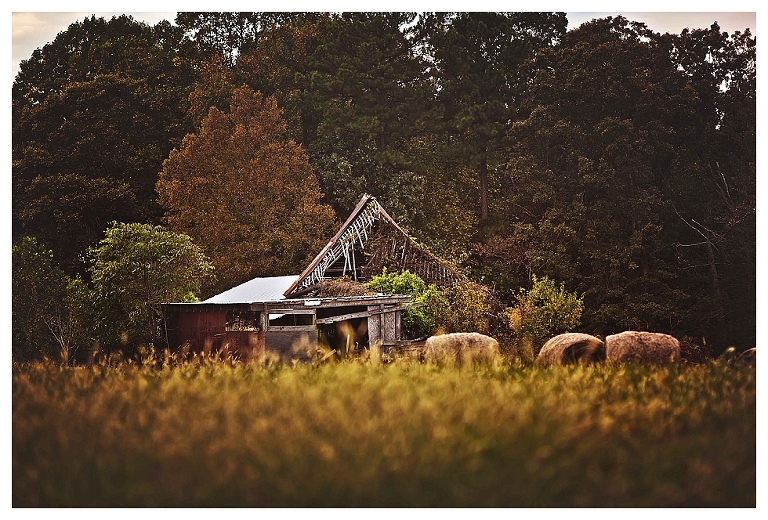 102/365: 10.10.15/11:14am/Huntingtown/Ponds Wood Rd/Canon 5D Mark III/85mm 1.2L II
Quickie Barn
On my way to work barn – quick and easy and right on my commute – barn for the day – check!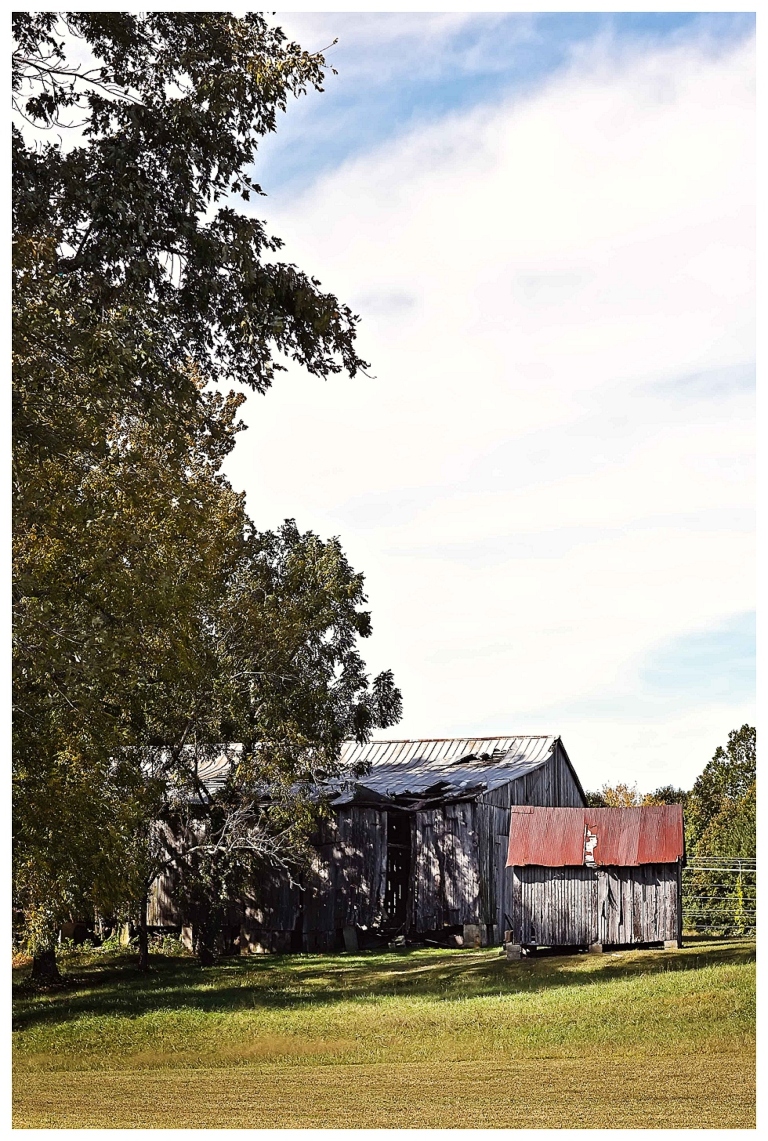 103/365: 10.11.15/11:02am/Sunderland/Southern MD Blvd/iPhone
Not Cheating Barn
My husband asked me if there was anything he could do for me, because I wasn't feeling great. I asked if we could stop to take a quick barn pic on the highway, because we would be gone all day… I'm a bit obsessed with taking these barn photos, every day.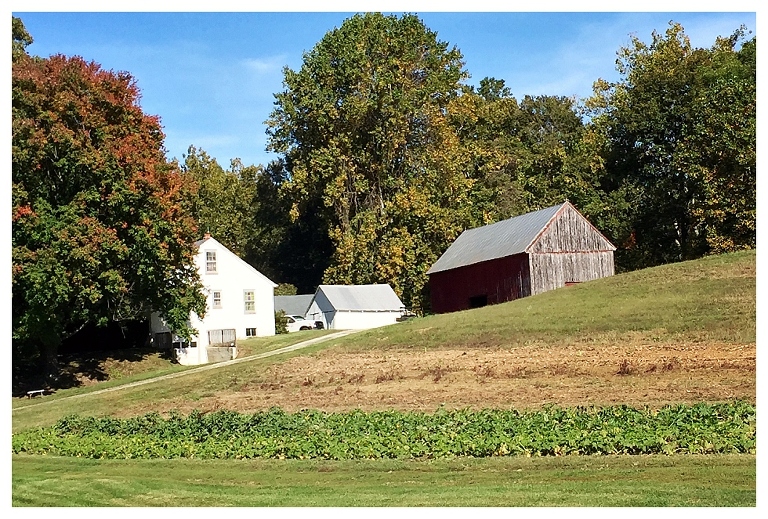 104/365: 10.12.15/8:13am/Huntingtown/Solomons Island Rd/Canon 5D Mark III/70-200mm 2.8L
Good Bye Barn
I'm not surprised that I've already gained so much more than I was ever intending, since I began shooting my barns back on July 1st. I know exactly why I started this project, there are several positive reasons but the more valuable ones seem to have come to me, unexpectedly.
There was an awesome barn, that sat across a field tucked back off the highway. Once I spotted it, I looked at it every time I drove up and down this road and I had a vision for it. I had a plan to shoot it at sunset with the leaves turning perfect shades of fall. I was thinking maybe this week would be the right time. As I was driving home, yesterday, I looked over to check on its status and it was gone. Where it was, stood a pile of wood and a man walking around. I honestly think it may have just happened that afternoon and he was checking out the damage. I'm so sad I waited, it was too late. I have started to feel a connection to these barns, somehow, and it really bummed me out. Lesson learned: don't wait for the perfect moment, do it now, the perfect moment may never come. RIP, Barn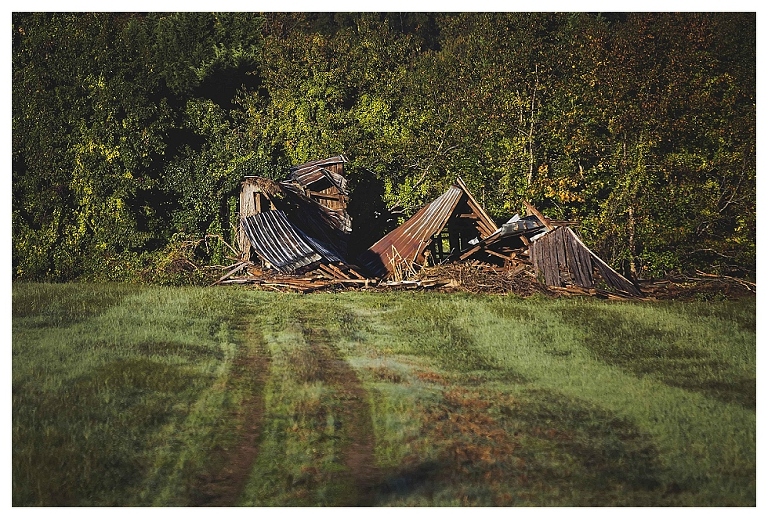 105/365: 10.13.15/7:45am/Huntingtown/Ponds Wood Rd/Canon 5D Mark II/16-35mm 2.8L II
Inspiration Barn
This is one of the barns that inspired this whole project. I pass it multiple times a day and I always admire its beat up character, as it sits on the edge of this busy country road. I knew I wanted to shoot it early in the morning, even though I rarely see it at that time of day. I'm glad I was finally able to give this one a good shot, who knows how long it'll be here!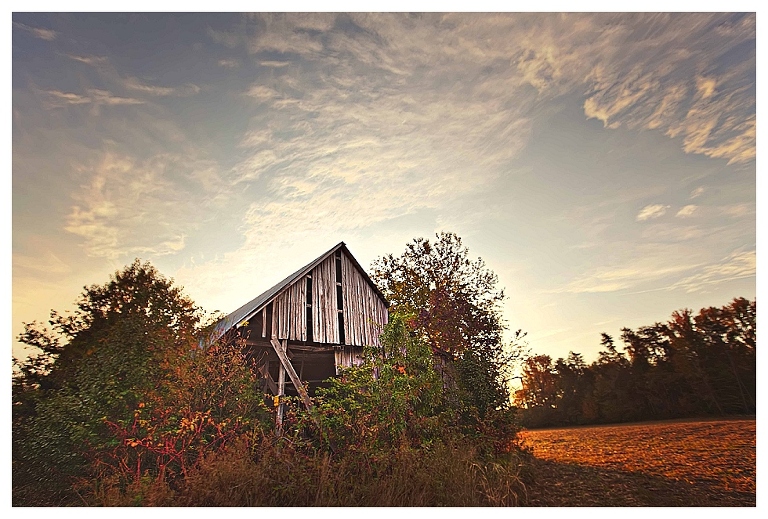 106/365: 10.14.15/8:19am/Huntingtown/Smoky Rd/Canon 5D Mark II/70-200mm 2.8L
Beautiful Light Barn
I took photos of four different barns, all within a very small radius of each other, this morning. The light was so gorgeous and I was just in awe of so many beautiful scenes, I just couldn't decide on which one to use.
I went with this one, for today, because it's in someone's backyard and they will possibly get suspicious if I park in front of their house and do this again 🙂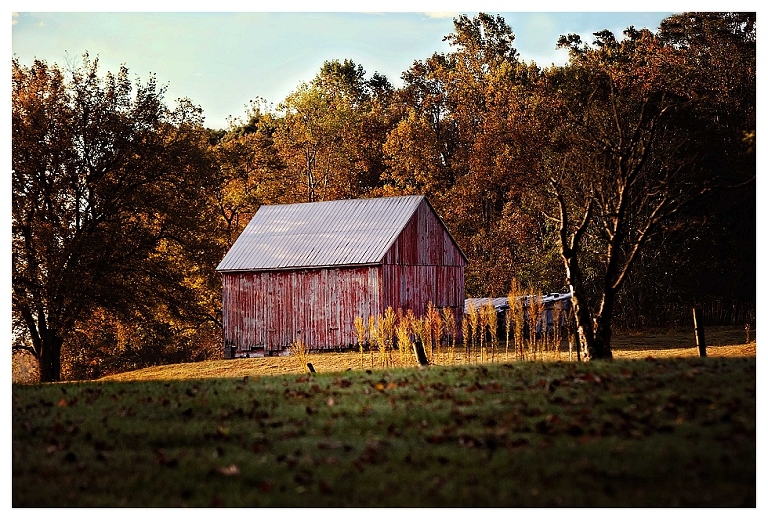 107/365: 10.15.15/11:39am/Dunkirk/Yellow Bank Rd/Canon 5D Mark III/85mm 1.2L II
Red Barn in a Field
I went with a very unique name for today's barn – a quick pic on my way home from a shoot. I'm loving all the shades of fall along with this one. Barn Project FYI – if I shoot a red barn, I can never edit it into a black and white image, it must stay in vibrant color.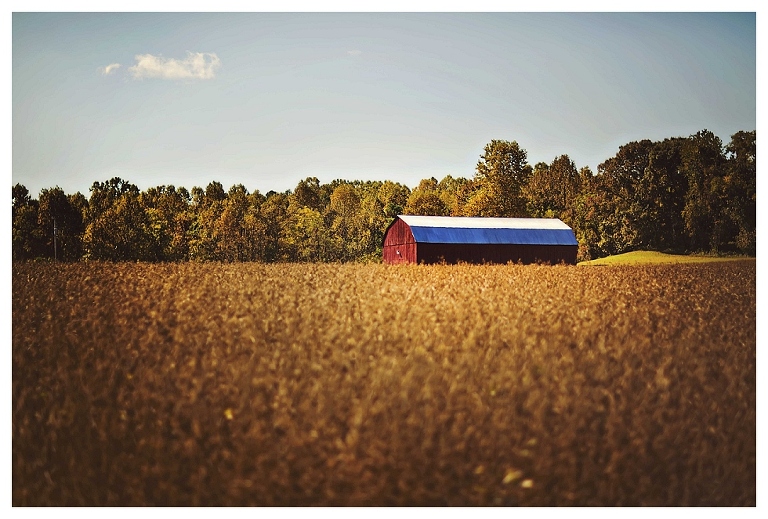 108/365: 10.16.15/5:18pm/Huntingtown/Hunting Creek Rd/Canon 5D Mark II/24-70mm 2.8L
Church Barn
I liked this angle through the trees, shot conveniently from the Huntingtown Methodist church parking lot. They were not shades of fall, yet, but I still liked how the leaves gave this one a nice framing.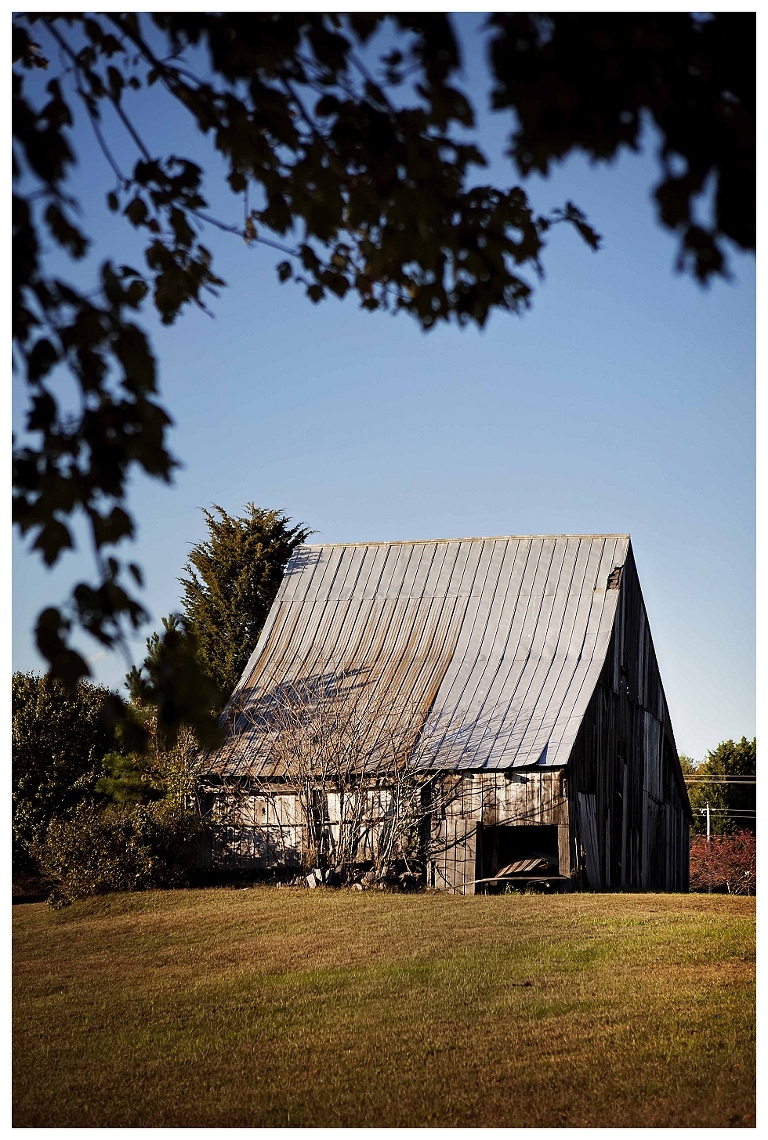 109/365: 10.17.15/12:41pm/Dunkirk/Brickhouse Rd/Canon 5D Mark III/85mm 1.2L II
Pumpkins Barn
I almost skipped out on today's barn because, as is usually the case on Saturday, I was rushing to a wedding.
But I had a few minutes to spare and I'm glad I caught this one, with all the pumpkins out in front. Definitely a good fit for the month of October.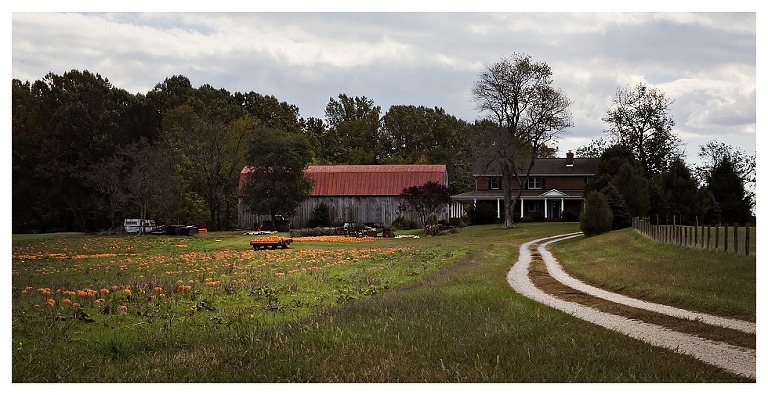 110/365: 10.18.15/2:39pm/Huntingtown/Plum Point Rd/Canon 5D Mark II/70-200mm 2.8L
Fall Leaves Barn
This is one of the closest ones, to my house. I was saving it for a lazy day but I was also holding out on shooting it, because I knew the fall leaves would make it look much more exciting!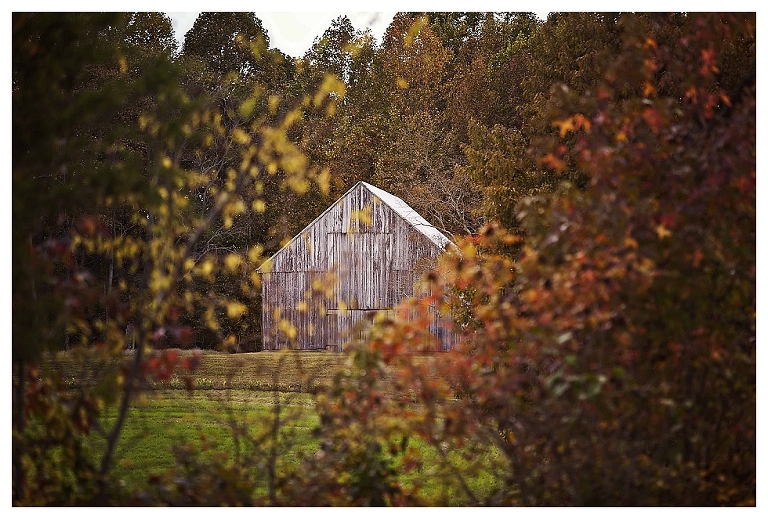 111/365: 10.19.15/4:511pm/Prince Frederick/Buckler Rd/Canon 5D Mark II/24-70mm 2.8L
Trailer Park Barn
Yep, this one sits right in the middle of a trailer park. Nobody seemed to mind us pulling in and doing a mini-session of this one, sitting in the bright sunshine.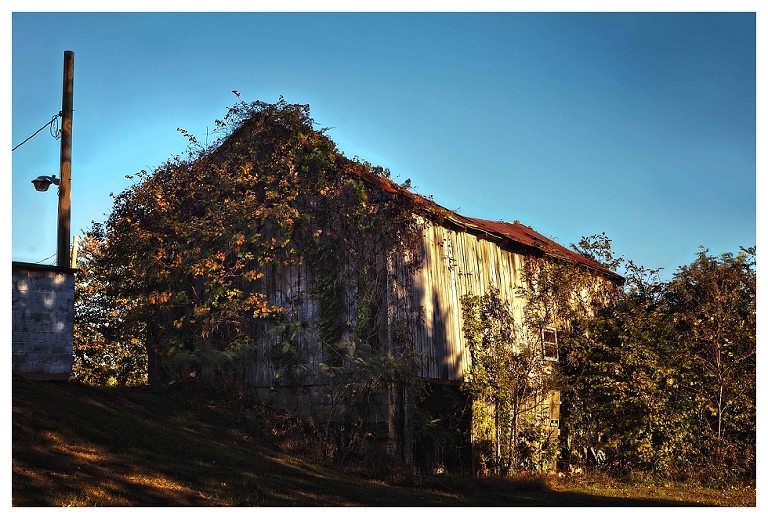 112/365: 10.20.15/8:13am/Chesapeake Beach/Christianna Parran Rd/iPhone
Fall Corn Barn
I first saw this one in the summer but it was so covered in green and by the corn, you could only see the roof! I was out barn-hunting this morning and not coming up with any good ones, until I passed this one. I'm liking it a lot better, now!
113/365: 10.21.15/8:18am/Huntingtown/Smoky Rd/5D Mark II/70-20mm 2.8L
So Many Barns (and Cows)
I've had a hard time picking barns, lately, because the fall leaves and light have been so amazing. I've been going out in the early hours and it brings new lighting and a different look to the barns. This morning there was a lot of fog and dew burning up, as I drove past some but I couldn't quite catch it in the right place. This road has several of my favorites, I shot another red one this morning, which had some of the effect I was going for but I decided to use this scene because I liked the cows and I think they are only out in the morning hours. 🙂 moo
114/365: 10.22.15/3:16pm/Prince Frederick/Clay Hammond Rd/Canon 5D Mark II/70-200mm 2.8L
House Barn
So, we had to look hard at this one to figure out whether it was a barn or a house, due to the two windows and a slightly different look but I'm pretty sure this is a barn. I have been down this road once before but this is the first time I saw it, I love when I find new ones! It's like my own personal scavenger hunt and now that the leaves are falling, I'm seeing even more.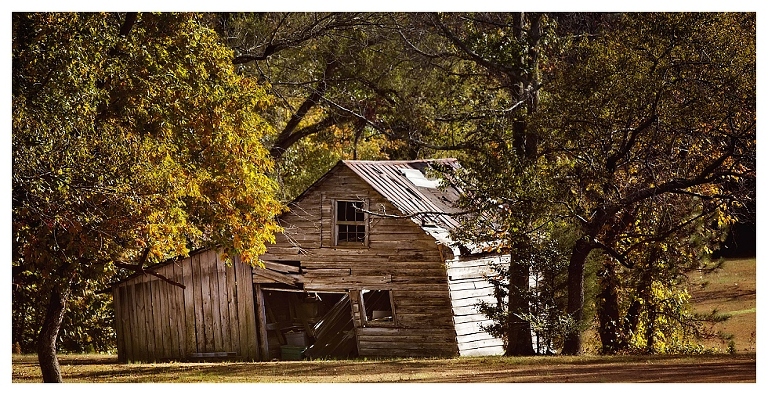 115/365: 10.23.15/7:45am/Sunderland/Southern Maryland Blvd/Canon 5D Mark II/24-70mm 2.8L
Sunrise Red Barn
I've always admired this one, sitting in an open field with direct frontage on the busy highway. One of my goals, with this project, is to photograph as many barns along Rt. 4 as possible, since I feel like those are the most threatened by development. Even if they are not torn down, if the land is developed, the landscape will be forever changed. So, yes, that was me on the side of the Rt 4 highway, during rush hour. It was kinda exciting being that crazy barn lady on the side of the road. The danger was worth it, this is how I always wanted to shoot this one ~ at sunrise.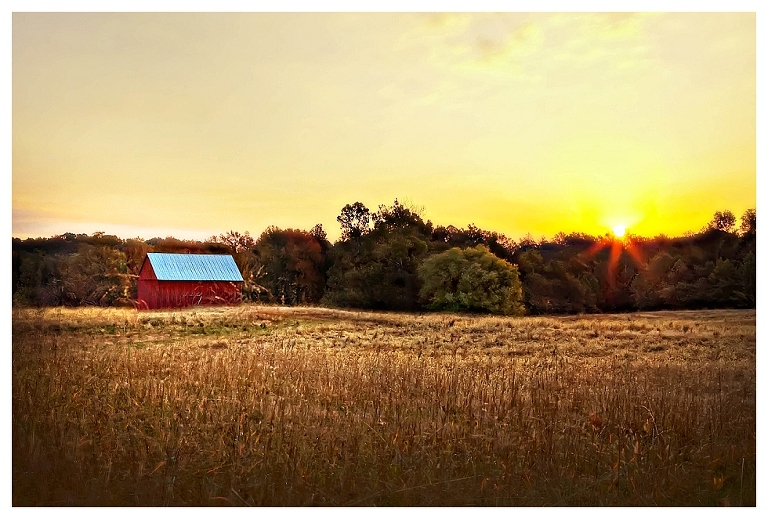 116/365: 10.24.15/11:53am/Huntingtown/Ponds Wood Rd/Canon 5D Mark III/85mm 1.2L II
Fall Barn
This one looks really cool in the sunlight, however, it is even cooler that it is right on my commute with easy to access, which is always key on wedding Saturdays.  Two kids were playing in the yard right next to it and started to tell me it's history. They said it used to be an apple farm, which I have no idea if that could possibly be true but it was cute, none the less.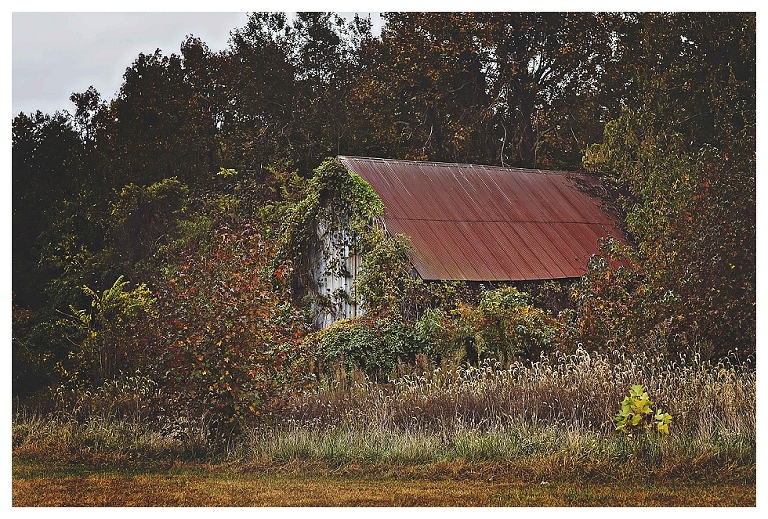 117/365: 10.25.15/6:10pm/Prince Frederick/Barstow Rd/Canon 5D Mark III/70-200mm 2.8L
Pink Sunset Barn
I initially wasn't seeking out a sunset photo, I just had to get a shot in, before it got dark. But then I saw that the sky was looking cool and headed to an area that has some awesome open views. I'm glad I did, this barn and sunset aren't too shabby!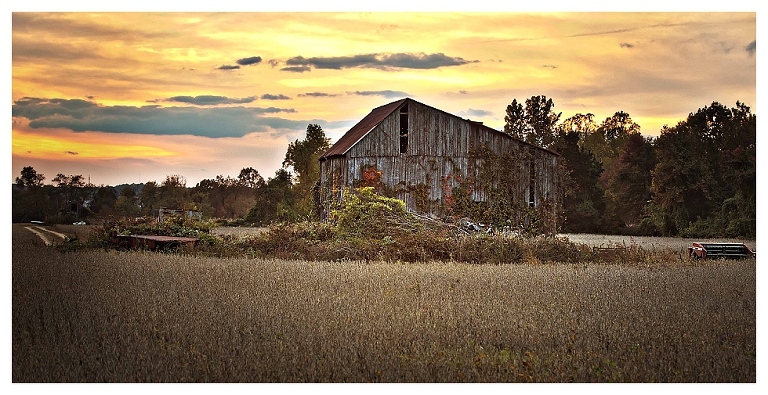 118/365: 10.26.15/5:43pm/Dunkirk/ChaneyRd/Canon 5D Mark II/70-200mm 2.8L
Sun Dog Barn
Another gorgeous view and barn, this shot is just missing the sun dog, which was up in the right corner. I tried really hard to get it to show up, it's just a little lost in the mix of colors. Definitely a lot to take in here and it's still very beautiful!
119/365: 10.27.15/5:25pm/Huntingtown/Angelica Dr/Canon 5D Mark II/70-200mm 2.8L
Chesapeake Bay Red Barn
Thankful for Google Maps, which showed me a few new barns that I would never have been aware of, otherwise. This lane ends at the Chesapeake Bay, not a bad spot to call home, at all…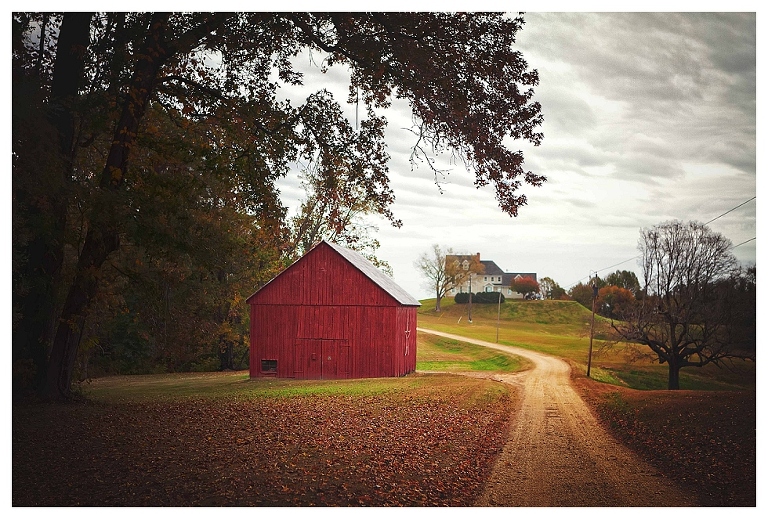 120/365: 10.28.15/5:15pm/Huntingtown/Allday Rd/Canon 5D Mark II/70-200mm 2.8L
Gloomy Day Barn
Not much to say for today, it was gloomy and I was in a hurry. Unless I trespassed, this was the best shot of this setup that I could get! I'll take it. 🙂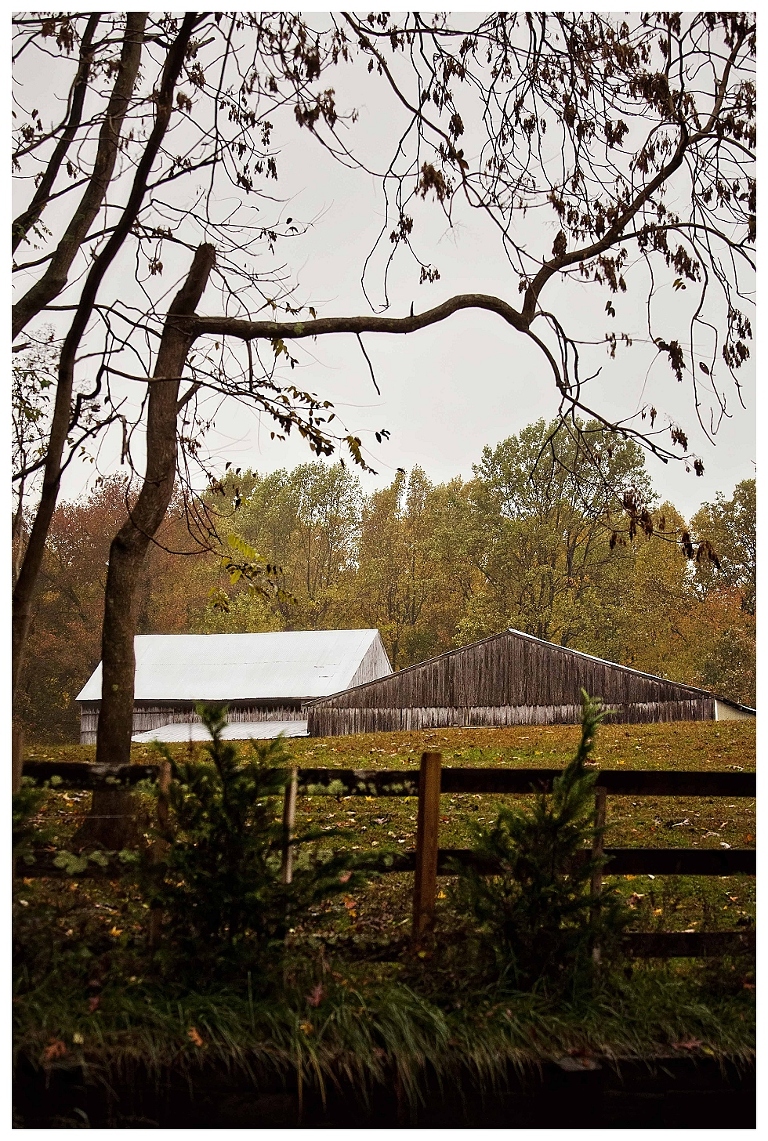 121/365: 10.29.15/4:12pm/Huntingtown/Cox Rd/Canon 5D Mark II/70-200mm 2.8L
Rustic Red Barn
I knew this was a good one, I knew exactly where to park and get out, on this busy country road. I had both dogs with me and plenty of cars passing, when I quickly jumped out for a quick snap across this field. Then I realized the car was still in Drive and was drifting away from me, towards a tree with the dogs inside…. luckily I caught it right away and jumped back in, and today's barn hunting ended on a positive note. It's never a dull moment on these barn adventures!
122/365: 10.30.15/8:53am/Port Republic/American Chestnut Land Trustt/iPhone
Red Leaves Barn
I've taken photos of this one at #ACLT before, it's along some of the trails that I run. This morning, I shot it from all sides until I saw these red leaves and knew I wanted them in this shot with the sunlight hitting them! I love when I can get up close to barns, I'm so used to shooting them from far away, it makes for a very different perspective.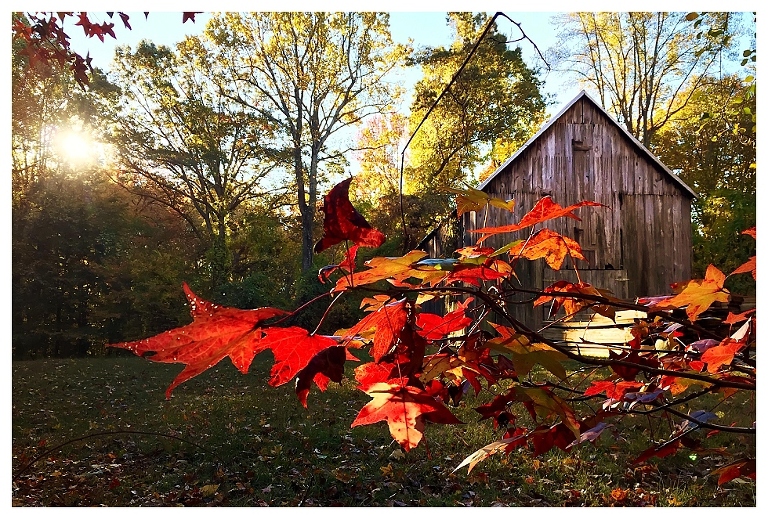 123/365: 10.31.15/6:18pm/Prince Frederick/MI Bowen Rd/Canon 5D Mark III/70-200mm 2.8L
End of October Barn
Four months of my project have been completed, I can't believe it! Today's barn is dedicated to the two cyclists that were struck and killed on the road right in front of my house, this afternoon.
Don't drink and drive. Don't drive distracted. <3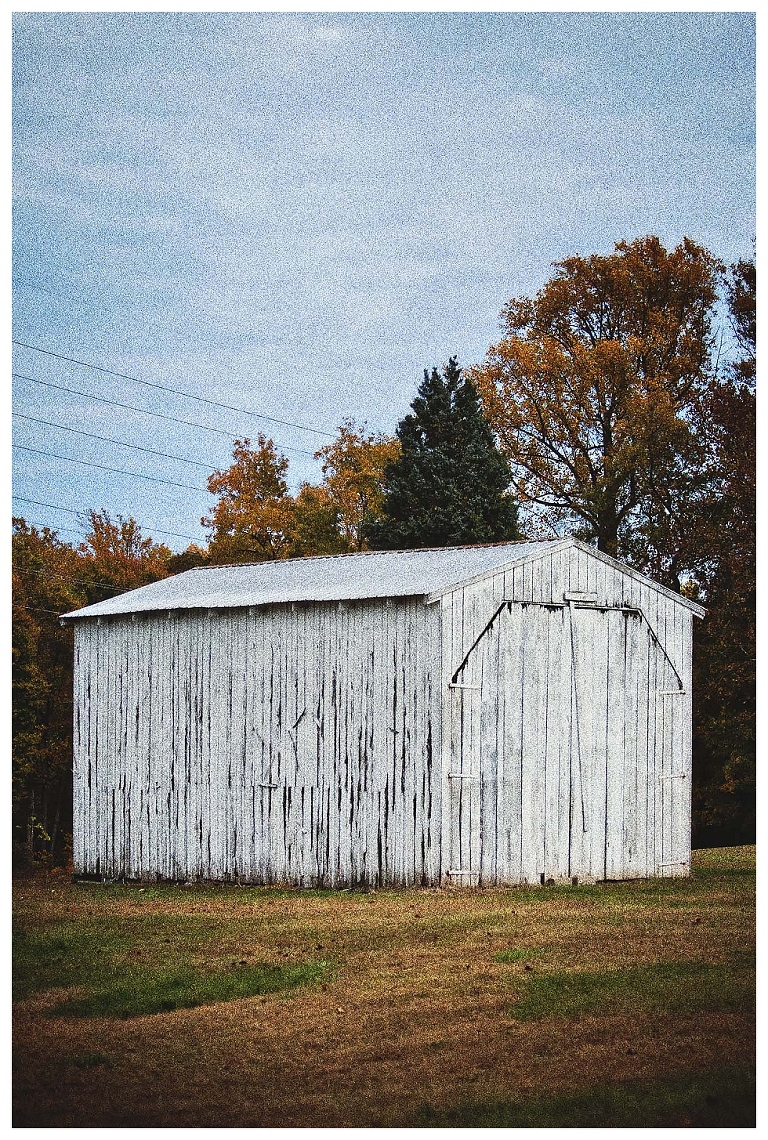 Southern Maryland Photographer, Barns of Calvert County, Calvert County Photographer, Annapolis Photographer, Southern MD Wedding, Maryland Photographer, Southern Maryland Barns, Chesapeake Beach Photographers, Best Maryland Photographers, Calvert County Photos, Calvert County Barns, Calvert County, MD