This is my third month of my year-long personal project! Now that I'm over 60 barns into this, I can honestly say it's done so many wonderful things for me! I may be a bit obsessed with taking these, and doing them the right way (once a day can be a challenge but it's a good challenge!). I love seeing how every day, even though it's only 24 hours since the last photo, looks different. And I love that I'm starting to see the subtle shift over to fall, with the grass and crops turning yellow and brown. It's a slow transition into my favorite season and one that I'm sure will be exciting to shoot. I am excited to have reached out to some people who would like their favorite or personal barns, photographed.
When I lived on the Eastern Shore, there was one red barn at Wye Island that I loved. I used to try to come up with different ways to shoot it – different angles, seasons and editing styles. I can look back and say that barn was the beginning phases of this project, years ago. I thought about doing a photo a day project of that red one but it was just not as accessible on a daily basis, like these Calvert barns are. I'm happy I've found a new beauty, in this place. I always knew it was beautiful but my outlook on it was not so much. I was very resistant to change. I can't wait to see what this month brings! – Dunks 9/4/15
____________________________________________________________________________________________________________________________________________________________________
Original Post:
I started thinking about this recently, when I asked myself the question: what do I love about this area that I now call home?  In other words, I was trying to find new ways to be positive and look for the good in my new location. I have been living here for almost two years but sometimes I still miss "home". Even though I chose to move here for the right reasons, and I'm not that far away from where I came, I still struggle with these thoughts off and on. So, instead of dwelling in the past, I decided to appreciate the present. To find the good and appreciate what I have, here and now and to build a connection to this new place.
One of the coolest, and most unique things about Calvert County (and Southern Maryland) are all the barns that stem from it's rural history. I love the country roads and all the farms or pieces of what are left over, from old farms. I had a lot of that on the Eastern Shore, as well, but there were never this many barns and they're different. Since a lot of the ones found here are tobacco barns, there are just SO many more, because they needed them to dry the tobacco. I'm also tying this project in with my background in geography and environmental/land use planning interests. I see the urban sprawl and trees and fields being chopped down, daily, so this landscape is changing rapidly. By taking these photos, I want to be a part of documenting how looks now, I have a feeling it will change quite a bit in my lifetime.
So, with all these things in mind, on July 1st, 2015, I decided to start this year-long endeavor! Here are my rules/goals:
photograph a different barn each day from July 1, 2015 – June 30, 2016.
if I am out of town or something prevents me from shooting, I will shoot multiple barns for each day that I am gone, as close to the dates missed as possible.
any type of camera goes – iPhone, point and shoot, DSLR etc
barns must be located within Calvert County, MD limits
____________________________________________________________________________________________________________________________________________________________________
63/365: 9.1.15/4:10 pm/Huntingtown/Old Plum Point Rd/Canon 5D/70-200mm 2.8L
Re-purposed Barn
This one looks like a barn and I believe it WAS a barn, at some point… maybe it still is but it looks like may have been re-purposed for other uses.
It could be used as an office or for storage, or maybe someone even calls it home. Either way, it's a barn to me! 🙂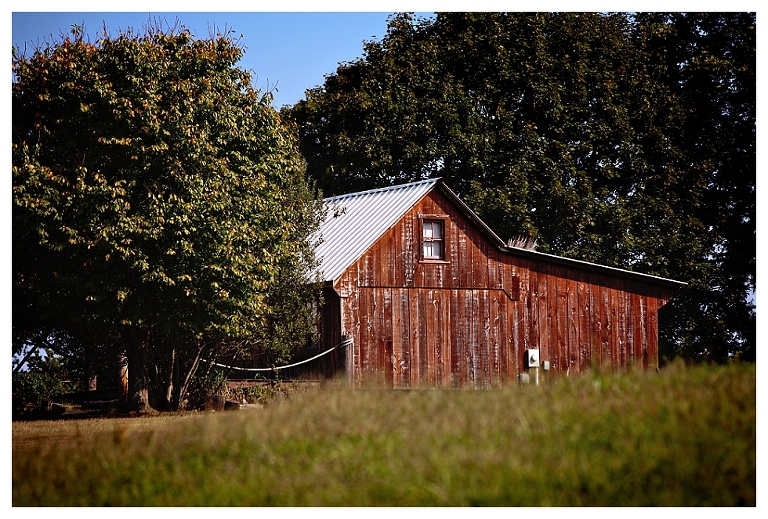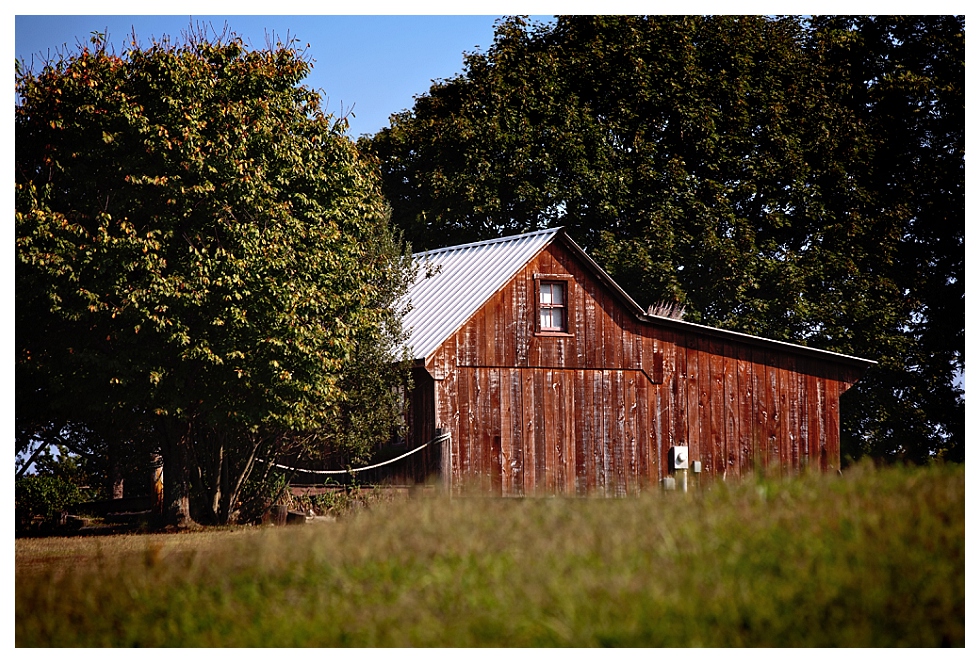 64/365: 9.2.15/6:46 pm/Owings/Chaneyville Rd/Canon 5D Mark III/70-200mm 2.8L
Misty Tobacco Barn
Wow, this one may quickly be added to the favorite barns list! After a quick thunderstorm about an hour earlier, we were back on the road towards home. I knew the final destination was this road, but I had another one right next to it in mind. This one is awesome, so cool that I was going to save it for a better day. A day when maybe there was a sunset or something else behind it but then my husband insisted we shoot this one because of the steam rising off the ground in the background and the tobacco hanging from the beams. I'm glad I did and I will give him partial photo credit, on this one! 🙂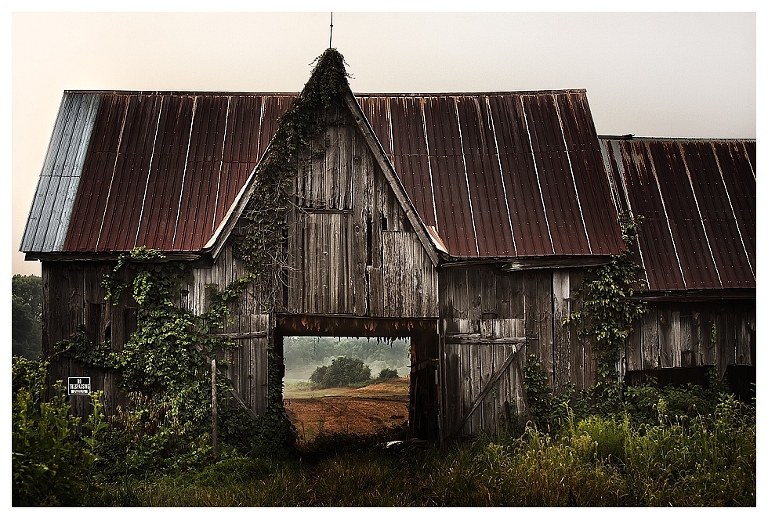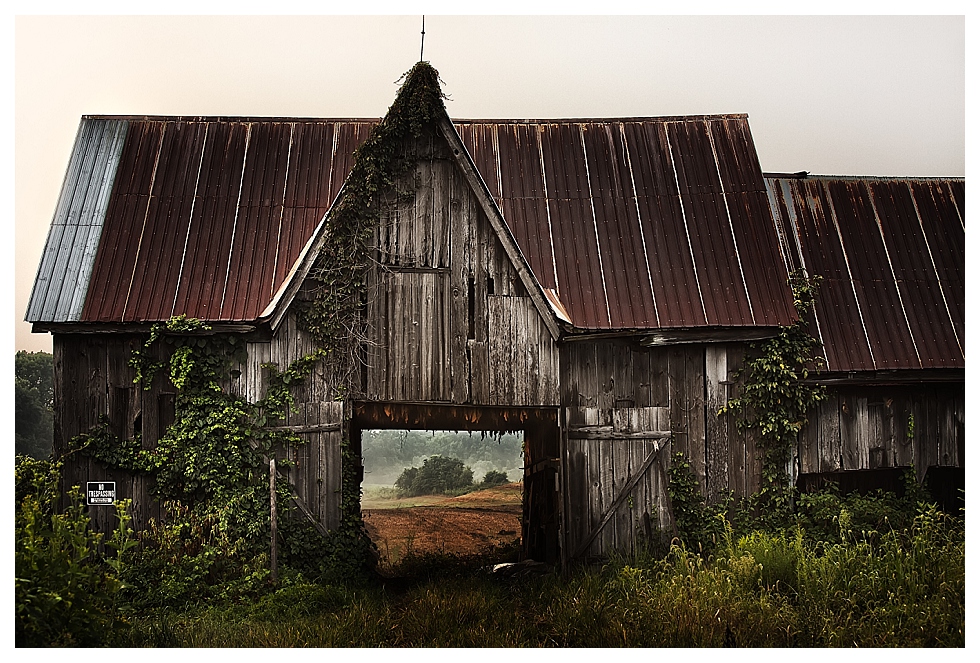 65/365: 9.3.15/8:57am/Huntingtown/Mill Branch Rd/iPhone
Good Morning Barn
I mostly shoot in the later hours of the day but I was already out and about, this morning and thought I would grab one before I went on a run. If you look hard enough, you can see the moon above, as well as a random rope hanging down the front. Every barn has it's own story and that's one of my favorite parts about shooting them.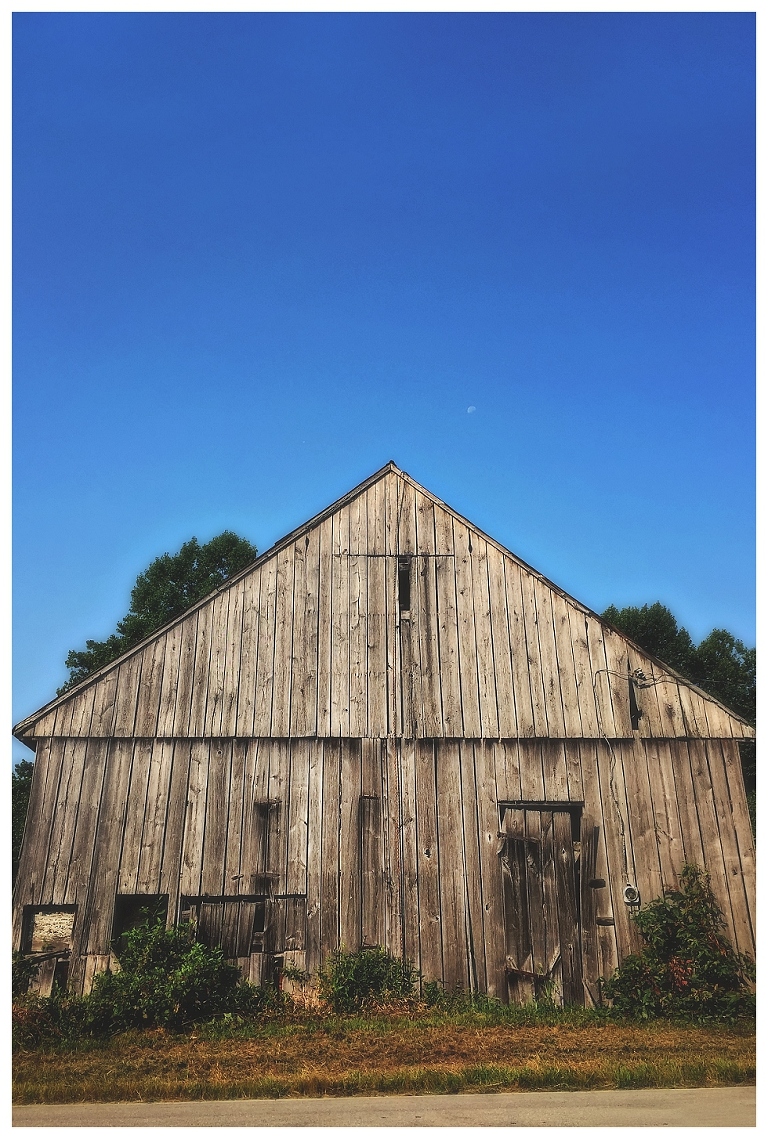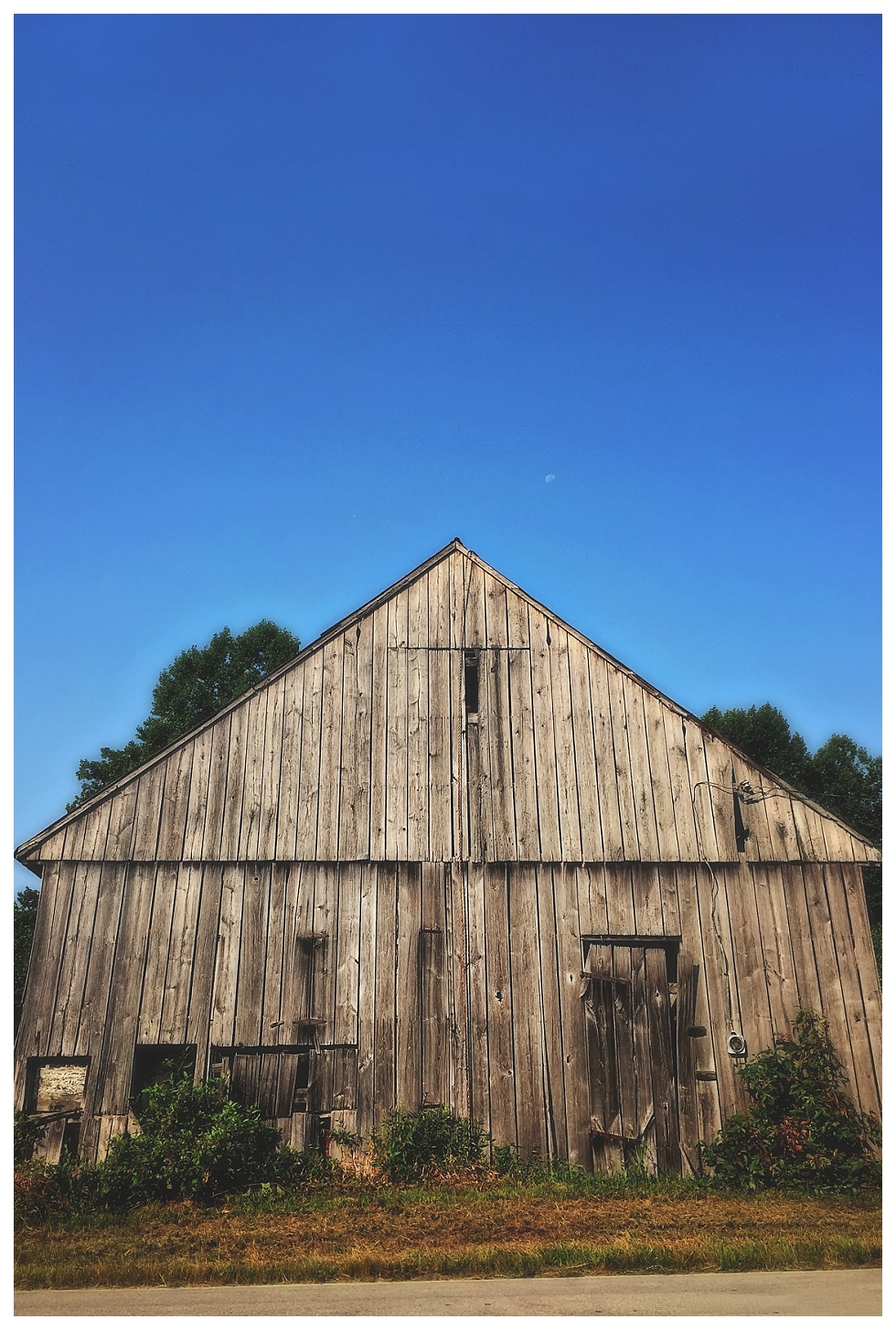 66/365: 9.4.15/6:40pm/Owings/Chaneyville Rd/Canon 5D Mark III/70-200 2.8L
Tobacco and a Barn
It's definitely not a crop you see in Maryland very much, anymore. And it's definitely not the corn and soybeans that I'm used to seeing on the Eastern Shore. So, I can honestly say that when we spotted tobacco growing alongside this barn, I got super excited. This scene is a glimpse into what it used to look like, years ago, and I think that's pretty cool.
67/365: 9.5.15/10:14am/Huntingtown/Harvest Ln@ Ponds Wood Rd/Canon 5D Mark III/85mm 1.2L II
Barn & Storage
This was quick shot on my way to work and no matter which angle I tried, it was hard to get the full barn in without showing these storage sheds. But it's unique, in it's own simple way.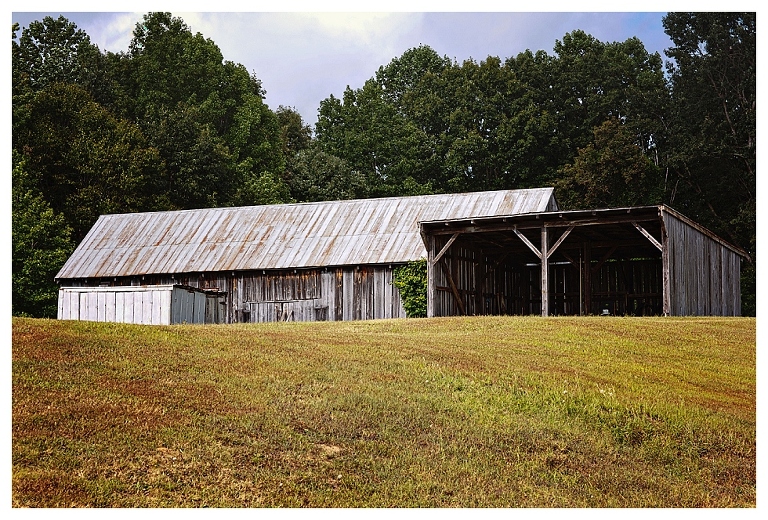 68/365: 9.6.15/2:10pm/Prince Frederick/Stoakley Rd/Canon 5D/70-200mm 2.8L
Two Old Red Barns
This pair is part of Stoakely Farms, which has a bunch of red barns – some new, some old. I'm sure both of these have a story, and on their own, they're beautiful but I liked this shot of them together across the yellowing soybean field.  I love barns!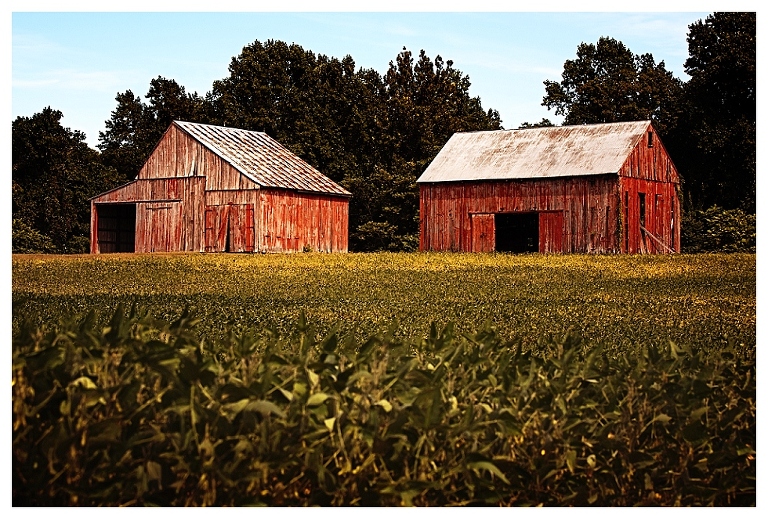 69/365: 9.7.15/1:35pm/Huntingtown/Solomons Island Rd/iPhone
Gas Station Barn
This is one of two barns right behind a gas station/Chinese Food store along Rt. 4S, that has obviously been neglected. This one is so overgrown, you can barely see any wood underneath.

70/365: 9.8.15/7:00pm/Dunkirk/Ferry Landing Rd/Canon 5D/70-200mm 2.8L
Soybeans Barns
Here is another combo of barns and soybeans, which is a pretty common sight. Soybeans and corn are definitely the most common crops I see on these fields. Instead of highlighting the barns, in this shot, I decided to mix it up a little and focus on the soybeans. Pretty soon, they'll be brown and gone for the season, so we should try to enjoy them while they last. 🙂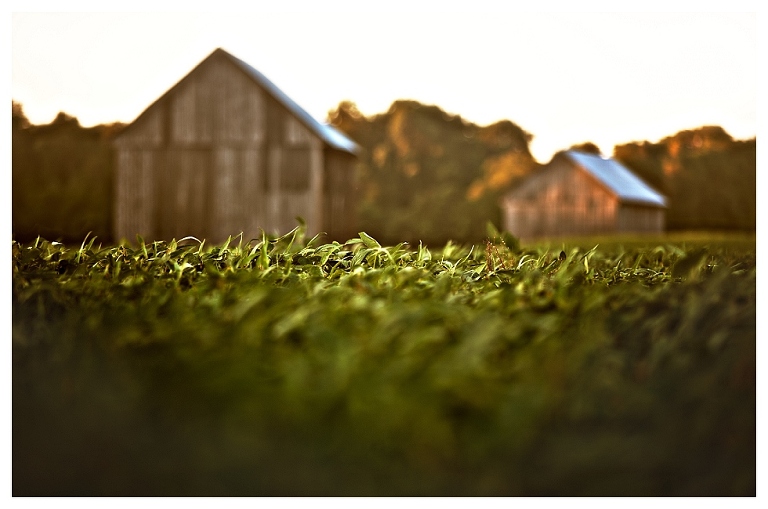 71/365: 9.9.15/8:51am/Lusby/Sollers Wharf Rd/Canon 5D/70-200mm 2.8L
Morning View Barn
Most of my day-to-day life is spent in the northern half of the county, so, when I knew I had to head south this morning, I knew I also had to include a barn photo on my trip. Google Maps satellite imagery is an amazing thing, which led me to this road that has plenty of barns to choose from. I had to drive by twice but both times, this one down the hill was the best set up I saw. Words and photos really can't do this view overlooking the Patuxent River in the morning light justice but I can at least try. 🙂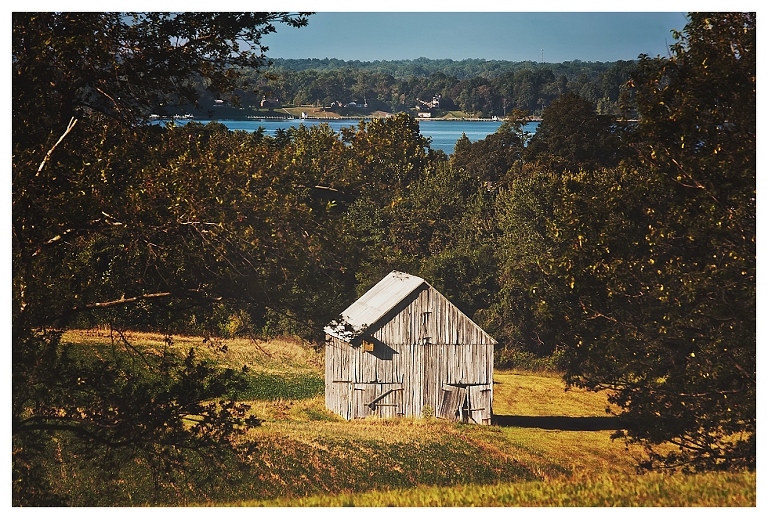 72/365: 9.10.15/1:44pm/Dunkirk/Ferry Landing Rd/Canon 5D Mark III/85mm 1.2L II
In Between Storms Barns
The stormy skies were so cool off and on, while I was driving back home. I knew I wanted to get a wide shot with an open view, and these two red barns were sitting in just the right spot. This view is exactly what I pictured for today's weather. mission accomplished! 🙂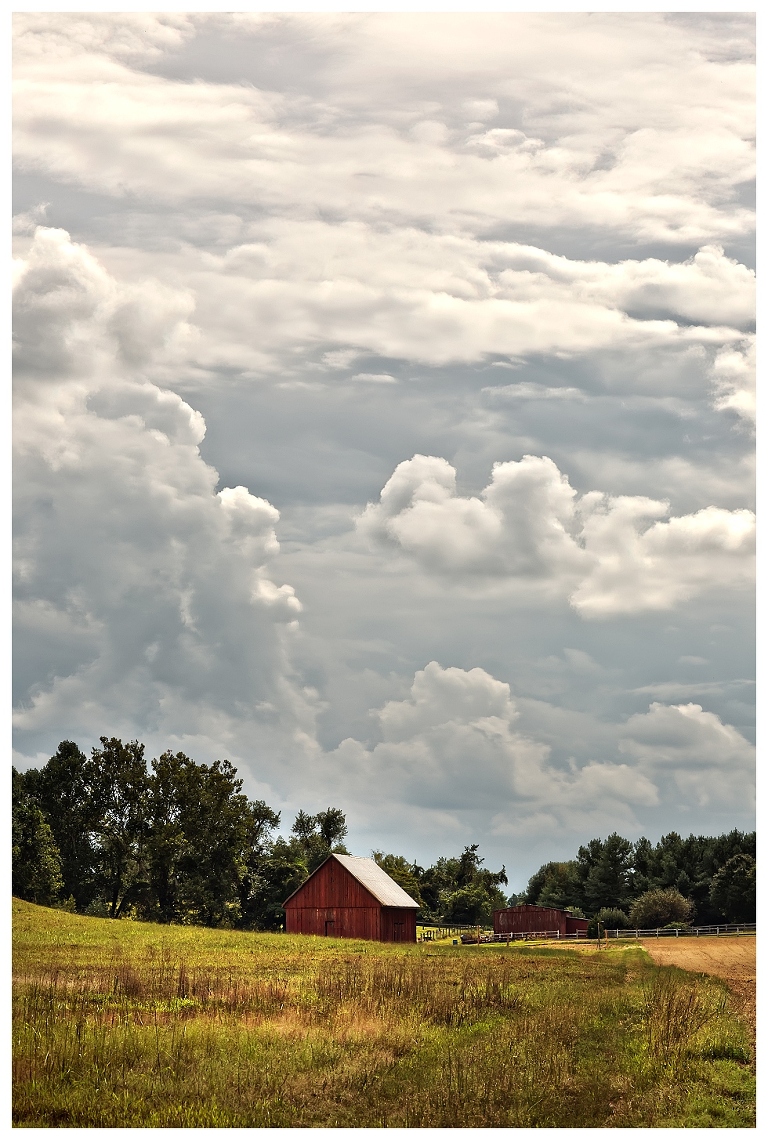 73/365: 9.11.15/7:50am/Owings/Boyds Turn Rd/iPhone
Countryside Kennels Barn
This one was easy – it was conveniently located right next to the dog kennel, which is where I found myself early this morning with Banjo, on a very busy day. Bonus – he had fun at doggie daycare 🙂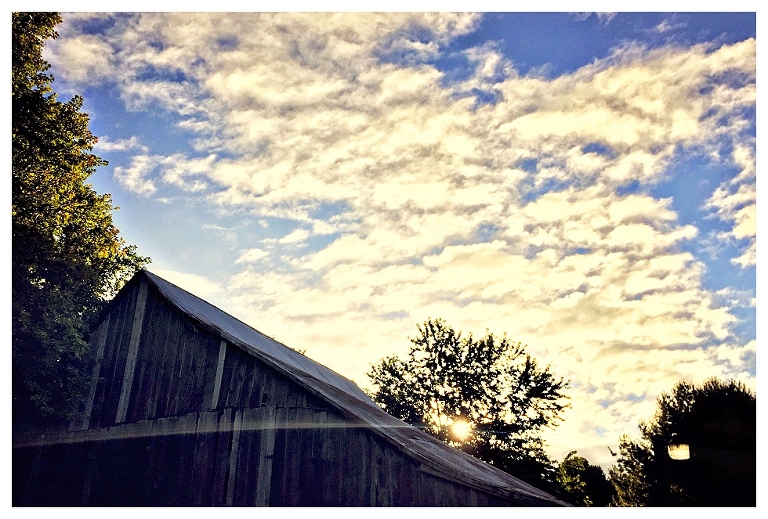 4/365: 9.12.15/5:29pm/Huntingtown/Hunting Creek Rd/Canon 5D Mark III/70-200mm 2.8L
Beefy Barns
I actually sorta got lost in Huntingtown this evening but in some ways, I never think of getting lost as a bad thing because it always leads me to something new. I had already stopped and taken photos of two other barns but when I saw these guys out in front of these red ones, I knew that I had to take a third set. I like the cow who briefly stopped eating his dinner, to look right into my camera.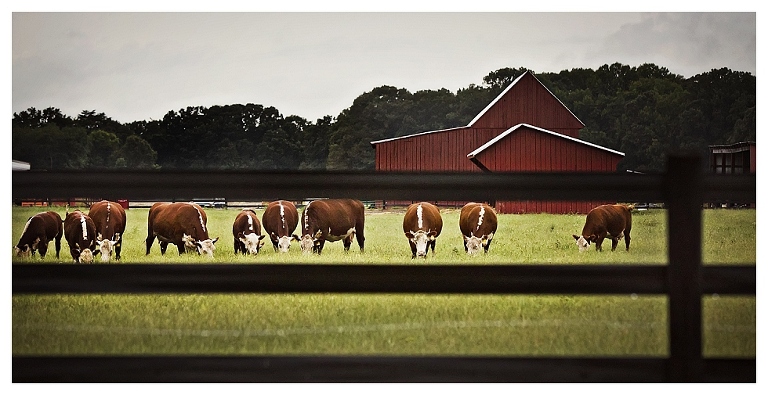 75/365: 9.13.15/6:29pm/Prince Frederick/Solomon's Island Rd/Canon 5D Mark III/70-200mm 2.8L
Sunset-y Barn
I've admired this one for awhile and I've just been waiting for a good day to shoot it. Tonight, I had so many barns to choose from but when I drove by, this one looked so nice sitting in the sun. There was also a deer eating right in front of it but it was a bit too far out of the shot to include her. It was such a pretty day!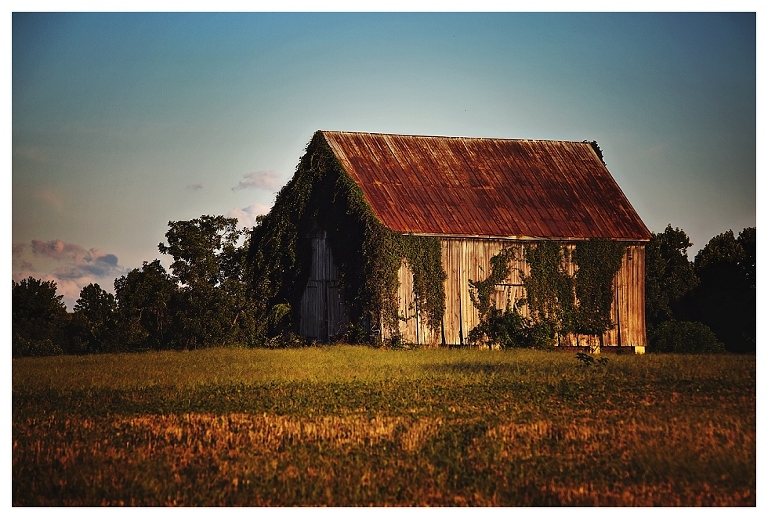 76/365: 9.14.15/6:29pm/Huntingtown/Barakat Ct @ Emmanuel Church Rd/Canon 5D Mark III/70-200mm 2.8L
Red Barn in the Sunshine
Another new find, just in time for a bit of sun glow through the trees. I'm so used to seeing the shape of tobacco barns but this one is slightly different. I think it may have been a dairy barn but I'm not sure.
Does anyone know what type of barn it is?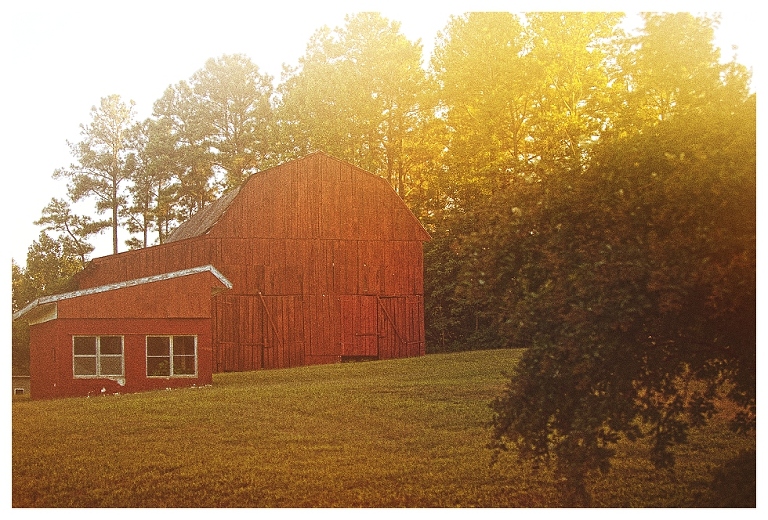 77/365: 9.15.15/4:47pm/Port Republic/Governor Run Rd/Canon 5D Mark II/85mm 1.2L II
Red Barn behind the Post Office
I already knew of this barn, which is right along the route to my evening portrait session in Port Republic.
It sits right behind the post office, so it was closeup and easy access, for a change. I liked it from the other sides, also, but this view shows the barn doors and that bright blue sky, on another gorgeous day!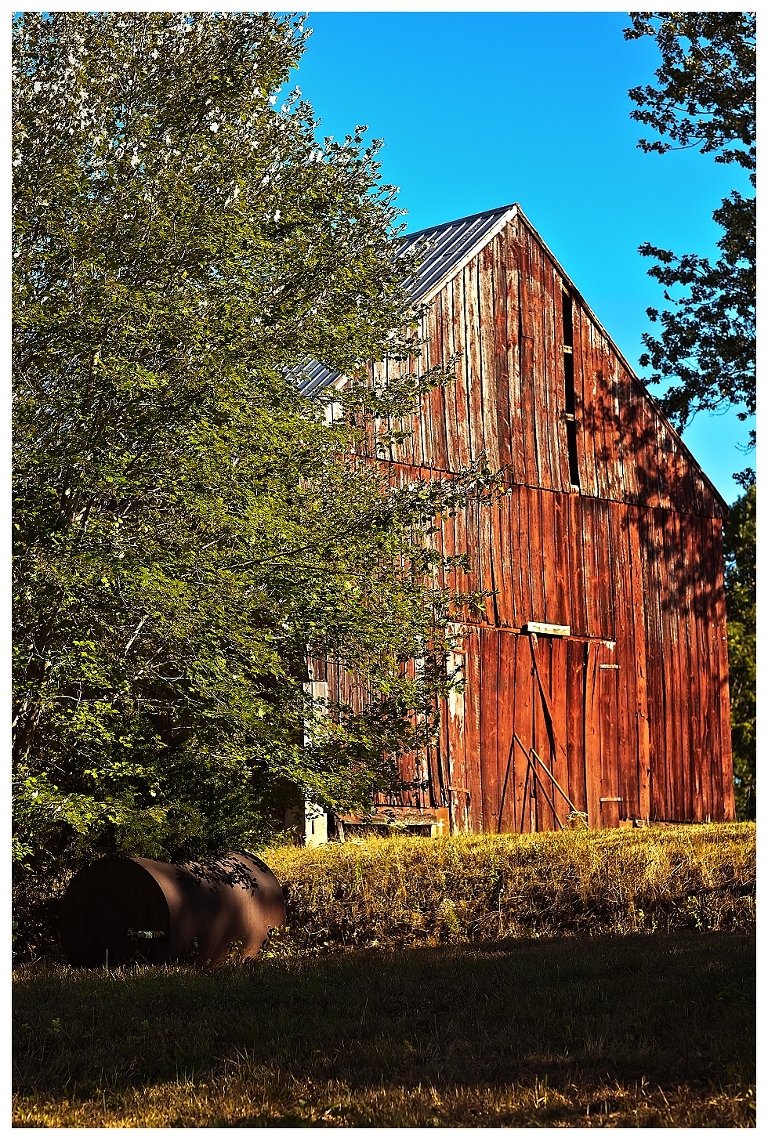 78/365: 9.16.15/5:29pm/Sunderland/C Jones Rd/Canon 5D/70-200 2.8L
Horses and a Red Barn
I'm so glad I followed a tip to check out this road, there are some beautiful barns here! I had to shoot this scene with the horses out for their evening snack! Such a pretty night, once again. 🙂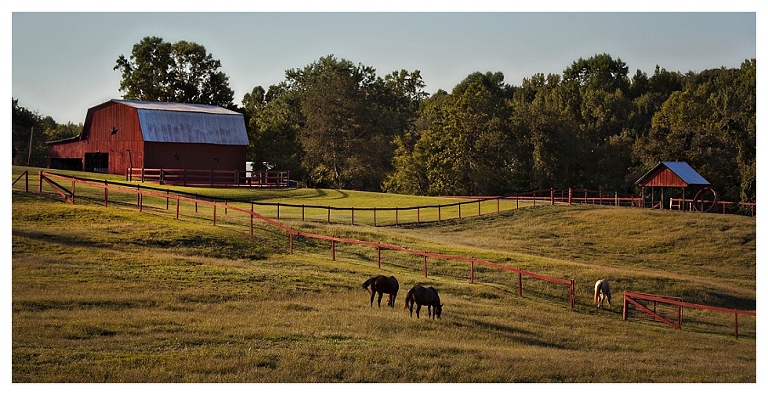 79/365: 9.17.15/4:31pm/Owings/Rt 4S @ Fowler Rd/Canon 5D Mark III/85mm 1.2L II
Quick Highway Barn
There is a barn right next to this that I couldn't quite get right with the lens I had on my camera and the short amount of time, that I had! So, this one, right next to it was the best option for today! I still want to get its neighbor before they cut the corn down… hoping I have a little more time! 🙂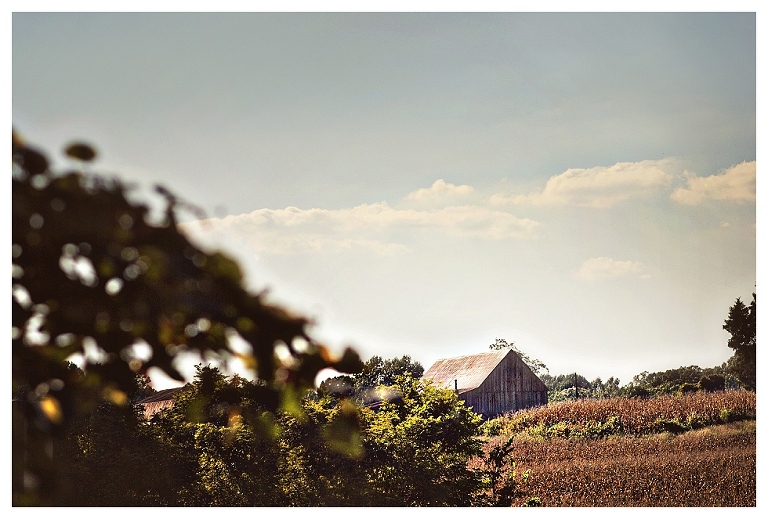 80/365:9.18.15/12:24pm/Owings/Skinners Turn Rd/iPhone
Skinny Red Barn
On my way to a wedding and I was getting anxious that I wasn't going to find a barn quickly, enough. Plan B's pop into my head but then bam, this cute & skinny barn appeared and I had no reasons to worry.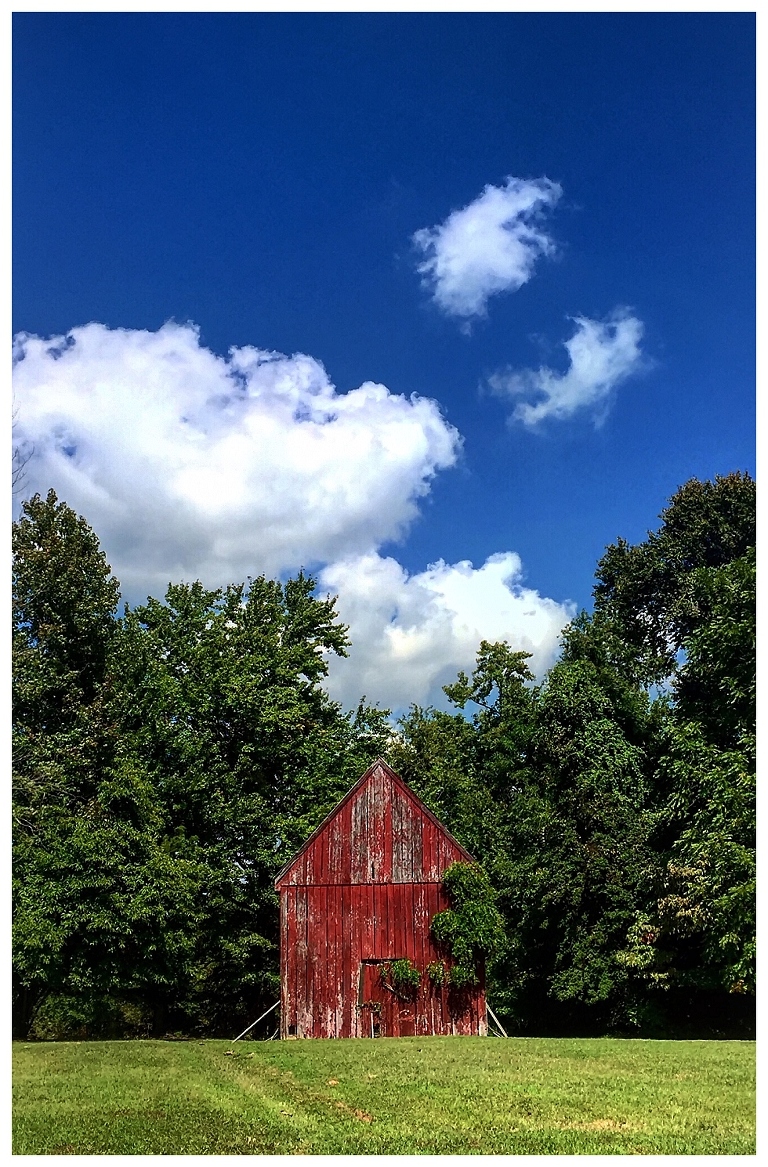 81/365: 9.19.15/6:36pm/Owings/Rt 4S @ Fowler Rd/Canon 5D Mark II/70-200 2.8L
And the Corn Was Gone Barn
Two days ago, the corn was still there and I stopped to shoot this barn that I've been eyeing up for months. I didn't like the photos very much, so I didn't share them and used another one. The next day all the corn was being cut down, as I drove by! I was so bummed and mad at myself for procrastinating but I'm satisfied that this is one of the first, of possibly many, fall harvest shots. Hello, fall. 🙂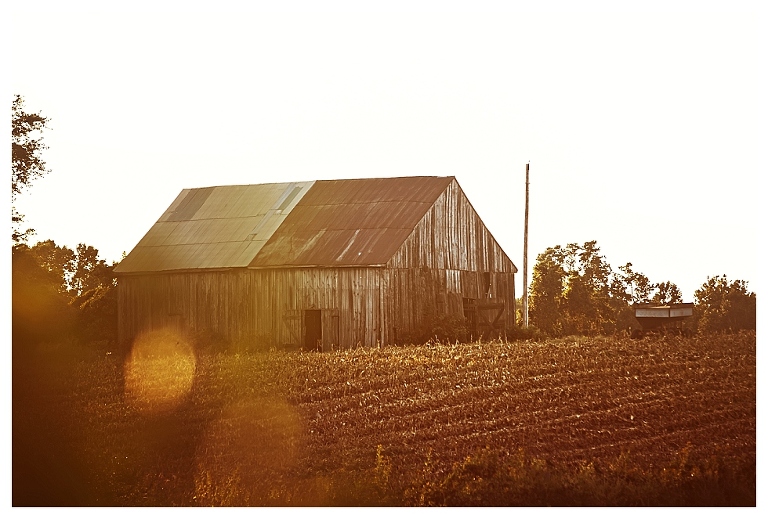 82/365: 9.20.15/4:02pm/Owings/Lower Marlboro Rd/Canon 5D Mark II/70-200 2.8L
Old Barn on a Hill
Fall colors are starting to show up on the vines, covering this one. There is another barn right next to it but it's a bit more rundown, I'm saving that for a better day – hopefully soon, when the leaves are more varied in color!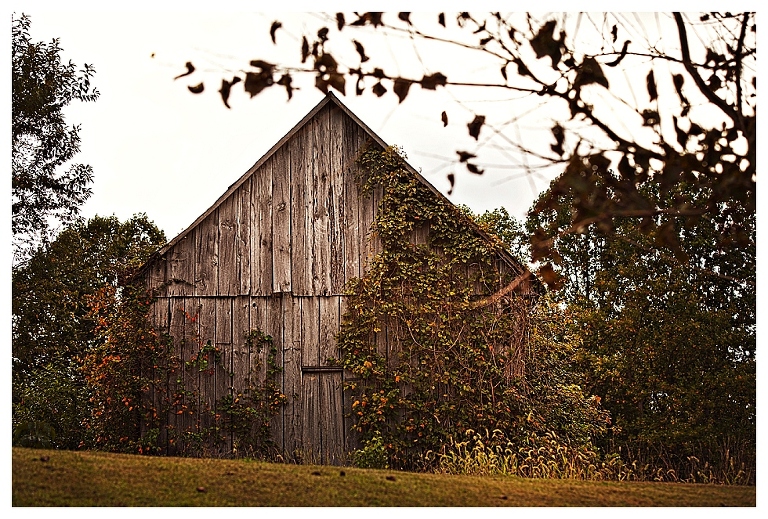 83/365: 9.21.15/4:56pm/Huntingtown/Hunt Way @ Stinnett Rd/Canon 5D Mark III/85mm 1.2L II
Those Yellow Weeds and a Red Barn
These yellow weed flowers are EVERYWHERE, this time of year, and I've been wanting to shoot (anything) along with them! This red barn presented itself and I was happy to see them growing alongside of it. I'm hoping for more shots of these, before they die off. They look so pretty in the sunlight, too.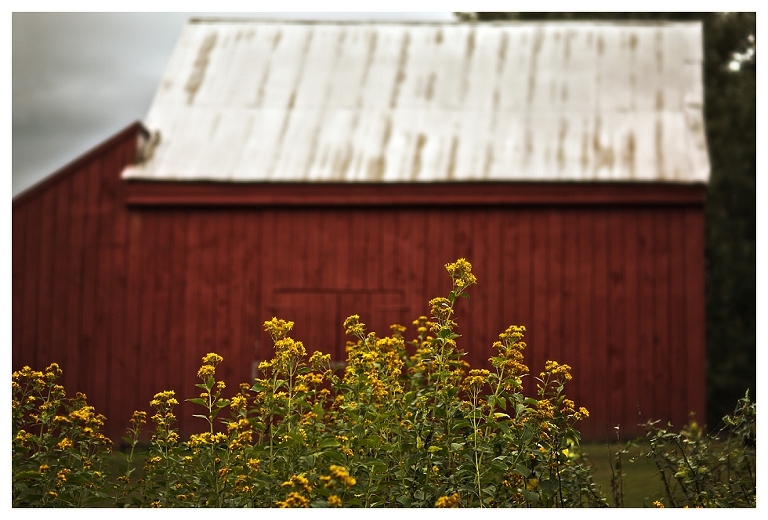 84/365: 9.22.15/6:17pm/Huntingtown/Plum Point Rd/iPhone
Backup Barn
So, I have quite a few "backup" barns or "emergency" barns – ones that are very close to my house, in case I don't have time to go out hunting for new ones. That's where this one falls into the collection but I have shot and posted photos of it before, while I'm out on my runs. It's always very cool looking. The skies started to become interesting, just in time for tonight's shoot!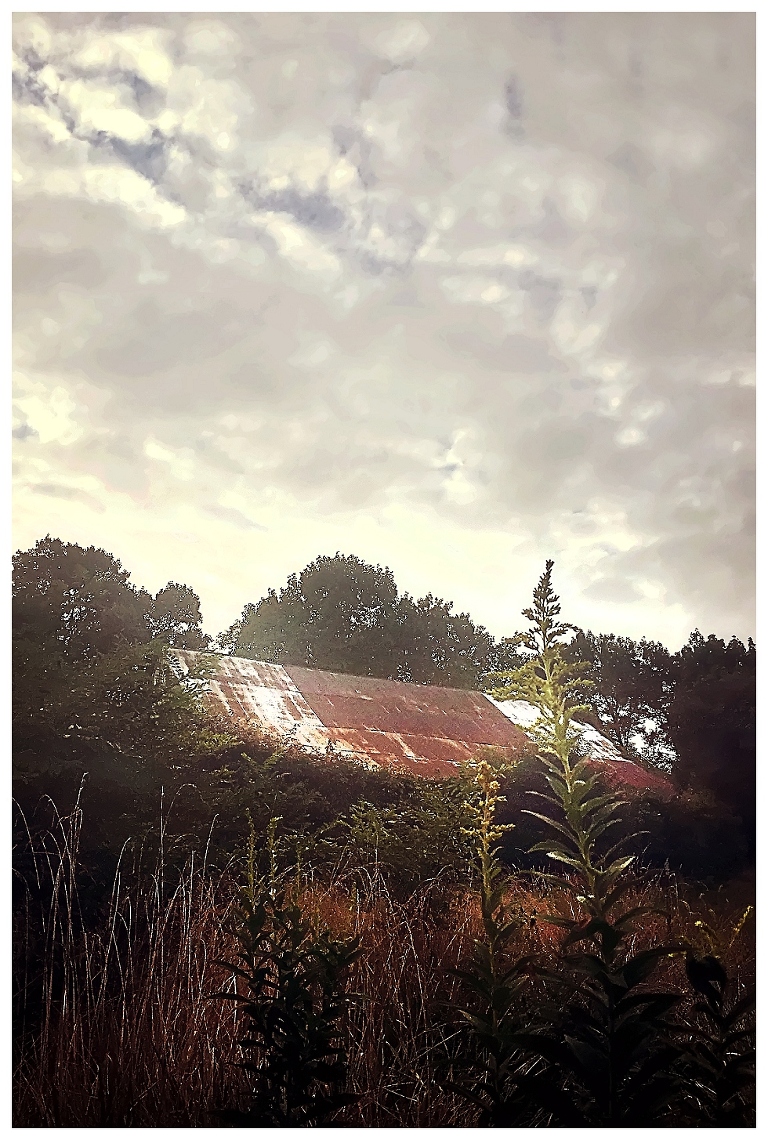 85/365: 9.23.15/3:43 pm/Huntingtown/Plum Point Rd/Canon 5D Mark III/70-200mm 2.8L
Tobacco Barn and Green Soybeans
This field is not in the bright sun all day, so the field is still mostly green with soybeans. So many fields have already turned over to a dull shade but this one is still hanging onto that summer look. 😄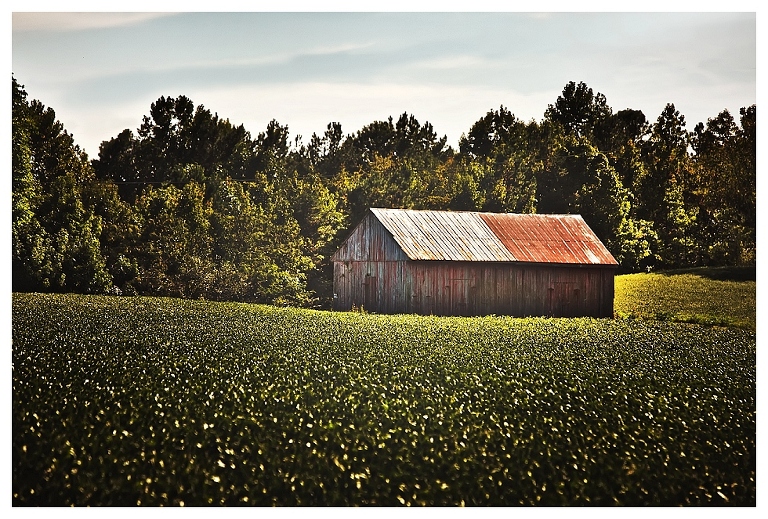 86/365: 9.24.15/1:04 pm/Huntingtown/Neptune Ln/Canon 5D Mark II/70-200mm 2.8L
Real Life Barns ​
This is the backside of a couple of barns, which look like they're being put to use for a variety of things. That is one of my favorite things about barns – they have so much cool stuff inside and out, to discover!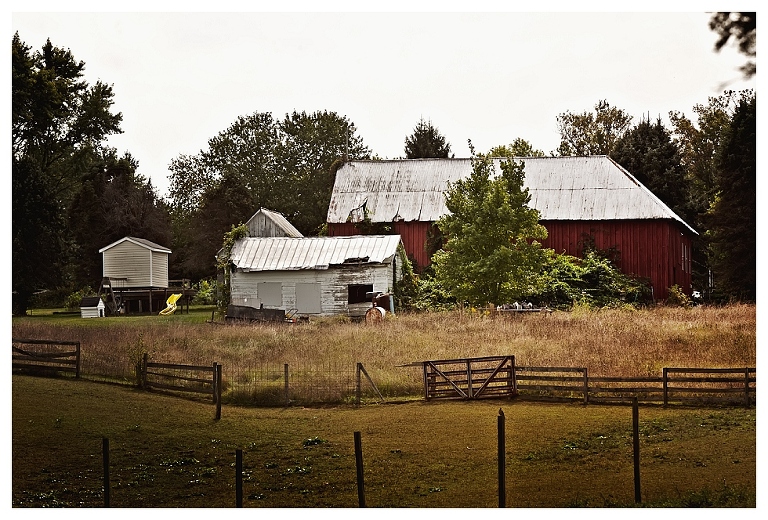 87/365: 9.25.15/5:18 pm/Huntingtown/Wayne Gibson Rd/Canon 5D Mark II/70-200mm 2.8L
Old Red Barn ​
I shot this one a couple weeks ago but my day was spent out of Calvert County, so this is today's selection! The overcast sky on this one actually matches the weather we had today, so it's probably not too far off, from how it looks now.
I will always love a red barn, a soybean field, and especially the combination of the two 🙂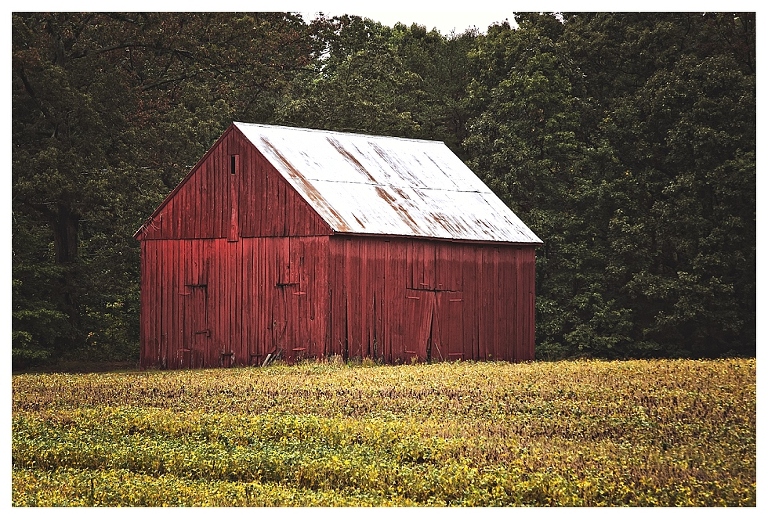 88/365: 9.26.15/5:16 pm/Huntingtown/Wayne Gibson Rd/Canon 5D Mark II/70-200mm 2.8L
Patriotic Barn ​
I also shot this one a couple weeks ago but I'm out of town this weekend. (Also posting a day late because I didn't have cell service) I thought about going back to shoot it on Veteran's Day but…needed it now.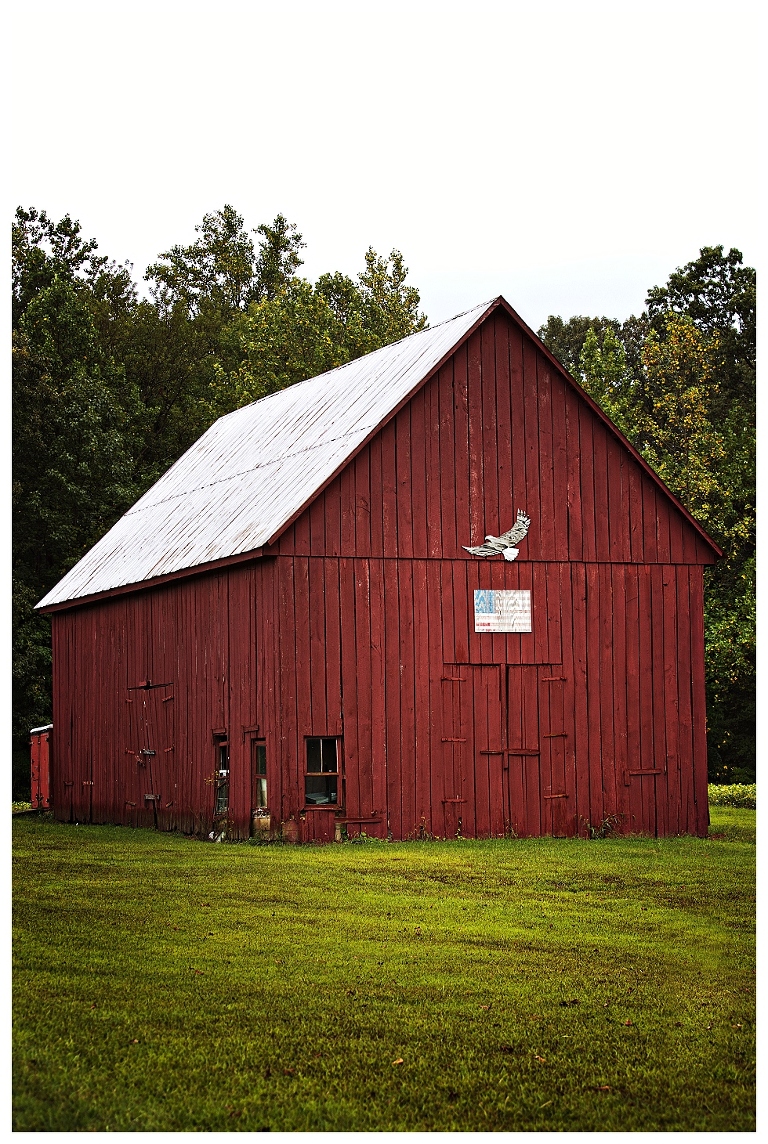 89/365: 9.27.15/2:23 pm/Owings/Chaneyville Rd/Canon 5D Mark II/70-200mm 2.8L
Truck and an Old Barn (and a story)
I was hoping for a quick snap of another barn near this one, because I was tired and had stuff to do. I pulled in to where I was going to shoot and found ambulances and a fire truck which seemed weird, so I decided to turn onto this road and shoot it from a different angle.
I got out, started shooting the barn I had in mind and no more than 30 seconds later, a MD State Police helicopter came down and landed right in front of me! If I could have fit the helicopter into the photo, I would have but it didn't work out that way. I did end up in a cloud of dirt, though, and so I decided to try for a different barn – this one with the truck and corn, which I LOVE, so I'm not sad about the other one I left behind… My barn adventures are far from boring 🙂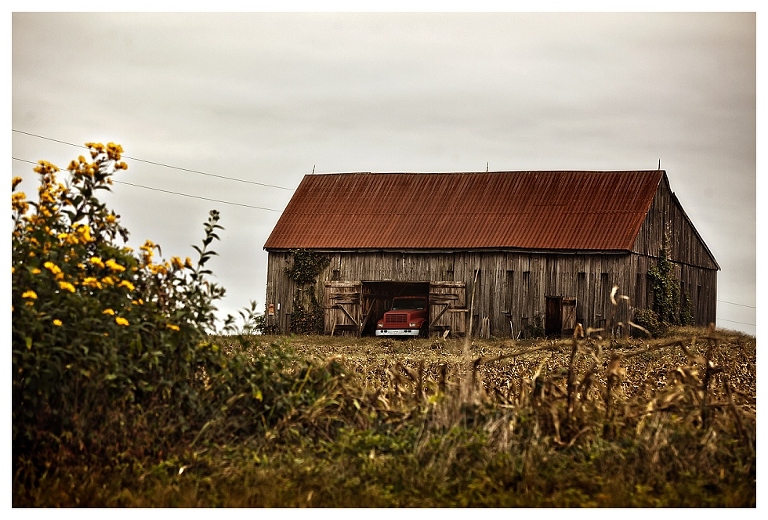 90/365: 9.28.15/2:35 pm/Prince Frederick/Leitches Wharf Rd/iPhone
Weeds and a Barn
I needed some country roads on foot, in my life, and I needed a barn photo. So, this afternoon I headed down this road to multi-task because there are probably at least ten+ barns, here. I went with this one, since it still has some greenery left. Even if they're mostly weeds, they still look pretty 🙂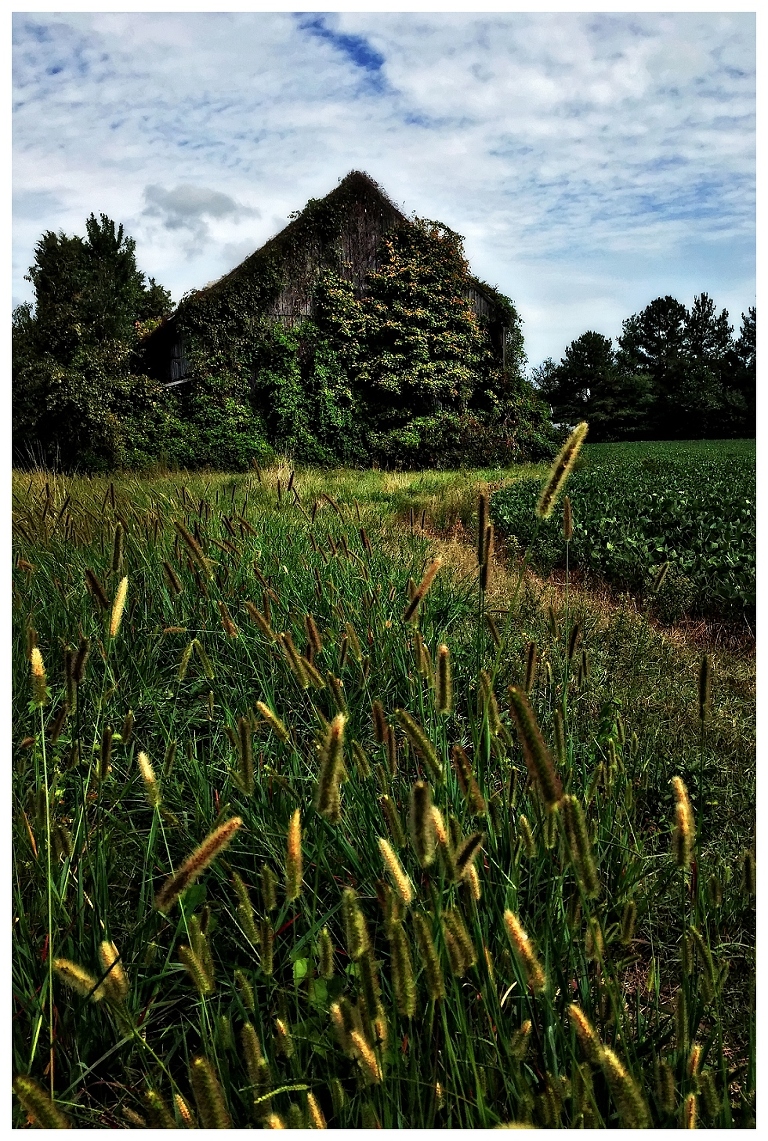 91/365: 9.29.15/3:40 pm/Prince Frederick/Gott Rd/Canon 5D Mark III/35mm 1.4L
A Barn and a Guy Named Leonard
This story starts with a peaceful drive down this road and ends with a guy on a tractor, named Leonard. I had just finished my normal, park on the side of a road and never trespass, barn-photo-taking, when I saw a tractor coming up the road. I did not think it was unusual until he stopped and blocked the road and approached the car, to ask me what I was up to. I knew this was going to happen one of these days, and at first it was a bit awkward but we quickly got over that and I went on to tell him about my project and he went on to tell me about his barns and their history, and some other barns in the area. He said this one was a little beat up and was built sometime between 1933 and 1935. Luckily, it will live to see another day and so will I. I should have given him my business card. 😉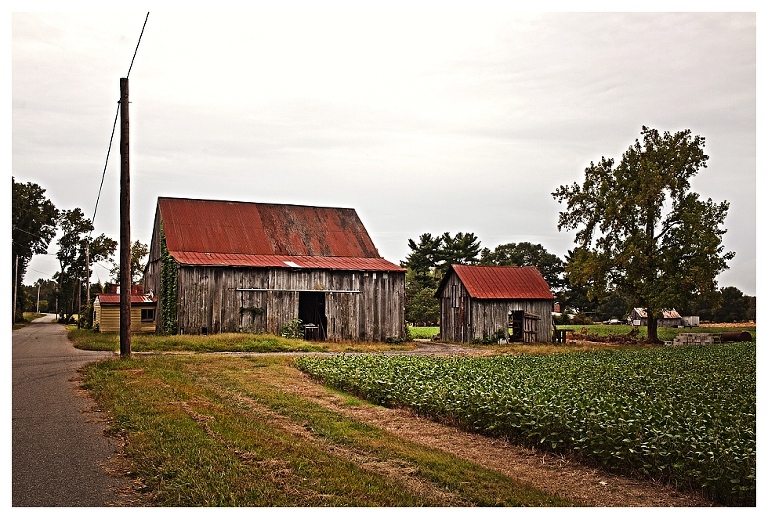 92/365: 9.30.15/3:25pm/Dunkirk/Kirksville Ln/Canon 5D Mark III/85mm 1.2L II
Google Maps Red Barn
This one is so hidden and off the beaten-path, I only found it by searching Google Maps. Even though I pass the road every day, it was hard to tell how to access this red beauty.
I'm glad I ended September with a good one, this month of barn-hunting and shooting has definitely been my favorite, so far! 😄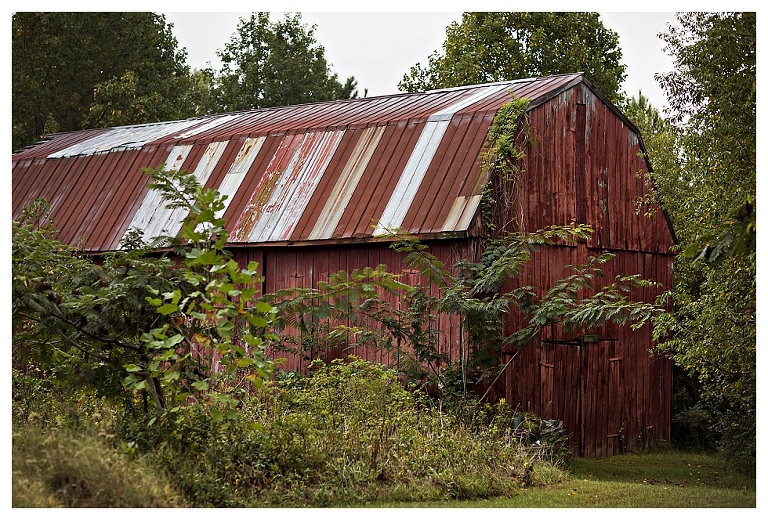 Southern Maryland Photographer, Barns of Calvert County, Calvert County Photographer, Annapolis Photographer, Southern MD Wedding, Maryland Photographer, Southern Maryland Barns, Chesapeake Beach Photographers, Best Maryland Photographers