I started thinking about this recently, when I asked myself the question: what do I love about this area that I now call home?  In other words, I was trying to find new ways to be positive and look for the good in my new location. I have been living here for almost two years but sometimes I still miss "home". Even though I chose to move here for the right reasons, and I'm not that far away from where I came, I still struggle with these thoughts off and on. So, instead of dwelling in the past I decided to appreciate the present. To find the good and appreciate what I have, here and now and to build a connection to this new place.
One of the coolest, and most unique things about Calvert County (and Southern Maryland) are all the barns that stem from its rural history. I love the country roads and all the farms or pieces of what are left over, from old farms. I had a lot of that on the Eastern Shore, as well, but there were never this many barns and they're different. Since a lot of the ones found here are tobacco barns, there are just SO many more, because they needed them to dry the tobacco. I'm also tying this project in with my background in geography and environmental/land use planning interests. I see the urban sprawl and trees and fields being chopped down, daily, so this landscape is changing rapidly. By taking these photos, I want to be a part of documenting how looks now, I have a feeling it will change quite a bit in my lifetime.
So, with all these things in mind, on July 1st, 2015, I decided to start this year-long endeavor! Here are my rules/goals:
photograph a different barn each day from July 1, 2015 – June 30, 2016.
if I am out of town or something prevents me from shooting, I will shoot multiple barns for each day that I am gone, as close to the dates missed as possible.
any type of camera goes – iPhone, point and shoot, DSLR etc
barns must be located within Calvert County, MD limits
I'm very excited to see how this pans out and to get to know this area and its rich, rural history. "Open your eyes, there is beauty everywhere."
______________________________________________________________________________________________________________________________________________________
1/365:  7.1.15/9:17 am/Dunkirk/iPhone 6
Well, I can't say I started the project with my best photo to date but hey, I did it! I was at the Trott's Produce stand on Rt 4S/Southern MD Blvd, when I spotted these two in the distance. It was just too convenient not to shoot.


2/365:  7.2.15/4:40 pm/Huntingtown/iPhone 6
I pass this farm on a regular basis off Wilson Rd at Dairy Barn Dr. The overcast conditions made it look kinda gloomy and simple, which I liked for this setup.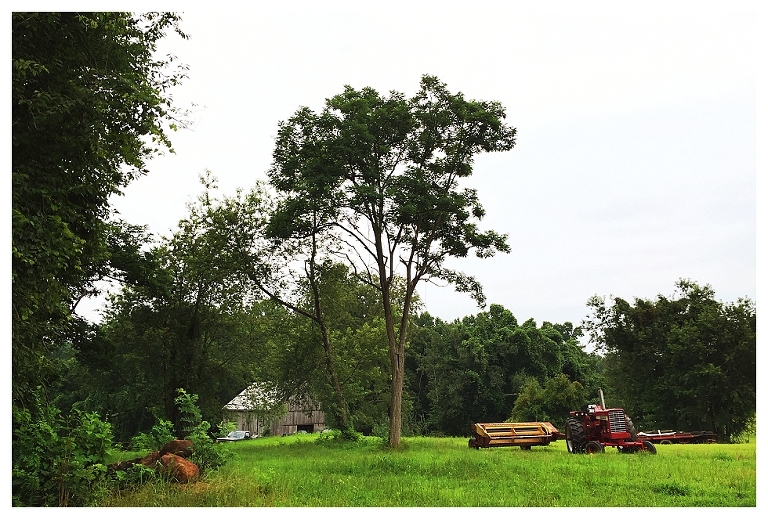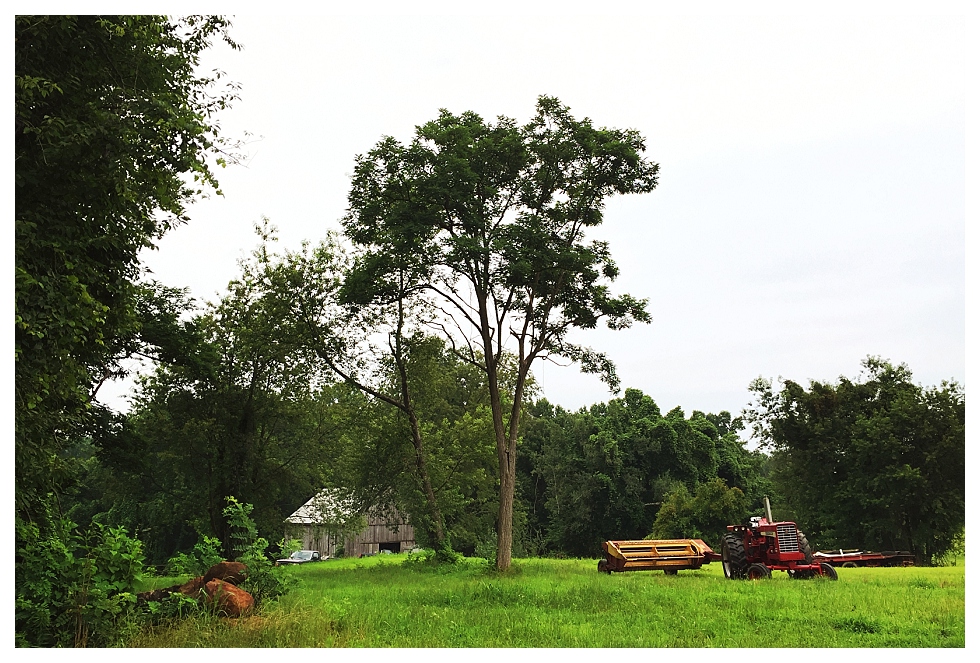 3/365:  7.3.15/4:12 pm/Huntingtown/iPhone 6
Red Barn on Ponds Wood Rd
On the way to DC for the Nationals game, my crazy self made my husband pull over to snap this one. This is one of the main roads I commute on and there are a ton of barns, on this road alone! Here, I got low in the corn to dodge the mega power lines, right behind it.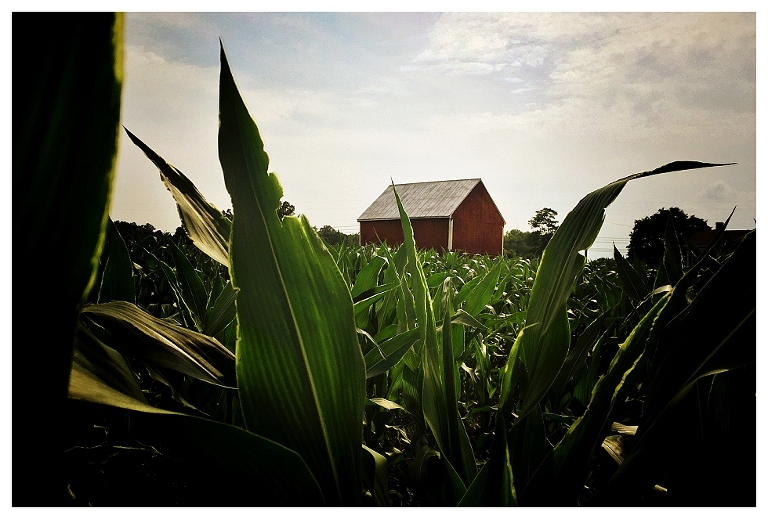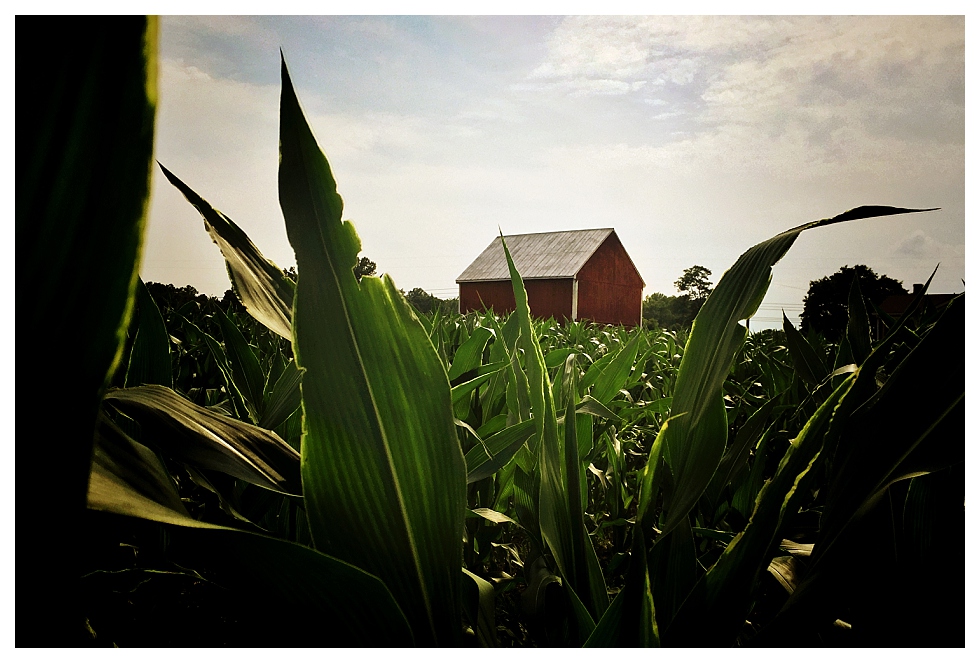 4/365:  7.4.15/9:23 am/Owings/Canon 5D Mark III w/16-35mm 2.8 II
I knew I wanted to feature this one on the Fourth of July! The weather was wacky all weekend, which I liked – the clouds made this much more interesting. As soon as I wrapped up, another car pulled up and four people got out to do a photo shoot… I guess I wasn't the only one with this barn in mind, on this day!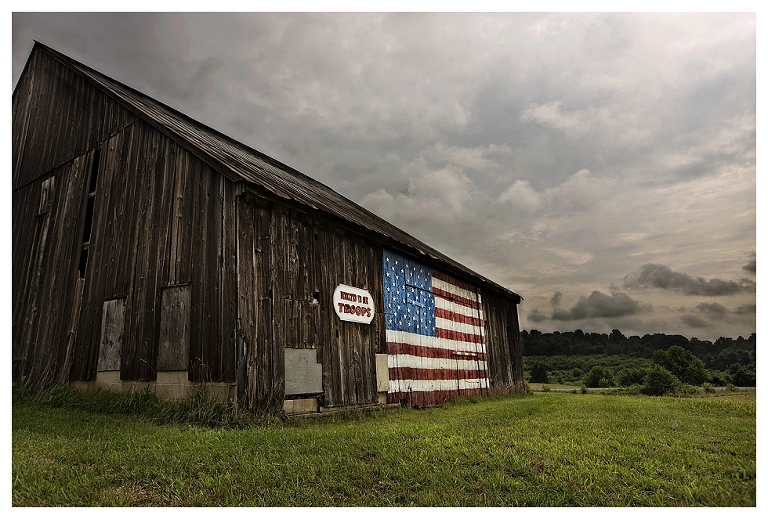 5/365:  7.5.15/4:24 pm/Huntingtown/Canon PowerShot S95
I had to go to the grocery store and I knew there must be an easy access barn on my way (some are a bit more of a hassle to park and get to, but I will do them sometime!). I found this one on Dunn Rd, off Wilson Rd on Google Earth (surprisingly, it's not hard to spot the shape of a tobacco barn from above!). Its dilapidated condition and the sun peaking through, just at the right time, makes this shot one of my favorites so far! I edited it to enhance that vintage feel.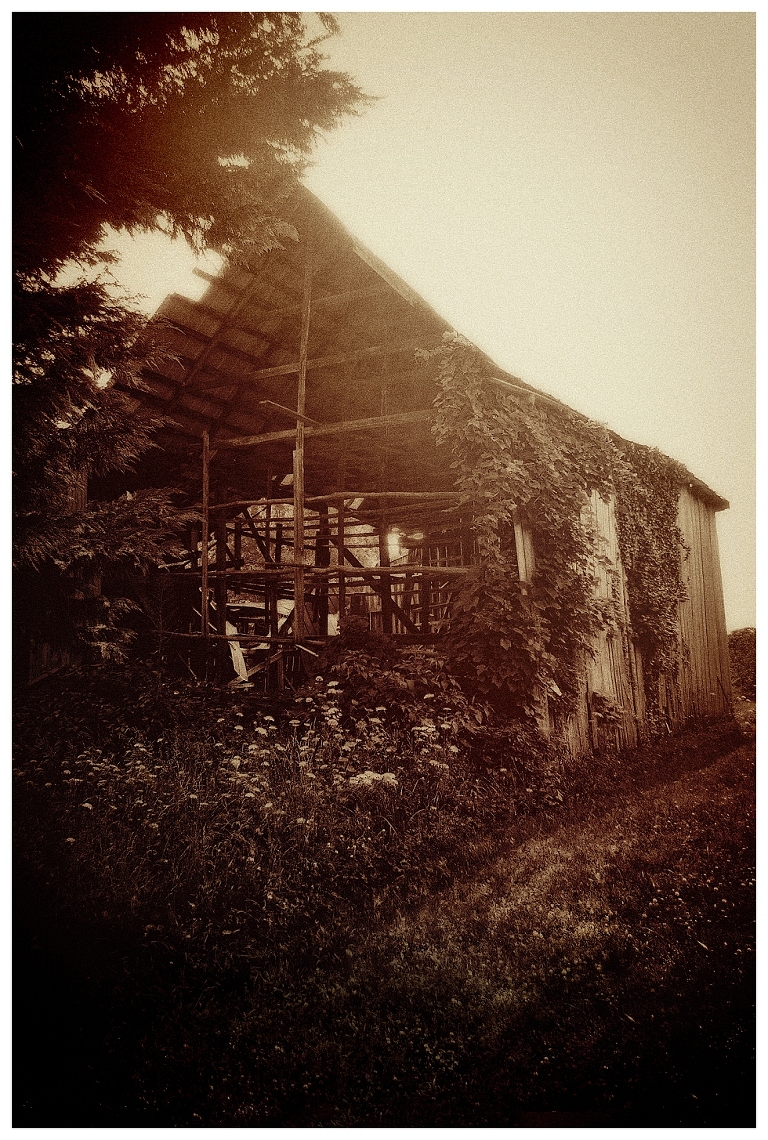 6/365:  7.6.15/6:21 pm/Sunderland/iPhone 6
I was late getting home to dinner, so I had to think of another easy access one on my route home from the gym! Again, I knew there were a bunch off Lower Marlboro Rd in Sunderland. I had started to carry my point and shoot Canon PowerShot S95 camera with me, only to find that the battery was already dead! Luckily, an iPhone is sometimes all you need to get the job done.
7/365:  7.7.15/4:34 pm/Huntingtown/Canon 5D Mark III/16-35mm 2.8L II
Had to go to the post office, so I picked the one in Old Town Huntingtown because right next to it, there are a few barns. I really liked this one because of the truck sticking out a bit. I always wonder what is going on inside these barns!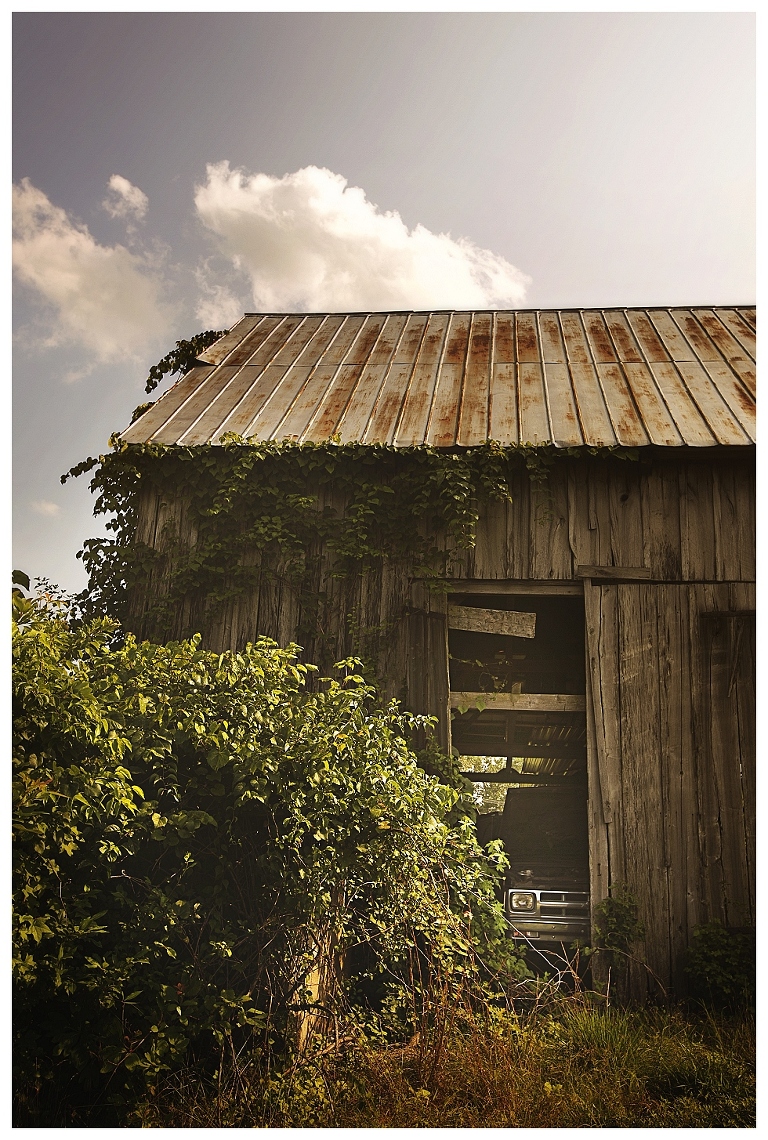 8/365:  7.8.15/6:30 pm/Canon PowerShot S95
It's Wednesday, which means it's normally Date Night in our house. We went out to dinner at one of our favorite places in North Beach and as soon as we go there, it started pouring. I had already planned to go "barning" after dinner but the stormy skies made it that much better. This barn is in Owings, right off Mt. Harmony Rd. I like the reflection of the barn and the raindrops still falling onto this flooded spot.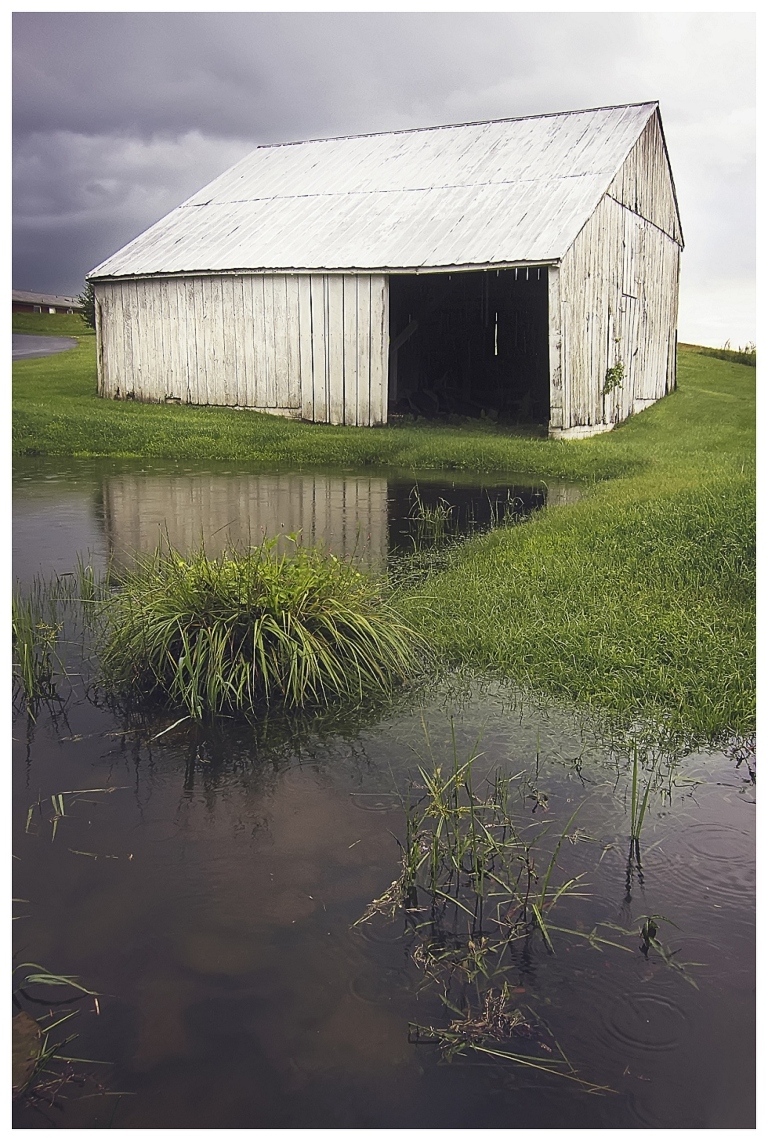 9/365:  7.9.15/4:39 pm/Canon 5D Mark III/Canon 35mm 1.4L
This one is very close to my house and one of the few that is NOT a tobacco barn. It is on the appropriately named Dairy Barn Dr in Huntingtown, surrounded by suburban houses. I bet it was a lot cooler looking when it was a functioning farm 😉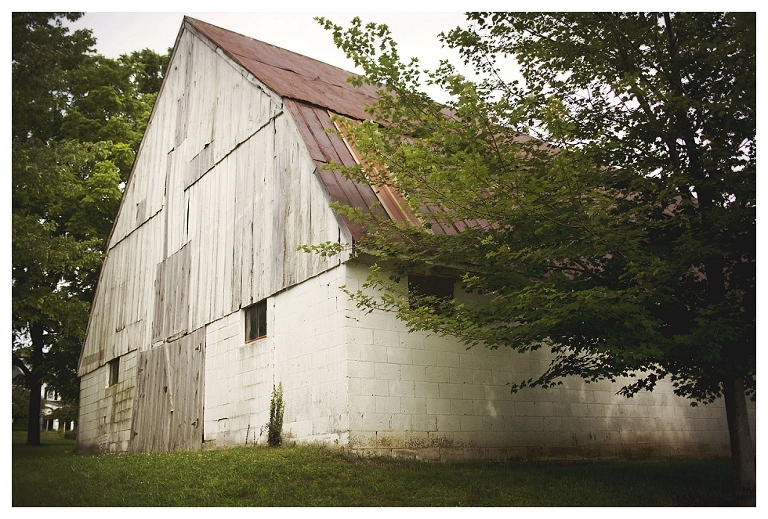 10/365:  7.10.15/6:00 pm/iPhone 6
Earth Colors Barn in Sunderland

A quick drive-by barning on this beautiful day. This one is on Dalrymple Rd (not the easiest word to say or spell!). The route to this one has a bunch of twists and turns,  it is not the easiest road to drive on while looking for barns but we survived!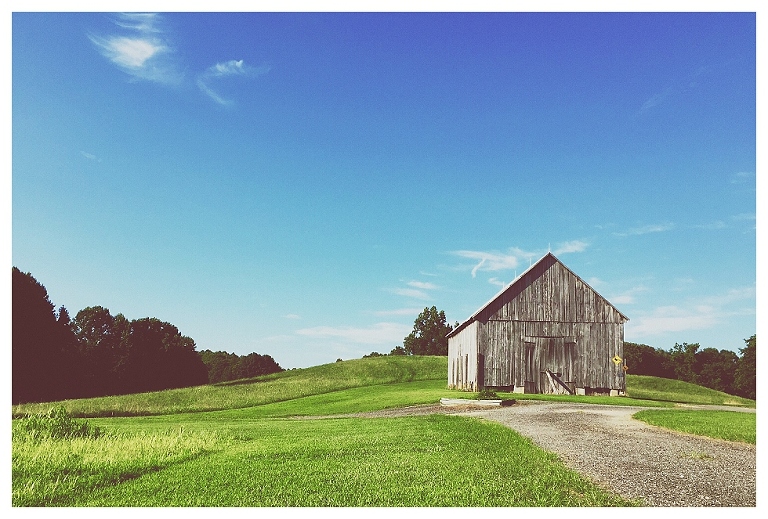 11/365:  7.11.15/5:07 pm/iPhone 6
Really Red Barn in Prince Frederick
I had a hard time deciding on photos, this afternoon. I actually stopped at two different barns but wasn't super impressed with either set up- mostly due to the harsh lighting going on, on this sunny day. But this red barn off Dares Beach Rd was voted July 11th, Barn of the Day!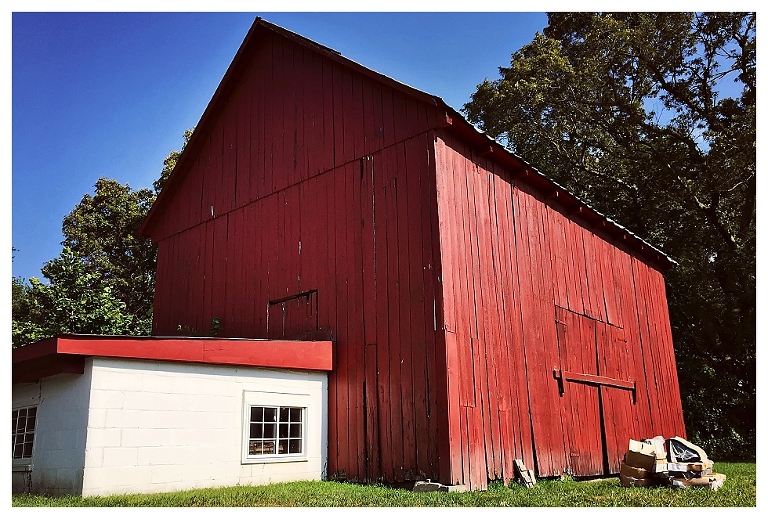 12/365:  7.12.15/8:11 pm/Huntingtown/Canon 5D Mark III/16-35mm 2.8L II
Chasing the Sunset Barn
I was determined to get a sunset shot tonight and I did! I've eyed this barn up for the two years I've lived here, on my way to and from Kings Landing Park in Huntingtown. This is an HDR merge of four separate images in Photoshop but it pretty much duplicates what I saw with my eyes. I'm glad i waited until sunset, to photograph tonight, it was beautiful!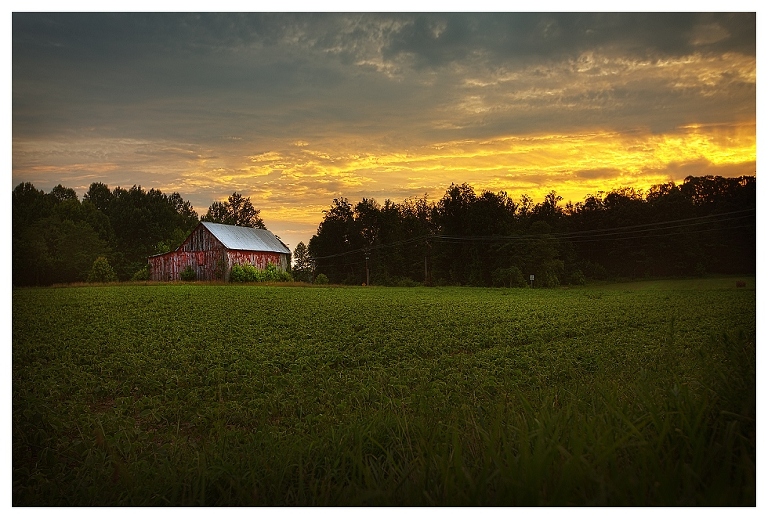 13/365:  7.13.15/2:50 pm/Dunkirk/iPhone 6
Stormy Skies Barn
A quick stop off Rt 4S onto Lyons Creek Rd in Dunkirk. Finding the barns is never that hard but part of the fun!
14/365:  7.14.15/6:40 pm/Prince Frederick/iPhone 6
On My Way to a Meeting Barn
 So, I had a networking meeting tonight at Running Hare Vineyard in Prince Frederick. I knew there were many barns along the way but I decided to wait until I got there, because I had a feeling there was one on the road leading in. As it turned out, this one in the distance was the only one visible from the road, so here you have Bastille Day's barn. enjoy  🙂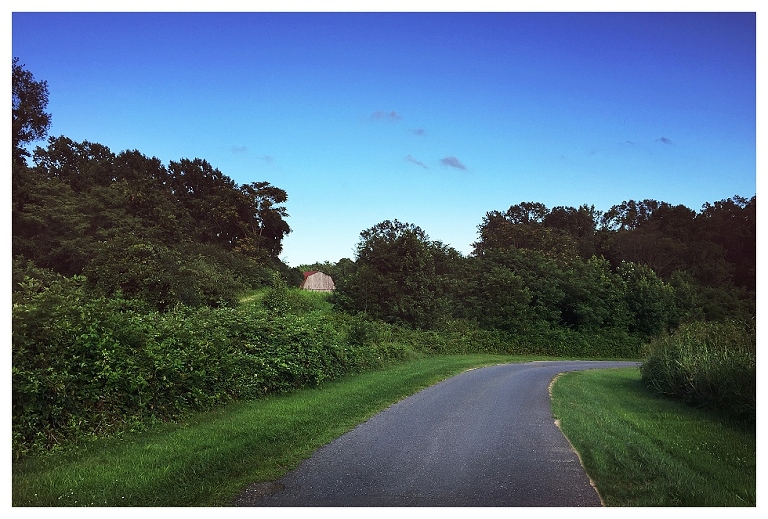 15/365: 7.15.15/5:06 pm/Old Town Huntingtown/Canon 5D Mark III/85mm 1.2L II
Beat Up and Broken Down Barn
This barn has seen better days but it keeps on truckin' along, right in the heart of "busy" Old Town Huntingtown! It looks like it's still being used to store straw. That new white metal barn next to it, ain't got nothing on this old one 😉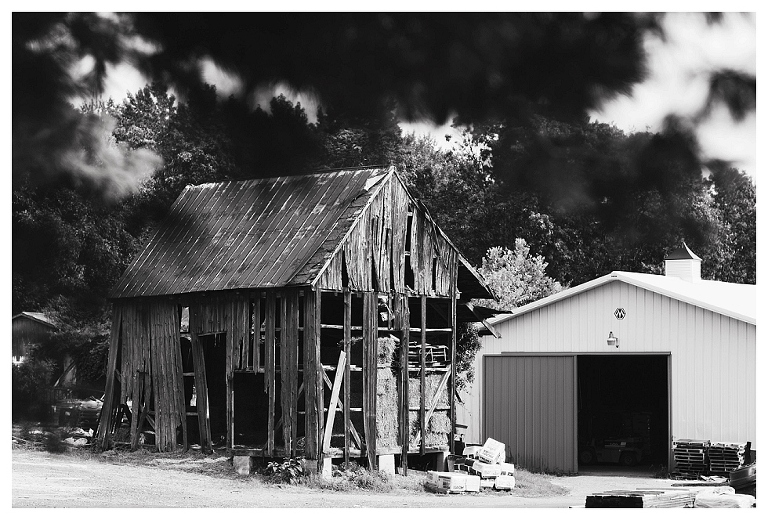 16/365: 7.16.15/5:06 pm/Huntingtown/Canon 5D Mark III/85mm 1.2L II
Four Barns and an Above Ground Pool
My husband and two dogs went along for the ride after we did my own quick doggie photo shoot. He decided we should go look for barns in a new area, which led us towards Hunting Creek. As always, the country roads were beautiful and there were plenty of barns to choose from but I liked this cluster of them, the most. They are probably still in use but super close to encroaching residential homes, as well as an above ground pool and van. 🙂 I also liked the tiny bird flying in the upper corner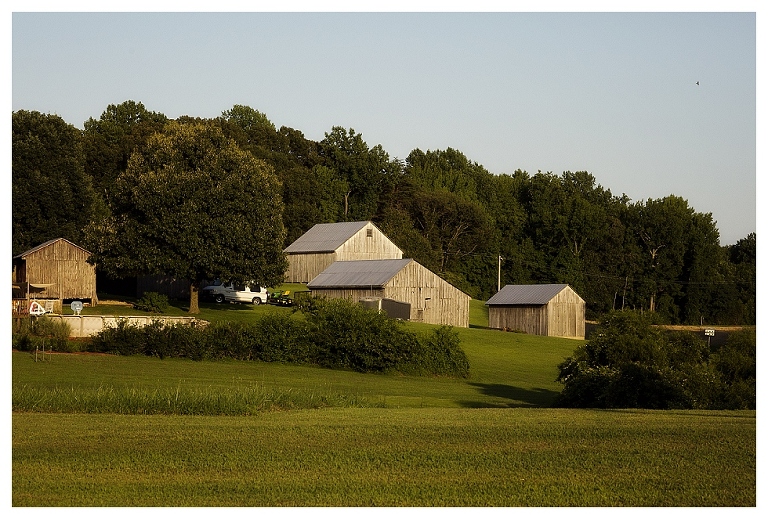 17/365: 7.17.15/7:36 am/Huntingtown/Canon 5D Mark III/16-35 2.8L II
On the Way to Work Barn
I actually had intentions to shoot a different barn setup, this morning but I am saving that for more beautiful skies, so I did this one instead. I love early morning and evening light! and barns, of course…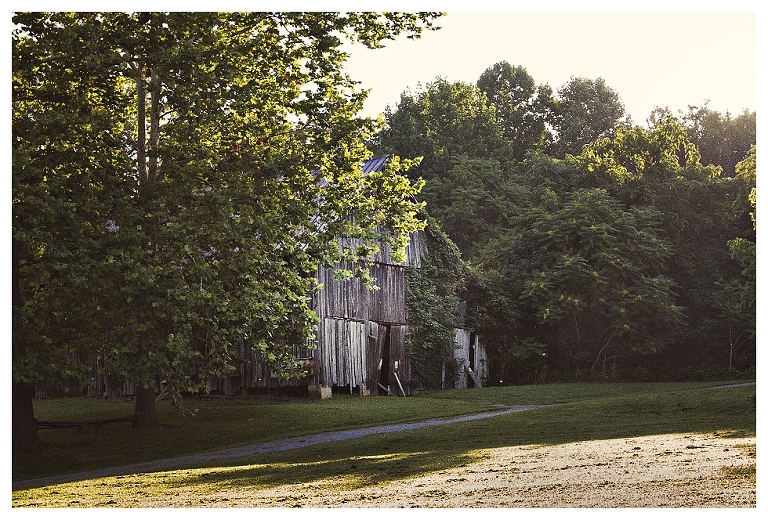 18/365: 7.18.15/6:40 am/Sunderland/iPhone 6
White Barn on a Summer Day
A quick stop on Route 4 North in Sunderland on a busy day! I think this property is for sale, so it may not look like this for much longer 🙁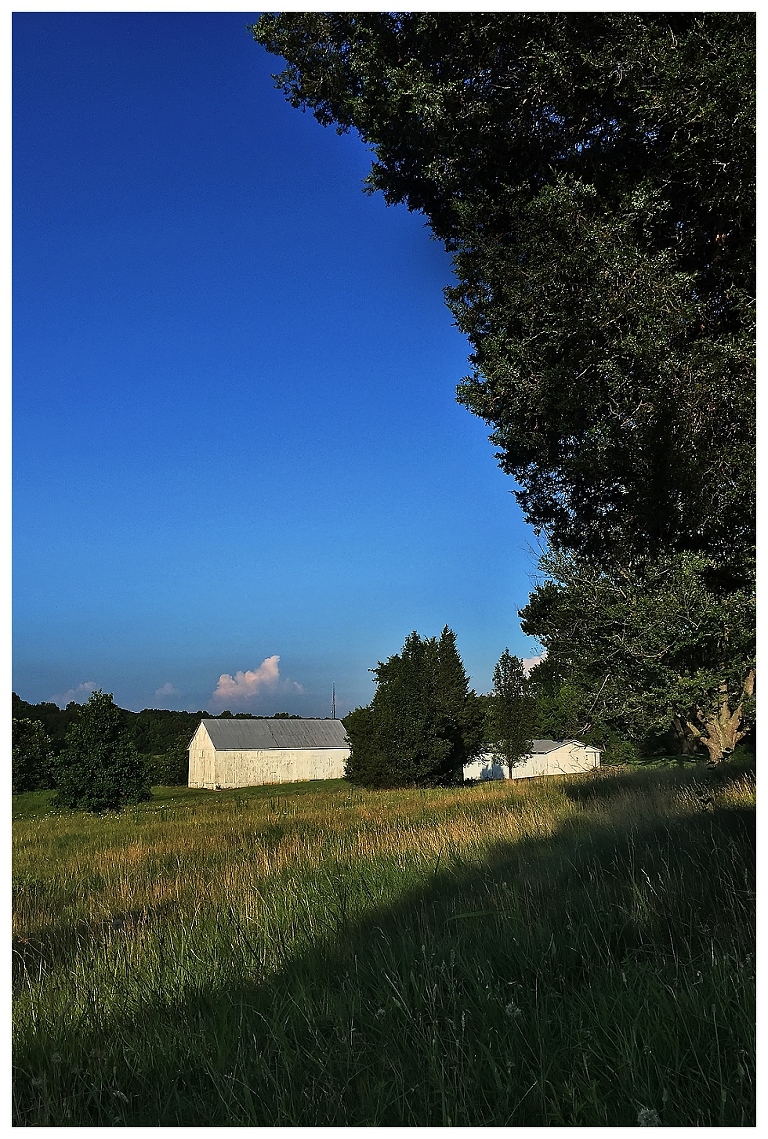 19/365: 7.19.15/7:42 pm/Huntingtown/Canon 5D Mark III/70-200mm 2.8L
Red Barn through the Vines
I was pretty close to my house and out for a quick snap of a barn, when I made a turn onto a side road that I had never been down before, only so I could turn around and shoot a barn that I had just passed but then there was this cool one… so no need to turn around 🙂 I'm pretty sure it's a horse barn, not too old but definitely cool!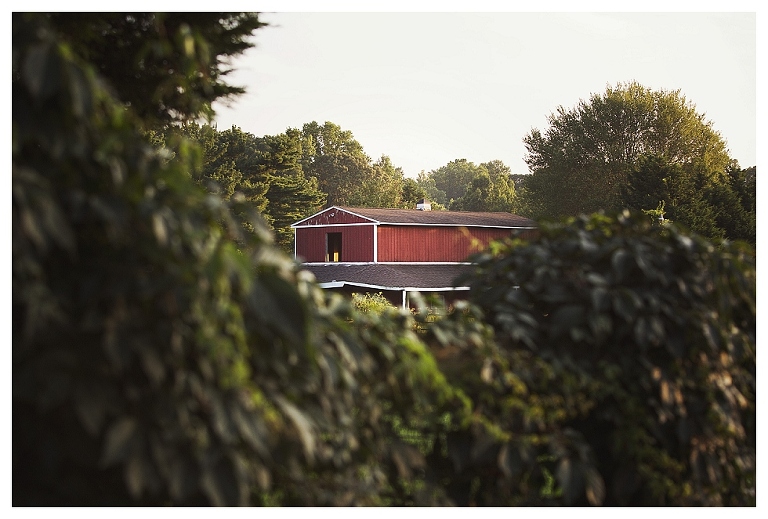 20/365: 7.20.15/7:34 pm/Prince Frederick/Canon 5D/24-70mm 2.8L
End of the Road Barn
You really have no idea how easy it is to take these barn photos. I'm on the road often, so now I just add one more stop on my errand to-do list, it's a little break from the mundane and I can add scouting prospective barn photos shoots to my daydreams, while I drive. I even have my husband looking for barns, now, when he drives around. He secretly wants to kill me but he can't, he loves me and my barns too much 🙂 I liked this one at the end of a country road, that ends at the Patuxent River. This area gets really country, really fast and it's actually flat and open, something that is not the norm in Calvert. I do miss those wide open views on the Eastern Shore and this spot reminded me of some of the farms there.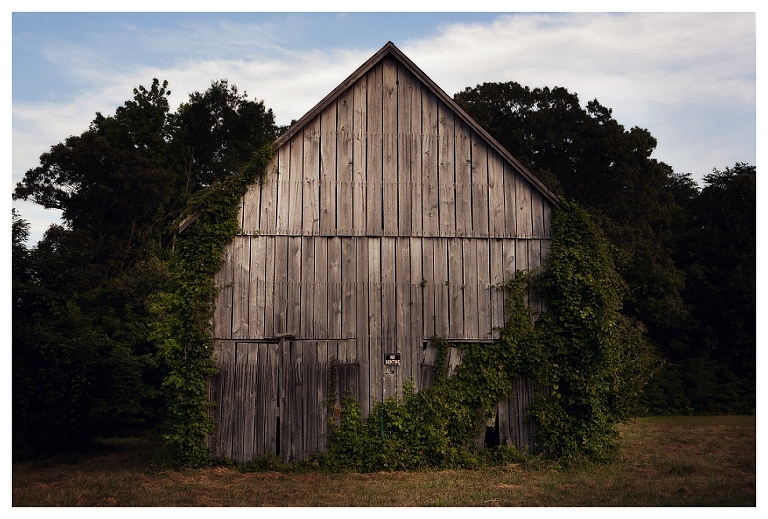 21/365: 7.21.15/4:10 pm/Huntingtown/iPhone
Barn on a Lane
I pass this one almost every day on Ponds Wood Rd, it always looks so peaceful down this little lane.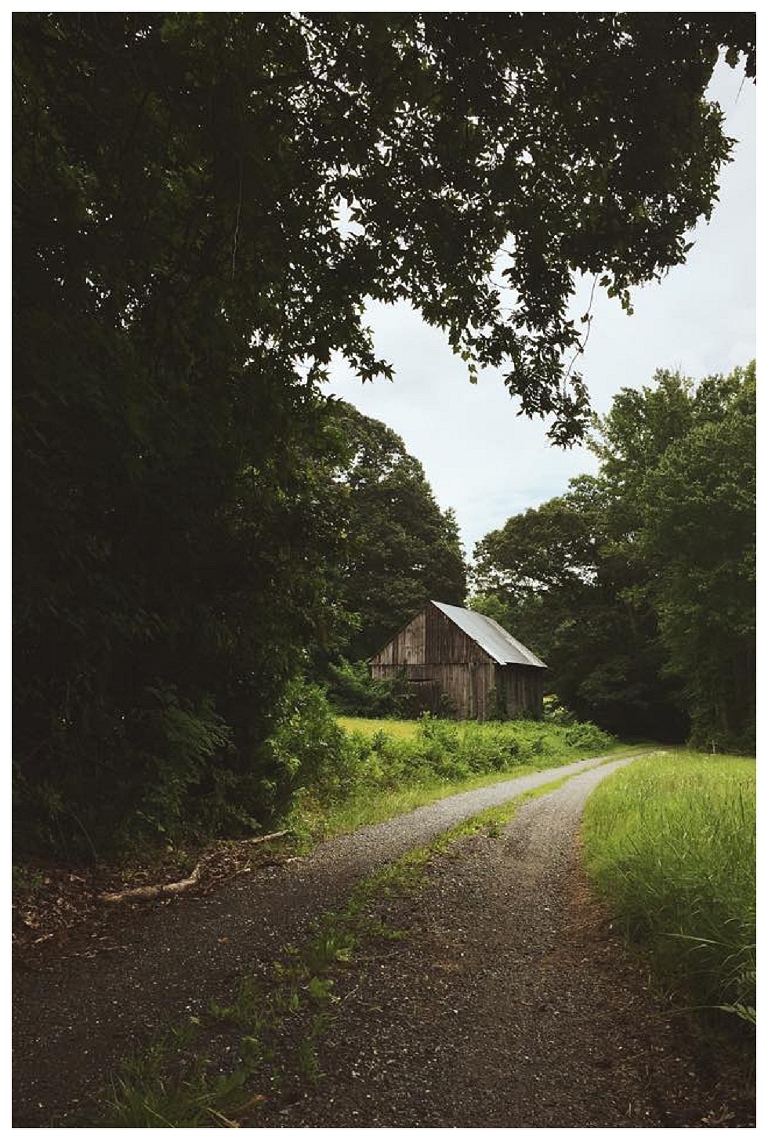 22/365: 7.22.15/7:03 pm/Sunderland/iPhone
Barn and Deer
Post Wednesday Date Night barn-stalking – it's so much more fun when I don't have to drive and scout them out, at the same time! On our way back home on Dalrymple Rd, through Sunderland, I quickly saw this one. It doesn't look like a typical tobacco barn. As soon as I walked up to this one, five deer jetted across the corn field. If you look hard enough you can see them all running away (mostly their white tails), I wish I had my better camera with me to capture them.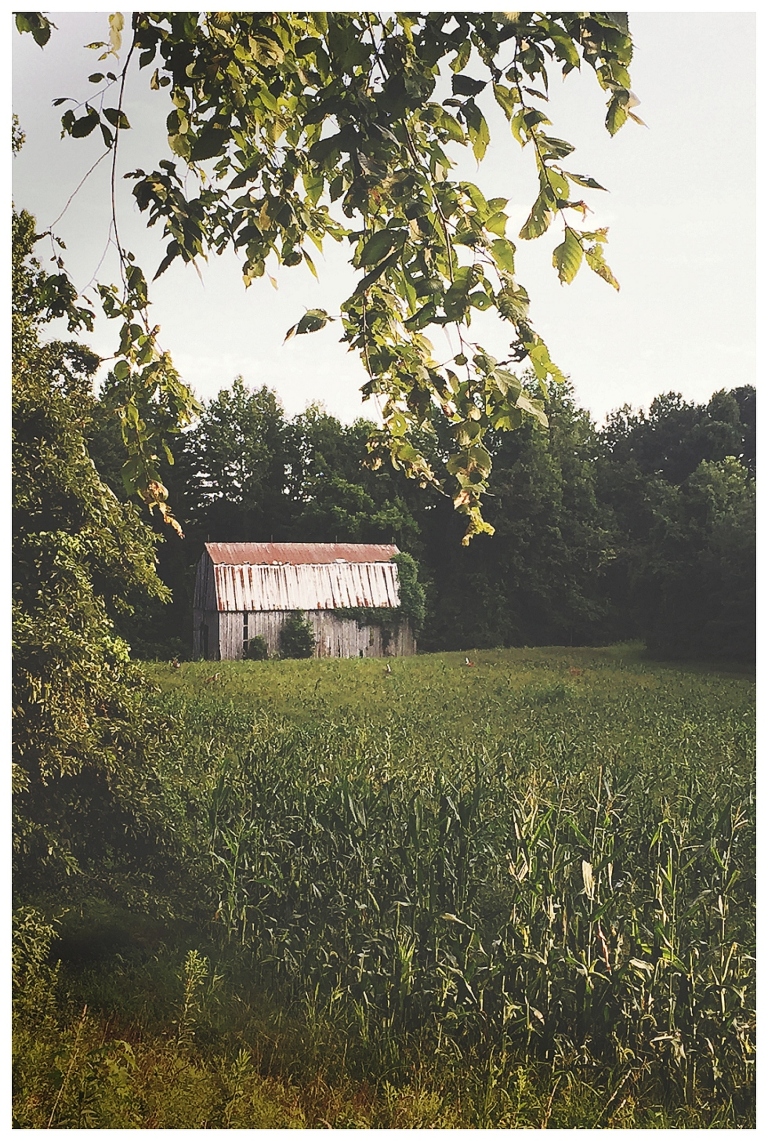 23/365: 7.23.15/7:42 pm/Huntingtown/iPhone
Two Barns on my Run
I pass these two all the time, if I had planned it better I would have brought my DSLR out but I was running with Banjo, on limited time. I snapped a few of this one and tweaked them in Photoshop. I love how overgrown everything is, this time of year and the white door peaking out from under all the vines.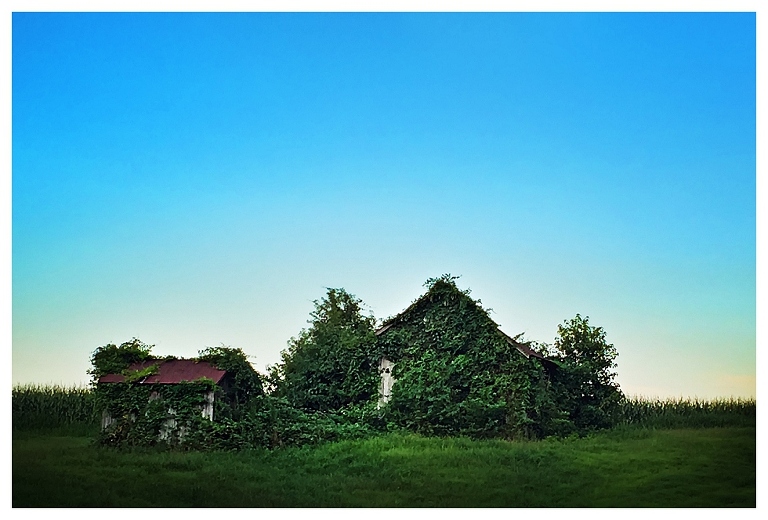 24/365: 7.24.15/7:24 pm/Huntingtown/Canon 5D Mark II/70-200mm 2.8L
Barns Everywhere
I headed back to shoot the yesterday's barn because the iPhone just wasn't doing it justice. There is another barn in a field, next to it, so I was going to snap that one and go home. Of course, when I turned around, I saw yet another barn, so I photographed all three. I liked this one the best, for today. I think it's another horse barn. 🙂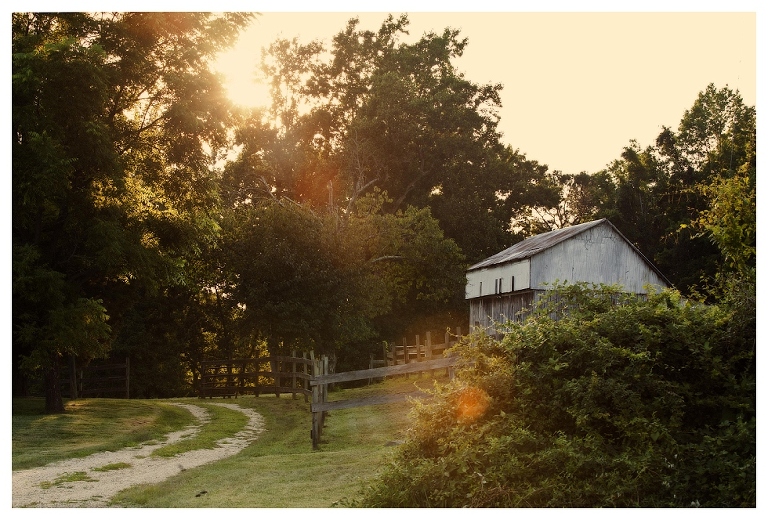 and here is the redo of yesterday's barn ~ much more detail than an iPhone can handle! I now realize the part that looks like a door is really just the only section that is not completely grown over with vines.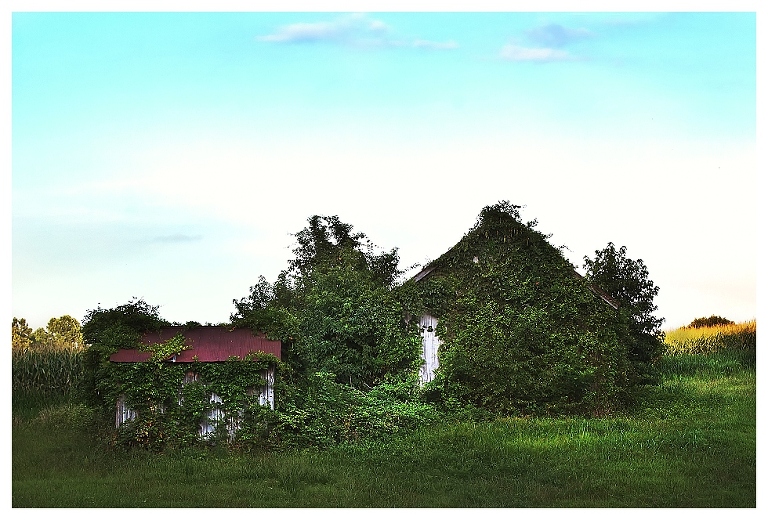 25/365: 7.25.15/12:26 pm/Huntingtown/iPhone
Another Ponds Wood Rd barn because there are plenty AND I was on my way to a wedding! Not bad lighting for noon, I'll take it.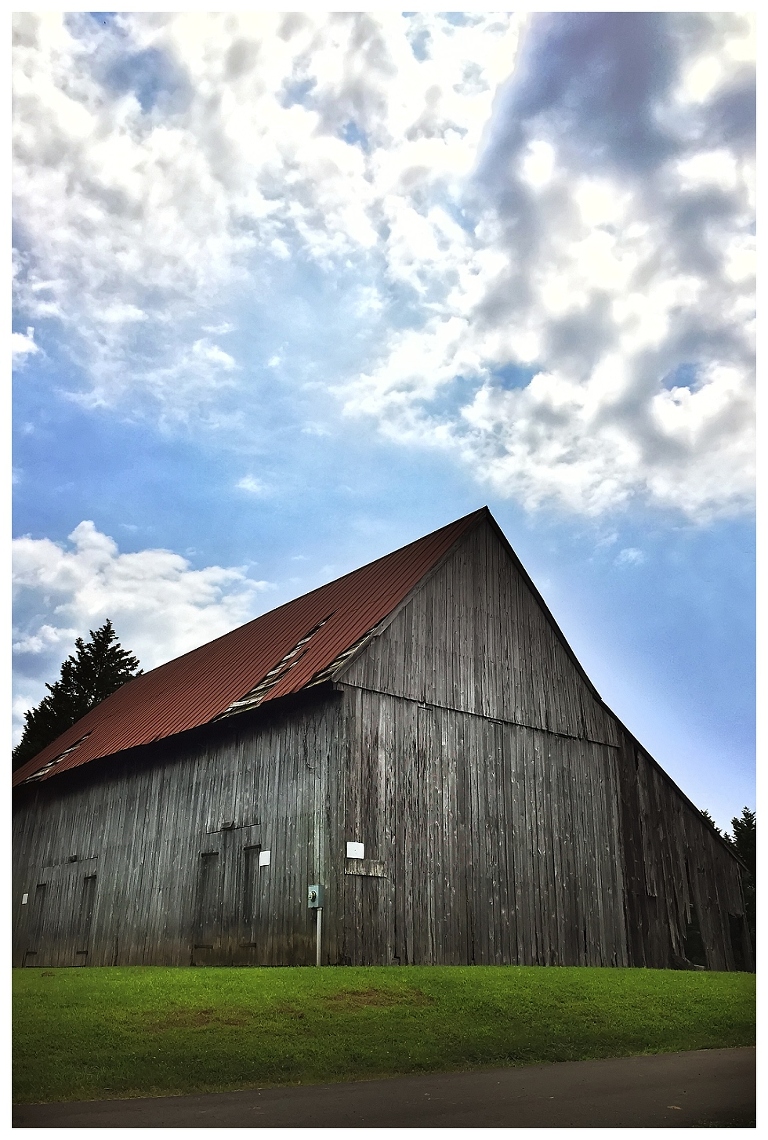 26/365: 7.26.15/5:36 pm/Sunderland/iPhone
Red Barns in the Sun
There are tons of red barns on Lower Marlboro Rd, here is a pair that look like they're part of a small farm. 🙂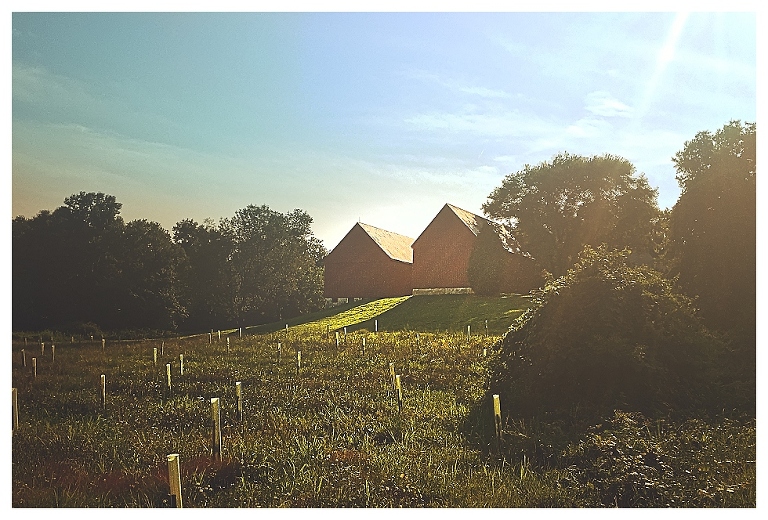 27/365: 7.27.15/5:22 pm/Huntingtown/Wilson Rd/Canon 5D/70-200mm 2.8L
Sorta Stormy Barn
There was potential for some cool, stormy skies when we were out tonight but it never really came together. Jon was convinced I walked onto someone's yard, off Wilson Rd, to get this one but I don't believe there was any trespassing involved!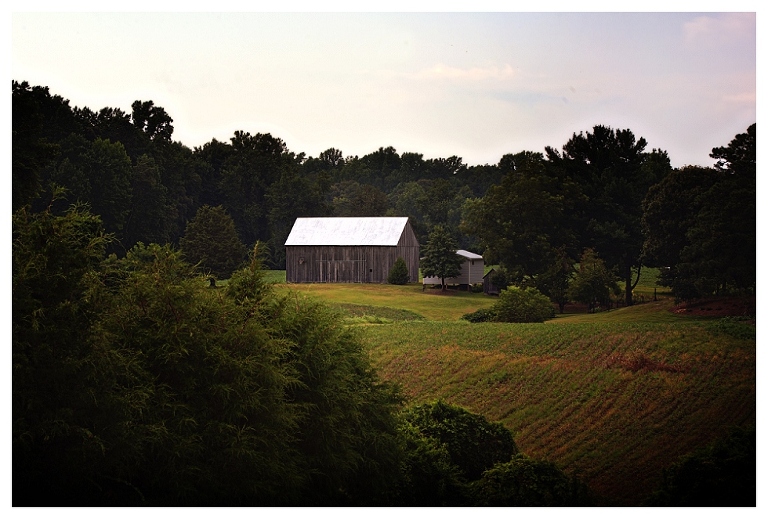 28/365: 7.28.15/7:19 pm/Huntingtown/Plum Point Rd/Canon 5D/70-200mm 2.8L
White Barn through the Bushes
There are two barns here but I went with the white one, for today. There wasn't a lot of room to move around since this is right next to someone's house. Jon said it looked like I was taking a bathroom break on the side of the road… 🙂 I wish I had a barn of my own!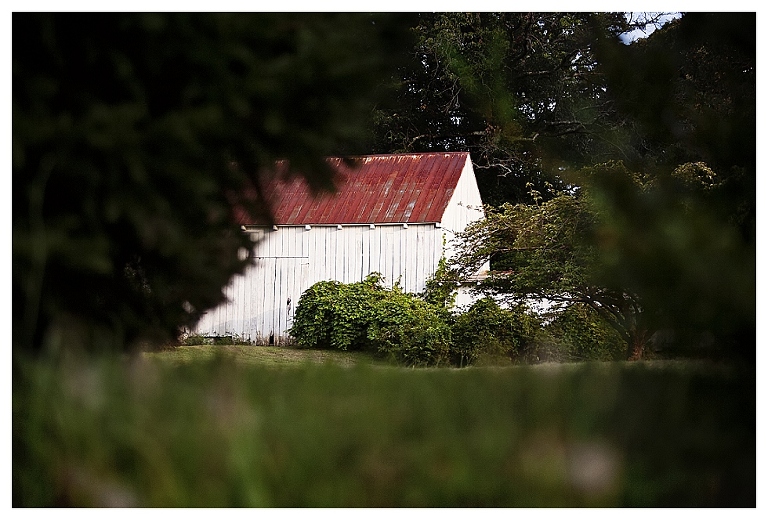 29/365: 7.29.15/3:41 pm/Huntingtown/Ponds Wood Rd/Canon 5D Mark III/16-35mm 2.8L II
Another Barn on Someone's Yard
Quick shot on my commute to work but seriously, how do I get a barn in my yard, like this one?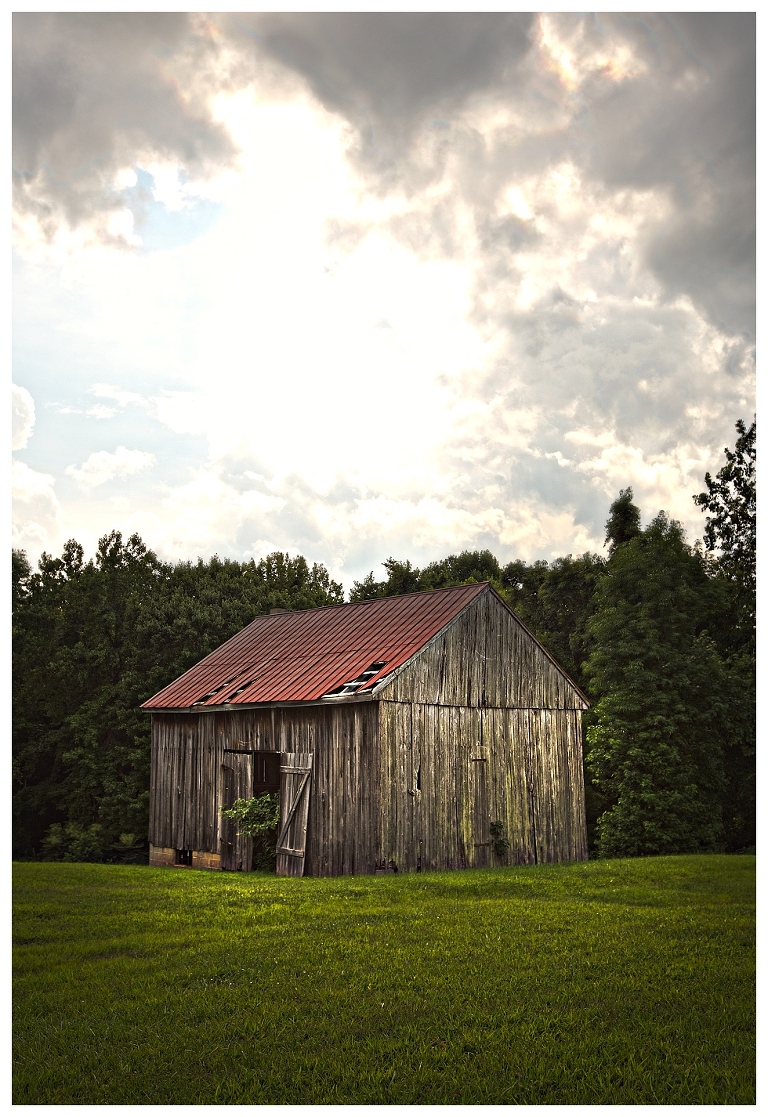 30/365: 7.30.15/3:12 pm/Huntingtown/Holland Cliffs Rd/Canon 5D/70-200mm 2.8L
Finally a T-Storm and a Red Barn
On my way back from Kings Landing Park with the doggies, the storms started forming. I knew there had to be a shot with the dark skies which would be way cooler than the photo I already took at the park, on my iPhone. It didn't take me very long to find this one with an open view. I love how dark the clouds are. (do you see the face on the tree??!!)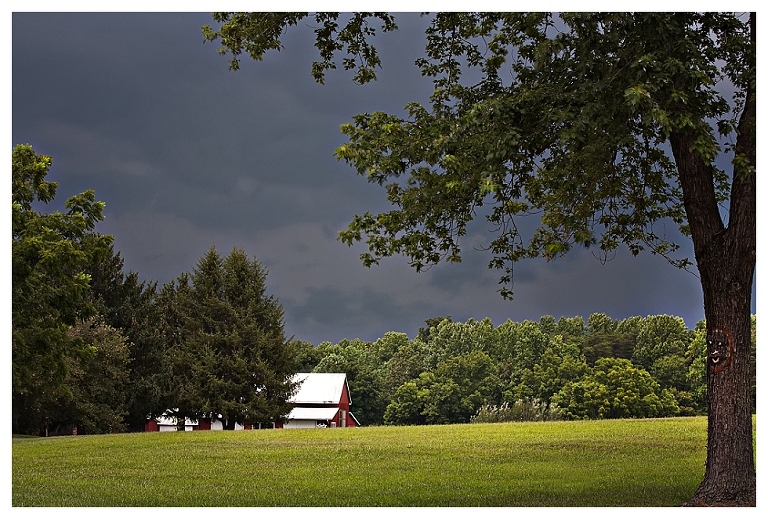 31/365: 7.31.15/2:31 pm/Dunkirk/Brickhouse Rd/iPhone
End of July Barn
What a beautiful day and a beautiful scene, to end my first month of barn photos.  For this one, all I had to do was take a different route home and I found a bunch of new ones. I'm proud that, so far, I have achieved what I set out to do!  Only 11 more months to go 😉