I'm not going to lie – I'm new(ish) to Southern Maryland. After spending a large part of my life in the DC suburbs, Eastern Shore and Annapolis areas of Maryland, all of a sudden my life changed and here I am, living in Chesapeake Beach. I already had family here, so it was the one Southern MD town that was familiar to me but otherwise, this is a brand new place for me to explore and since I'm always up for adventure, it's been fun checking out the parks and little towns. One of the interesting things I've found in my time here is how many similarities there are with some other places I have lived, yet there are notable differences as well. Mostly the hills – my last residence on the ES has NO hills.  The things I love about my old homes can all be found here, as well: wide open spaces, barns, historic buildings and farms (hello, I love Maryland barn weddings !) and the water – I love both the Chesapeake Bay side and the Patuxent River side of this place and the docks and boating lifestyle that come along with it. So, since I'm a newbie to the area and a wedding and portrait photographer, I did the logical thing and started googling wedding venues in the area and I found out that there are a bunch of amazing places. So, my goal is to visit as many Southern Maryland wedding venues as I can and share some info about each, hoping to spread the word on some (maybe) hidden gems, that can be found here. I am and always will be available for weddings on the Eastern Shore and throughout the region but it wouldn't hurt to work at some of these gorgeous places, close to home, right?
Northern Southern MD Wedding Venues (Calvert County)
1) Herrington on the Bay – This is the northernmost Southern Maryland wedding venue I am going to feature and it is actually in Anne Arundel county but right above the Calvert county line and very close to the Twin Beaches area. I have both shot and attended weddings and events at Herrington on the Bay and it has a ton of great stuff to offer! This venue is an eco-friendly, water-lovers paradise, with several ceremony sites and ballrooms to choose from, depending on your style and size of your wedding. All of the locations are along the shoreline and have beach and dock access, which I always love shooting on. If you have guests that are coming in from out of town, they provide the cutest little bungelow guest cottages, so you can make it a wedding weekend. I go to their poolside bar and restaurant, Mango's, which has amazing food. It's a great place to spend your rehearsal dinner or after the wedding has ended… no need to stop the party.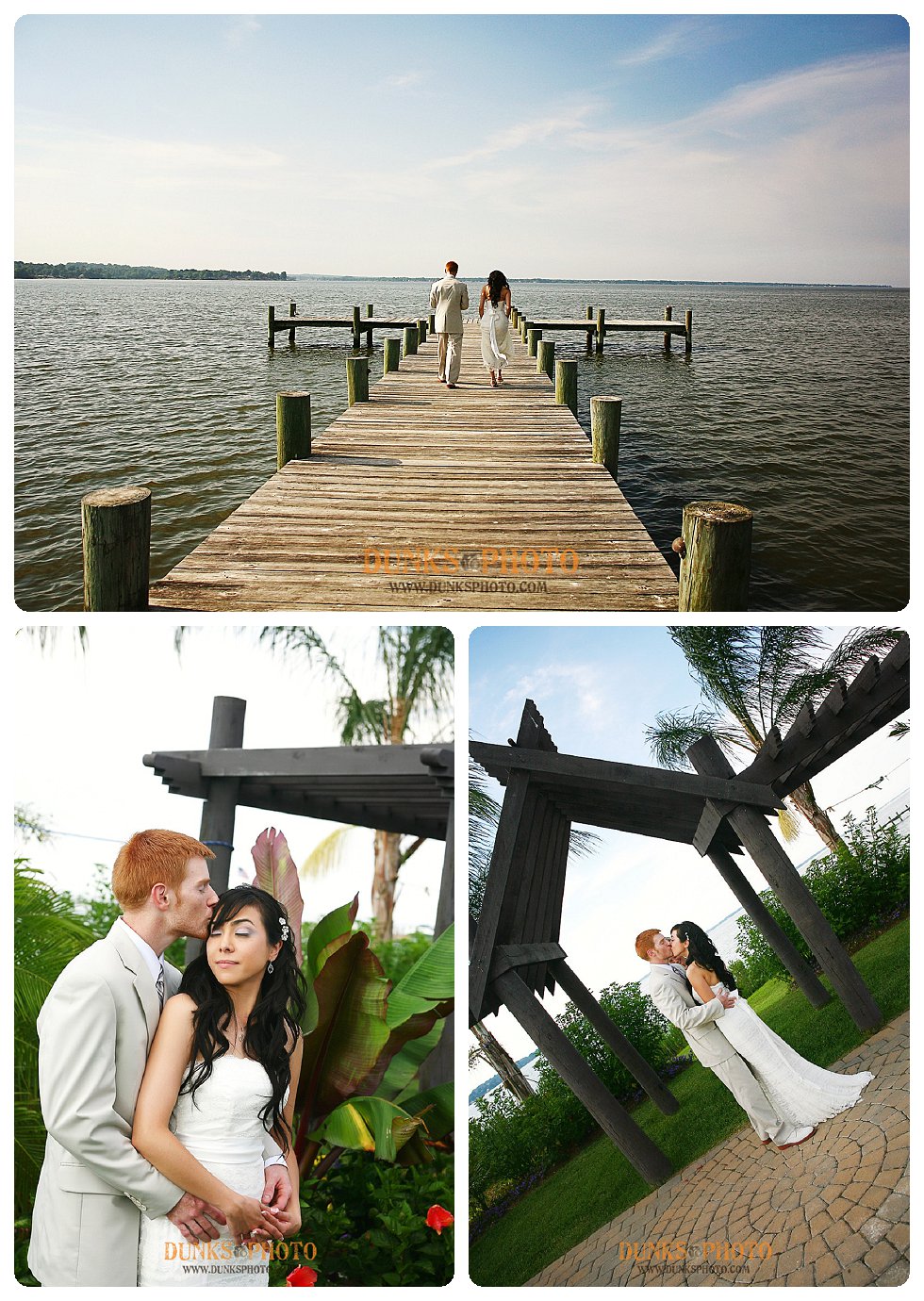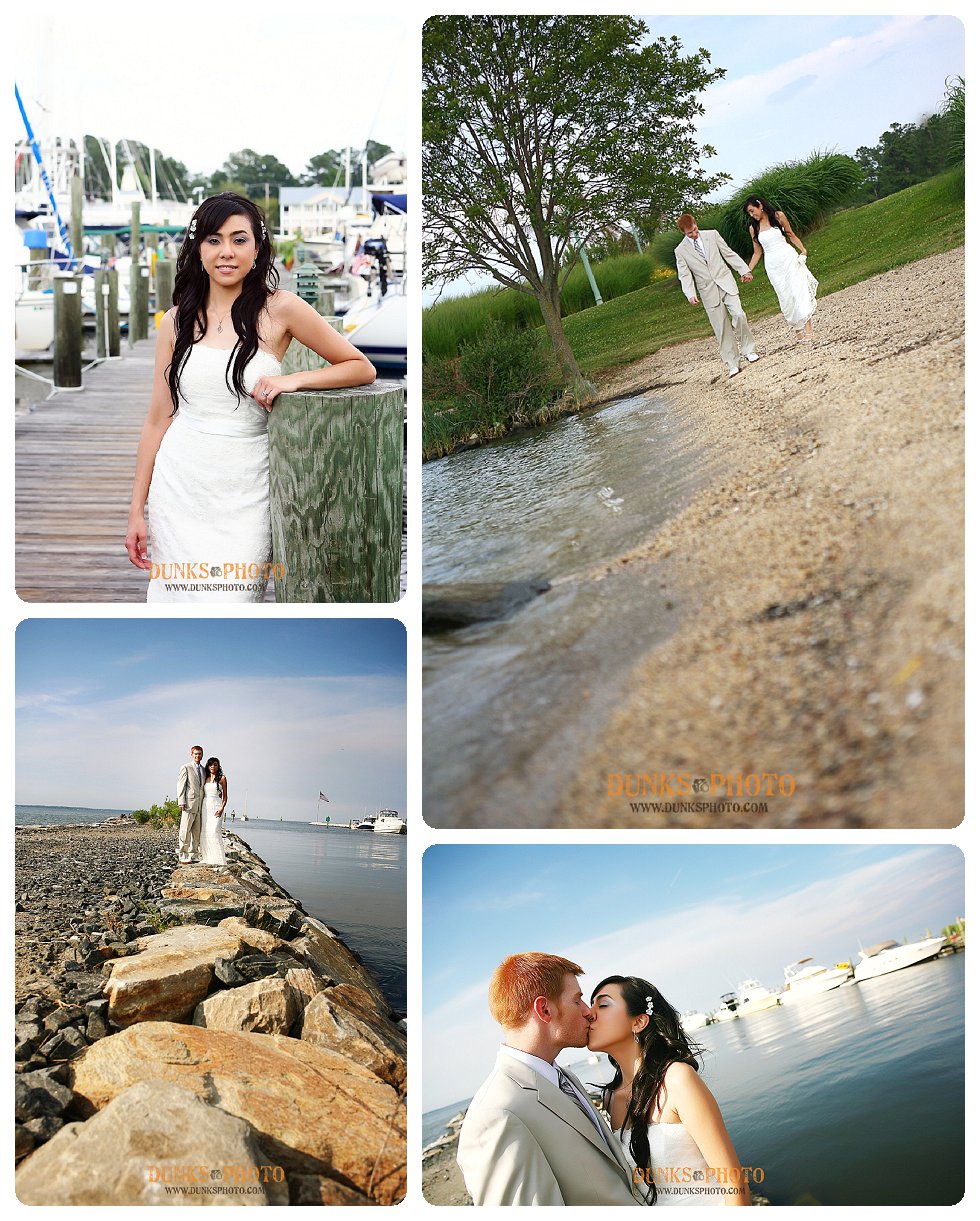 2) Chesapeake Beach Resort & Spa
Another location that I am very familiar with, and has a ton of activities to offer, is the Chesapeake Beach Resort and Spa. This is another wedding weekend destination, where you can stay all weekend with tons of things to do. At the resort you can relax with spa treatments, go out to eat at numerous restaurants nearby and even play the slot machines in the hotel. You get a little bit of everything at this place and from photography perspective, there are a ton of cool spots for photo ops. I love the docks and waterfront ceremony site but then on the other side of resort is the historic train station and train, and views of the sunset over the town! On top of all that, their food and service is amazing – you definitely cannot go wrong with picking this place for your wedding, it has everything you could ever want in one destination.


3) Cove Point Lighthouse – Wow, what a unique spot to hold a wedding or event! There is so much history and beauty all in one spot, at the lighthouse in Lusby, MD. The Calvert Marine Museum took over operations and meticulously restored the old keeper's home and lighthouse for rentals. The decorations and attention to detail throughout the property is so well done, it's like something out of Coastal Living magazine, everywhere you look. You can have your ceremony on the private beach or on the lawns facing the lighthouse and have a great view of both the Bay and the sunset to the west. After a private tour with the wedding planners and staff, I cannot wait to update this post with photos we shoot here! For now, here are a few from my iPhone:

and here are some more! What a beautiful place for a wedding




4) The Point at Broome's Island (Stoney's Broome's Island)
My next stop was to the sleepy little town of Broome's Island. I first went here last summer for dinner and loved the food, the charm and it's off-the-beaten path style. When it's warm, this is the place to be for dinner and drinks and weddings, too. This venue is definitely for the laid back, beach and/or boating lover!  They even have a "boat bar" which is… a bar made out of an old boat! It is surrounded by the Patuxent River and offers wide views of the sunset (I was there on a cloudy day but believe me, the sunsets are gorgeous on the Patuxent!) If you want a truly laid back waterfront site with the beach right at the edge of  your ceremony and reception, this place will work! You can also rent and get ready in the Broome's Island Inn Bed and Breakfast, which is right across the street.




5) Jefferson Patterson Park & Museum
Wow, this park in Saint Leonard, MD  is amazing! I will never forget the first time I ran here with Maxwell the dog – we had a great time and I could not stop taking pictures! I came back in the spring to do another run and snap photos with this blog post in mind. This place is an established park, archaeological site and wedding venue, among other things…. I know they have a lot of weddings on their schedule and I can see why, it has so much to offer in one spot! Again, it is no secret that I love barns and there are plenty of them on this property, as well as some other really cool historic buildings. These structures are where weddings are held but you could take a golf cart and jet around to the various beaches on the Patuxent or some of the nature trails for some cool photos. I love the tree-lined drive that leads you to the main barns (see photo of Max posing so patiently!). If you want to book this place, you will not be sorry but do it fast, they fill up their calenders quickly!





I will be adding more venues as I tour them…. just wanted to start with these, first. stay tuned
Southern Maryland Wedding Venues, Southern Maryland Wedding Photographer, Barn Wedding Maryland, Chesapeake Beach Wedding Photographer, Calvert County Wedding Photographer, Annapolis Wedding Photographer, Eastern Shore Wedding Photographer, Jefferson Patterson Park, Chesapeake Beach Resort, Herrington on the Bay, Herrington Harbor, Broome's Island Wedding, Stoney's Broome's Island, Cove Point Lighthouse, Calvert County Wedding Photographer, Maryland Barn Wedding, Southern Maryland Barn Wedding